Rosemary Fennel Focaccia Recipe
A soft, fluffy focaccia recipe infused with fresh rosemary, fennel seed, and black pepper. If you've never made bread before this is a great place to start!
---
Do you find bread recipes intimidating? I hope not. I absolutely love making homemade bread. There are few things more rewarding and there's nothing like the smell of a fresh baked loaf.
When my husband Armando was in graduate school in Montana, I worked at a local bakery mixing all the dough very early in the morning. By the time everyone else arrived I had filled dozens of large plastic tubs with heaps of rising dough ready to be shaped into different loaves.
Burying my hands in floury pillows of dough is still something that takes me to my happy place. This focaccia recipe is one of my favorites when I want a quick hit of bread-baking magic.
FYI: This also makes excellent pizza crust if you like a deep-dish style pizza. Just top with your favorite sauce, cheese, and toppings instead of the rosemary and bake as directed.
Focaccia Recipe Ingredients
How To Make It!
step one
Mix the dough. In the bowl of a stand mixer, combine the yeast with warm water (it should feel warm to the touch but not hot, between 85°F-95°F). Whisk to dissolve then let sit until it starts to get cloudy and foamy, about 5-10 minutes.
Once the yeast has activated, add 2 cups of the flour, 3 tablespoons of the olive oil, 2 teaspoons of the salt, 1/2 teaspoon of the fennel seeds, and the black pepper. Place the bread hook attachment on the mixer and start mixing the dough on low.
After all the ingredients are incorporated, continue mixing until a soft, slightly sticky dough forms. Keep adding more flour, 1/2 cup at a time, letting the flour mix in before adding more. You may not use all 4 cups.
Raise the speed of the mixer to medium and continue mixing for 8 minutes. After 8 minutes you should have a springy, slightly sticky dough. It is better for the dough to be more wet than dry.
step two
First rise. Oil a large bowl and transfer the dough to the bowl. Turn so the dough is coated in oil. Cover in plastic wrap and let the dough rise in a warm spot until it is double in size, about 1-2 hours depending on how warm the room is.
step three
Second rise. Line a baking sheet with parchment paper. Transfer dough to the baking sheet and gently nudge the dough to fill the baking sheet while still maintaining as many air pockets as possible. It's okay if it doesn't reach the edges. Grease one side of a piece of plastic wrap then cover with plastic wrap, grease-side-down and let rise again in a warm, draft-free place until slightly puffed, another 30 minutes or up to an hour.
step four
Bake. Heat oven to 425 degrees. Remove plastic wrap and press fingers all over dough to create indentations. Drizzle with remaining olive oil and salt then sprinkle rosemary leaves and remaining fennel seeds over the dough before baking. Bake focaccia in the middle of the oven until golden brown, about 30 minutes.
step five
Cool and serve. Remove focaccia from the pan and place on a rack to cool. Let cool at least 10 minutes before slicing and serving. Focaccia will keep covered at room temperature for up to 3 days.
What Makes This The Best Focaccia Recipe?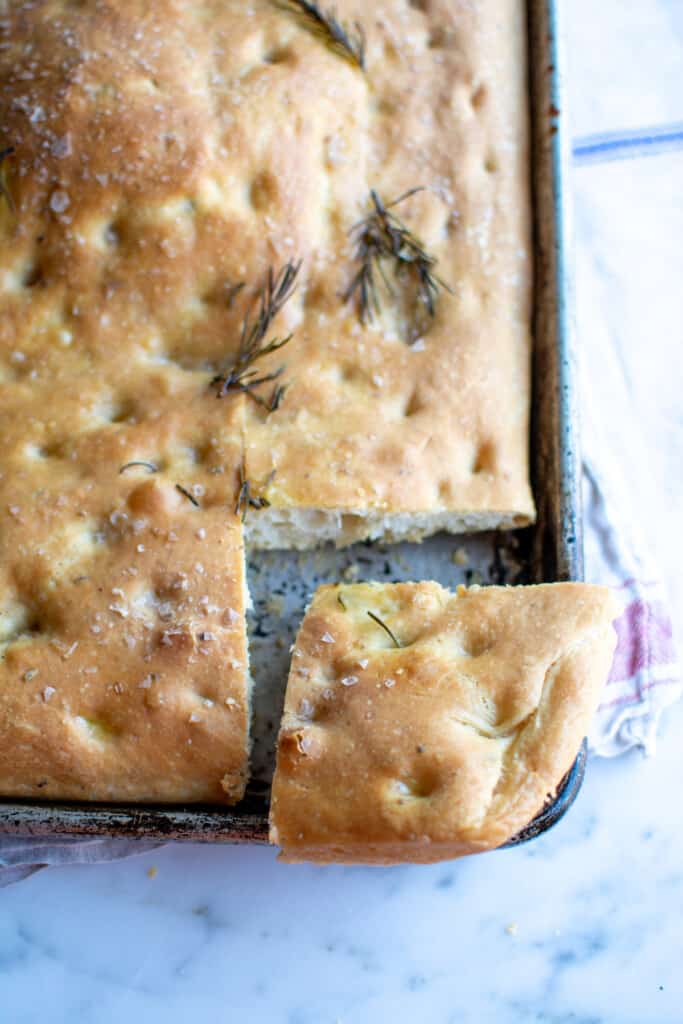 A porous crumb studded with flavorful bits of black pepper, rosemary, and crushed fennel seed.
It is super adaptable. Don't like fennel? Use caraway seed or red chili flakes or minced garlic. The same goes for the rosemary, it can be swapped for thyme or sage or even caramelized onion. Have fun with it!
Ready in half the time. Many focaccia recipes have you proof the dough in the refrigerator overnight. This focaccia is ready in 3 hours.
Basically foolproof. The worst that can happen is the dough overproofs, meaning it won't rise as much as it should. Don't worry, it will still tastes good. Just call it flatbread.
Focaccia Recipe FAQ's
Can I use a different baking pan? Sure, if you want to use other baking dishes besides the regular sheet pan, you can divide the dough in two pieces and use 2 (9-inch) round baking pans.
Have you ever used all purpose flour instead of bread flour? Yes, it will work but the bread won't be as chewy. It will have a more crumbly texture. It will still taste good though. You might also have to use more flour if using all purpose.
I have fancy flaky sea salt. Can I use that here? Absolutely! Top the dough with the flaky salt instead of the remaining kosher salt after it comes out of the oven.
Can I freeze it? Yep. Just make sure to wrap it really tightly in plastic wrap then put it in a freezer bag so it doesn't get freezer burnt. It will last 3 months in the freezer. To defrost, bake from frozen at 425°F for 15 minutes or until warm.
Find Your Next Favorite Bread Recipe
Try One Of The Best Focaccia Bread Recipes Around
Making homemade focaccia is simply one of the most rewarding baking projects you can attempt. When you try it, let me know how it goes by snapping a pic and tagging me on Instagram @katesbestrecipes so I can see or leave me a comment below (don't forget to leave a ⭐️⭐️⭐️⭐️⭐️ rating)!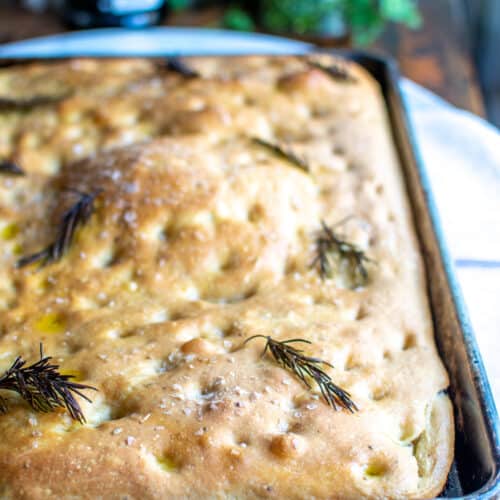 Rosemary-Fennel Focaccia Recipe
Fluffy homemade focaccia recipes flavored with fragrant rosemary and fennel seeds. Dairy free!
Print
Pin
Rate
Instructions
Mix dough. Combine water and yeast in the bowl of a stand mixer. Whisk until dissolved. Let sit 5-10 minutes until creamy and beginning to foam. Add 2 cups of the flour, 3 tablespoons of the olive oil, 2 teaspoons of the salt, 1/2 teaspoon of the fennel, and the black pepper. Using the dough hook attachment, begin mixing on low. Once the ingredients are well combined, add remaining flour, about 1/2 cup at a time, until a soft, sticky dough is formed (you may not use all the flour). Increase the speed to medium and beat the dough for 8 minutes.

First rise. Oil a large bowl and transfer dough to oiled bowl. Turn the dough so it is covered in oil. Cover tightly with plastic wrap. Let rise in a warm place until doubled in size.

Press into baking sheet. Line a baking sheet with parchment paper. Slide dough onto baking sheet preserving as many air pockets as possible. Gently pull and stretch dough to the edges of baking sheet (oil hands if they get sticky). Spray one side of plastic wrap with baking spray. Cover pan loosely with the plastic wrap, oiled side down and let rise in a warm, draft-free area until slightly puffed, about 30 minutes.

Bake. Heat oven to 425°F and arrange rack in the middle. Press fingertips all over dough to form indentations. Brush top of dough with remaining 1 tablespoon of olive oil and sprinkle with remaining fennel, salt and rosemary. Bake focaccia until deep, golden brown about 20-30 minutes.

Cool and serve. Remove focaccia from the baking sheet, transfer to a rack and cool at least 10 minutes before slicing and serving.
In support of this small business, Kate's Best Recipes earns revenue through an affiliate commission on the sales of products I link to— there are a few of those links in this post. I only feature items I genuinely love and personally use on a regular basis. This commission is an arrangement between the retailer and Kate's Best Recipes (readers never pay more for products). This income allows me to run the site. Thank you for reading!