Easy Beef Barley Vegetable Soup Recipe
With prep time at 10 minutes, this easy Beef Barley Vegetable Soup is the simple bowl of comfort you're craving with tender hunks of beef, plump barley, and lots of nourishing vegetables.
---
Wet, rainy days are made for light, brothy soups. In my opinion, you really can't have enough soup recipes.
I spotted this one in an old Martha Stewart cookbook I discovered in my stacks. The cookbook was first published in 1995 and while that doesn't seem like that long ago, it feels as dated as if it was published in 1977.
It is full of recipes for Red Pepper Coulis and Poppy Seed Vinaigrette, things that now seem dainty and gratuitous. It's hard to believe that much has changed but the 90's were before the explosion of the word sustainable and before Rachael Ray, seasonal food and cooking was still considered gourmet; a little bit fancy.
As I paged through this relic from decades past I came across this beef and barley soup recipe. It was wonderful, the beef was tender and there was just enough barley to add body without soaking up all the broth. I guess some things transcend the ages.
The only thing that was missing, in my opinion, was the veggies so I've amped up the carrots, celery, and onion plus added some fresh herbs. This soul-satisfying soup is really easy to make and is rich and nourishing without being heavy.
What Is Barley And Which Kind Should I Buy?
Barley is a budget-friendly ancient grain that has been grown and harvested for thousands of years. It has a nutty flavor and glorious pop when you bite into it. Even though it is great to eat, it is most often consumed in the form of beer.
Barley is not gluten-free. It is closely related to other wheat grains and contains gluten proteins. It is however, super high in fiber so if you can tolerate gluten, it is an excellent grain to add to your diet.
The most common form of barley sold in grocery stores is pearl barley which has had the outer hull removed and needs about an hour to cook. You can also find quick-cooking barley which has been pre-steamed and cooks in about 10-15 minutes. Despite the faster cooking time, I think pearl barley has superior flavor.
If you can find hulled barley, this has the outer layer intact and is more nutritious but takes even longer to cook, about 1 1/2 hours.
Ingredients
Olive oil
Beef stew meat like chuck roast
Yellow onion
Carrots or parsnips or turnips or rutabaga
Celery
Beef broth
Pearl barley
Fresh thyme or fresh oregano or fresh marjoram
Fresh basil and/or Italian parsley
Kosher salt
Freshly ground black pepper
How To Make It
step one
Brown the beef. Cut the beef into bite-size pieces if you are not using pre-cut beef stew meat and season with salt and pepper. Heat oil in a large pot over medium-high heat. Once the oil is shimmering but not smoking, add beef in a single layer. If it doesn't all fit in your pot, do this step in batches so they get nicely browned.
Let cook, undisturbed until they get nicely browned on one side. Stir and brown on the other side, about 8-10 minutes total.
step two
Sauté vegetables. Add the vegetables and season once again with salt and pepper. Let cook, stirring occasionally, until starting to soften.
step three
Simmer. Add remaining ingredients (except fresh basil and parsley) and bring to a boil. Reduce heat to a simmer, cover and cook until beef and barley are tender, about an hour.
step four
Serve. Taste and add more salt or pepper if needed. Remove thyme sprigs then ladle into bowls and garnish with fresh basil and parsley.
What Makes This The Best Beef Barley Soup?
As far as beef soups go, this one is 11 out of 10. It is jam-packed with flavor, perfectly tender pieces of meat and vegetables, fresh herbs, and still so light and restorative.
It is shockingly easy to make. The hands-on time for this recipe is 10 minutes. Yes, you have to let it simmer for an hour but that gives you time to enjoy a glass of wine and relax.
Excellent meal prep situation. This soup gets better as it sits so make it on the weekend and have a really good bowl of soup for lunch or dinner all week. I think you will love it so much, you'll double the recipe so it will last longer.
This is a back pocket recipe that is totally adaptable to whatever you have in your fridge. Learn the simple technique and make it your own.
Tons of protein, high in fiber, dairy-free recipe!
Beef Barley Vegetable Soup FAQ's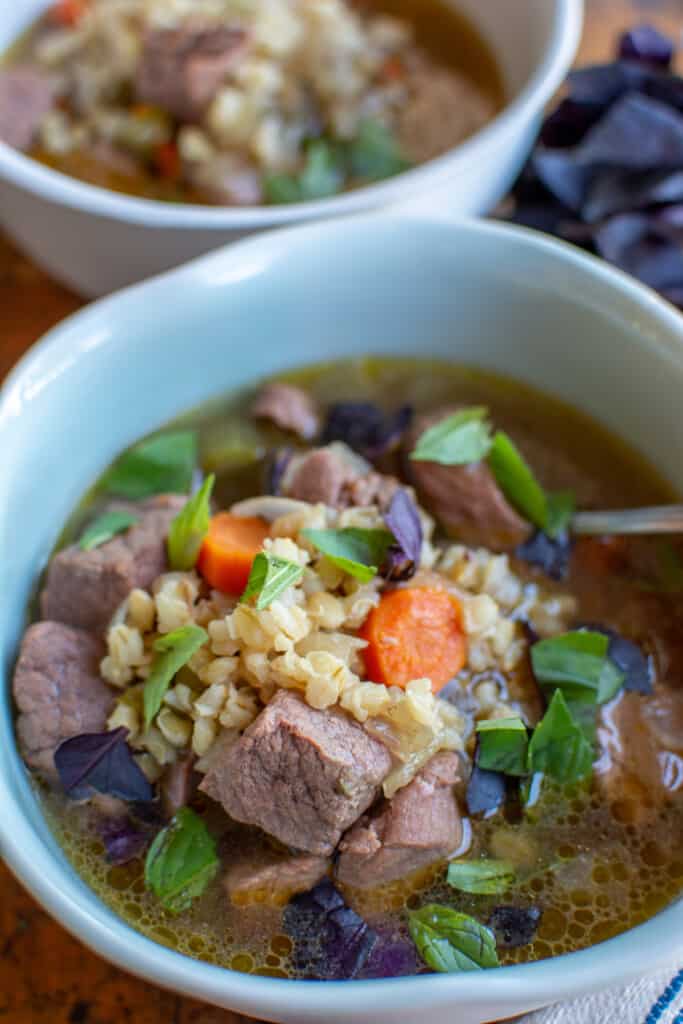 Can I freeze it? Absolutely! Let the soup cool completely, then store in freezer-safe containers for up to 3 months. Let thaw overnight in the refrigerator and then reheat on the stove or in the microwave.
What else can I use barley for? I like to substitute barley wherever rice is called for. To cook it on its own, just boil like pasta for 30-45 minutes, then drain and serve with this Lemon Garlic Veggie Stir-Fry or Dill and Mustard Seed Salmon.
Which other vegetable would be good? Any number of veggies work here. Try parsnips, turnips, rutabaga, golden beets, celery root, or even potatoes. You could even add a few large handfuls of spinach right before serving, letting it melt into the soup.
What can I serve with it? Good crusty bread is an obvious choice but you could also top it with a lovely Chimichurri Sauce.
More Soup Recipes You'll Love!
Beef? No, Beef Soup, It's What's For Dinner
This vegetable beef soup is an easy, budget-friendly dinner and I think you will love it. When you try it, let me know how it went! Share a photo and tag me on Instagram using @katesbestrecipes so that I can see (don't forget to leave a ⭐️⭐️⭐️⭐️⭐️ rating)!
Beef Barley Vegetable Soup
Rich beef broth with hunks of tender meat, chewy barley, and vegetables
Print
Pin
Rate
Ingredients
2

tablespoons

olive oil

1

pound

beef stew meat

cut into 1/2-inch pieces

1

medium yellow onion

medium dice

2

medium carrots

medium dice

1

stalk celery

medium dice

6

cups

beef stock or low-sodium beef broth

1/4

cup

pearl barley

rinsed

torn fresh basil or Italian parsley leaves for garnish

optional
Instructions
Heat olive oil in a large stock pot over medium-high heat. Add beef and season generously with salt and pepper. Brown evenly, about 8-10 minutes.

Add onion, carrots and celery and season again with salt and pepper. cook until onions become translucent, about 5 minutes.

Add stock, barley, and thyme and bring to a boil. Reduce heat to a slow simmer and cook, covered, until meat is tender about an hour.

Taste and add more salt and pepper if necessary. Remove thyme stems and serve with a sprinkling of herbs if desired.
Video
In support of this small business, Kate's Best Recipes earns revenue in a few different ways. Several sponsored posts are published each month. I also earn an affiliate commission on the sales of products I link to— there are a few of those links in this post. I only feature items I genuinely love and personally use on a regular basis. This commission is an arrangement between the retailer and ¡Hola! Jalapeño (readers never pay more for products). This income allows me to run the site. Thank you for reading!