17 Delicious and Healthy Vegan Dessert Recipes
From peach cobbler to decadent brownies these vegan dessert recipes are almost too good to be true. They have all the good stuff without any dairy, eggs, or honey.
---
Armando, my husband, discovered he had a milk allergy when we were in our late 20's and I've been messing around with dairy-free baking since then. By now, I have quite an arsenal of dairy-free dessert recipes and quite a few vegan ones as well.
I don't like to use weird ingredients, just simple swaps for butter, milk, and eggs like coconut oil, coconut cream, and sometimes flax eggs, but even that I don't use that often.
Keep reading for truly delicious ways to satisfy your sweet tooth while maintaining the way you love to eat.
The Best Vegan Dessert Recipes
When summer rolls around and blueberries are in season, I always make at least one batch of these super yummy popsicles (although you can totally make them with frozen blueberries any time of year).
2. Mangonada from ¡Hola! Jalapeño
Here's what I'm eating the second the temperature rises above 80°F. If you've never had this divine Mexican dessert it consists of an ice cold mango smoothie layered with chamoy sauce, Tajín, and juicy, ripe mango.
A no-bake dessert (who doesn't love those?) that is basically a luscious dark chocolate, banana, almond butter cake with a texture that lies between rich ice cream and silky cheesecake. In other words, insanely delicious. The topping is dark chocolate chips and sliced almonds with some more melted chocolate drizzled over everything.
What's the one thing that puts this at the top of my must-make list? The topping is biscuits and cinnamon streusel!! For this texture-loving girl that combination is so genius. So let's put it all together, syrupy, sweet peaches, flakey biscuits, and crunchy streusel. BOOM!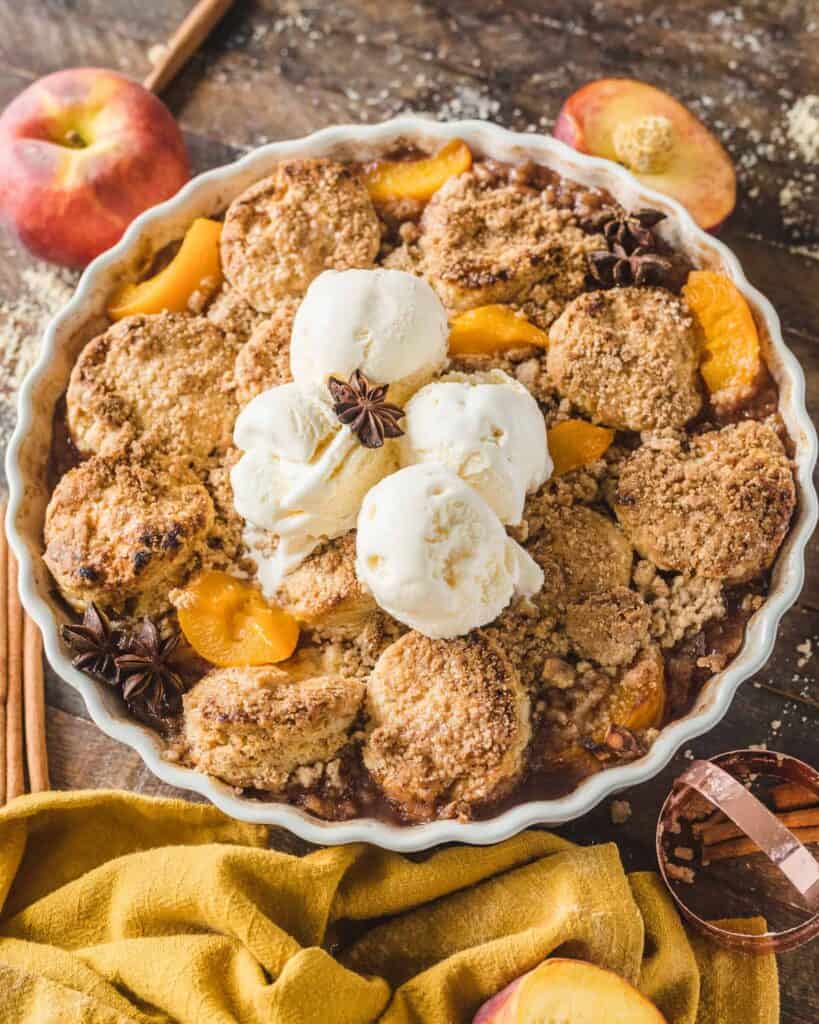 5. Sopapillas from ¡Hola! Jalapeño
If you're looking for a fun recipe with a little Southwestern flare, give these puffy, crispy Sopapillas a try. The dough gets rolled out and cut into squares then crisps up nicely in hot oil. Sprinkle with cinnamon and powdered sugar and skip the honey for a vegan version.
If you have access to fresh figs, give this a try. Cut them in half and top with a sweet date puree, melted chocolate, and pistachios. Wait for the chocolate to harden a bit then enjoy! If you don't like pistachios, choose a different roasted nut like walnuts, pecans, or hazelnuts.
These cookies are full of flavor and texture with lots of crunchy walnuts and a thumbprint of frosting in the middle. They are reminiscent of a Christmas cookie but you can absolutely make them anytime you want a sweet treat.
I just adore these powdered sugar-covered cookies. The sugar melts in your mouth on the first bite and then comes the toasted crunch of pecans followed by hits of orange, warm spice, and vanilla.
You'll need an ice cream maker for this one, but if you have that, you are halfway to vegan ice cream heaven. This silky coconut milk ice cream is full of rich, warm spice of Chai tea in every bite. Caution: the recipe calls for honey but you can substitute agave syrup or date syrup instead.
With oats, dried fruit, vanilla, maple syrup, and almond butter (or sub peanut butter), these cookies are like your favorite bowl of oatmeal in portable form. They are dense, chewy cookies that satisfy the sweet tooth in all of us but are healthy enough to eat first thing in the morning.
In my opinion, Crisco makes the best pie crust. It has the ability to create an extra-crispy and flaky texture that is really hard to achieve with butter and in turn also makes this a vegan apple pie! It does call for an egg to brush on top as an egg wash, but you can substitute plant-based milk instead.
Is fruit salad considered dessert in your world? If not, move on to the next option, but if so, you will love this strawberry-clementine version. It is not too sweet (it even includes thin slices of fennel—gasp!) with a delicate dressing of fresh lemon juice, honey (swap in agave or date syrup), and crunchy roasted pistachios on top.
Ice cold and chocolatey-smooth these popsicles taste indulgent, but they're really not. An easy mix of coconut milk, cocoa powder, cinnamon, and a touch of cayenne with some puréed cashews to add body. Just blend and freeze! They taste like a more flavorful version of the chocolate pudding pops we all loved as kids.
Rebecca from Displaced Housewife baked up these vegan brownies with a mixture of pureed prunes, flaxseeds, and olive oil to create some chewy brownie magic with zero eggs or dairy that is true baking alchemy.
Another no-bake option that even though it is vegan tastes rich and ultra-creamy. It has an almond crust and fresh blackberries made luscious with the help of cashew cream—this stuff is a lifesaver in the vegan baking world!
This cake is, without a doubt, our family's favorite chocolate cake. It's not only the best vegan chocolate cake, it's simply the best chocolate cake. Period. We make it for birthdays, holidays, and really anytime the craving for chocolate cake hits. In my experience, it is best made as a sheet cake in a 9×13-inch baking pan and obviously without the chocolate buttercream frosting to keep it vegan. We decorate it with a little powdered sugar sprinkled over the top instead.
We can't talk about desserts without mentioning banana bread, the ultimate comfort food. This vegan version from my friend Ale has flour, sea salt, ripe bananas, vanilla, and uses applesauce instead of eggs for added moisture.
More Recipe Collections To Browse:
These Aren't Just Great Vegan Desserts
They're amazing desserts, period. Drop me a comment below and let me know which one is calling your name. Share a photo and tag me on Instagram using @katesbestrecipes so that I can see when you make them! Also, sign up for my weekly recipe newsletter so you never miss a thing.