The Best Pumpkin Pie Recipes
13 favorite Pumpkin Pie Recipes to fit every possibility this holiday season. Whether you're looking for a special dietary need or the most perfect and classic version—just like mom used to make, you'll find plenty of delicious inspiration here!
---
Is it really the holidays if there's no pumpkin pie? In my opinion, the answer is a resounding no.
The real question is, but what kind? Do you go really traditional or completely out of the box? I'll admit there's a couple pumpkin pies on this lists that are actually cheesecake, so you could go all the way.
There's so many good options here I suppose you'll want to try more than one recipe, and probably have more than one slice.
13 Pumpkin Pie Recipes You'll Love
A tart version of a good old fashioned pumpkin pie, spiced with ground cinnamon and ground ginger. Not only is there tangy buttermilk in the pumpkin pie filling but also in the homemade pie crust. Topped with a Bourbon Whipped Cream, this one is especially good made with fresh pumpkin puree.
Okay, yes. This is technically not pumpkin pie but if you are looking for a gluten-free option, there really is nothing better. Spiced with ground cloves it gives all the fall vibes. You can use this gluten-free crust for a standard pumpkin pie as well.
A very simple pie filling made super silky with evaporated milk and a cinnamon-flavored, no-chill pie crust, this one is perfect if you are feeding a lot of people. Plus, I always feel a slab pie has the perfect ratio of crust to filling. A large bowl of freshly made whipped cream is a must.
Creating a dairy-free filling is no easy feat, the but the combination of plant-based milk, coconut oil, and eggs create a thick, rich texture. The nutty pepita and gingersnap pie crust recipe is really the star here and is super simple to make. Just press it into the pan and bake for 15 minutes.
A deeply caramely pumpkin pie with a beautiful meringue topping. Not only is the flavor outstanding in this recipe but Nicole has great tips on how to keep the crust from burning by making a pie crust shield with aluminum foil.
Brown sugar sweetened pumpkin pie flavored with apple butter and topped with a crumbly streusel, this is like the best of all possible pie scenarios. Picture an apple pie, pecan pie and pumpkin pie all wrapped up in one! So comforting and delicious.
If you are looking for a pumpkin pie that tastes like Thanksgiving, this is it. Dense and rich with just the right amount of spice, this will be a traditionalist's favorite. Make it even easier and use a frozen pie crust instead of making your own.
Special diets shouldn't be excluded from enjoying dessert! A delicate almond pie crust and a pudding-like filling made from pumpkin, coconut milk, and spices. Just make sure to let the pie cool for a few hours before slicing.
If you really want to impress this holiday, this is the pumpkin pie to make. Light, fluffy filling, cinnamon whipped cream, just make sure to let the gingersnap crust cool to room temperature before filling.
Hard time deciding between pumpkin pie and pecan pie? Combine them! If you like your pumpkin pie to really taste like pumpkin and not just spice, this is the pie for you. It is not as sweet as some pies and the pumpkin really shines through. Baking the pie on a baking sheet not only makes it easier to get in and out of the oven but also catches any drips.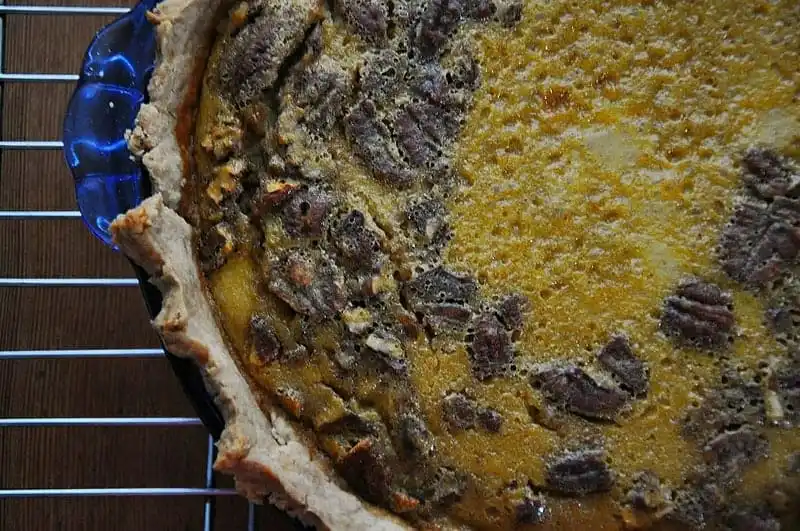 Souffle-like pumpkin filling and a chocolate crust that is lightly spiced with just 1/2 teaspoon of ground cinnamon. Pureeing the filling in a blender makes it extra light and fluffy, almost like mousse. Chocolate and pumpkin are a surprisingly good combination.
Creamy pumpkin filling flavored with orange juice and chai spices in a gingersnap-pecan crust and topped with billows of toasted meringue. If you are not pre-baking your pie crust, you must start now. It ensure a golden brown, crisp crust instead of that terrible soggy bottom. Again, make sure the crust has time to cool completely before pouring in the filling. Follow the instructions in Rebecca's recipe.
Sweet and creamy with a hint of heat from ground chipotle chile powder. The best part? You don't even have to turn the oven on! I know, not a pumpkin pie, but this cheesecake has a loyal following and it is very user-friendly. Make up to a week in advance and keep in the freezer. It's wonderful partially frozen!
More Holiday Recipes To Try!
Fill That Oven Rack!
With as many of these pumpkin pie recipes as you can because they're all amazing. Let me know when you try them by snapping a pic and tagging me on Instagram @katesbestrecipes  so I can see or leave me a comment below (don't forget to leave a ⭐️⭐️⭐️⭐️⭐️ rating) !