Vinegar and Spice Baked Baby Back Ribs
Fall off the bone tender, these Vinegar and Spice Baked Baby Back Ribs are super easy to make and can be enjoyed year round. These definitely deserve a place at your table!
---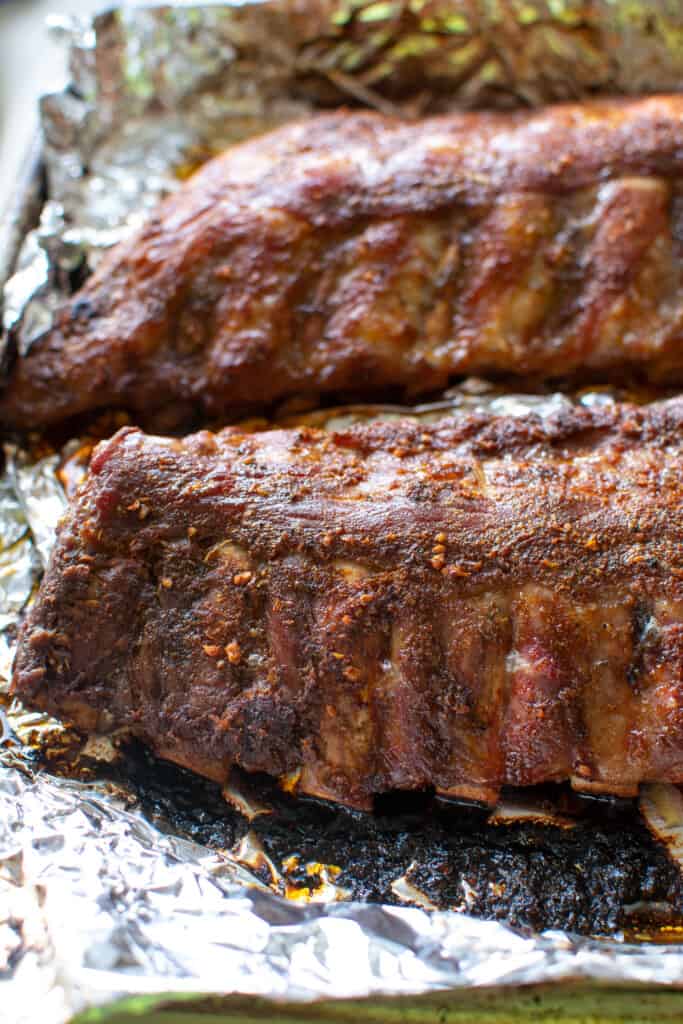 I don't know why but ribs always seem like "special occasion" food. They are a bit pricier than say, burgers or chicken but they are really very easy to make, especially baked baby back ribs.
Smoking ribs gives them an undeniably lusty flavor, but baking them in the oven is a super easy alternative that can be done year round. The vinegar, brown sugar and lemon zest create a tangy rub with a warm spice kick from the paprika and allspice.
As the ribs bake in the oven the meat becomes so tender it falls off the bone. See those deeply caramelized crusty edges? That's what I'm living for right now.
They benefit from a long marinade with the dry rub, so plan ahead and give them 24 hours to soak up the seasonings. This longer marination time also helps tenderize the meat.
Come summer, try them outside too. Marinate them and bake them wrapped in foil per the instructions but then finish them on the grill instead of unwrapping and finishing them in the oven—no smokiness would be lost on these bad boys.
Ingredients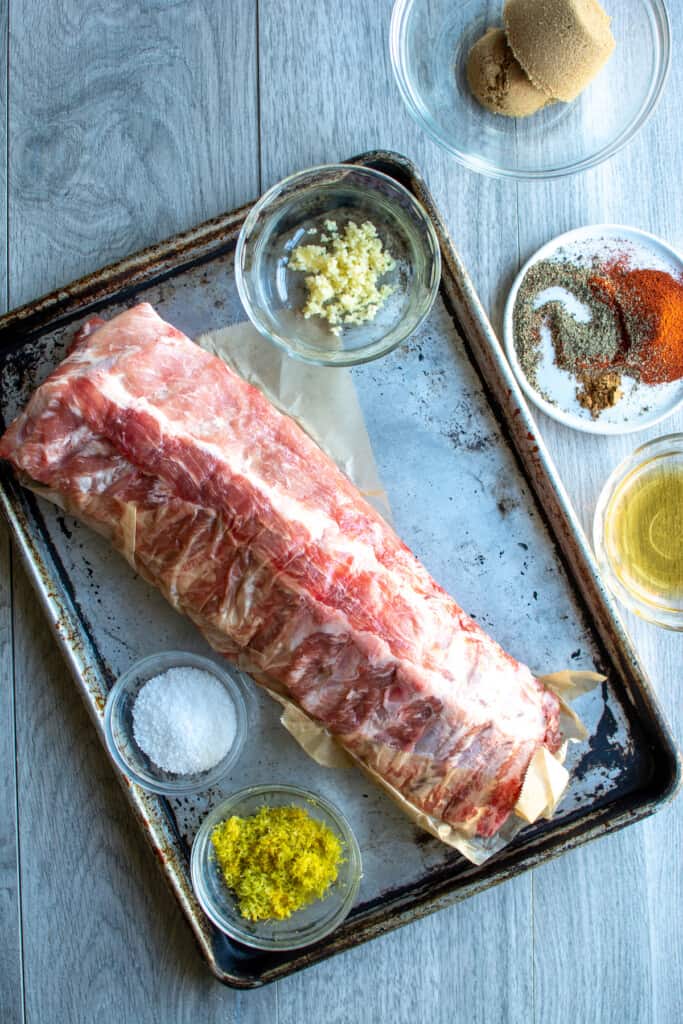 What is the secret to terrific ribs? A super flavorful spice rub. This one hits all the notes: sweet brown sugar, tart lemon, robust fresh garlic, and warm spices.
Dark brown sugar. The extra molasses in dark brown sugar is key, don't use light brown sugar if you can help it.
Cider vinegar. A barbecue must-have.
Lemon zest. This is key. Totally unexpected but adds an irresistible tang and brightness.
Garlic cloves
Baby back pork ribs
Barbecue sauce for serving (optional)
How To Make Them!
This recipe takes very little prep work but does have a long marinating time, so plan ahead. For best results, give the ribs overnight to marinate in the vinegar and spice rub.
step one
Prep the racks of ribs. Remove the membrane that covers the back of the ribs by grabbing it tightly on one end and peeling it off. Sometimes it is hard to pull off, using a paper towel can help. Occasionally the membrane will already be removed, especially if you buy it from behind the counter at a butcher shop. Set the ribs on a baking sheet.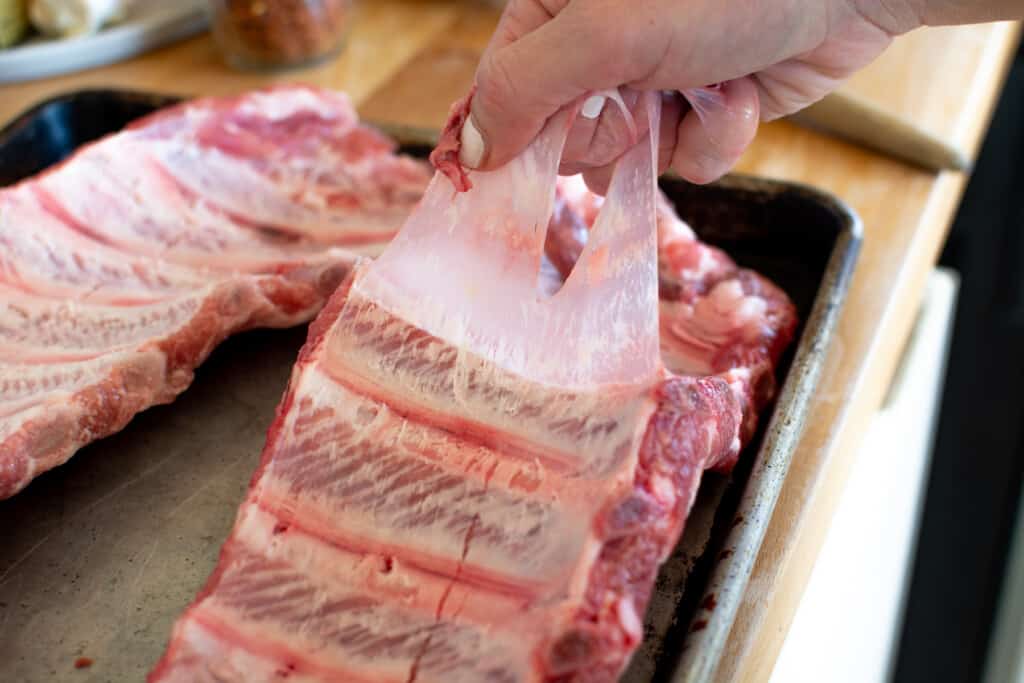 step two
Marinate the ribs overnight. Combine the brown sugar, vinegar, lemon zest, garlic, salt, paprika, black pepper, and allspice in a medium bowl. Rub all over both sides of the ribs. Cover and refrigerate overnight.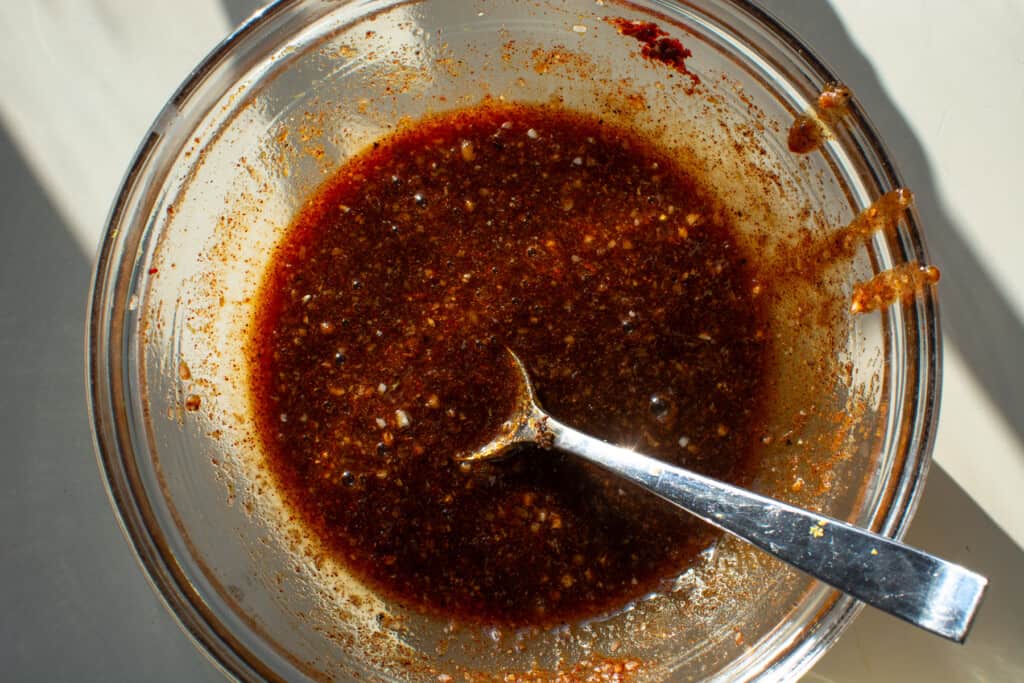 step three
Bake ribs. Wrap the ribs tightly with aluminum foil and cook ribs at 325°F for 45 minutes. Remove foil and bake another 45 minutes or until ribs are tender and browned. I line the baking sheet with foil after I unwrap them to help with clean up.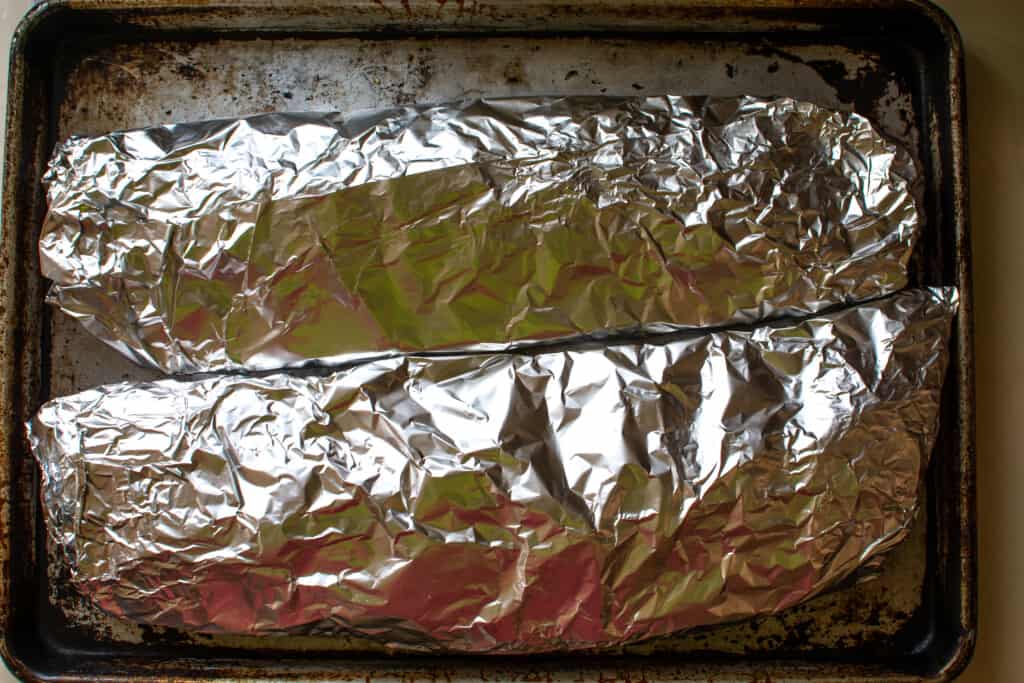 step 4
Remove foil. Remove the foil and continue to bake another 45 minutes or until the meat is shrinking back on the bone and browned.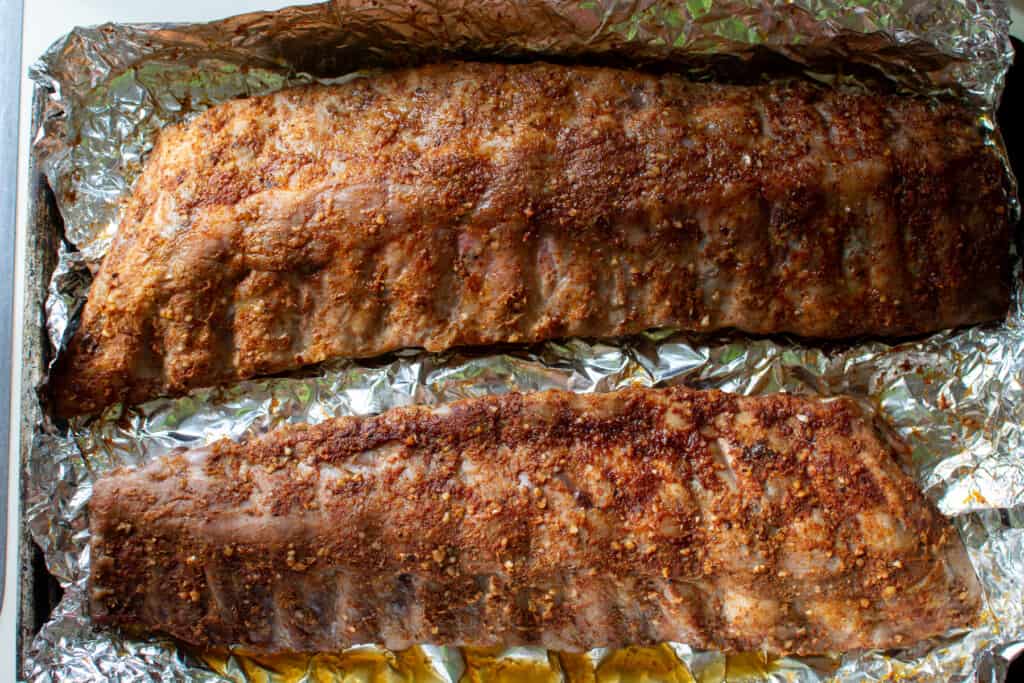 step 5
Cut and enjoy! Slice each rack in half for four large servings or slice into individual ribs and serve hot with your favorite barbecue sauce.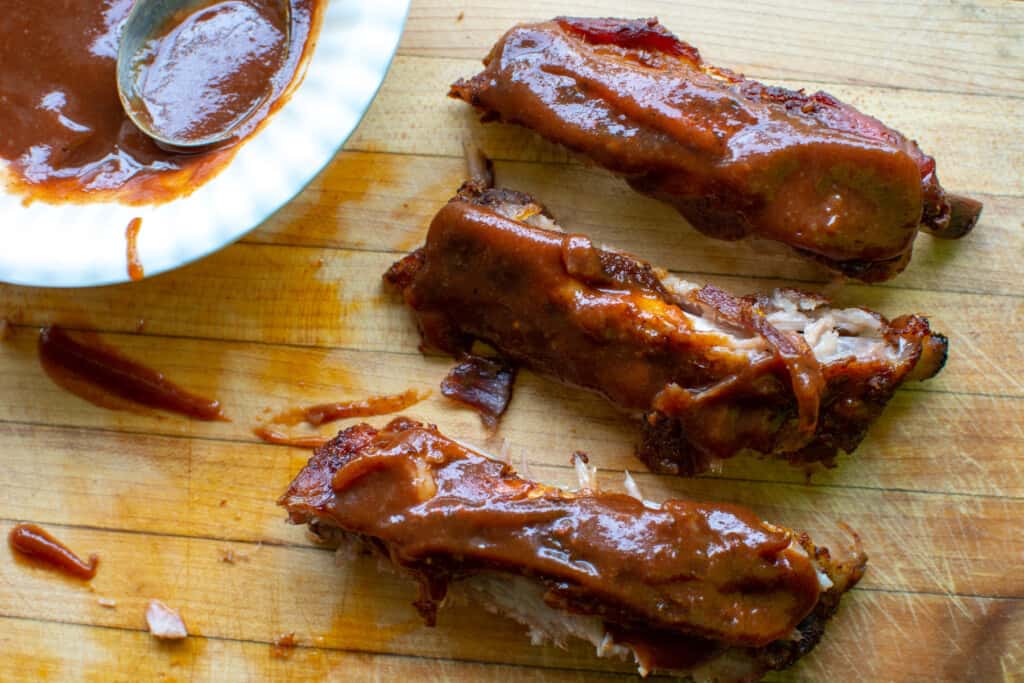 What Makes These The Best Baked Baby Back Ribs?
Tender! Fall off every bone tender.
Easy! Ovenbaked baby back ribs are so much easier to make than smoking or grilling them. You really can't mess these up.
The spice rub + vinegar marinade hits every cravable note you need in good ribs.
Wrapping them first in foil allows the ribs to basically baste in their own sauce then when they are nice and tender you unwrap them and get those golden chewy edges for perfect ribs every time.
Excellent dinner, even more excellent appetizer. These tender ribs make awesome party food, just serve with your favorite bbq sauce and lots of napkins.
Baked Baby Back Ribs FAQ's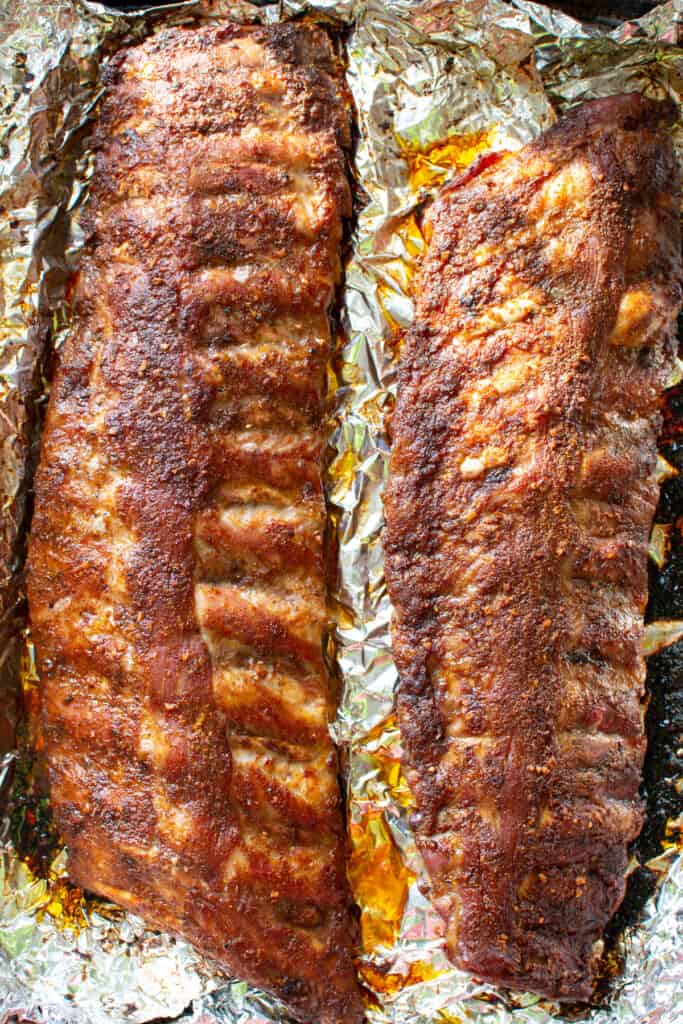 Do I really need to marinate the ribs overnight? No, you don't have to but the longer the marinade sits on the ribs the more tender and flavorful they will be. Give these oven baked ribs at least a few hours with the marinade if you can't do overnight.
What kind of ribs are best? I like baby back ribs the best because they are more tender than spare ribs. If you prefer spare ribs you could use them with this recipe, however they will take a bit longer to cook.
What about the sauce? The vinegar and spice rub on these ribs is so delicious you do not need sauce in my opinion, but if you want to serve them with barbecue sauce I'm a big fan of the Copper Line BBQ sauces and Cattelmen's never disappoints either.
Can I freeze them? I don't think you'll have enough leftovers to freeze these ribs and I don't really recommend it. You can reheat the leftovers wrapped tightly in foil at 350°F for 30 minutes or until warmed through or even eat them cold—yum!
What To Serve With Them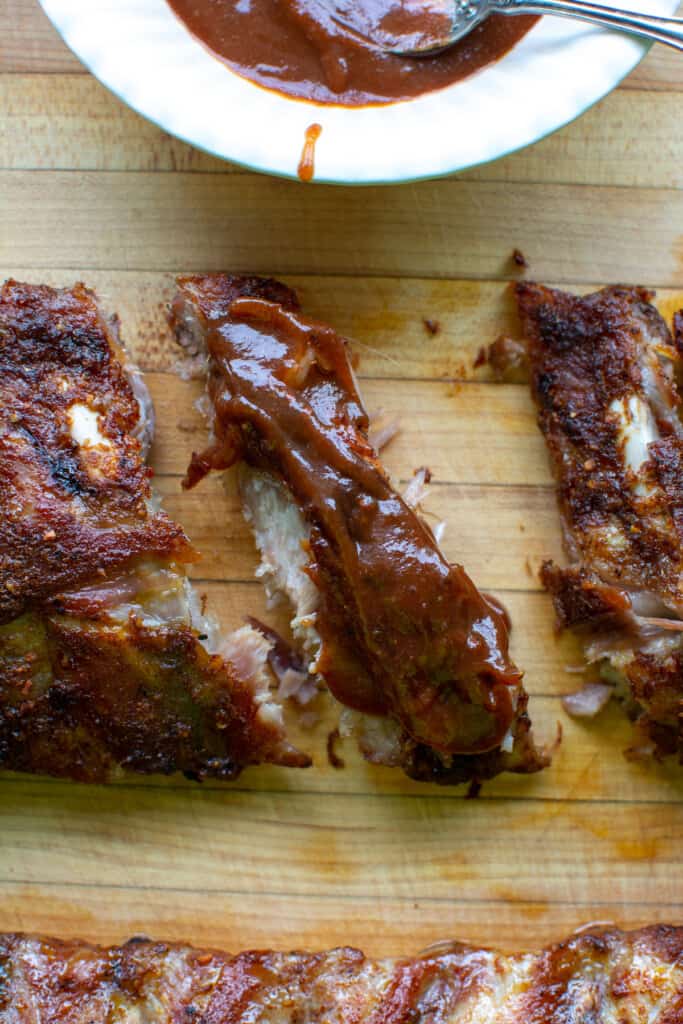 Unless you are serving these as a party appetizer, you can't just eat ribs alone. Here are some of my favorite sides to serve with them.
More Family-Friendly Dinner Recipes To Try!
Don't Wait To Make These Ribs
Get those babies marinating ASAP! When you try it, let me know how it went! Share a photo and tag me on Instagram using @katesbestrecipes so that I can see (don't forget to leave a ⭐️⭐️⭐️⭐️⭐️ rating)!
Baked Baby Back Ribs
Looking for an amazing baked baby back rib recipe? This is it! Marinated with vinegar and spices like paprika, allspice, lemon zest and baked until tender.
Print
Pin
Rate
Ingredients
3/4

cup

packed dark brown sugar

1/4

cup

cider vinegar

1/4

cup

lightly packed lemon zest

from about 4 medium lemons

6

cloves

garlic

chopped

2

tablespoons

kosher salt

4

teaspoons

paprika

2

teaspoons

freshly ground black pepper

1/4

teaspoon

ground allspice

2

full racks baby back pork ribs

about 5 pounds

Barbecue sauce, for serving

optional
Instructions
Remove the thin skin that lines the back of each rib and discard. Place remaining ingredients in a small bowl and stir to combine. Coat ribs evenly with rub on both sides, cover and refrigerate overnight.

Heat the oven to 325°F. Cover each rack separately in their own foil packet and place both racks side-by-side on a baking sheet. If you don't have a baking sheet big enough to fit both racks together, use two baking sheets.

Bake ribs 45 minutes. Open the foil packets and spread the foil out so it covers the baking sheet. Bake the ribs uncovered another 45 minutes or until tender enough that a fork easily penetrates the meat and it's caramelized and browned.

Slice racks of ribs in half for four generous portions or slice each rib individually for an appetizer. Serve with barbecue sauce and lots of napkins.
Video
In support of this small business, Kate's Best Recipes earns revenue in a few different ways. Several sponsored posts are published each month. I also earn an affiliate commission on the sales of products I link to— there are a few of those links in this post. I only feature items I genuinely love and personally use on a regular basis. This commission is an arrangement between the retailer and Kate's Best Recipes (readers never pay more for products). This income allows me to run the site. Thank you for reading!