Healthier Dairy-Free Chicken Pot Pie Recipe
This Dairy-Free Chicken Pot Pie recipe has all the comfort food vibes, flaky crust, tender chicken and vegetables, savory sauce but with none of the dairy. Every bite melts in your mouth!
---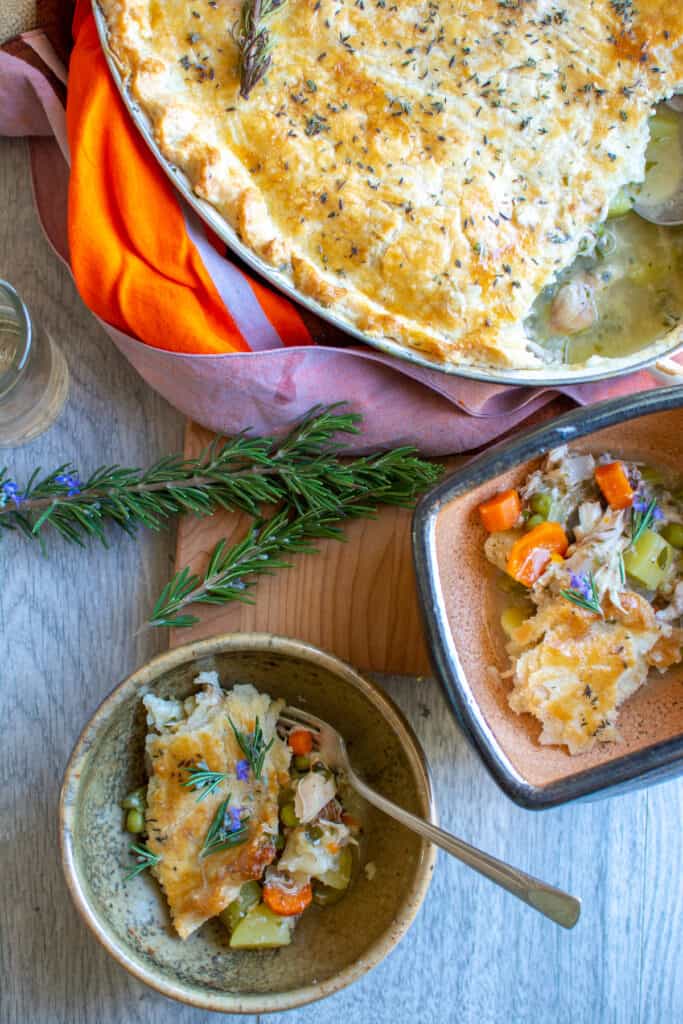 As a girl who grew up in the Midwest, there's just something about chicken pot pie that melts my heart. It's just love. And it makes the house smell like Thanksgiving which is so incredible.
Chicken Pot Pie has the power to transport you to a happy place but its one downside, if you are lactose intolerant, is all the dairy. There's butter in the crust and usually some form of milk or cream in the filling.
The good news? Lightening it up a bit by removing the milk from the filling can still get you that rich sauce, keep reading I'll show you how!
What We Need To Make This Dairy-Free Chicken Pot Pie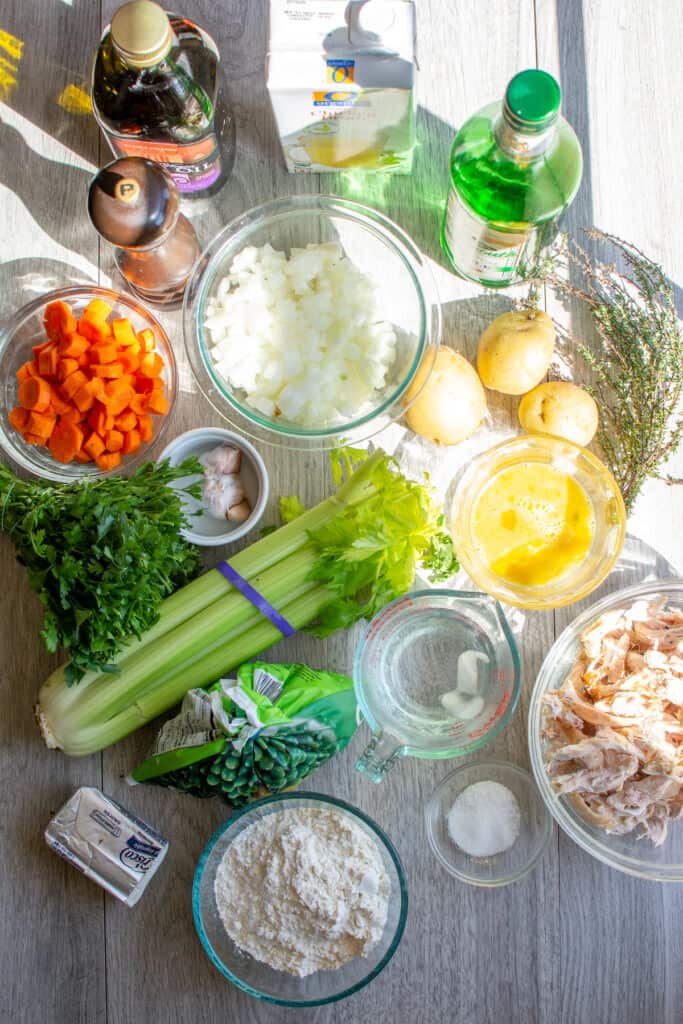 All purpose flour
Kosher salt
Freshly ground black pepper
Granulated sugar
Vegetable shortening. I used Crisco.
Beaten egg
Olive oil
Yellow Onion
Garlic
Carrots
Celery
Potatoes
Dry vermouth or sherry or white wine
Chicken stock or broth
Rotisserie chicken
Fresh herbs, like thyme, parsley, and rosemary
Frozen peas
How To Make It
step one
Make the crust. Combine flour, salt, and sugar in a large bowl. Add the cubed shortening and rub it into the flour mixture with your fingers or use a pasty cutter and cut it into the flour until the mixture resembles sand with a few large pebble pieces.
step two
Chill the dough. Add the ice water and mix with your hands until a dough starts to come together. Form the dough into a ball, wrap in plastic wrap and refrigerate for at least 30 minutes or up to 4 days in advance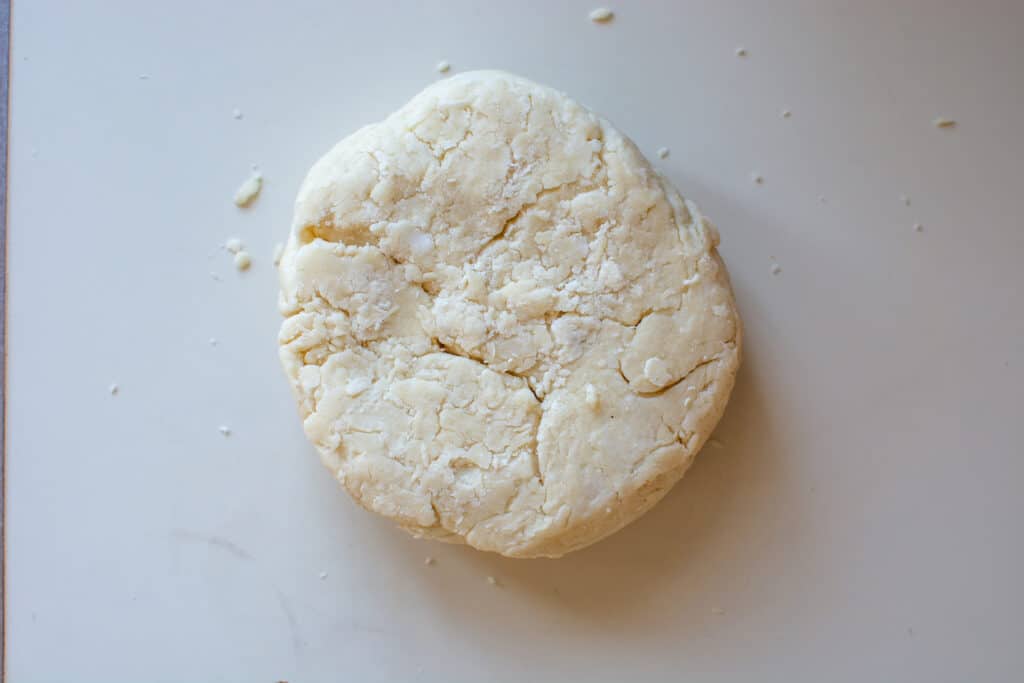 Thinking Ahead: This may seem pretty time consuming for the average weeknight meal, but I make the crust one, sometimes, two days in advance and leave it in my refrigerator until I'm ready to roll it out and bake. You can also assemble the whole thing (just don't bake it) up to 8 hours in advance and refrigerate until ready to bake.
step three
Make the filling. Heat the oven to 400°F. Heat the olive oil in a large, deep skillet (I like this one). Add the onion, carrot, celery, and garlic and season with salt. Cook stirring occasionally until the vegetables are starting to become tender, about 5 minutes.
step four
Toast the flour. Sprinkle the flour over the vegetables and stir until it has coated the veggies. Cook, toasting the flour slightly then stir in the vermouth.
step five
Add the broth. Add the shredded chicken, potatoes, chicken broth, measured amounts of salt and pepper, and thyme. Bring to a boil and then reduce the heat to medium and let simmer until the sauce has thickened slightly and the potatoes start to become tender around the edges, about 15 minutes. The sauce will still be fairly thin, that's okay it will keep cooking in the oven.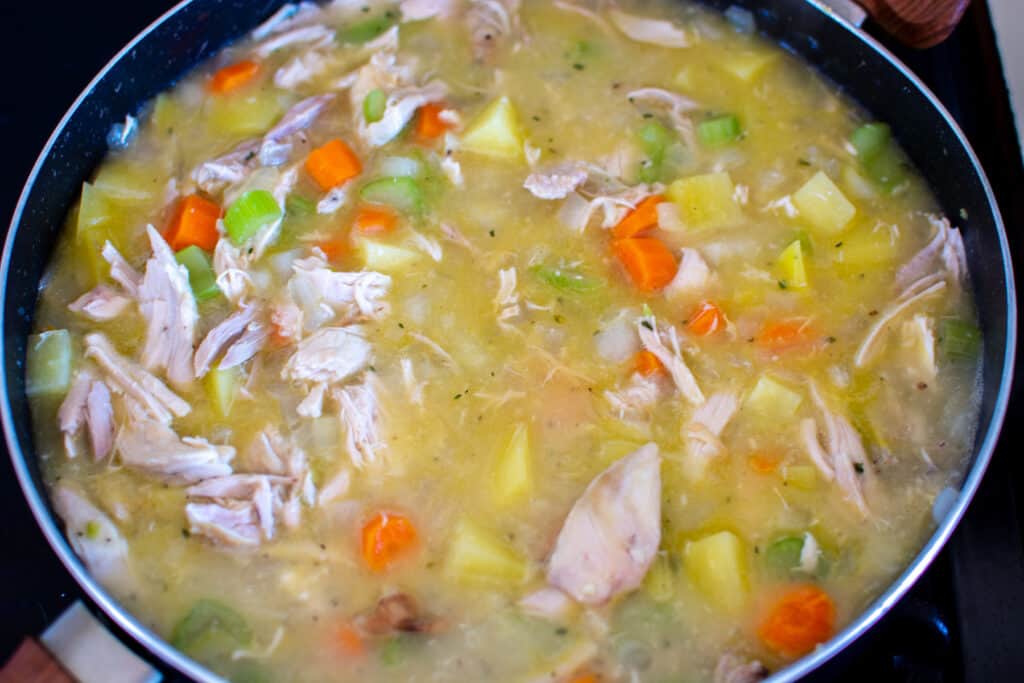 step six
Stir in the peas. Stir in the parsley and the peas. Taste and add more salt or pepper if needed.
step seven
Transfer to a baking dish. Ladle the filling into a 9×13-inch baking dish or similar. I used an oval one.
step eight
Roll out the pie dough. On a lightly floured surface roll the pie dough out so it is big enough to cover your baking dish. I use my actual dish as a guide. If your dish is a rectangle, make it rectangular. If it is oval, make it oval, you get the idea. It should be about 1/2-1/4 inch thick.
step nine
Top with crust.Top the baking dish with the dough and fold any excess dough underneath to create a lip. Pinch into a decorative pattern. Brush with beaten egg then top with fresh herbs like rosemary and thyme leaves if you want. Sage leaves would also be nice.
step eight
Bake. Place dish on a baking sheet to catch any drips and bake until the filling is bubbly and the crust is golden, about 45 minutes. Let cool at least 10 minutes before serving.
step nine
Serve. This chicken pot pie recipe will make you so happy! Serve warm with a nice crisp salad and a chilled glass of wine. Oh the luxury!
What To Serve With It?
Dairy-Free Chicken Pot Pie FAQ's
Can I use raw chicken? Yes! absolutely. Dice the chicken and add it with the onions and carrots and other vegetables. I like using cooked chicken just for ease, but boneless, skinless breast of thighs would be fine.
How do I make this in one pot? If you have a shallow Dutch oven or other wide pot that works on the stove top and oven you can make this all in one dish. If you have a Le Creuset Braiser that would be perfect. I like to transfer the filling to a large casserole dish because I like a lot of surface area for my desired crust to filling ratio.
Why don't you use dairy-free milk? Because I don't think it needs it. If you want a creamier texture you can substitute some of the chicken broth for almond milk or coconut milk but I think their flavors would distract from the chickeny goodness.
Crisco freaks me out. Can I use something else? Yep, you can use other vegan shortenings (but those make my stomach upset) or coconut oil (but it makes the pastry hard to work with) or even lard (that would be the best substitute). Knock Crisco all you want but it make superior, ultra-flaky crust.
More Dairy-Free Recipes To Try!
Basic Pan-Fried Steak
Tomato and Rice Soup with Dill
Super Quick Hummus
Honey Mustard Snack Mix
Stir-Fried Orange Beef with Sesame Seeds
Pumpkin Walnut Cookies
Pasta with Almond Pesto and Green Beans
This Dairy-Free Chicken Pot Pie Recipe Comes Highly Recommended
By me! The flavor is so freakin delicious you won't miss the dairy one bit. Promise. If you make it let me know how it goes by snapping a pic and tagging me on Instagram @katesbestrecipes so I can see or leave me a comment below (don't forget to leave a ⭐️⭐️⭐️⭐️⭐️ rating) !
Chicken Pot Pie
Rich chicken and vegetable filling under a flaky crust, but made a bit healthier without any dairy at all.
Print
Pin
Rate
Ingredients
for the crust:
1 1/2

cups

all-purpose flour

1

teaspoon

sugar

1/2

teaspoon

salt

8

tablespoons

frozen vegetable shortening

cut into small pieces

4 to 6

tablespoons

ice water

1

large egg

beaten
Instructions
for the crust:
Combine flour, salt, and sugar in a large bowl. Using a pastry blender, or your fingers, cut shortening into dry ingredients until it is in pea-size pieces.

Drizzle in 4 tablespoons ice water and mix just until dough comes together. (Adding more water if necessary, but don't overwork the dough.)

Shape dough into a flat disk, cover in plastic wrap, and refrigerate for at least 30 minutes, or up to 2 days.
for the filling:
Heat oven to 400°F and arrange rack in the middle. Meanwhile, heat oil in a large, high-sided frying pan over medium-high heat. Add onions, garlic, carrots, and celery and season with salt and pepper. Cook, stirring occasionally, until tender, about 5 minutes.

Sprinkle flour over vegetables and cook, stirring constantly, a few minutes to allow flour to get slightly toasted. Add madiera and stir, scraping up any browned bits on the bottom of the pan. Add chicken, broth, potato, measured salt and pepper and thyme and bring to a boil.

Reduce heat to low and simmer until potatoes are just beginning to become tender on the outside and broth has thickened slightly, about 15 minutes. Add peas and parsley and stir to incorporate. Taste and add more salt and pepper if necessary.

Transfer mixture to a 9-x-13-inch baking dish and let cool while you roll out the dough.On a lightly floured surface, roll out the dough into a 10-x-14-inch rectangle and place over filling. Fold edges over themselves and create a decorative edge by pinching the dough together at intervals around the exterior.

Cut 8 or 9 slits into the top to vent the steam. Add a tablespoon of water to the beaten egg and brush egg wash over the top (see picture above).

Place in oven and bake until crust in golden brown and mixture is bubbling, about 45 minutes. Let sit 10 minutes before serving.