How To Roast Brussel Sprouts
How to roast Brussel sprouts so they are golden brown and crispy on the outside and tender on the inside then sprinkled with tangy Pecorino Romano. This simple recipe works every time!
---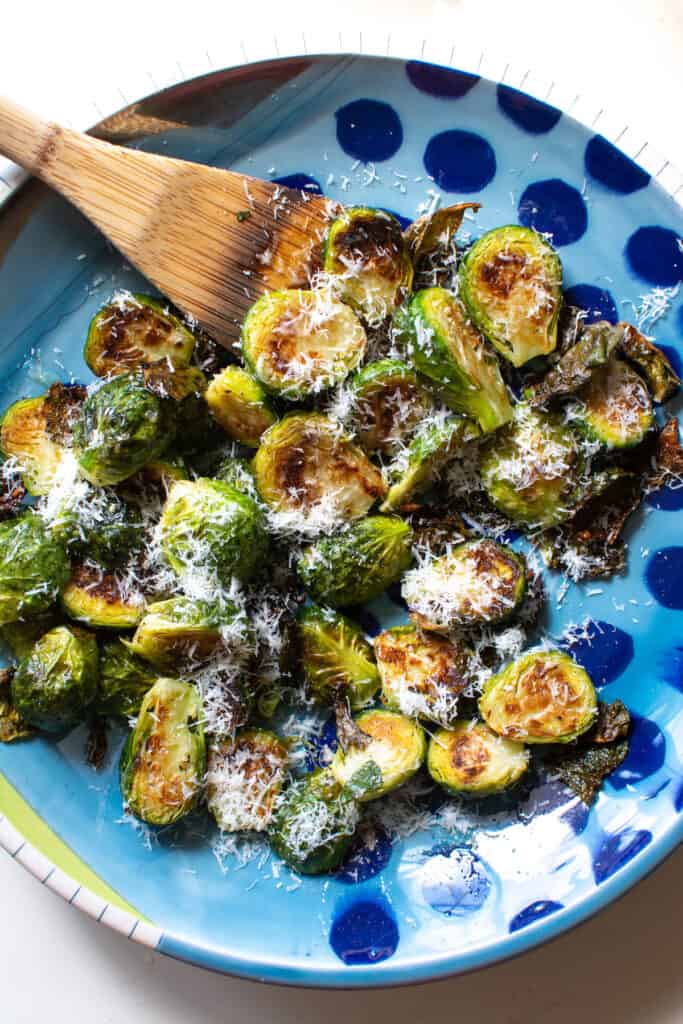 There are two things I do on a regular basis, when it comes to cooking, that I rarely consider, but I think makes the difference between a zealous cook and someone whose sole objective is getting food on the table.
One is getting the kitchen really dirty. I'm not bothered in the least by a sauce-spattered stove or a sink full of dishes, but I know people who refuse to pan-fry anything simply to prevent having to clean up a mess.
The second is chopping—lots and lots of chopping. After spending a decade in restaurant kitchens my knife skills are pretty good—and fast. Which I'm mentioning not to boast, but to admit that many of the recipes I make take me considerably less time than your average, make-a-meal-every-so-often cook. But I also mention this, to rally the troops, because without proficient knife skills it is nearly impossible to get made-from-scratch weekday meals on the table. Those chicken nuggets in the freezer will always win.
So, I challenge you, all you harried moms and time-deficient dads, pick up a knife and start with this recipe for brussels sprouts, you only have to cut off the ends and cut them in half. It's a good place to start and you will be amazed at how sweet oven-roasted Brussels sprouts taste. Soon you will be addicted to fresh food, made from your own hard work and tenacity and not even think about pulling out that box of whatever from the freezer, because guess what—it won't be there.
Ingredients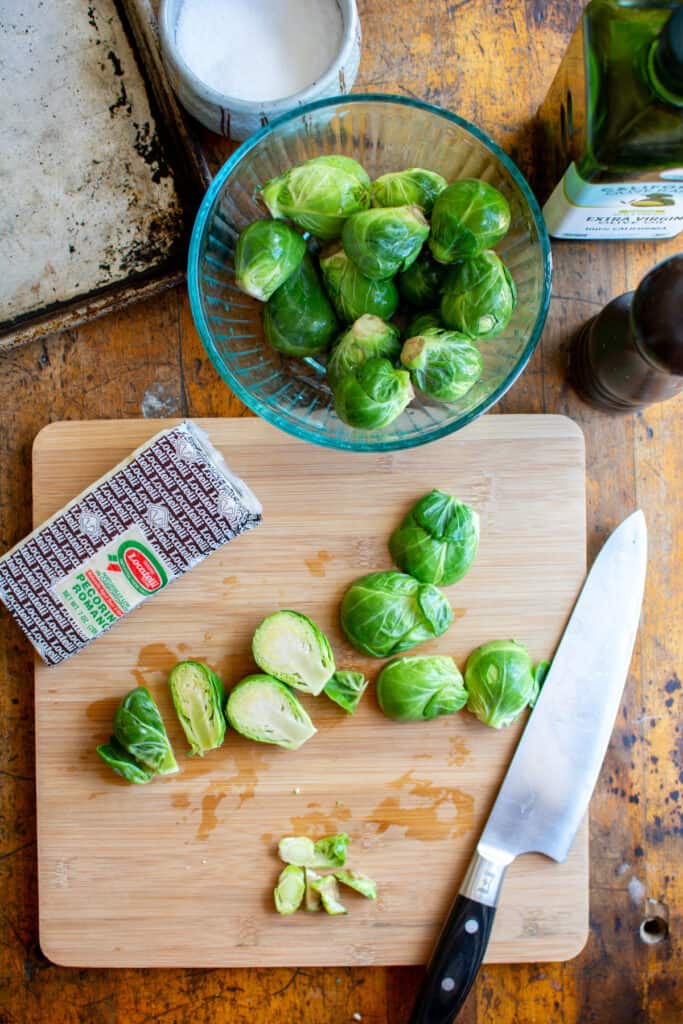 Here's what you'll need:
Brussel sprouts
Olive oil
Kosher salt I always use Morton Kosher Salt unless otherwise noted.
Freshly ground black pepper
Pecorino Romano or Parmesan cheese I like the tang of Pecorino but the toasty notes of Parmesan are good too. Just make sure to grate it yourself, not use pre-grated.
How To Roast Brussel Sprouts
step one
Trim. Trim off the ends of the Brussels sprouts and then cut in half vertically. Save the outer leaves that fall off they get extra crispy, like Brussel sprout chips. Also, now would be the time to preheat the oven to 425.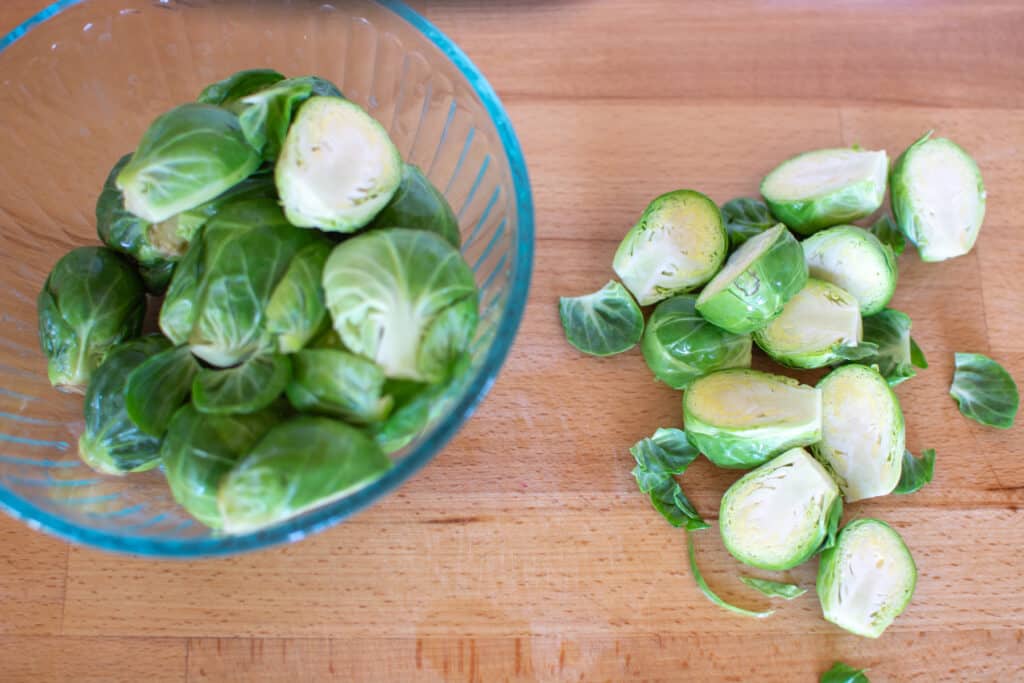 step two
Season. Place the Brussels sprouts (and any leaves that fell off) in a large bowl or you can also do this directly on the sheet pan. Toss them with the 1 tablespoon of olive oil, and the 1/4 teaspoon of kosher salt and pepper.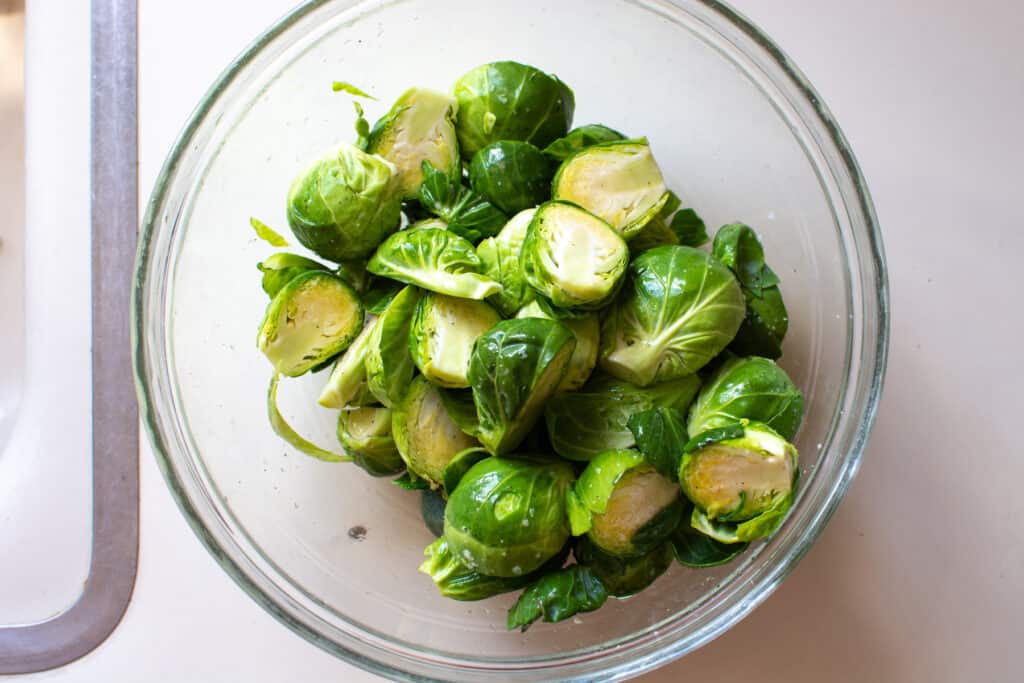 step three
Roast. Line them up on the baking sheet, cut side down, scatter the leaves around and roast in the top shelf of the oven until golden on the bottom and fork tender, about 20-25 minutes. The cook time will vary depending on your oven and the size of the Brussels sprouts.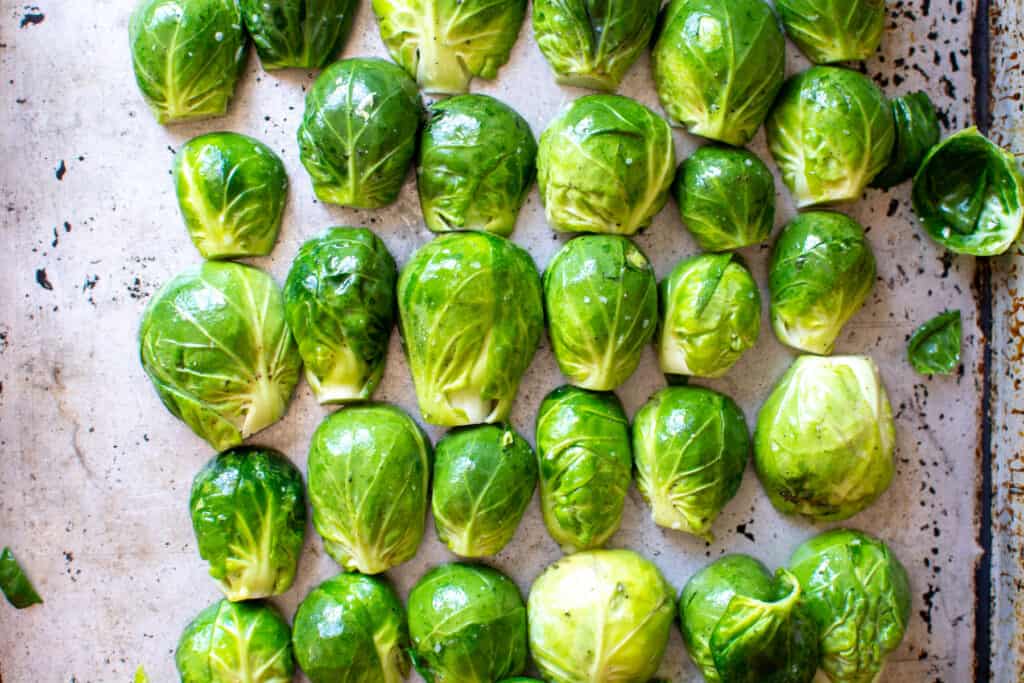 step four
Grate the cheese. Meanwhile, finely shred the cheese using a microplane if you have one or the smallest holes on your box grater. I don't recommend using pre-shredded cheese. It has funky anti-caking agents on it that mess with the texture and flavor.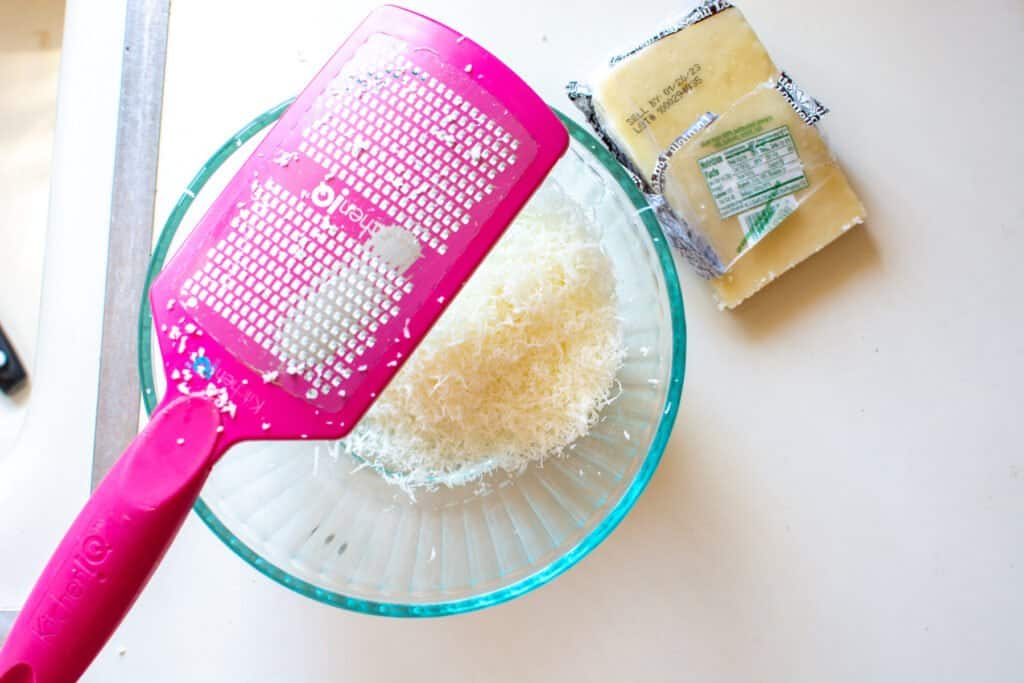 step five
Serve. Transfer the crispy roasted Brussel sprouts to a plate and top with the cheese. Serve immediately.
What To Serve With Roasted Brussels Sprouts?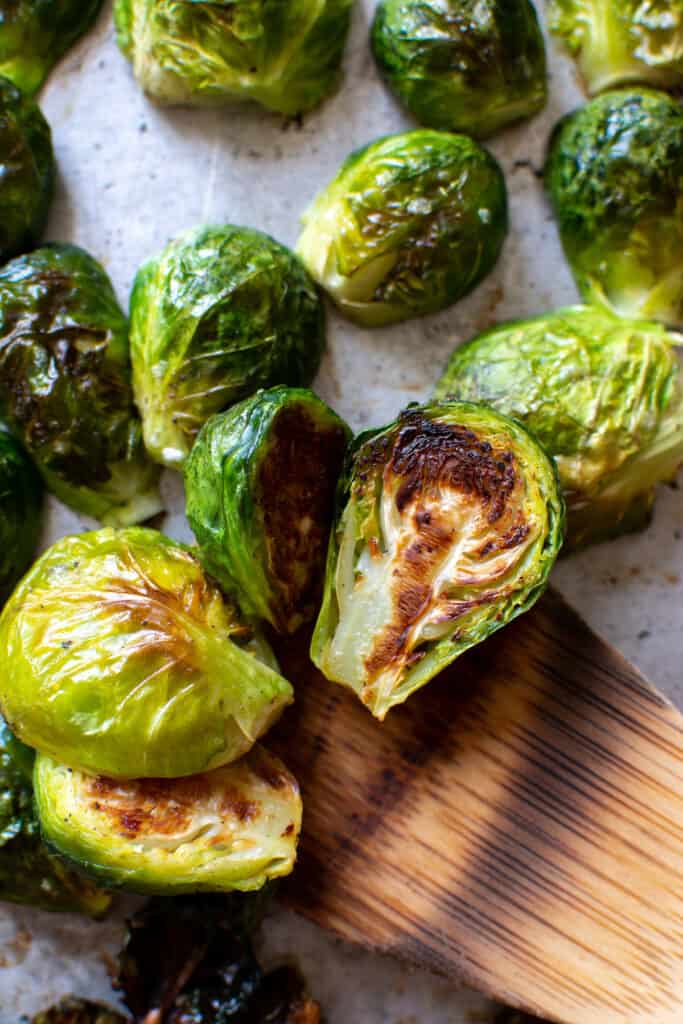 Brussel sprouts are one of our favorite side dishes because they go with everything! Try them with:
What Makes This Brussel Sprout Recipe The Best?
High heat = flavor. Many roasted Brussels sprouts recipes have you heat the oven to 400 degrees or lower. It's not hot enough to get that serious char that makes them so delicious.
The feather-light drifts of Pecorino Romano add that salty, creamy tang that takes these over the top.
Leveling up those knife skills—hey!
How To Roast Brussel Sprouts FAQ's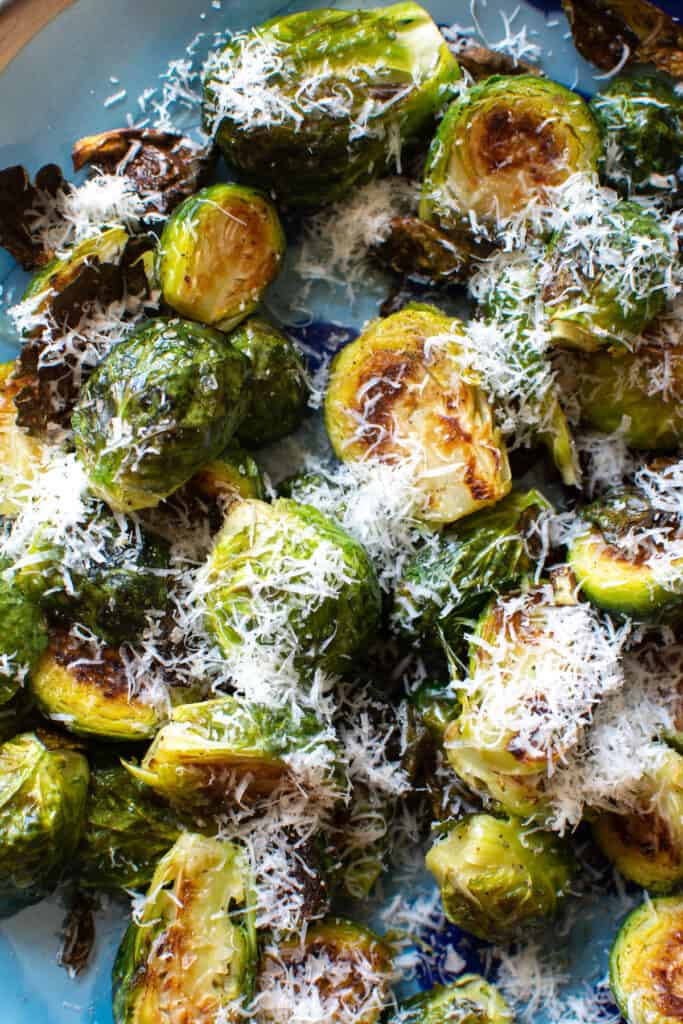 How do I double (or triple) this recipe? I hear you. This recipe is so good, it could easily be a single serving. The only problem you run into when multiplying the recipe is overcrowding the pan. Spread the Brussels sprouts out between two sheet pans if you plan on increasing the recipe.
Do I have to use the cheese? No, I make these all the time without the cheese and they are still good, but the tangy Pecorino takes them over the top. It's how we used to serve them at Firefly Restaurant in San Francisco and I've been doing it ever since.
Mine didn't get super brown. What happened? You probably didn't put them on the top shelf of the oven. Heat rises, so it is going to be hotter in the top of the oven than the bottom. Next time, place the baking sheet on the top rack for ultimate brownness.
More Side Dish Recipes You'll Love!
The Best Roasted Vegetable You've Ever Tried
Once you learn how to roast Brussel sprouts like this you'll never look back. I want to see your Brussels sprout pics when you do. Let me know by tagging me on Instagram @katesbestrecipes so I can see or leave me a comment below (don't forget to leave a ⭐️⭐️⭐️⭐️⭐️ rating) !
Oven-Roasted Brussels Sprouts with Cheese
A simple and delicious way to cook brussels sprouts. Roasted in the oven until crispy on the outside and tender on the inside then topped with Pecorino Romano.
Print
Pin
Rate
Ingredients
1

tablespoon

olive oil

1

pound

brussels sprouts

washed, ends trimmed and cut in half vertically

1/4

tsp

kosher salt and freshly ground black pepper

plus more for seasoning

1/4

cup

freshly grated Pecorino Romano or Parmesan cheese

optional
Instructions
Heat oven to 425°F. Toss brussels sprouts in the oil on a baking sheet and season with the 1/4 tsp of salt and pepper. Lay cut side down in a single layer. If any of the outer leaves have fallen off put those on the baking sheet too.

Roast in the top shelf of the oven until tender and browned-crispy edges have formed, about 20 minutes. Taste and season with more salt and pepper if needed. Transfer to a platter and sprinkle with cheese if desired; serve.
Video