This simple mixture of five pantry ingredients will turn any piece of salmon into a work of art. Best part? It takes a total of 10 minutes! If that doesn't scream best salmon recipe I don't know what does. If you're looking for more fish dishes, we always love this Lemon-Broiled Cod recipe.
---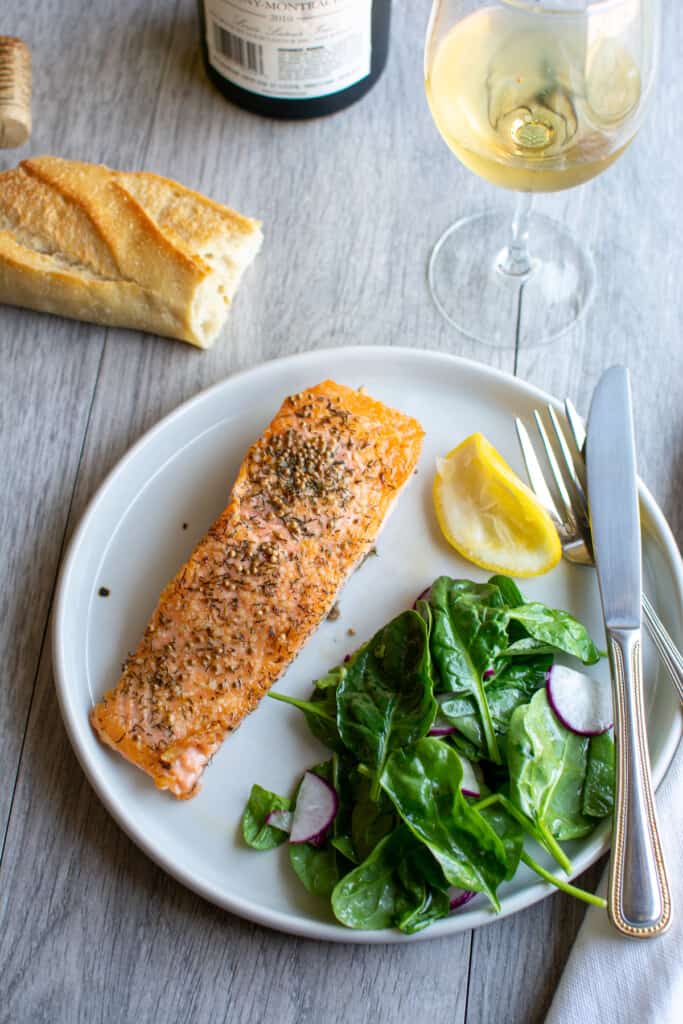 What makes a recipe the best? There are so many variations on cooking techniques, ingredients, etcetera, it can be hard to say. Seeing as I base this entire website off recipes I deem to be the best versions of themselves I personally, have a few requirements:
The flavor, of course, must be off-the-charts good.
It must be basically foolproof. Like if you follow this recipe anywhere close to a T, you will end up with the same results.
There's something surprising and delightful about the dish you didn't expect.
Without a doubt I can say that this is one of the the best salmon recipes because it more than meets all these requirements. It is absolutely delicious. It always turns out buttery and subtly sweet with gentle herb and earthy notes from the dill and mustard seed, no matter the kind of salmon you're using. I've made it with impeccable freshly-caught salmon and with just so-so salmon from Trader Joe's and both were good.
The recipe is very easy. You don't have to soak it in a marinade or even dirty a sheet pan. Just a sprinkling of dried dill and mustard seed, a bit of salt and pepper, and a quick flash in a pan and you're done. Perfect for weeknights.
Now for the surprising bit? You would never imagine that these simple ingredients and this simple technique would pull off something so good. It's a fast, nutritious (get those Omega-3 fatty acids!), and refreshing take on how to cook salmon.
How Do You Get Crispy Salmon Without Overcooking It?
It is not going to be the best salmon recipe if it comes out tough and chewy, right?! The secret to get that great crispy outside and meltingly tender salmon on the inside is to fry the salmon quickly in a very hot pan.
This is quicker and gets you much better results than baking salmon in the oven. The key is to use olive oil, not butter, and get the oil really hot. You will know it is ready when you can smell the olive oil and it is making streaks in the pan.
Then lay the salmon in the hot oil—it must really sizzle—and leave it alone. Don't touch it until it has a nice golden crust and releases easily from the pan. If it doesn't come off, give it another minute and try again.
Flip the salmon and cook for a couple of minutes on the other side, but not so long that it overcooks.
Ingredients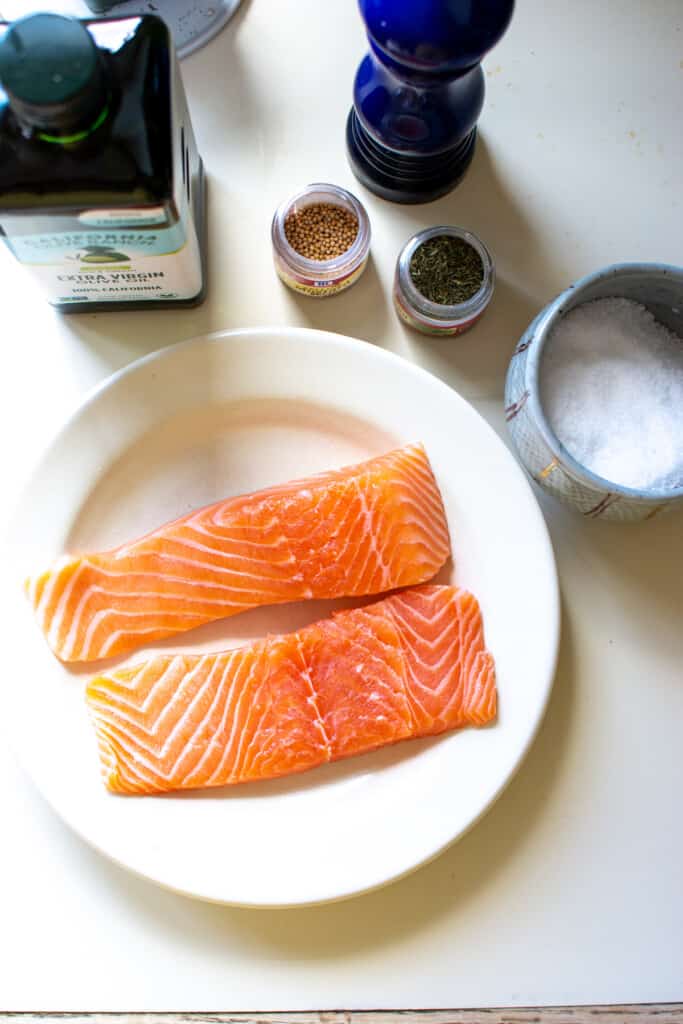 Salmon fillets. About 4-6 ounces each. Cut them yourself from a larger piece of salmon or buy them already cut.
Olive oil. I like to use California olive oil, it is fresher than imported brands.
Dried dill. Also labeled dillweed, which always makes me laugh.
Yellow mustard seed. I've also used brown mustard seed, also good.
Kosher salt. I always use Morton's kosher salt unless otherwise specified.
Black pepper. When I say black pepper I always mean freshly-ground black pepper.
How To Make This Recipe
This is one of our favorite weeknight dinners, here are the step-by-step instructions.
step one
Season the salmon. If your salmon still has the skin on, cut it off with a knife by sliding the knife in between the skin and the salmon then pulling on the skin while keeping the knife still but tilted at an angle down towards the skin.
Drizzle 1 tablespoon of the olive oil over the salmon and rub it in so it is coating both sides. Evenly sprinkle the dill, mustard seed, salt, and pepper over both sides of the salmon.
step two
Sear the salmon. Heat remaining 1 tablespoon of olive oil in a medium frying pan over medium-high heat. Give the oil 2-3 minutes to heat up or until you start to smell the olive oil and it is making streaks in the pan.
Place the salmon in the pan and let it cook without touching it until it forms a nice crust and is opaque halfway up one side, about 2-3 minutes. Flip and repeat.
step three
Enjoy! Serve immediately. Squeeze some lemon juice over the top if you want. So good!
What To Serve With It
I like to serve this salmon with lots of vegetables like a simple salad with avocado or try one of these:
Cooking Salmon FAQ's
How do I make the salmon crispy? The tastiest way to cook salmon is to fry it in really hot oil. If the oil or pan is not hot enough you won't get a crispy crust on the outside.
What is the best tasting salmon? Super fresh, never frozen salmon is always the tastiest but that can be hard to come by in a lot of places, so I usually look for wild salmon over farmed Atlantic salmon for the best flavor.
Help! The salmon stuck to my pan. To prevent salmon from sticking you must let the pan and the oil get hot before adding the salmon. Let the oil heat over medium-high heat for at least 2-3 minutes. Then add the salmon and don't touch it until it forms a crust and easily releases.
What brings out the flavor of salmon? If you've made salmon before and it had a bland and boring taste, you probably didn't use enough salt. Salt is key to bringing the flavors out in food. Generously season each salmon filet with salt and pepper.
How can I use the leftovers? This recipe only makes two filets but if you do have leftovers they will keep covered in the fridge for 3-4 days. You can use them to make everything from salmon tacos, and salmon pasta to salmon burgers.
More Quick and Easy Recipes To Browse
Is It The Best?
You'll never know unless you try! When you make it, let me know what the verdict is by leaving a comment below! Share a photo and tag me on Instagram using @katesbestrecipes so that I can see (don't forget to leave a ⭐️⭐️⭐️⭐️⭐️ rating)! Also, sign up for my weekly recipe newsletter so you never miss a thing.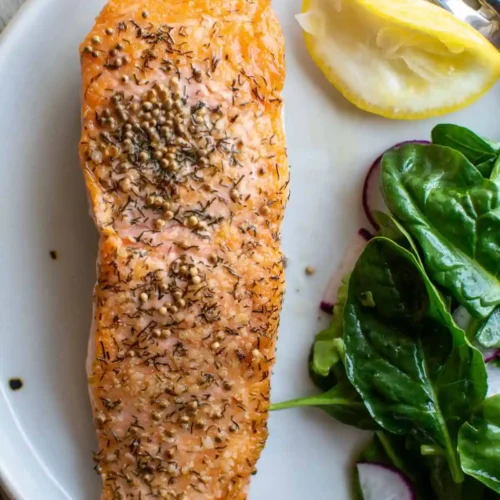 DILL AND MUSTARD SEED SALMON RECIPE
Fresh salmon seasoned with a dill and mustard seed spice mixture then seared until crispy on the outside and tender in the middle.
Print
Pin
Rate
Instructions
Season salmon. Rub salmon with 1 tablespoon oil on all sides. Evenly distribute spices over both sides of the salmon.

Cook salmon. Heat remaining tablespoon oil in a large non-stick frying pan over medium-high heat. Add salmon and cook, undisturbed, until a brown crust forms, about 2 minutes. Flip and repeat on other side.

Serve! Squeeze a lemon wedge over the salmon and enjoy.
Notes
Let the oil get hot before adding the salmon fillets, like let it heat for 2-3 minutes or until you can begin to smell the olive oil and it is making streaks in the pan. 
Don't touch the salmon while it is cooking. Let it form a nice crust and start to turn opaque halfway up the side of the fillet before flipping. 
How long it takes to cook will depend on how thick it is. 2-3 minutes per side is about average. 
In support of this small business, Kate's Best Recipes earns revenue in a few different ways. Several sponsored posts are published each month. I also earn an affiliate commission on the sales of products I link to— there are a few of those links in this post. I only feature items I genuinely love and personally use on a regular basis. This commission is an arrangement between the retailer and Kate's Best Recipes (readers never pay more for products). This income allows me to run the site. Thank you for reading!