Quick and Easy Skirt Steak Recipe
The best foolproof skirt steak recipe ever! So quick and easy with only four ingredients and ready in 10 minutes. Use for making steak tacos or just a nice pan-fried steak dinner with a salad or my favorite—baked potato!
---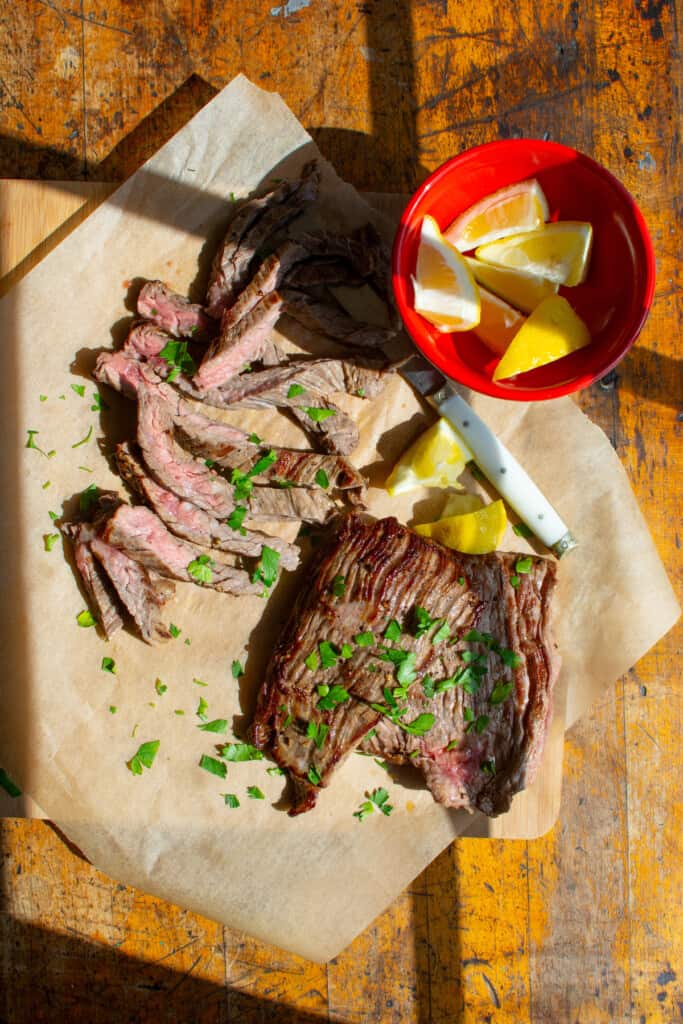 My most beloved pan is my cast iron skillet. I fry in it, bake cornbread in it, and it is essential for an excellent pan-seared steak.
The original non-stick surface; cast iron, allows you to get the pan roaring hot without having to use too much extra fat to keep the meat from sticking. Which in turn, gives the steak an amazing crust while keeping the inside as rare as you like.
This is the ultimate fast, easy meal—all you need are four ingredients—skirt steak, olive oil, kosher salt and freshly ground black pepper.
Why This Is The Best Skirt Steak Recipe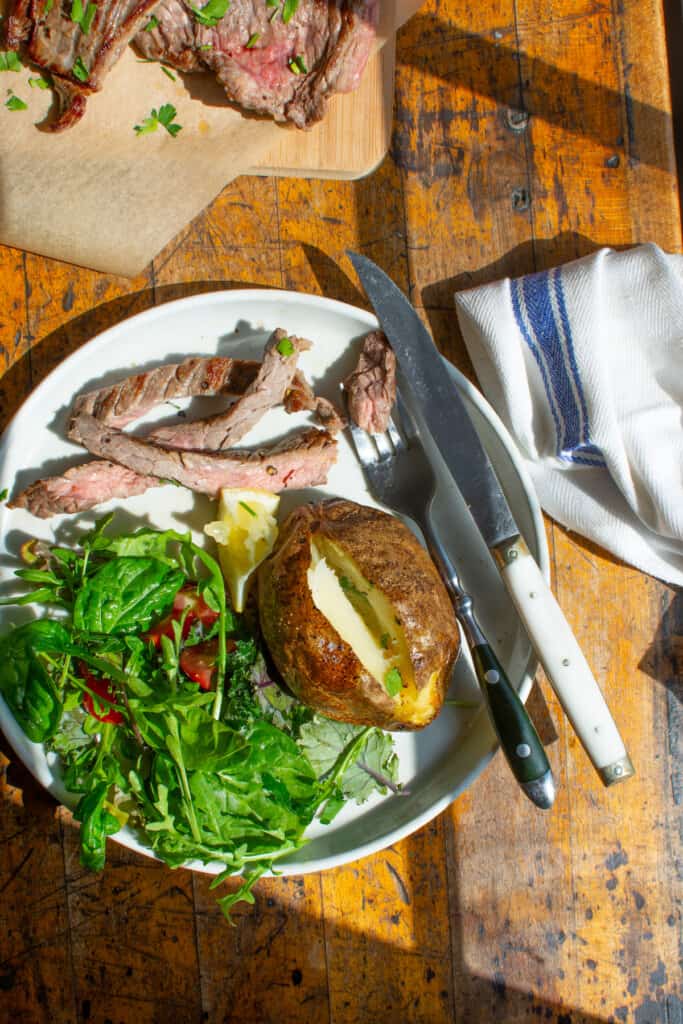 This recipe is the best because it is spectacularly easy. I repeat, all you need is 4 simple ingredients and a hot pan. No heating up the grill or anything.
Skirt steak is very forgiving, meaning even if you overcook it a little, it will still be juicy and taste incredible. It is a naturally chewier cut of meat (which I love) so it's not like you go from meltingly tender to hard as a rock like, for example, a tenderloin.
This dish is also crazy fast. Meaning you can have dinner on the table in under 10 minutes. Just throw together a salad while the steak is cooking and you're ready to go!
What Is Skirt Steak?
Skirt steak is a cut of beef from the diaphragm muscle below the rib section. There are actually two different cuts of skirt steak that make up this muscle but they are rarely labeled as such so if you are concerned, ask your butcher.
The inside skirt steak is tougher, has lots of connective tissue, and has more surface area but is not as long. The outside skirt steak is thicker and longer and is more tender. Even if you get the inside skirt steak by accident it will still be delicious. You can tenderize it with a meat mallet if you are worried it will be too tough.
The best thing about skirt steak is its exceptional beefy flavor. It requires little more than salt and pepper and perhaps a squeeze of lemon or lime juice to bring out its richness.
Economically speaking, skirt steak is surprisingly affordable, compared to other cuts like rib eye or strip steak. In my opinion, way more flavorful than those too.
Ingredients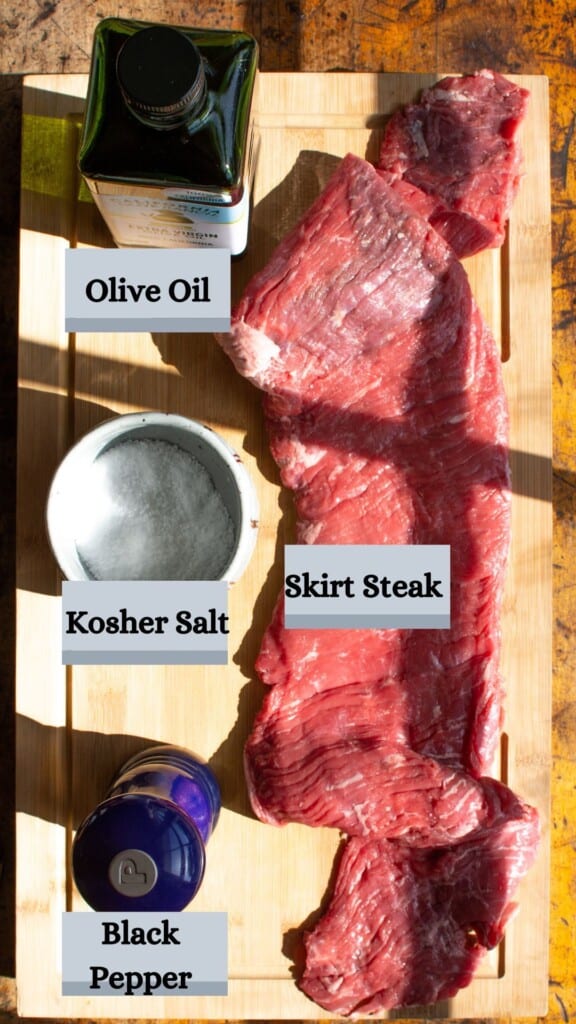 Skirt Steak. Ask for outside skirt if possible.
Olive oil. I always use California olive oil over imported simply because it is fresher.
Kosher salt. I always use Morton's kosher salt unless otherwise noted.
Freshly ground black pepper
Lemon, for squeezing (optional)
How To Make This Recipe
step one
Season steak. Skirt steak usually comes in a long piece. Cut the steak with the grain into 4 smaller, equal-sized pieces that will fit in your pan. Coat both sides of the steak pieces with olive oil and season both sides generously with salt and pepper.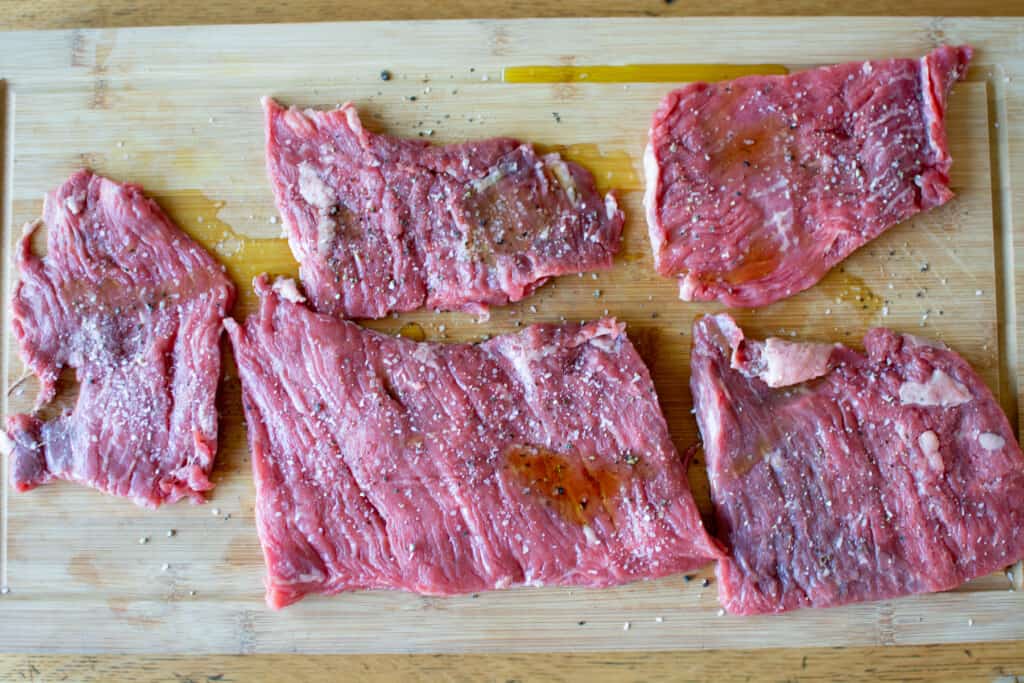 step two
Cook skirt steak. Heat a cast iron skillet or other large skillet over medium-high heat for at least 2 minutes or until very hot. Add a tablespoon of olive oil and 1 or 2 pieces of the steak. Don't crowd the pan. Let sear on one side, do not touch it for at least 2 minutes or until it easily pulls away from the pan and has formed a nice golden brown crust. This could take anywhere from 2-4 minutes.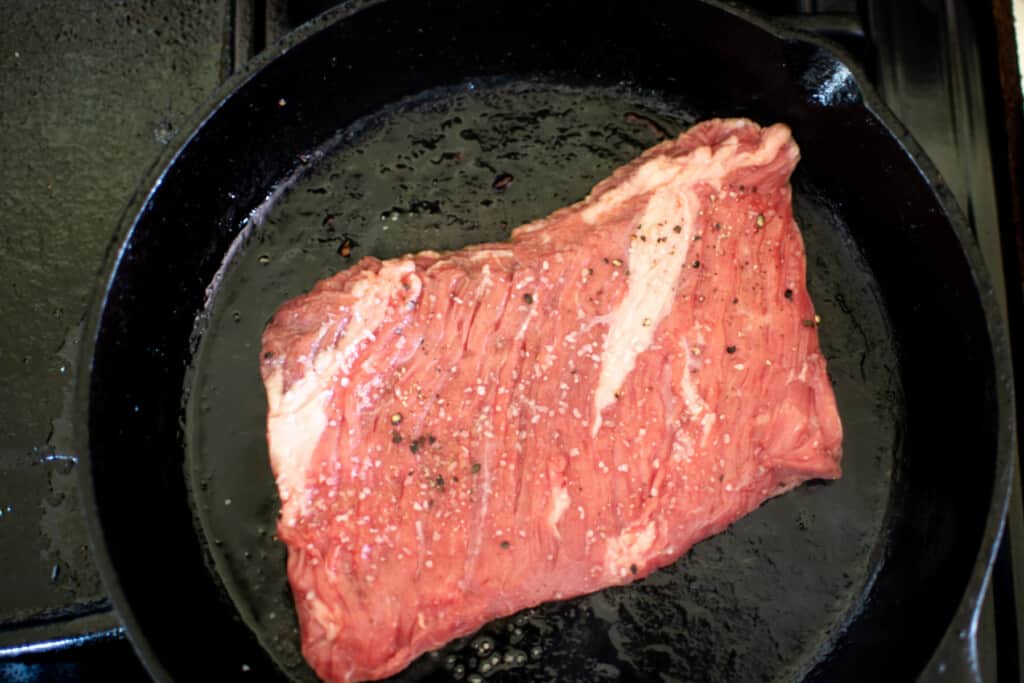 step three
Sear second side. Flip and continue cooking on the other side until it is done to your likeness, about 1 more minute for medium-rare, 2 for medium and so on. I like my skirt steak best at medium doneness (around 130°F). The tough muscle fibers tend to loosen up at that temp but are still juicy.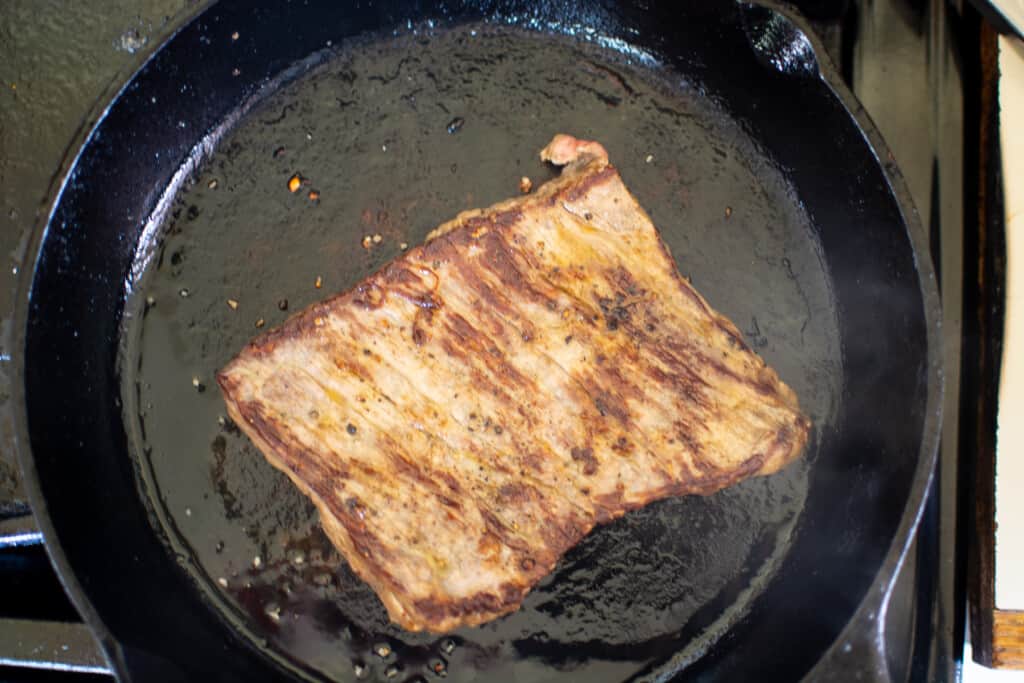 step four
Slice and serve. Transfer to a cutting board and let the steak rest for 5-10 minutes to allow the juices to settle into the middle of the steak. Slice against the grain into thin strips. Against the grain means the knife will be perpendicular to the direction the lines on the meat are going. Serve with lemon wedges for squeezing if you'd like.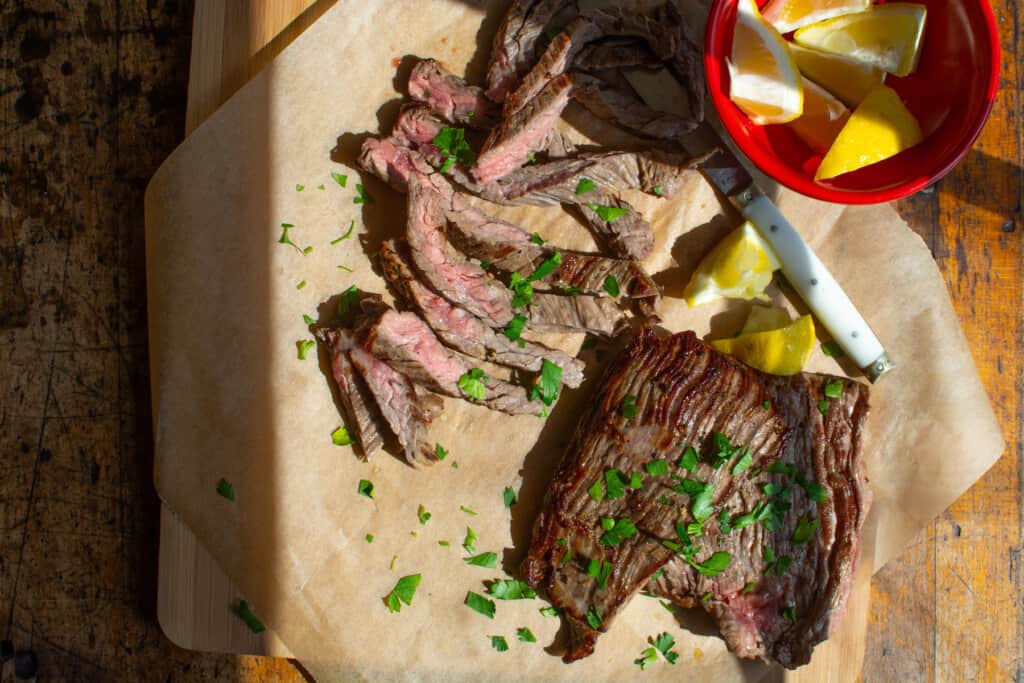 What To Serve With It
Skirt Steak FAQ's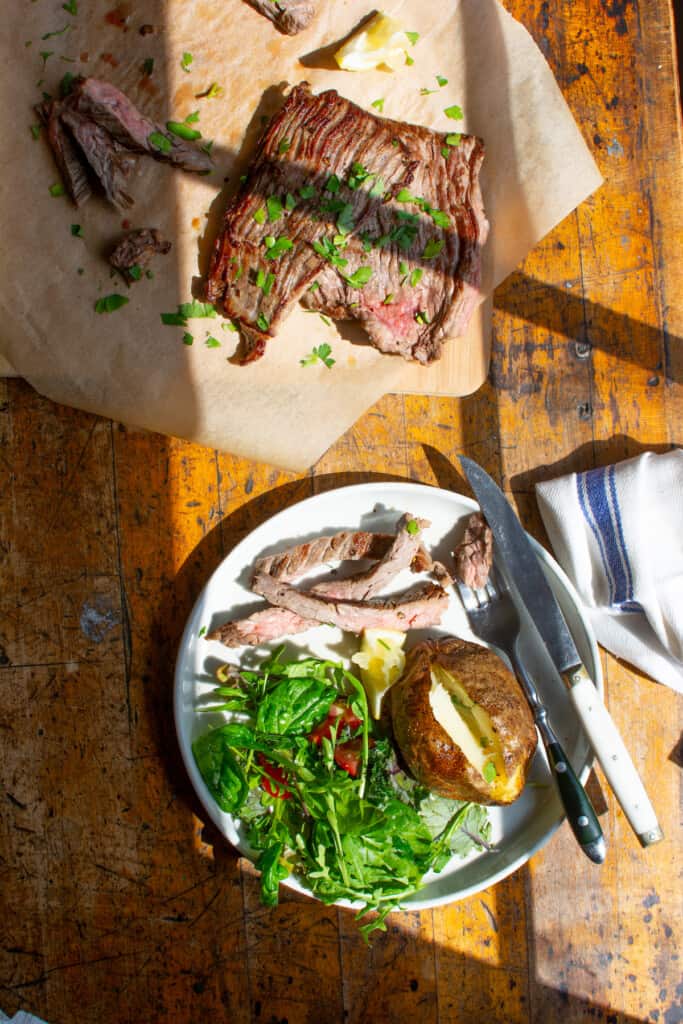 Why is my skirt steak tough? One thing to know about skirt steak is it is not tenderloin. It has a natural chewiness that some of us love. That being said, the most common reasons why your skirt steak is tough is because either you cooked it to well done or you cut it with the grain instead of against the grain.
What is skirt steak best for? It is the cut of meat that is used most often for fajitas but I think it is perfect anytime you are craving steak.
Do I need a skirt steak marinade? The best part about a skirt steak is its delicious flavor which marinating tends to cover up. I think it is better to serve with a sauce that can be spooned on top. One with lots of herbs like chimichurri is good or even a simple dash of Worcestershire or soy sauce after cooking.
Are skirt steak and flank steak the same thing? They are often confused for one another but they are actually different cuts of meat. Flank steak also comes from the underbelly region but has less fat which makes it leaner.They both have exceptional beefy flavor.
What do I do with leftovers? Slice them up and add them to a quesadilla or use it to top a salad. It also makes excellent steak sandwiches with sliced tomatoes, mayo, and arugula.
More Quick and Easy Recipes You'll Love
What's Fast, Easy, and Juicy?
This skirt steak recipe, that's what! When you make it, let me know how it went by leaving a comment below! Share a photo and tag me on Instagram using @katesbestrecipes so that I can see (don't forget to leave a ⭐️⭐️⭐️⭐️⭐️ rating)! Also, sign up for my weekly recipe newsletter so you never miss a thing.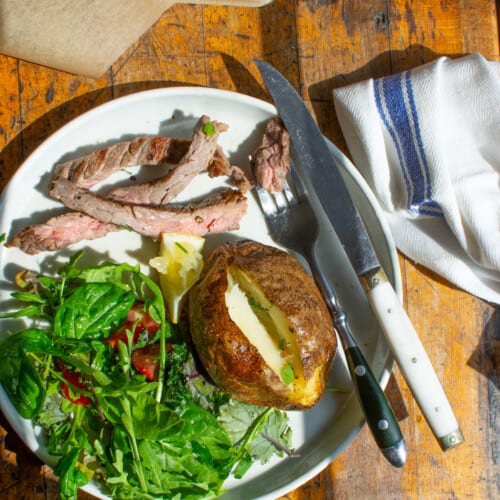 Quick and Easy Skirt Steak Recipe
A easy steak recipe you'll make again and again. Three ingredients and a nice piece of meat is all you'll need. Dairy and gluten free!
Print
Pin
Rate
Instructions
Prep steak. If skirt steak is in one long piece, cut into 3 or 4 smaller pieces that will fit into your pan. Rub 1 tablespoon of the oil over both sides of the steaks and generously season both sides with salt and pepper.

Cook steak. Heat a large cast iron skillet over medium-high heat for about 3 to 5 minutes. Drizzle remaining 1 tablespoon of oil in the pan and swirl around. Place 1 or 2 steaks in pan, don't crowd. Let cook, undisturbed, until a nice crust has formed on the bottom, about 2 minutes. Flip steaks and continue ooking to desired doneness, about 1 more minutes for medium-rare, 2 for medium, 3 for medium-well and so on. Repeat with remaining steaks, adding another tablespoon of oil to the pan if necessary.

Let steak rest. Place steaks on a cutting board and let rest 5-10 minutes. Slice thinly against the grain and serve with lemon wedges for squeezing.
Notes
When you cut the longer skirt steak into smaller pieces, cut the steak with the grain, meaning parallel to the lines in the meat. 
If you have time, let the steaks come to room temperature before cooking. 

The steaks should make a loud sizzling noise when they hit the pan, if they don't, your pan is not hot enough. Take them out and heat the pan for another couple of minutes.

The ideal doneness for skirt steak is medium, or 130°F. 
Make sure to flip on your oven vent or open a window before starting. This method creates a lot of smoke. 
In support of this small business, Kate's Best Recipes earns revenue in a few different ways. Several sponsored posts are published each month. I also earn an affiliate commission on the sales of products I link to— there are a few of those links in this post. I only feature items I genuinely love and personally use on a regular basis. This commission is an arrangement between the retailer and Kate's Best Recipes (readers never pay more for products). This income allows me to run the site. Thank you for reading!