11 Delicious and Cheap Crock Pot Recipes
Easy and Cheap Crock Pot Recipes are exactly the kind of comfort food we need to satisfy those cravings without breaking the bank.
---
Crockpot recipes check all the boxes: prep time is minimum, they do all the work while you are at work, and when dinner time rolls around there's a complete meal waiting for you.
I consider it an extra bonus if they're budget-friendly as well. These slow cooker recipes are just that. They all feed a family of four for less than 5 bucks a person (some much less) but are still every bit as hearty and delicious as you'd expect from your favorite slow cooked dinner.
Who doesn't love a soul-satisfying dinner that cost next to nothing? Here's 11 recipes that will help you save money and save your sanity. When times are tough, remember, vegetables, beans, pasta, and rice are your friends. Sub those in place of meat, it's all good.
11 Cheap Crock Pot Recipes
Hearty chicken soup but with a Mexican twist from the addition of jalapeños, marjoram, and mint. The broth on this soup is incredible thanks to using a whole chicken instead of boneless pieces. Plus using a whole chicken is a lot more meat for your money. Let the chicken cook low and slow then shred it removing the skin and bones as you go.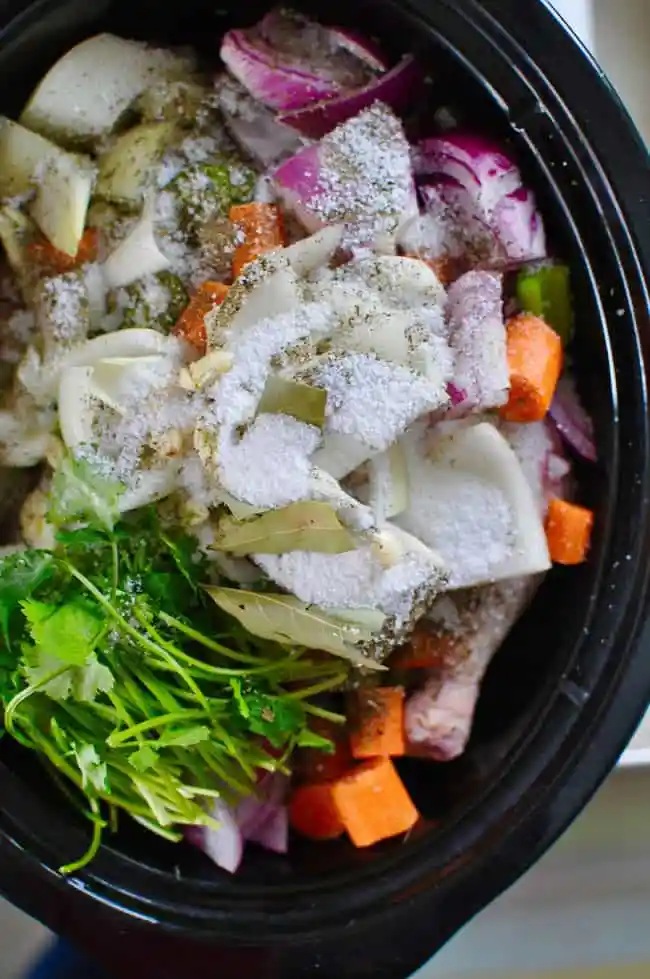 Easy crockpot meatballs for the win! My dear friend Katie shared this recipe and I love that they are on the healthier side thanks to using ground turkey and the sauce comes together quickly with a few pantry favorites like canned tomatoes, dried oregano, and fennel seeds. Believe me everyone at the table will be happy.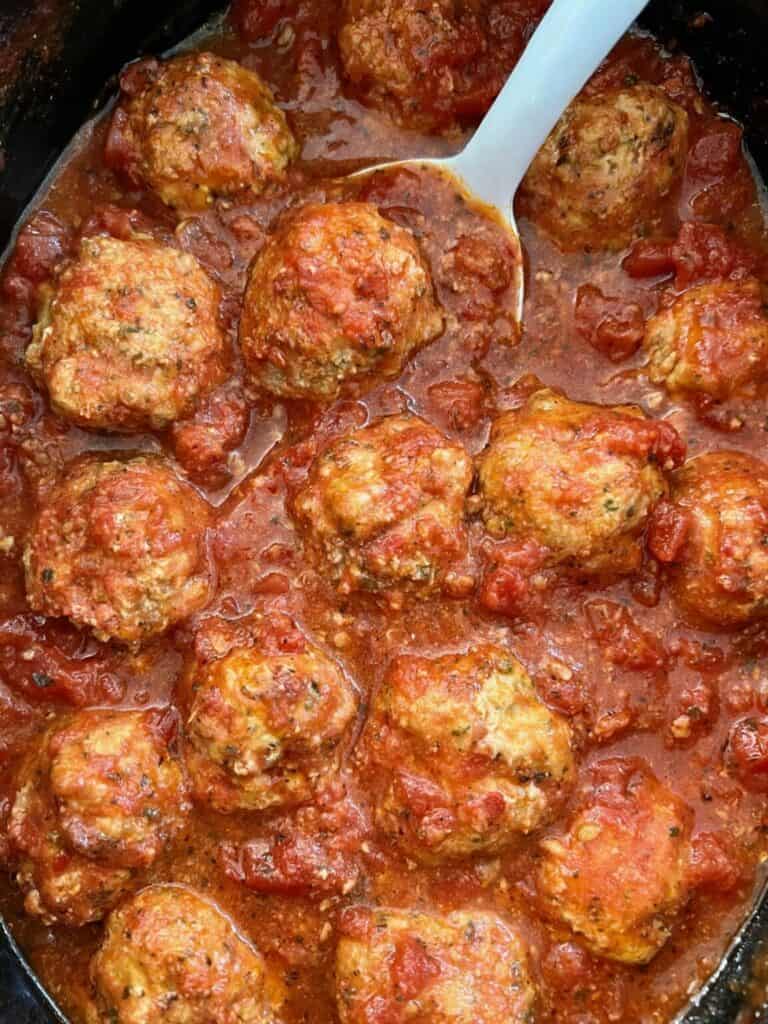 Sandwiches just make the best weeknight dinners especially when they're made with tender bbq pulled pork and crunchy slaw. Using tougher cuts of meat like pork shoulder aren't only more flavorful but also less expensive. The slaw has fresh pineapple which is such a nice sweet touch. Thank you Teri and Jenny for such a yummy recipe!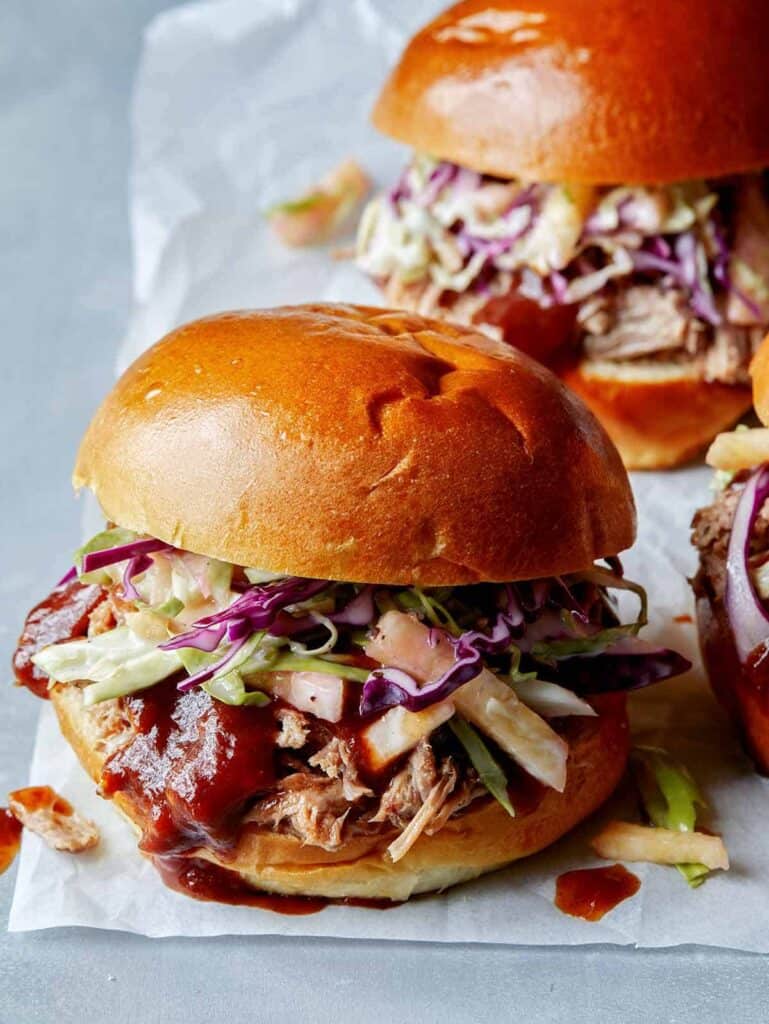 Take classic chicken tortilla soup and then add a creamy tang of sour cream and you have a slow cooker dinner made in heaven. This version of chicken tortilla soup is a family fave, a tad bit spicy, creamy, and warming. Top the bowls fried tortilla strips or just crush up some tortilla chips—so easy and so good. Leftovers are amazing too.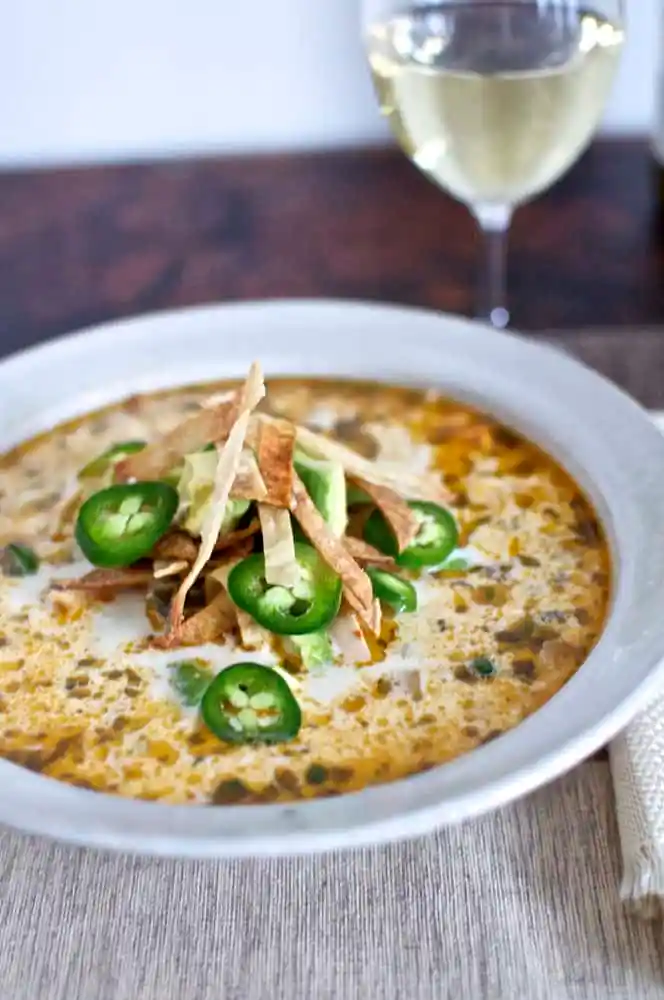 Winter is the season for warm and cozy chicken dinners but that doesn't mean they can't also be bright and cheery. Molly slow cooks the chicken in a mixture of gochujang, ginger, honey, and soy. Use chicken thighs for this recipe, they're more flavorful and cost less! The mango salsa adds a bit of sweetness and fresh flavor.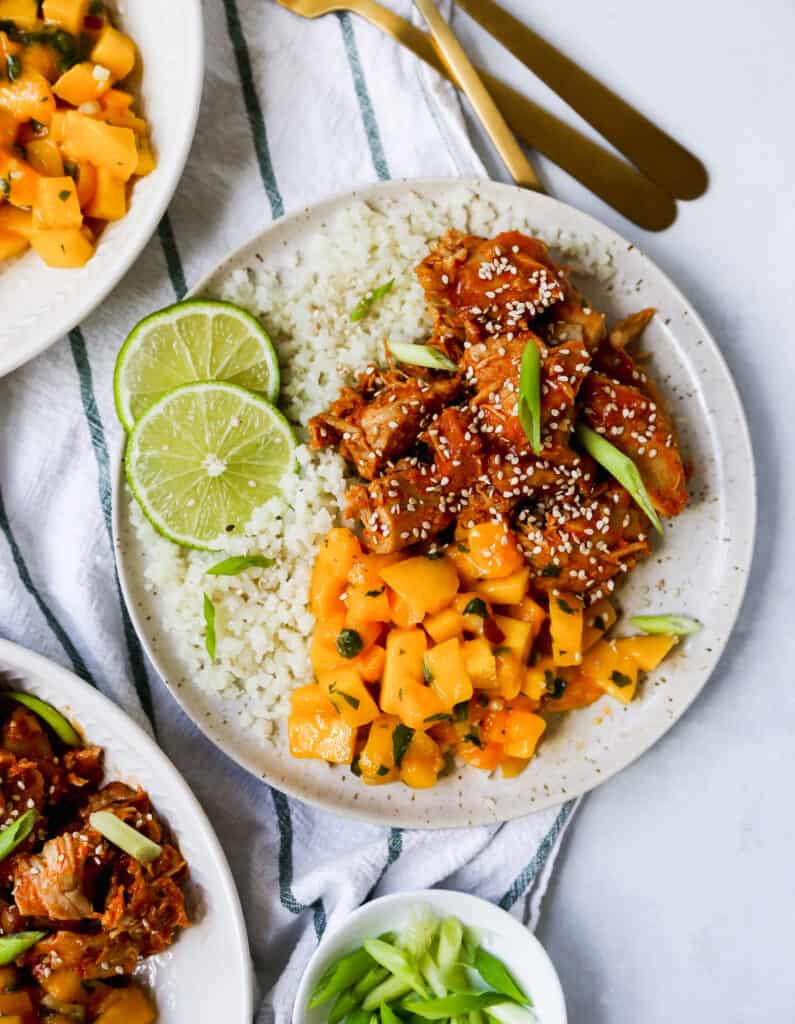 Pinto beans are made for crock pots. The low and slow cooking creates tender, fluffy beans. This is one of my go-to recipes for an easy bean side dish, burrito filling, or even enjoy as a soup. The bacon gives it a smoky kick but you could leave it out for a vegan recipe. Don't skip the beer though, it adds such good malty flavor.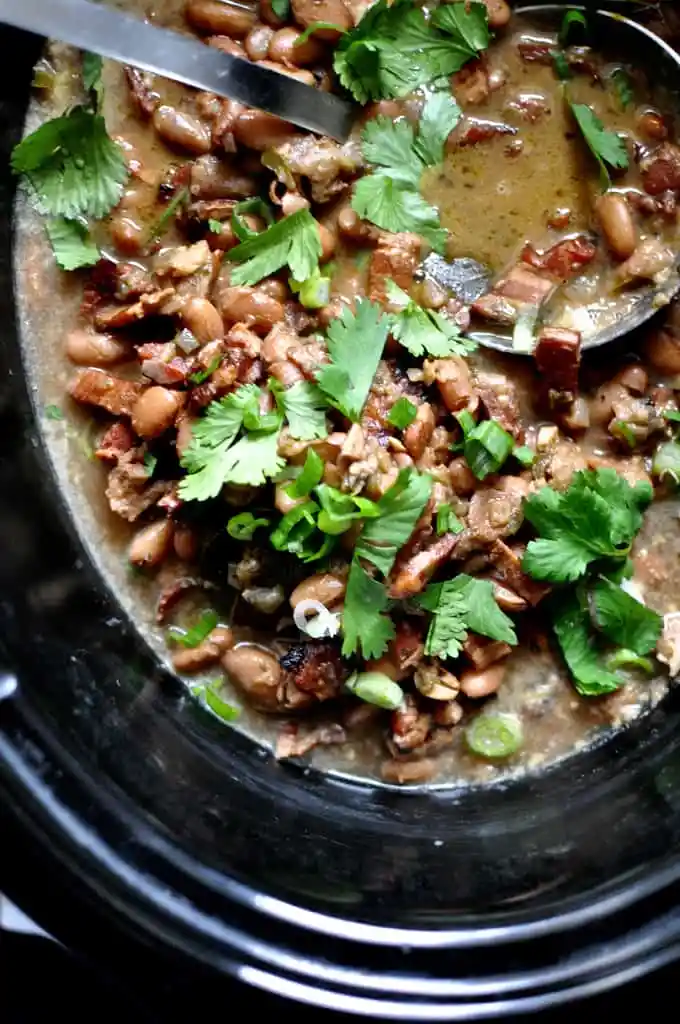 This may be a cheap slow cooker meal but it feels very special—Britney's good like that. It has the perfect amount of spice from buffalo sauce and pepper jack cheese plus cheddar to mellow it out. This recipe calls for rotisserie chicken but you could cook your own chicken thighs to cut down on the cost.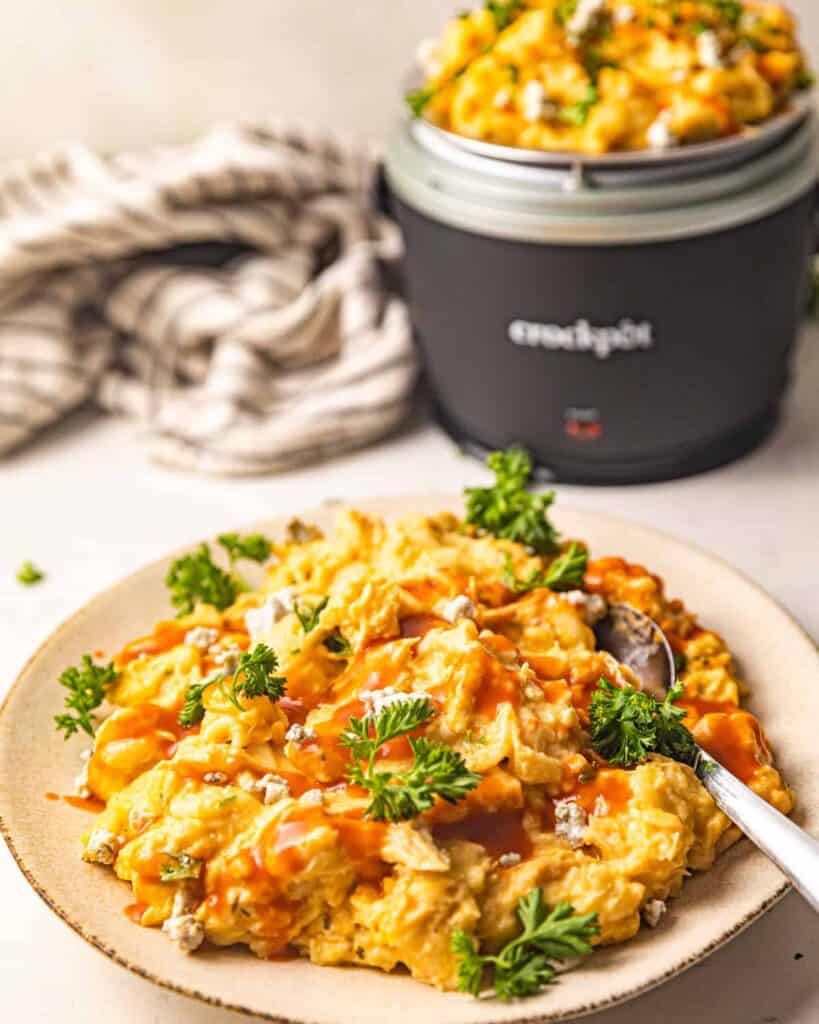 Big batches of rice and beans are the way to go when having friends over. They're cozy and totally affordable and this recipe is particularly delicious with smoked ham hocks, red kidney beans, green pepper, and Creole seasoning. Marrekus and Krysten always bring the southern comfort food!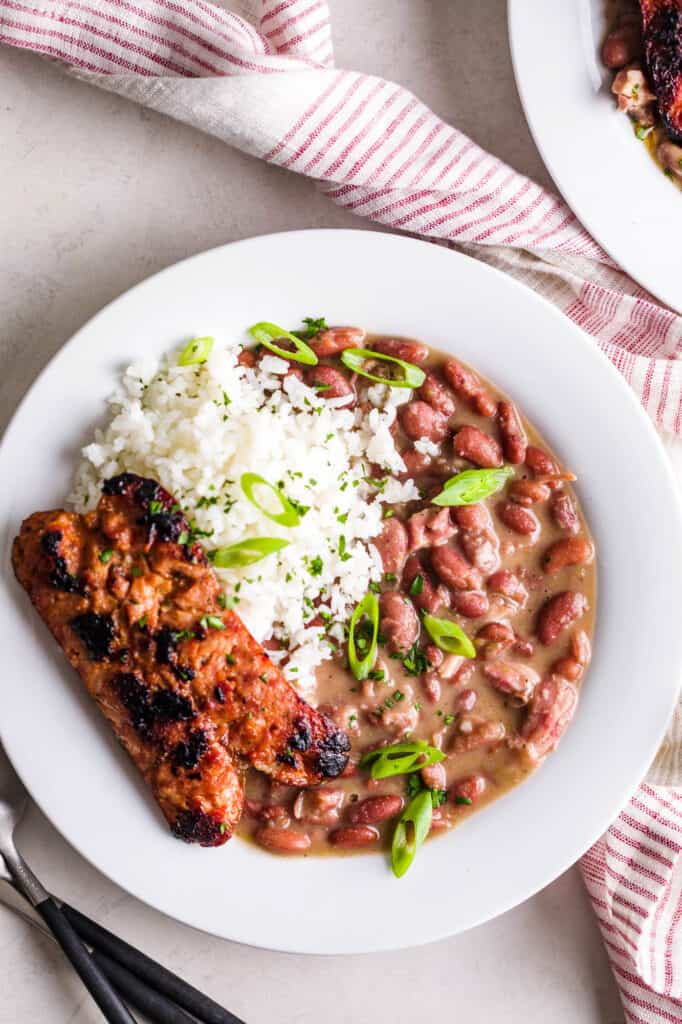 Another delicious Cajun recipe from Leigh Ann, this crockpot chicken makes awesome sandwiches or even just served with rice or mashed potatoes to soak up all those delicious juices. Tasty! The recipe also suggests serving the chicken on top of a crunchy salad or as tacos with pico de gallo.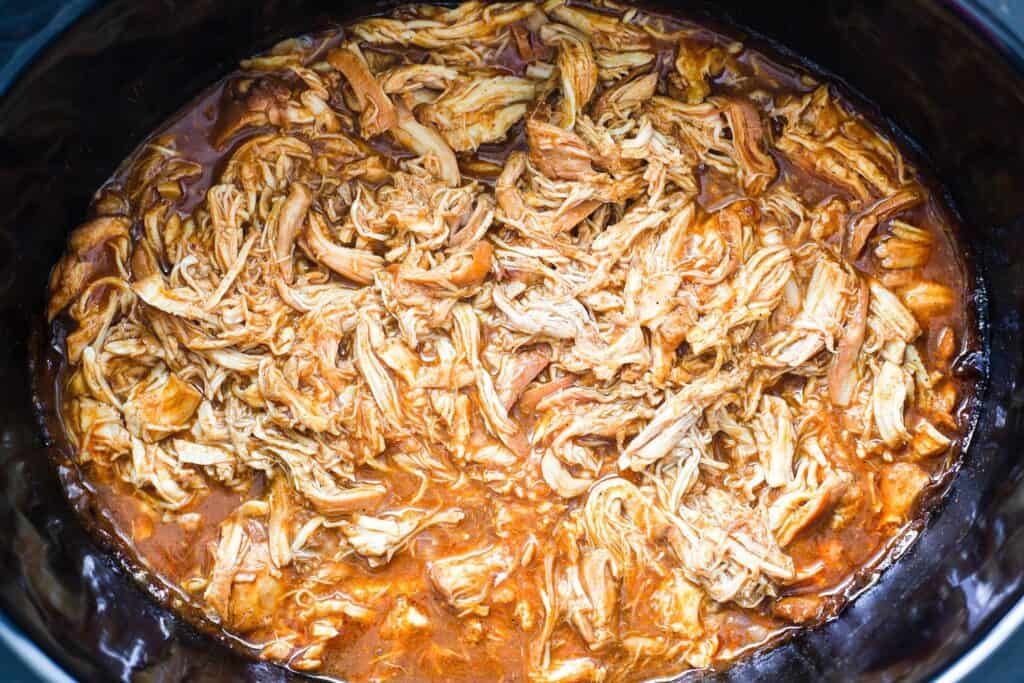 A super delicious black bean and ground beef chili. Brenda just nails it with this family recipe. You can always find lots of toppings on my chili like tortilla chips, cheese, sour cream, and scallions. Want to make this recipe even more budget-friendly? Omit the beef and make it a vegetarian chili—I promise it will be just as delicious. Serve with our favorite cornbread muffins for dipping.
You can make lasagna in the crock pot? Yes you can! Made with Italian sausage, store-bought marinara sauce, ricotta cheese, lasagna noodles, herbs and spices. Just layer it all in the crock pot and let it do its thing! Whitney has lots of creative slow cooker recipes, make sure you check her out.
More Inexpensive Recipes You'll Love!