Tomato Rice Soup with Dill
Shockingly good, this tomato rice soup recipe is truly the best! Bursting with flavor from tomatoes, fennel seed, saffron, and orange it's like no other tomato soup you've ever made.
---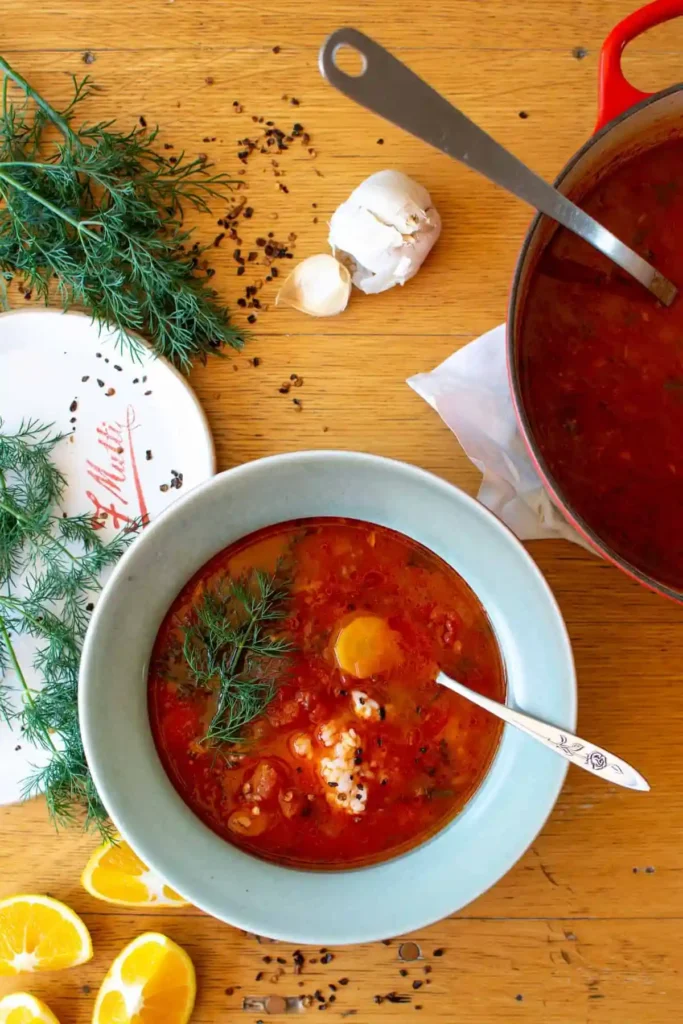 Summer is all about tomatoes and once we get tired of eating them raw in salads, let's turn to soup.
If you are anything like me you either plant way more tomatoes in your garden then you can possibly eat or go nuts buying all the gorgeous tomatoes at the farmer's market only to find later in the week that they need to be used, like yesterday. Those not so premium tomatoes are just perfect for simmering into soup.
If you are anticipating a recipe for an upscale version of Campbell's, think again. This soup is complex and loaded with flavor. With fennel, orange zest and dill all competing for attention the tomatoes act as a foundation, more of a flavorful base that pulls everything together.
If you are a dill hater (I know there are some of you out there) feel free to switch up the herb, Italian parsley, fresh basil, or chives would all work well here.
Ingredients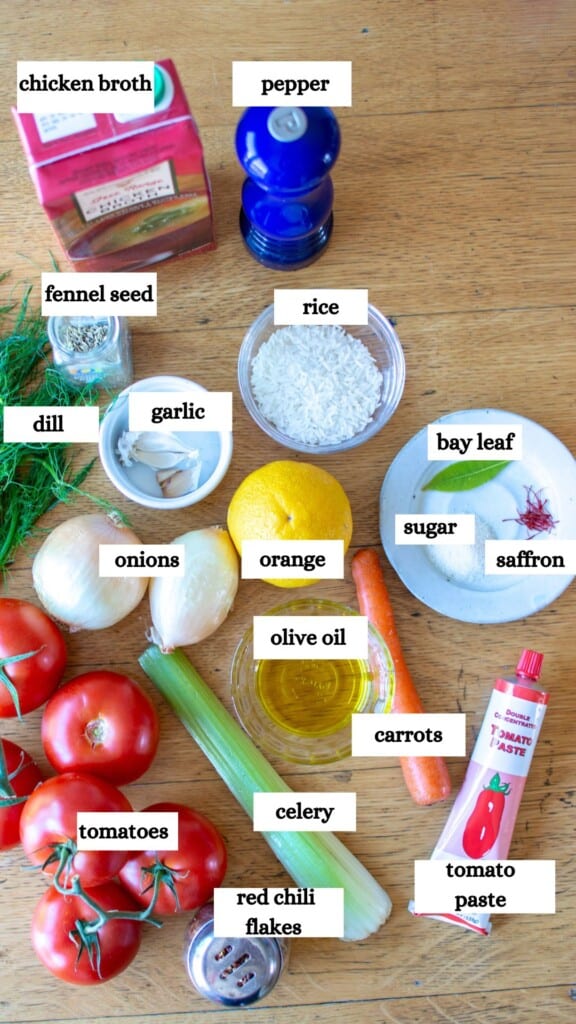 Olive oil
Yellow onion
Carrot
Celery
Garlic
Tomato paste
Tomatoes
Orange zest
Red chile flakes
Fennel seed
Bay leaf
Saffron
Chicken broth or vegetable broth
Granulated sugar
Basmati Rice or brown rice
Dill
Kosher salt and black pepper
How To Make This Recipe
step one
Chop your veggies. Start by prepping the carrot, onion, celery, garlic, and tomatoes. There is an option to puree the soup in a blender once it is cooked. If you are going that route, the chopping doesn't have to be precise.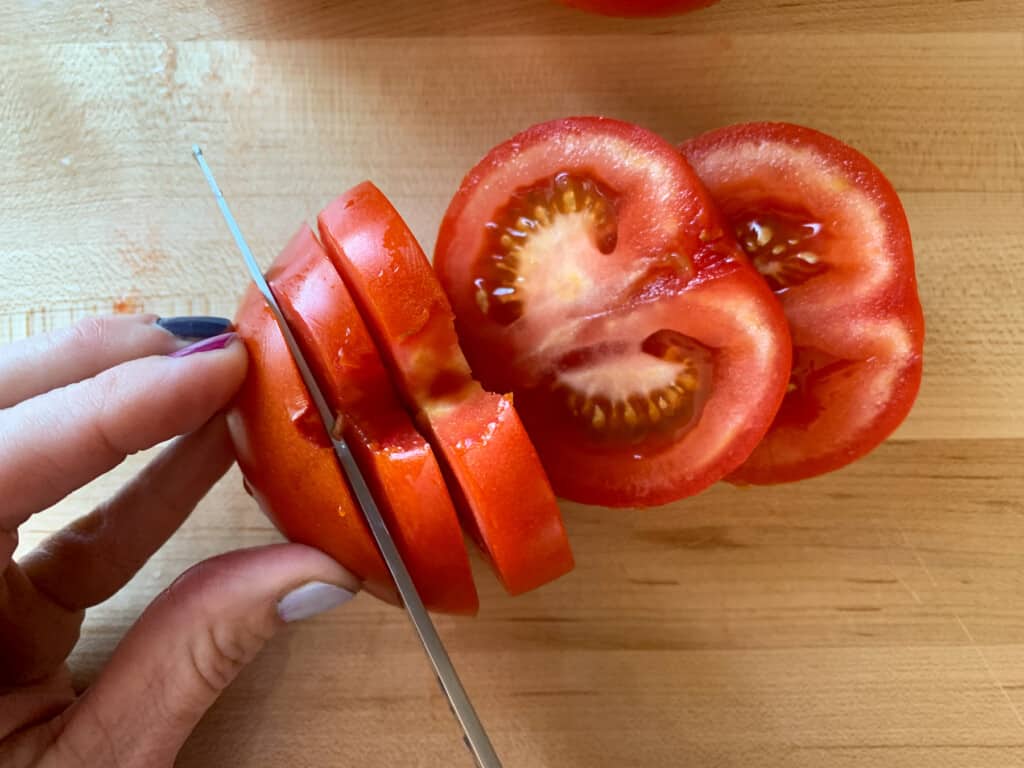 step two
Sauté veg. Heat oil in a large soup pot over medium-high heat. Add vegetables and season with salt and pepper. Cook, stirring occasionally, until veggies soften and start to caramelize.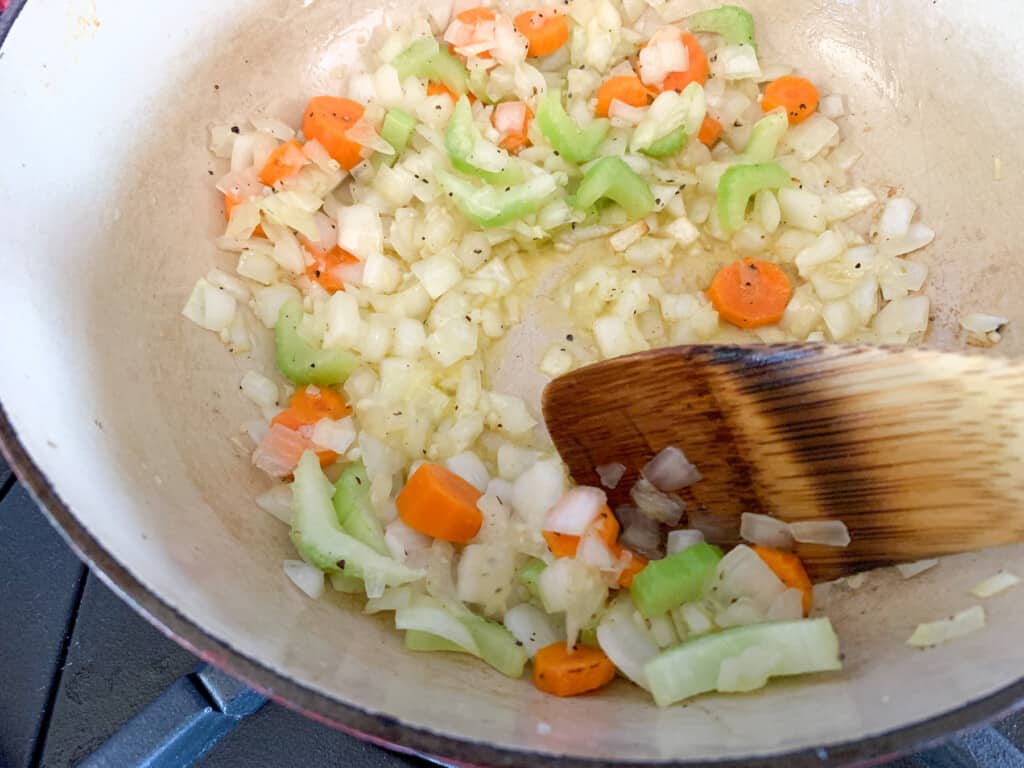 step three
Cook tomato paste. Add tomato paste and stir to coat the vegetables and brown the paste a little bit.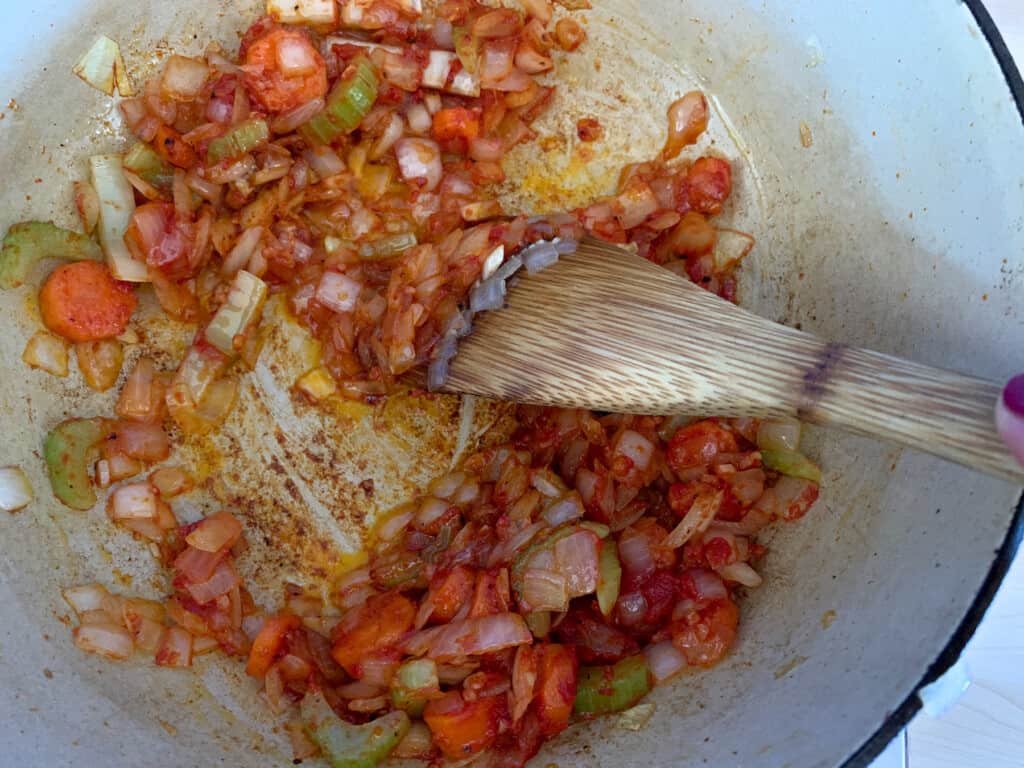 step four
Add tomatoes. After the tomato paste has melted into the veggies, add the tomatoes, bay leaf, saffron, chili flakes, orange zest, and chicken broth. Stir to combine and bring to a simmer.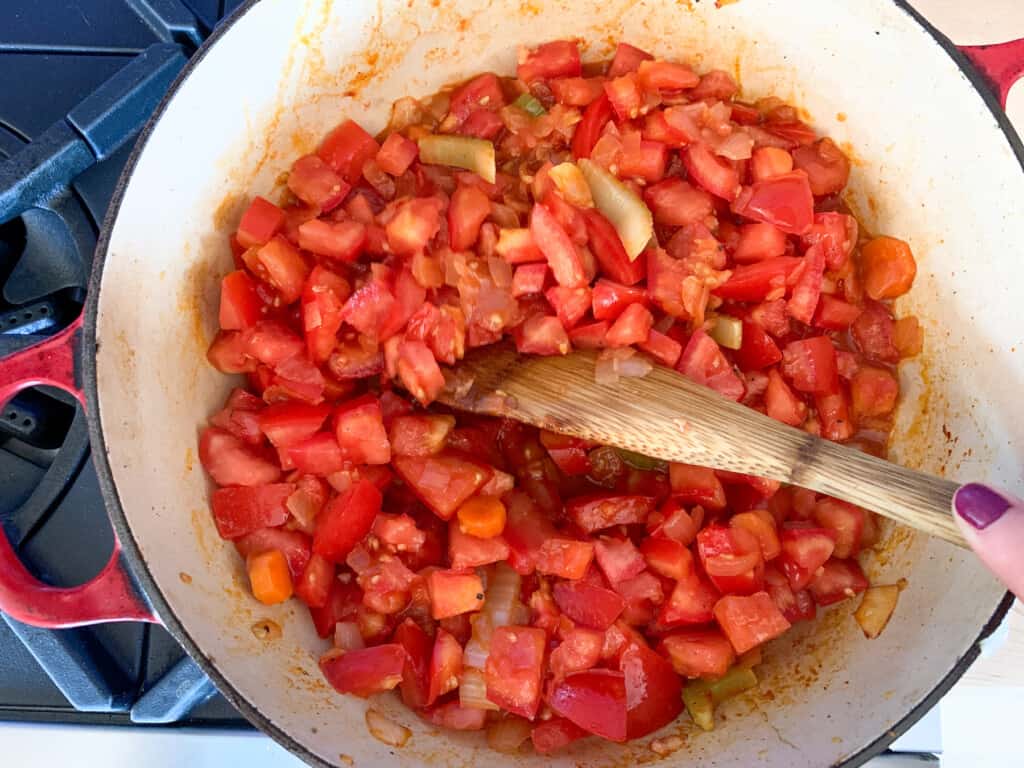 step five
Simmer soup. Now it's time to let the soup do its thing and simmer away gently until the vegetables are tender and the tomatoes have broken down. This won't take too long, only about 20 minutes. Stir in the sugar and dill.
At this point it is a choose your own adventure situation. You can serve the soup chunky as it is or opt to make a smooth, creamy soup and blend it. Either way, the first thing you have to do is make the rice (unless of course you have cooked rice you are going to use).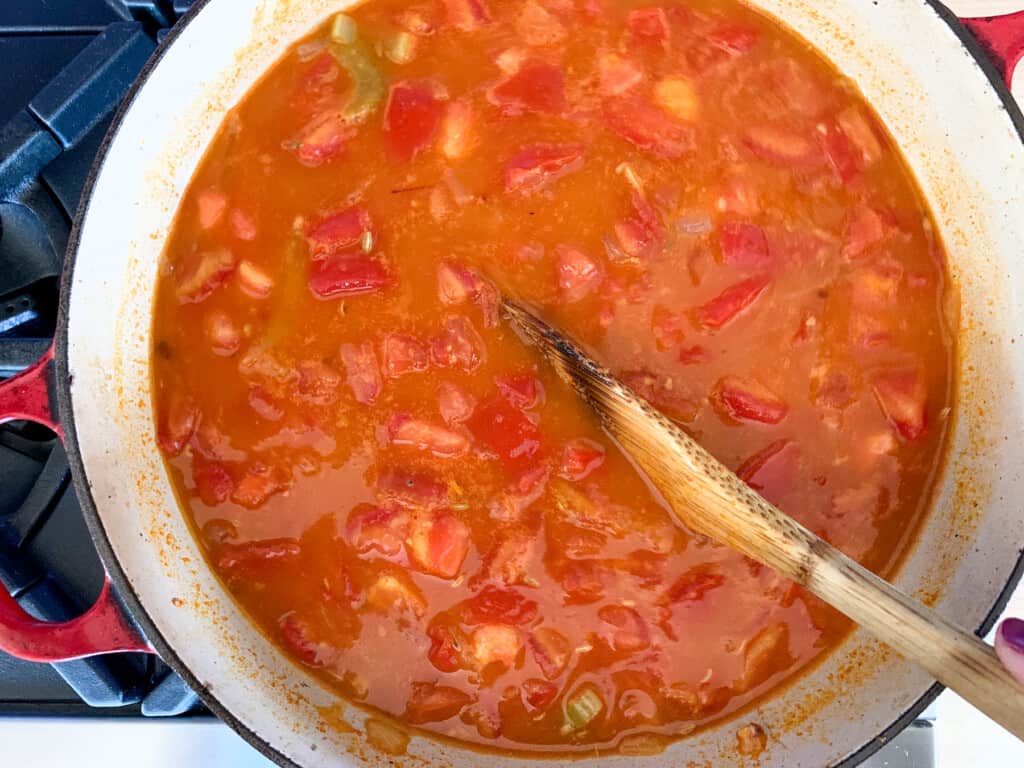 step six
Cook the rice. If you have cooked rice hanging out in the fridge, this is the time to use it. Just add it to the blended soup and cook until warm. Otherwise, we need to cook it. If you are serving the soup chunky and not blended. Just pour the rice into the soup pot along with the sugar and dill and cook until the rice is tender, about 10 minutes.
If you are going to blend the soup, cook it separately by filling a small saucepan with water and adding a pinch of salt. Bring the water to a boil, add the rice and cook until the rice is tender, about 10 minutes. Drain.
step seven
Blend the soup. Puree the soup using an immersion blender or by transferring the soup to a blender.
Be careful: Blending hot soup is dangerous. Only fill up the blender halfway with soup (you will do this in batches). Cover with the lid but remove the insert in the middle. Cover the top with a paper towel and hold the paper towel down with one hand then turn the blender on low with the other hand. Blend until smooth. Pour into a separate large bowl and repeat with remaining soup.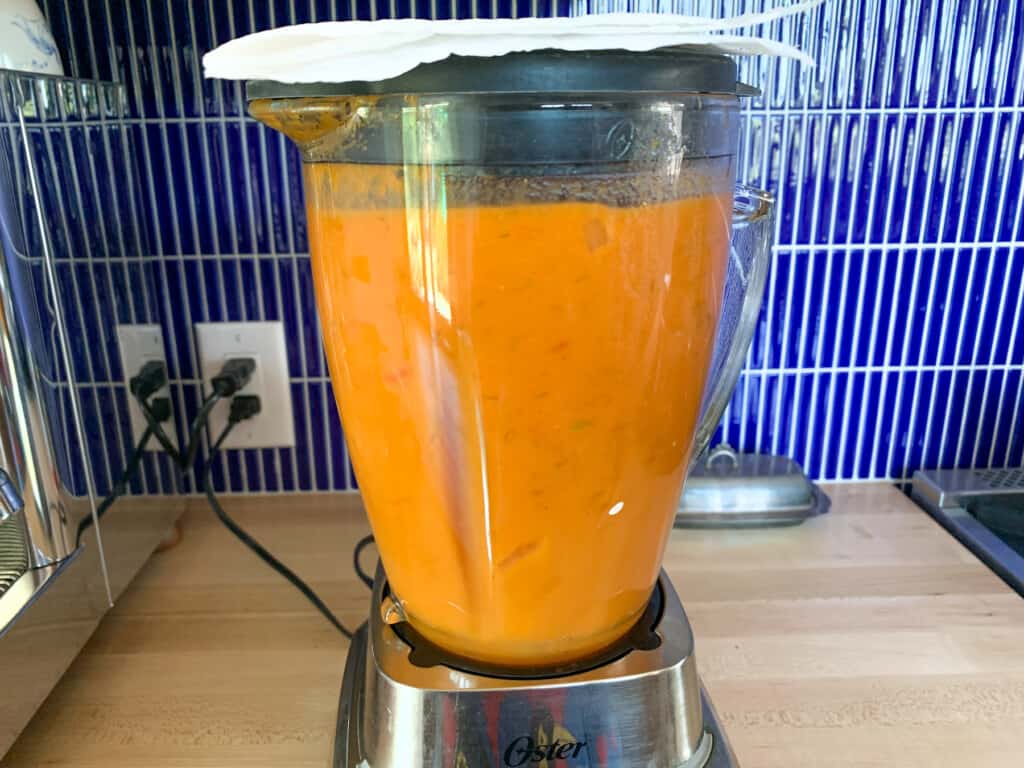 step eight
Serve! If you blended the soup, now is the time to add the rice. Stir it in, and give the soup a taste. Add more salt if needed. Then serve in big bowls. Garnish with a bit more chopped dill on top and serve with crusty bread or thick slices of focaccia for dipping.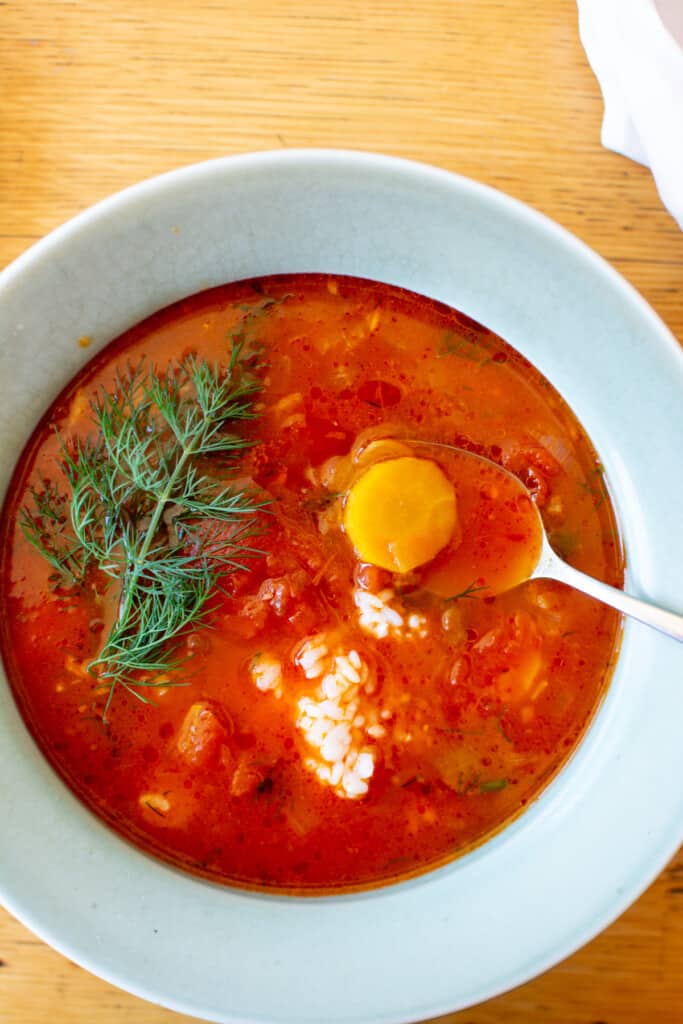 If You Love This Recipe Try…
Your Grilled Cheese Sandwich Just Found A New Best Friend
Be prepared, make this soup once, and you'll be making it all summer long. When you try it, let me know how it went! Share a photo and tag me on Instagram using @katesbestrecipes so that I can see (don't forget to leave a ⭐️⭐️⭐️⭐️⭐️ rating)! Also, sign up for my weekly recipe newsletter so you never miss a thing.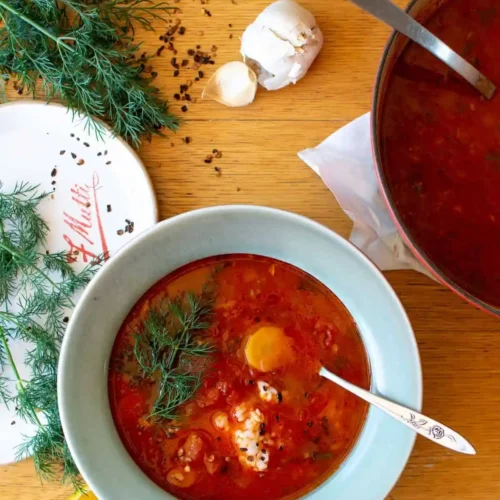 Tomato Rice Soup with Dill
Orange zest, chili flakes, and fennel seed all play a role in this unique tomato soup recipe. Creamy but dairy free and topped with fresh dill. Gluten Free!
Print
Pin
Rate
Instructions
Sauté veggies. Heat oil in a large stock pot over medium-high heat. Add onion, carrot, celery and garlic and season with salt and freshly ground black pepper. Cook, stirring occasionally, until tender. Add tomato paste and stir until it has melted in with the vegetables, about 1 minute.

Add tomatoes and spices. Add tomatoes, orange zest, chili flakes, fennel, bay leaf, saffron, and broth to the pot and stir to combine. Bring to a boil, then lower heat to a slow simmer. Cook, uncovered, stirring and breaking up tomatoes with a spoon occasionally, for 20 minutes.

Blend. Add sugar and dill and remove bay leaf. Blend until smooth with an immersion blender or using a regular blender (see notes about blending hot liquids), if desired. This is optional, if you want to have a chunkier soup, skip the blending step, add the rice to the pot and cook until rice is tender, about 8 minutes more. Taste and season with more sugar, salt, and pepper as necessary.

Cook rice. If you want to blend the soup you'll have to cook the rice separately and add it after it has been blended. To cook the rice, bring a small saucepan of water to a boil over high heat. Add a generous pinch of salt then add rice. Cook until tender, about 8 minutes then drain.

Serve. Stir cooked rice into blended soup, taste and season with more sugar, salt, and pepper as necessary. Garnish with extra chopped dill. Yum!
Notes
Tomatoes: You can also make this in the winter using canned tomatoes. Substitute 1 (28-ounce) can of whole tomatoes. 
Blending hot liquids: Be very careful when blending hot liquids. Ladle the soup into the blender, only filling the blender halfway full. Place the lid on the blender but remove the inner insert. Place a folded piece of paper towel over the hole and hold it down with one hand. Turn the blender on low with the other hand and blend until smooth. 
Cooked rice: If you have cooked rice in the fridge this is a great place to use it. Stir the cooked rice into the soup right before serving. 
Uncooked rice: 1/4 cup might not seem like a lot of rice but it will expand as the soup cools. 
In support of this small business, Kate's Best Recipes earns revenue in a few different ways. Several sponsored posts are published each month. I also earn an affiliate commission on the sales of products I link to— there are a few of those links in this post. I only feature items I genuinely love and personally use on a regular basis. This commission is an arrangement between the retailer and Kate's Best Recipes (readers never pay more for products). This income allows me to run the site. Thank you for reading!