Mushroom Leek Barley Soup
A nice light soup to serve on breezy, rainy days of spring. This barley soup is made simply in one pot with caramelized mushrooms, leeks, carrots, thyme, and chewy wholesome barley.
---
Mushrooms and barley have an affinity for each other, they both have a rounded earthy flavor that, in this instance, becomes quite sophisticated with the addition of a little sherry or Madiera.
Grains like barley are the perfect foods if you are on a budget. A half cup of barley may not seem like that much when you are measuring it out, but it expands to three times its size—any more and you would need an army to take this soup off your hands. It is one of our favorite ingredients to add to soup recipes and stews. See Easy Beef Barley Soup for a meaty version.
You could make this soup vegetarian by using vegetable stock instead of chicken stock and it would be equally delicious. I just happened to have chicken stock on hand so that's what I used.
Why This Barley Soup Is The Best
Light and brothy yet super satisfying
Can be made on the stove or in the slow cooker
One-pot meal
Easily vegan adaptable (just swap the chicken broth for vegetable broth)
Low in calories and full of vegetables
Freezes beautifully
Make ahead and have for lunches or dinner all week
9 simple ingredients
What Is Barley?
Barley is a grain that has a bouncy, chewy texture when cooked. It is an oval-shaped grain with a subtle nutty, slightly sweet flavor. Barley is good for you! It is dense in fiber but is not gluten-free.
You can buy barley as pearl barley or hulled barley. Pearl barley is easier to find, cooks quicker, and what we used in this recipe. Hulled barley has more nutrients but takes an hour or more to cook. Either one will work with this recipe, just know if you are using hulled barley that it will take about an hour or so for it to become tender.
Cooked barley is great in salads or as a side dish. Basically anywhere you would use other grains like quinoa, rice, or farro is good with barley too.
Ingredients
Olive oil
Crimini or shiitake mushrooms. Or a combination of your favorite mushrooms.
Leeks or 1 large yellow onion
Garlic
Carrots
Dry sherry or madeira or white wine
Fresh thyme or chopped Italian parsley
Pearl barley. This type of barley cooks in about 30 minutes.
Low sodium chicken broth
Kosher salt and freshly ground black pepper
Lemon
How To Make This Recipe
step one
Prep the veggies. Wipe the mushrooms clean and slice. Trim the leeks, remove the dark green parts, slice in half, then cut into half moons. Place leeks in a bowl and cover with cold water, swishing around to remove all the dirt. Remove the leeks from the water and set on paper towels to dry.
step two
Brown the mushrooms. Heat oil in a large soup pot over medium-high heat and once the oil is very hot, add the mushrooms. Toss to coat in oil then cook, undisturbed, until golden brown on the bottom. Stir and brown on the other side. Season mushrooms with salt and pepper then remove to a plate. If your pot is on the small side, do this in batches so the mushrooms brown instead of steam.
step three
Cook the veggies. Add remaining oil to the pot and add the leeks, garlic, and carrots. Season with salt and cook, stirring occasionally, until tender. Add sherry and scrape up any browned bits that are stuck to the bottom of the pot.
step four
Add the barley. Pour in the stock, barley, and thyme sprigs and bring to a boil. Reduce heat to medium-low and cover. Simmer until the barley is cooked, but not mushy, about 30 minutes.
step five
Serve! Taste and add more salt and pepper if needed (I usually add about a tbsp of kosher salt total). Remove the thyme sprigs and serve with lemon wedges for squeezing over the top if you'd like.
What To Serve With It
This is a lovely one-pot meal but if you wanted to round it out with some sides. I suggest:
Barley Soup FAQ's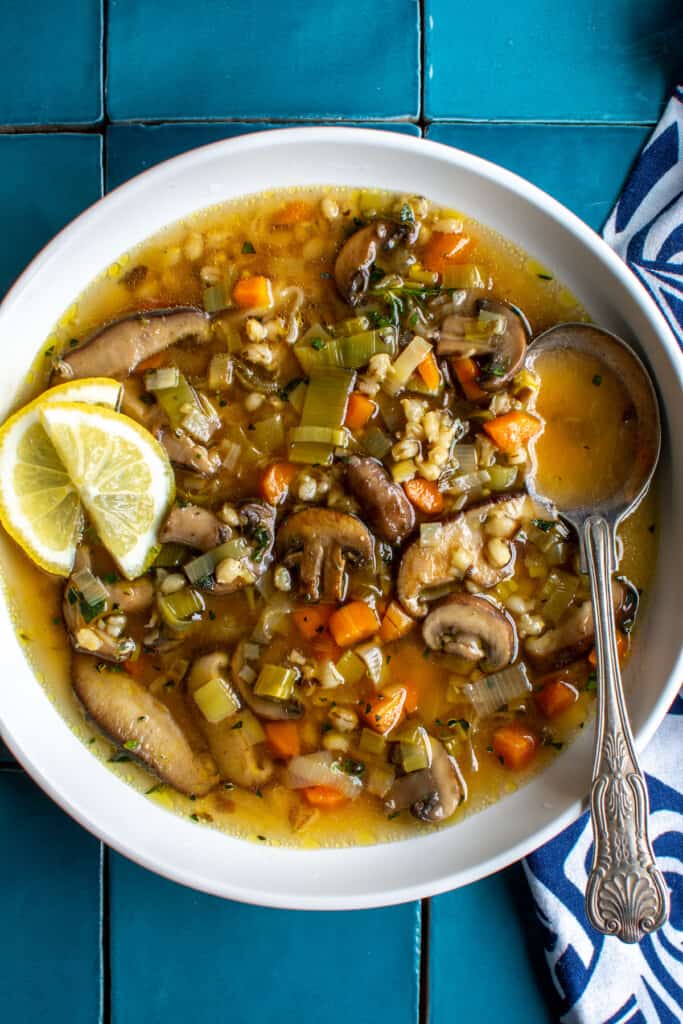 Should barley be cooked before adding to the soup? Nope! There's no need to soak or cook the dried barley before adding it to the soup.
How do you keep barley from getting soggy in soup? If you overcook the barley it will get mushy. The longer it sits in the broth it will also soak up more liquid. If you want to maintain that bouncy texture, you can cook the barley separately in boiling water like pasta. Drain and add the cooked barley to each bowl.
Can I add other vegetables? Of course! celery and a large diced potato would be yummy added in the beginning and peas or green beans would be nice added right before serving so they stay nice and green.
What about other herbs? I used fresh thyme (actually lemon thyme from my garden) because I love that bright, herbal flavor. You could also use 1 bunch of Italian parsley, chopped fine or 2 or 3 bay leaves.
If You Love This Recipe, Try:
A Delicious, Healthy Twist On Barley Soup
This is one of those soups I find myself making over and over again. When you make it, let me know how it went by leaving a comment below! Share a photo and tag me on Instagram using @katesbestrecipes so that I can see (don't forget to leave a ⭐️⭐️⭐️⭐️⭐️ rating)! Also, sign up for my weekly recipe newsletter so you never miss a thing.
MUSHROOM LEEK BARLEY SOUP
A light spring soup recipe with caramelized mushrooms, barley, sherry, and thyme.
Print
Pin
Rate
Instructions
Brown mushrooms. Heat 1/4 cup of the oil over medium-high heat in a large stock pot or Dutch oven. Add mushrooms and stir to coat in oil. Let cook, stirring occasionally, until golden, about 10 minutes. Season with salt and pepper and remove to a bowl.

Sauté vegetables. Heat remaining 1/4 cup of oil in the same pot over medium-high heat. Add leeks, garlic, and carrots and season generously with 1/2 teaspoon salt and pepper. Cook, stirring occasionally, until vegetables are browned, about 10 minutes. Add sherry or madeira and scrape up any browned bits that have stuck to the bottom of the pot.

Simmer. Add thyme, barley, and broth and bring to a boil. Reduce heat to a low simmer, cover and cook until barley is tender, about 30 minutes. Taste and add more salt and pepper as needed (I add about 1 tablespoon more salt). Remove thyme stems before serving. Ladle into bowls and serve with lemon wedges for squeezing over the soup.
Notes
Freezing Instructions: You can freeze this soup for up to 3 months but the barley will get very soft and soak up a lot of the liquid. If you plan on freezing it, it's best to cook the barley separate and add after thawing. 
Slow Cooker Instructions: Brown the mushrooms and vegetables through step 2 on the stovetop. Transfer to a slow cooker (affiliate link) and continue with step 3. Cook for 6 hours on low or 4 hours on high.
Browning the mushrooms: Do not salt the mushrooms until after they are browned. Salting too early will draw out their water and steam them instead of brown them.
Seasoning. If your soup doesn't taste awesome when it is done cooking you probably didn't add enough salt. Keep adding salt by the teaspoon until it tastes incredible. I usually end up adding 2-3 teaspoons at the end.  
In support of this small business, Kate's Best Recipes earns revenue in a few different ways. Several sponsored posts are published each month. I also earn an affiliate commission on the sales of products I link to— there are a few of those links in this post. I only feature items I genuinely love and personally use on a regular basis. This commission is an arrangement between the retailer and Kate's Best Recipes (readers never pay more for products). This income allows me to run the site. Thank you for reading!