Tomato Mushroom Spaghetti Sauce
This hearty tomato mushroom spaghetti sauce has lots of caramelized mushrooms, sweet onions, and garlic. Serve tossed with spaghetti and a generous sprinkle of parmesan!
---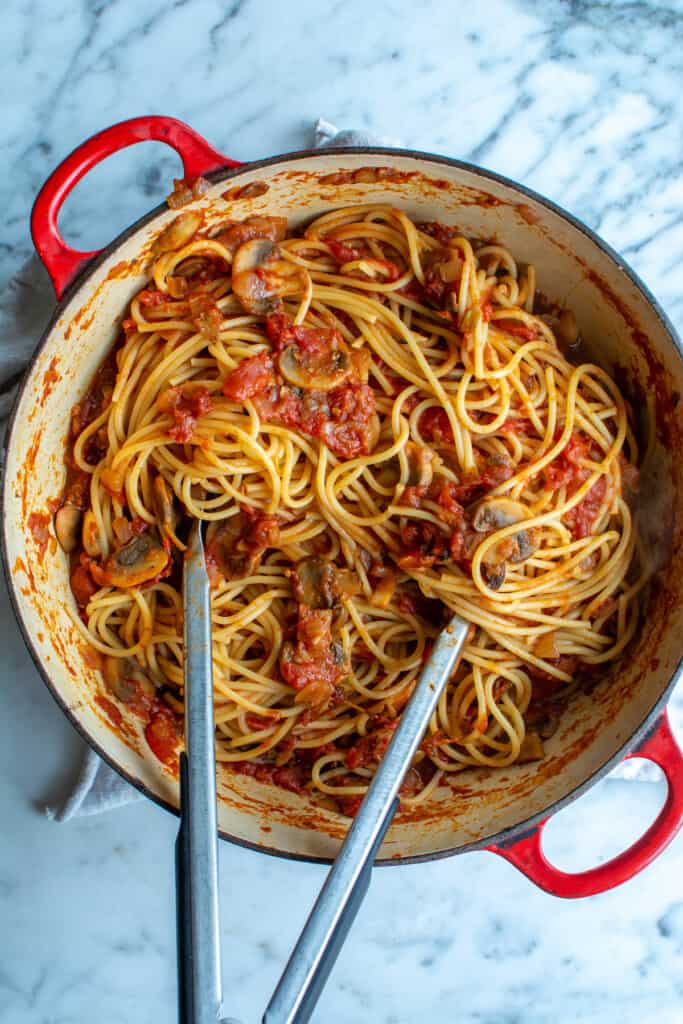 My newest cooking revelation is to not drain my pasta, but to scoop it out of the boiling water with tongs or a bamboo skimmer and plop it into the saucepan with the sauce.
It seems quite silly that I would start doing this now, seeing as I have been watching Lidia Bastianich do this for years. I guess I hadn't been paying close enough attention, because I was watching a Lidia rerun on PBS and I thought, "now why have I not been doing that with my pasta?"
For this to be as earth shattering as I hope you think it is, there has to be some clarification on how Italians and chefs everywhere make pasta: They toss it with the sauce, not just put the sauce on top.
Yes indeed, pasta is intended to be tossed with the sauce, which sometimes turns out to be thicker than one would assume when it was happily simmering away on its own. Once the pasta gets added however, it may need a little extra liquid to coat the noodles evenly, and the perfect liquid for that job is the starchy, salty water you just cooked the pasta in. Therefore, you always want to save that liquid in case you need it and if you have just dumped it all down the drain, well, your screwed.
So that was a completely roundabout way of explaining why it is such a fantastic idea to retrieve your pasta from the water and not the other way around. But to be perfectly honest, draining pasta in a colander is so deeply engrained in my system that I know I'll still do it all the time.
Ha! Just have to keep on trying. Maybe one day I'll make Lidia proud. 🙂
Why This Mushroom Spaghetti Sauce Is The Best!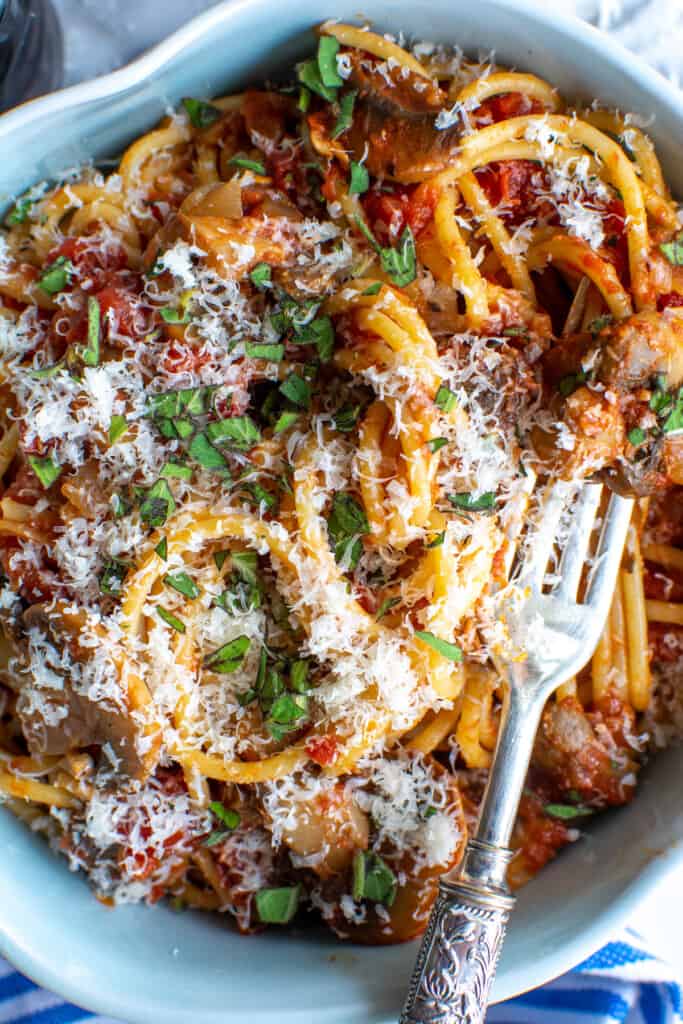 Mushrooms turn a basic tomato sauce into a hearty, substantial dinner
Fresh thyme adds a unique, warming herbal note
A spoonful of anchovy paste adds tons of rich umami flavor
That being said, take out the anchovy and don't garnish with parmesan for a satisfying vegan dinner
Easy and ready in about 30 minutes
Ingredients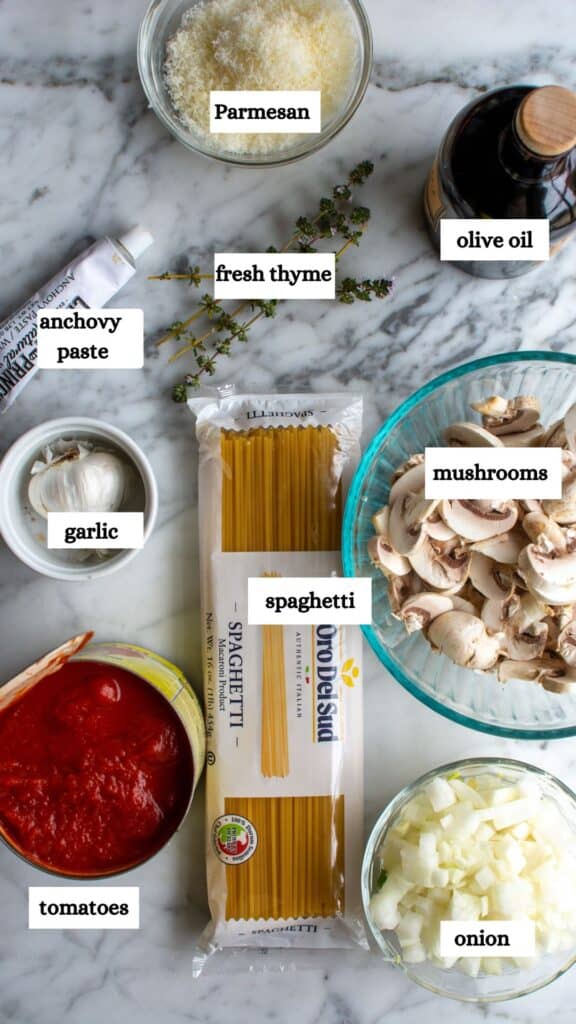 Olive oil. Try to use high-quality olive oil in this mushroom tomato sauce. Because there are so few ingredients, the flavor of each one really stands out. I always use California olive oil over imported simply because it is fresher.
Yellow onion
3 cloves garlic
Crimini (aka Baby Bellas) or white button mushrooms
Canned whole tomatoes. Look for canned San Marzano tomatoes. They are pricier but have much better flavor. If your tomatoes are on the sour side, add a teaspoon or so of sugar to the sauce. It's a cheater's way of taking the acidity out of not so great tomatoes.
Fresh thyme
Anchovy paste. Adds a rich savory flavor to the sauce without being fishy. In fact, you won't even taste it at all but if you leave it out the sauce will seem a bit lacking so use more salt to make up for the anchovy.
Kosher salt
Spaghetti or your favorite pasta. I also like this sauce with linguine, fettuccine, or even rigatoni.
Parmesan cheese
Fresh oregano
How To Make This Recipe (with step-by-step instructions)
step one
Prep the veggies. Slice the mushrooms, chop the onion, and mince the garlic.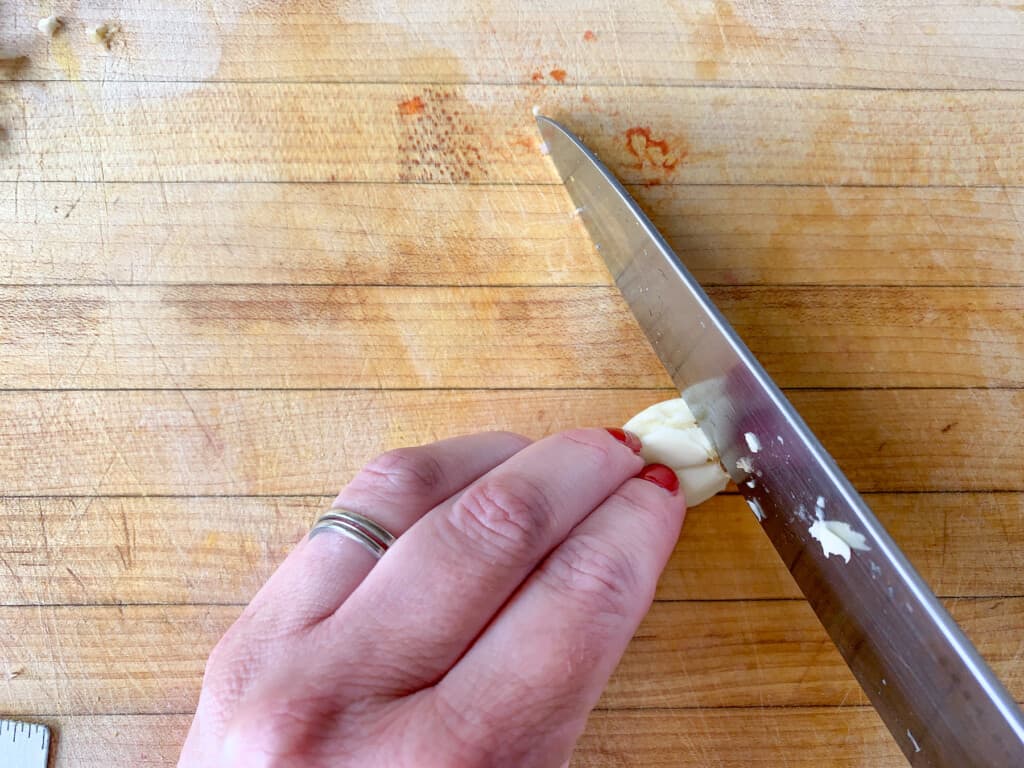 step two
Sauté the veggies. Heat oil in a large saucepan, really large skillet, or small Dutch oven over medium-high heat. Add onions, garlic, and mushrooms and cook, stirring occasionally, until mushrooms are golden brown, about 10 minutes.
Season well with salt after the mushrooms are browned otherwise they'll release too much liquid and the vegetable will steam instead of brown.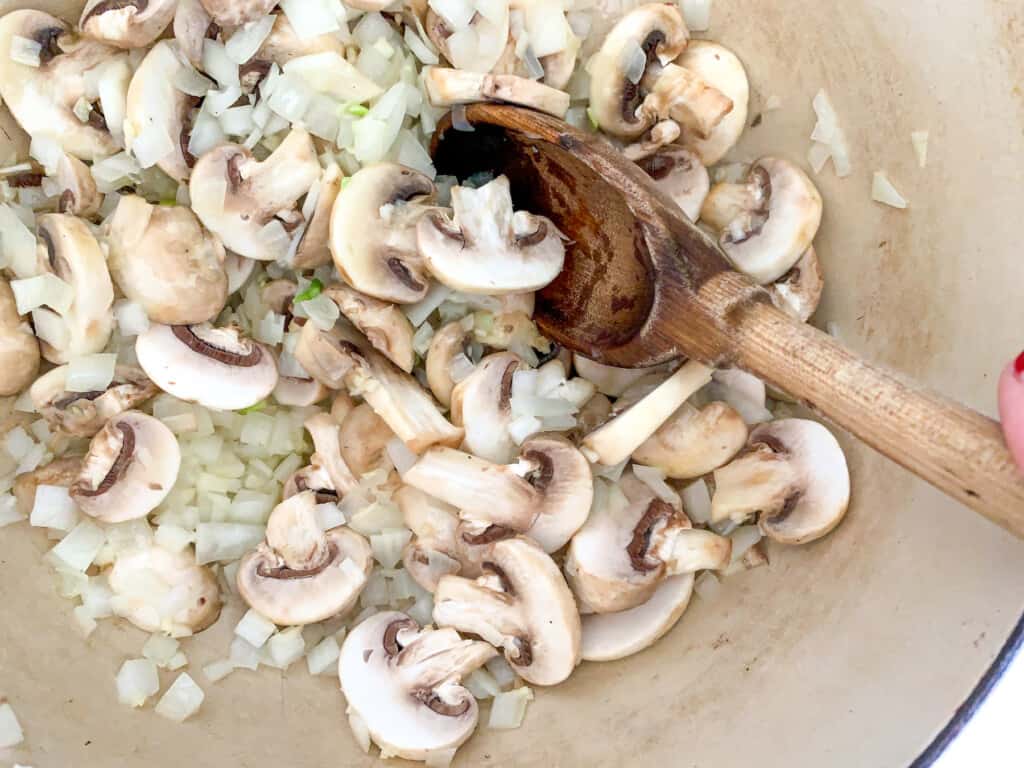 step three
Crush the tomatoes. While the mushrooms are browning, empty the can of tomatoes into a medium bowl and crush them into smaller pieces with your hands. Yes it's messy and you dirty another bowl, but it is the easiest way to get the job done.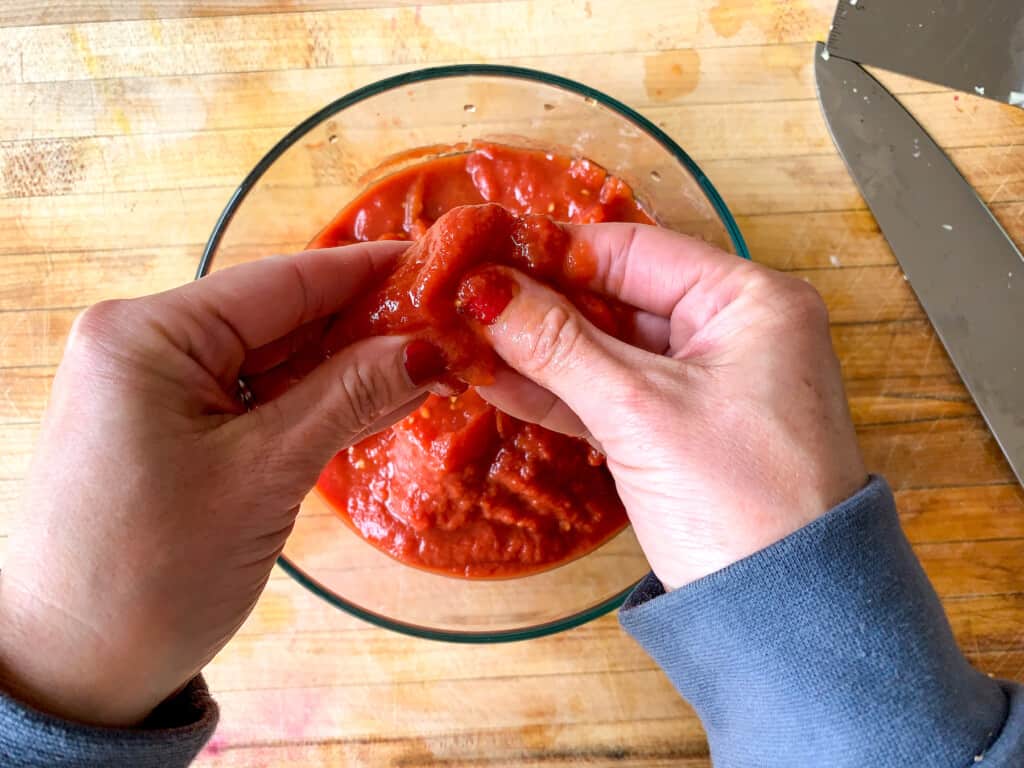 step four
Simmer the sauce. Add the tomatoes, thyme, and anchovy paste to the sautéed vegetables and bring to a boil. Reduce heat to low, cover and simmer until onions are soft, about 30 minutes. Add the 2 teaspoons of salt, stir and taste. Add more salt as needed.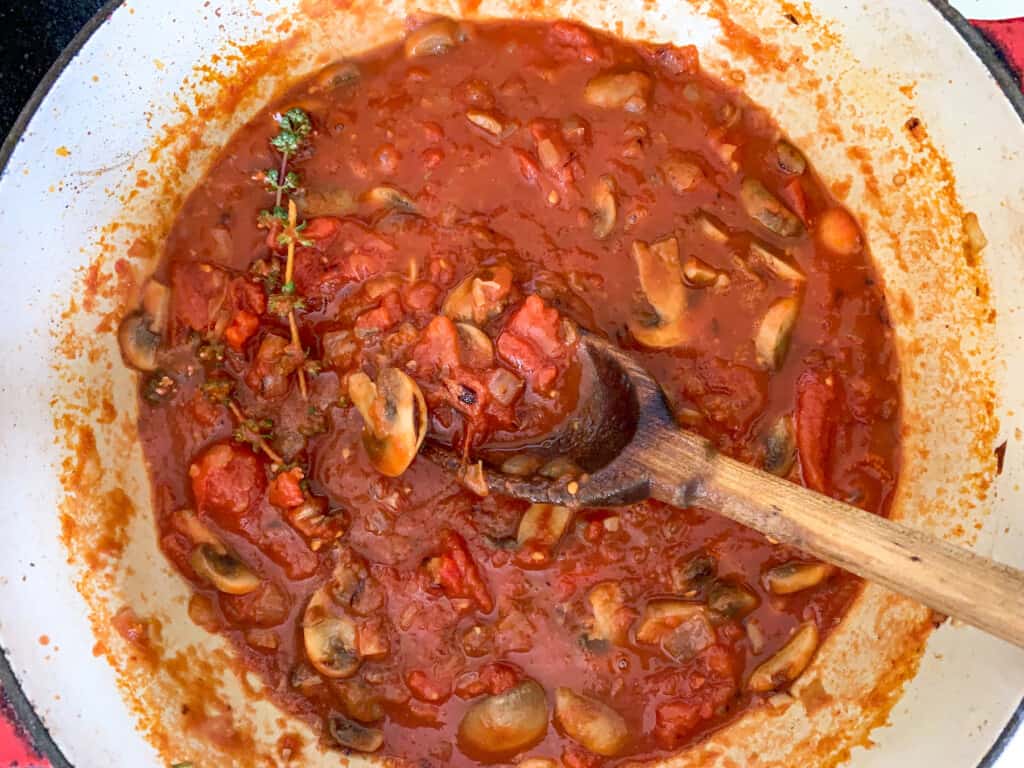 step five
Cook the pasta. While the sauce is simmering, bring a large pot of heavily salted water to a boil. Add spaghetti and cook, stirring occasionally, until al dente. Don't drain, reserve the pasta water. 😊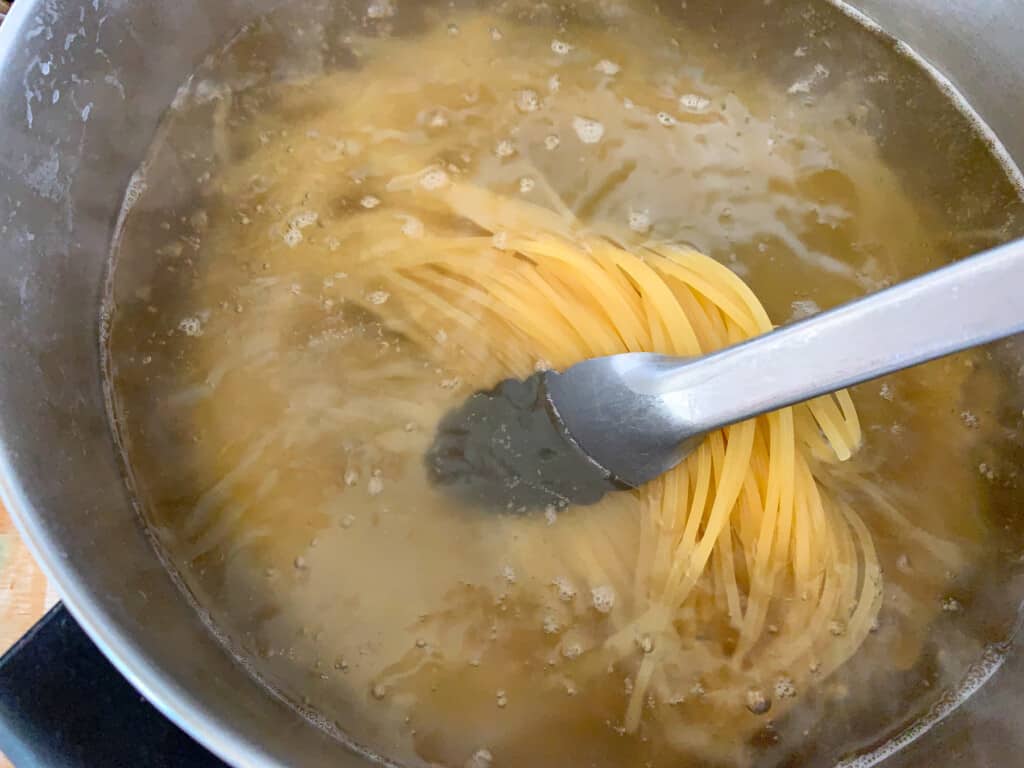 step six
Mix and serve. Transfer pasta to the sauce pot with kitchen tongs and toss to combine the two. Add a cup or so of the reserved pasta water if it seems too dry. Serve in bowls with grated parmesan and chopped fresh oregano. Enjoy!
Mushroom Spaghetti Sauce FAQ's
Which mushroom is better for spaghetti? I like to use a mild mushroom like white button or crimini mushrooms with tomato sauce. I save the stronger flavored mushrooms for a dish where they are the main focus.
How do you make spaghetti sauce taste richer? The secret ingredient that makes this fairly simple spaghetti sauce taste bold and full-bodied is the anchovy paste. It doesn't make the sauce taste like anchovies but adds a complex layer of flavor.
What do I do if my pasta looks dry? This is when you break out that reserved pasta water! Add a ladleful of pasta water and keep tossing with kitchen tongs until it looks slippery and shiny again.
Can I turn this into a meat sauce? Sure! Add a pound of ground beef to the pot after the vegetables are golden. Cook, stirring occasionally, until the beef is browned, adding a four-finger pinch of salt. Then add the remaining ingredients.
What To Serve with Spaghetti with Mushroom Sauce?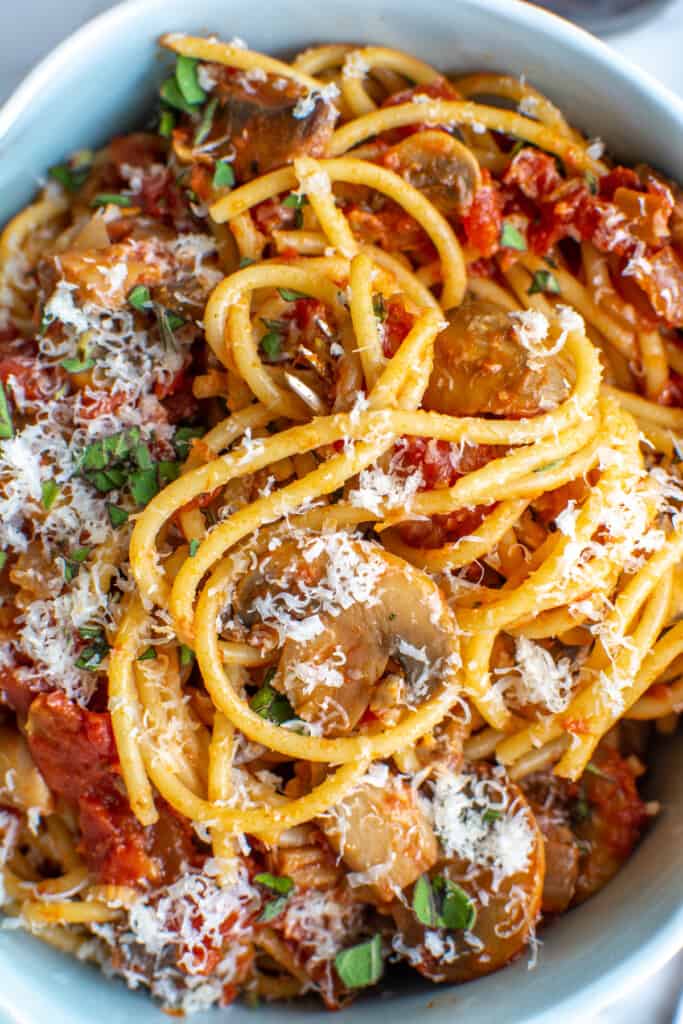 Herbs
I like to finish each bowl with a generous sprinkling of chopped fresh herbs. Oregano is my favorite for this dish because it goes so well with the mushrooms. Other options would be basil or parsley.
Sides
If I'm making this for dinner, it is usually a weeknight, one-pot meal situation but you could always add a simple green salad or sautéed broccolini for something green. Thick slices of Rosemary-Fennel Focaccia would be really good with this too.
For dessert you could serve my divine Double Chocolate Brownie Cookies (I really, really love these) with a glass of Vin Santo or espresso and now you've got a Italian feast!
If you liked this recipe, check out:
Make One Of Our Favorite Pasta Recipes
I have a feeling it will be one of your favorites too! When you make it, let me know how it went by leaving a comment below! Share a photo and tag me on Instagram using @katesbestrecipes so that I can see (don't forget to leave a ⭐️⭐️⭐️⭐️⭐️ rating)! Also, sign up for my weekly recipe newsletter so you never miss a thing.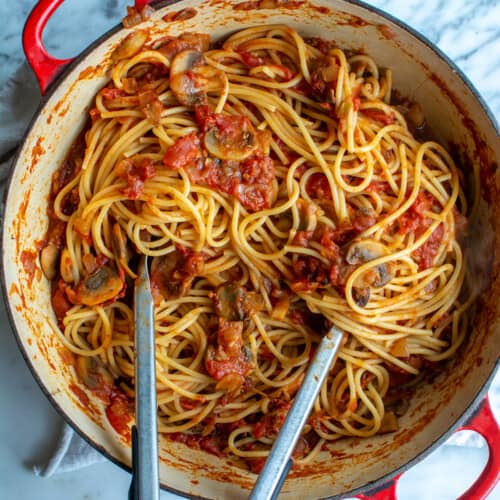 PASTA WITH TOMATO-MUSHROOM SAUCE
This hearty tomato mushroom spaghetti sauce has lots of caramelized mushrooms, sweet onions, and garlic. Serve tossed with spaghetti and a generous sprinkle of parmesan!
Print
Pin
Rate
Instructions
Brown mushrooms. Heat oil in a small Dutch oven over medium-high heat. Once shimmering, add onion, garlic and mushrooms. Cook, stirring occasionally, until onions are just starting to brown and mushrooms are golden, about 10 minutes. Season with salt.

Crush tomatoes. While mushrooms are cooking, pour tomatoes into a large bowl and crush the whole tomatoes with your hands over the bowl.

Simmer sauce. Add tomatoes, thyme, anchovy paste, and 1/2 cup of water and bring to a boil. Cover, reduce heat to a low simmer and cook until slightly thickened, about 30 minutes. Remove thyme sprigs. Season with the 2 teaspoons of salt. Taste and add more if needed.

Cook pasta. While sauce is simmering, bring a large pot of heavily salted water to a boil. Once boiling, add pasta and cook according to package instructions.

Toss and serve. Remove pasta from cooking water with tongs and add into sauce. Toss to combine, if sauce seems too thick add a ladle or two of pasta water. Taste and add more salt if necessary. Serve with grated parmesan cheese and a sprinkle of fresh oregano over the top.
Notes
Make Ahead: Pasta is best eaten immediately. You can make the sauce up to 5 days in advance and keep covered in the refrigerator. Warm on the stove until simmering when you are ready to serve. 
Fresh herbs: I love the lemony herbal notes of thyme in this recipe. Just toss the sprigs in whole then remove right before serving. A sprinkling of chopped fresh oregano is nice at the end but you could swap it for basil or Italian parsley. 
Anchovy paste: Don't worry it won't taste fishy. The anchovy paste gives this sauce rich, full-bodied flavor with a salty brininess. If you choose to leave it out, add more salt to make up for the taste. 
Pasta water: The water leftover from cooking the pasta has the pasta starch which makes the sauce glisteny and thick. Add a ladleful at a time if the pasta looks dry. 
In support of this small business, Kate's Best Recipes earns revenue in a few different ways. Several sponsored posts are published each month. I also earn an affiliate commission on the sales of products I link to— there are a few of those links in this post. I only feature items I genuinely love and personally use on a regular basis. This commission is an arrangement between the retailer and Kate's Best Recipes (readers never pay more for products). This income allows me to run the site. Thank you for reading!