Pesto Artichoke Asparagus Pasta
A lovely springtime asparagus pasta where the asparagus gets shaved so thin it blends right in with the spaghetti! Plus artichoke hearts, and punchy basil-almond pesto sauce. Easily vegan adaptable!
---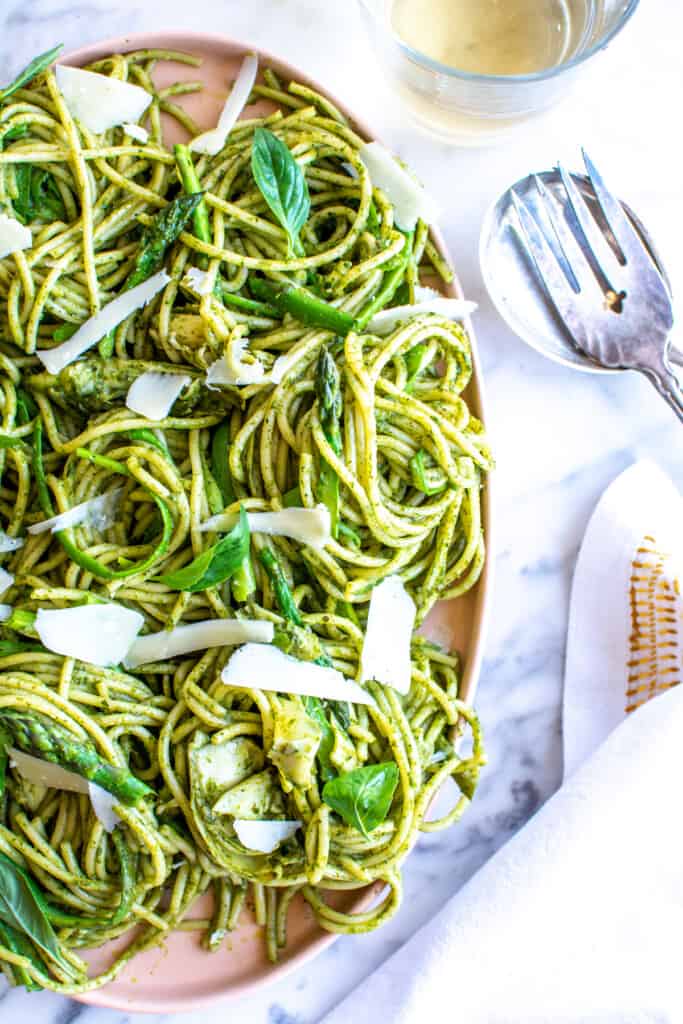 I think this is my favorite color of green. I mean, I think this green is my favorite color. I'm picking out tile for my kitchen renovation and I plan on taking this image with me and showing the salesperson at the tile store to see if they have something that will match.
Doesn't it just make you feel a calm kind of joy? It gives a sense like the harshness of winter is almost over and something brighter, greener, softer is ahead. Spring is good like that, a chance for Mother Earth to exhale and a perfect time to devour sweet spring veggies like peas, artichokes, and asparagus.
I was inspired to create this pasta recipe for Down To Earth Month. Every April, we salute the over 80% of California wines that are sustainable. I thought nothing could be more delicious than a verdant bowl of pasta with a sustainably grown glass of wine!
What Are Certified Sustainable Wines?
A lot more than farming in an environmentally friendly way goes into becoming a sustainable winery. To be able to put the Certified Sustainable label on a bottle of wine, a winery must meet the "Three E's" of sustainability: Environment, Equity, and Economic.
This means the winery must follow strict environmental practices when growing their wine grapes. Create an equitable workplace as well as good business practices that create a thriving operation.
Look for the Certified Sustainable Wine label when purchasing your favorite California wines and show your support for this very important initiative.
How To Pair Wine With Asparagus and Artichokes?
I intentionally chose to use asparagus and artichokes in this pasta to dispel some myths about wine and these spring veggies not mixing.
It is true that not every wine is friends with asparagus and artichokes—in fact, they have quite a few enemies but you really only need one or two good friends, right? For asparagus and artichokes, those wine pals are Sauvignon Blanc and Pinto Gris/Grigio. Some people also say Riesling but that can be tricky depending on if it is dry or sweet.
The problem with these two vegetables is they make wine taste metallic and harsh so it is best to serve it with something that is citrusy and herbal, with low tannins and definitely unoaked.
There are several excellent Sav Blanc and Pinot Gris options from certified sustainable California wineries. Supporting them means you are supporting California's green achievements and their leadership in sustainability which is a pretty cool thing!
What You'll Need To Make The Asparagus Pasta
Extra virgin olive oil
Whole almonds
Garlic cloves
Kosher salt
Fresh basil
Fresh Italian parsley
Asparagus
Spaghetti or linguine
Canned artichoke hearts
Parmesan for serving, optional
How To Make It (Step-by-Step Instructions)
step one
Toast the almonds in a large skillet over medium heat until fragrant and slightly darker in color. Toss them frequently so they don't burn. Remove to a bowl and let cool.
step two
Combine the oil, toasted almonds, garlic, and salt in the bowl of a food processor or high-powered blender (like a Vitamix). Blend on high until the mixture is smooth with only little pieces of nuts.
step three
Add the basil and parsley and blend again until smooth, about a minute. Transfer to a bowl and stir in more salt if needed.
step four
Hold the asparagus by the tip and using a vegetable peeler, peel the asparagus stalks into thin strips. Once you can't peel any more, snap the tip from the remaining asparagus and put both in the pile with the asparagus shavings.
step five
Bring a large pot of salted water to a boil over medium-high heat. Once it is boiling, add the pasta and cook a couple minutes shy of al dente. Add the asparagus and cook a minute more but no longer, you want it to remain crisp tender. Reserve 1 cup of pasta water and drain.
step six
Return pasta and asparagus to the pot. Add the drained artichokes, pasta water, and pesto and stir with tongs until the past is well coated. If you want to be extra luxurious add a healthy swirl of olive oil or a large pat of softened butter and mix that in before serving.
step seven
Serve with a shaving of parmesan cheese and a sprinkling of red pepper flakes if you'd like and a chilled glass of certified sustainable California Sauvignon Blanc.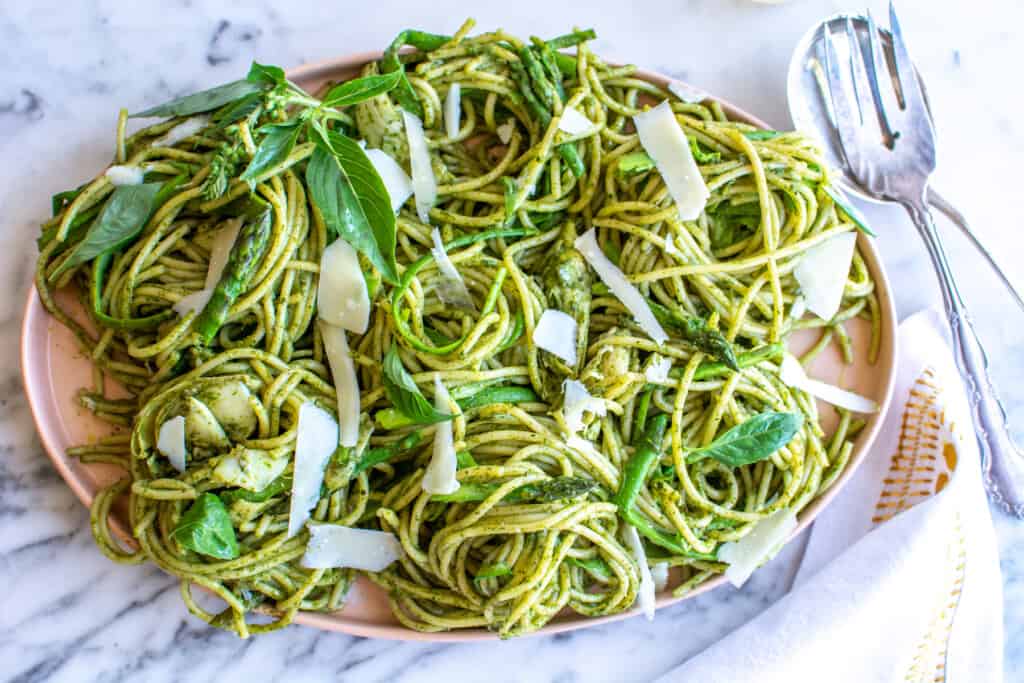 Asparagus Pasta FAQ's
Can I add protein? Add grilled chicken or shrimp or try it with my favorite Lemon-Broiled Cod recipe.
What are some other flavor options? This pasta is super versatile. To make more of a lemon asparagus pasta recipe add a generous teaspoon of lemon zest and a squeeze of fresh lemon juice right before serving or swirl in 1/2 cup of heavy cream with the pesto.
Can I make the pesto ahead? Absolutely! Make the pesto up to 3 days in advance and keep in an airtight container in the fridge.
How do I make this gluten-free? Use gluten-free pasta. I like the Garofalo brand.
More Spring Recipes You'll Love
Celebrate Spring!
With this gorgeous pasta bursting with fresh spring flavors. When you try it, let me know how it went! Share a photo and tag me on Instagram using @katesbestrecipes so that I can see (don't forget to leave a ⭐️⭐️⭐️⭐️⭐️ rating)! Also, sign up for my weekly recipe newsletter so you never miss a thing.
Asparagus Pasta
A lovely springtime asparagus pasta where the asparagus gets shaved so thin it blends right in with the spaghetti! Plus artichoke hearts, and punchy basil-almond pesto sauce. Easily vegan adaptable!
Print
Pin
Rate
Ingredients
For the Pasta
1

pound

asparagus

tough ends removed

1

pound

dried linguine or spaghetti

1

14 ounce

can quartered artichoke hearts

drained

Freshly grated Parmesan cheese

for serving (optional)
Instructions
For the pesto:
Place the olive oil, almonds, garlic, and salt in the bowl of a food processor fitted with the blade attachment and process until finely ground and almost a paste.

Add basil and parsley and continue blending until really smooth and creamy. Scrape into a bowl and taste. Stir in more salt as needed.
For the pasta:
Bring a large pot of heavily salted water to a boil over high heat.

Meanwhile, using a vegetable peeler, shave each asparagus spear lengthwise into thin strips. Once you get to the tip, stop and place that into the pile with the shavings.

Cook pasta in the boiling water according to package instructions. When pasta only has about a minute left, add asparagus. Cook one minute more, reserve about 1 cup of the pasta water, then drain.

Return pot to stove over low heat. Add pesto, artichoke hearts, pasta-asparagus mixture, and the pasta water. Toss with tongs until pasta is coated in pesto. Season with salt as needed and toss again. Remove from heat and serve with Parmesan if desired.
In support of this small business, Kate's Best Recipes earns revenue in a few different ways. Several sponsored posts are published each month like this post sponsored by California Wines. I also earn an affiliate commission on the sales of products I link to— there are a few of those links in this post. I only feature items I genuinely love and personally use on a regular basis. This commission is an arrangement between the retailer and Kate's Best Recipes (readers never pay more for products). This income allows me to run the site. Thank you for reading!