The Best Vegetable Biryani Recipe
This Vegetable Biryani is a vegetarian main course that is impressive and substantial with ginger, garlic, fried onions, and lots of vegetables like cauliflower, sweet potatoes, and peas. Easily vegan adaptable!
---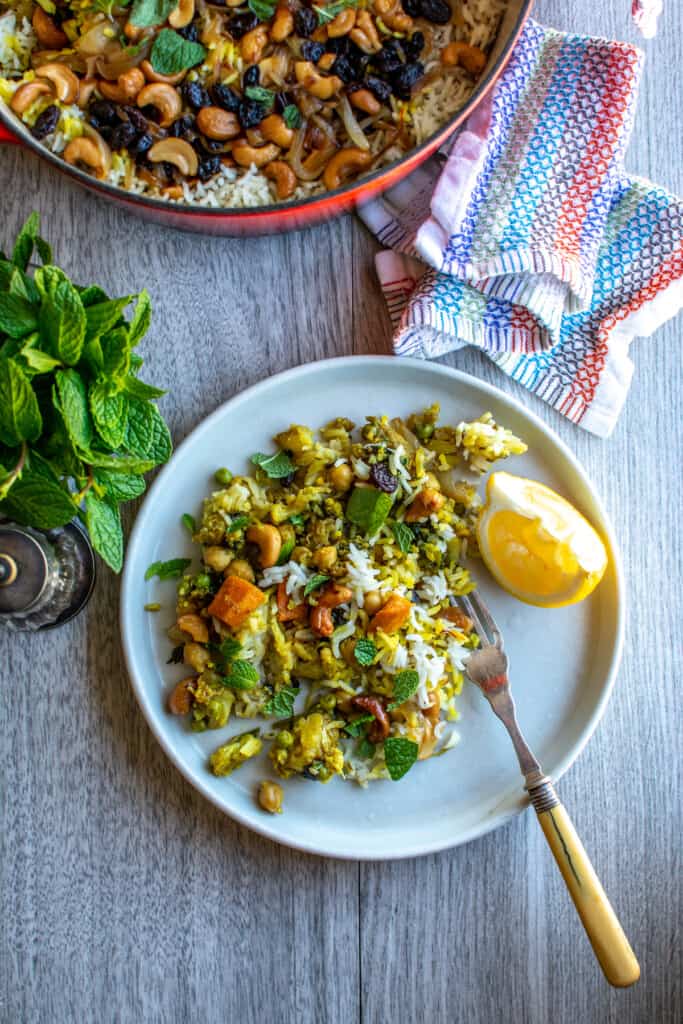 On a scale of 1-10 how much do you love Indian food? I'm about a 14. I absolutely adore it, but I don't make it at home that often.
I am by no means an expert when it comes to Indian cooking but one thing I've made over and over again through the years is this Vegetable Biryani recipe. It is inspired by an old Moosewood cookbook I picked up a long time ago. Remember when Moosewood was the beacon of plant-based cooking? It's incredible how far the vegetarian movement has come since they opened in Ithaca, New York over 50 years ago. Have you ever eaten at their restaurant? Leave me a comment below and let me know.
I make this vegetable biryani for dinner parties or when having friends over that are vegan or gluten-free or just love good food! It is a beautiful casserole layered with saffron scented rice, tender spiced vegetables, and topped with caramelized onions, roasted cashews, and raisins.
This is not an easy weeknight dinner but more of a special occasion dish or one saved for the weekend when you have more time and energy for the various steps.
What Is Biryani?
Biryani is an insanely delicious Indian rice dish that is often made with meat like chicken or lamb and sometimes shrimp or fish in costal areas. It originated as a Muslim recipe originally from Persia.
No matter if it is made with meat or vegetables, like this recipe, it always involves layers of fragrant rice and heavenly filling full of spices like saffron, cardamom, ginger, and turmeric among many others.
The dish is then covered tightly and slowly cooked until the ingredients are tender. Biryani is a celebratory dish made mostly for special occasions but this vegan version is easy enough to make more often than that.
Ingredients
The ingredient list is long so double check you have everything you need before starting the recipe.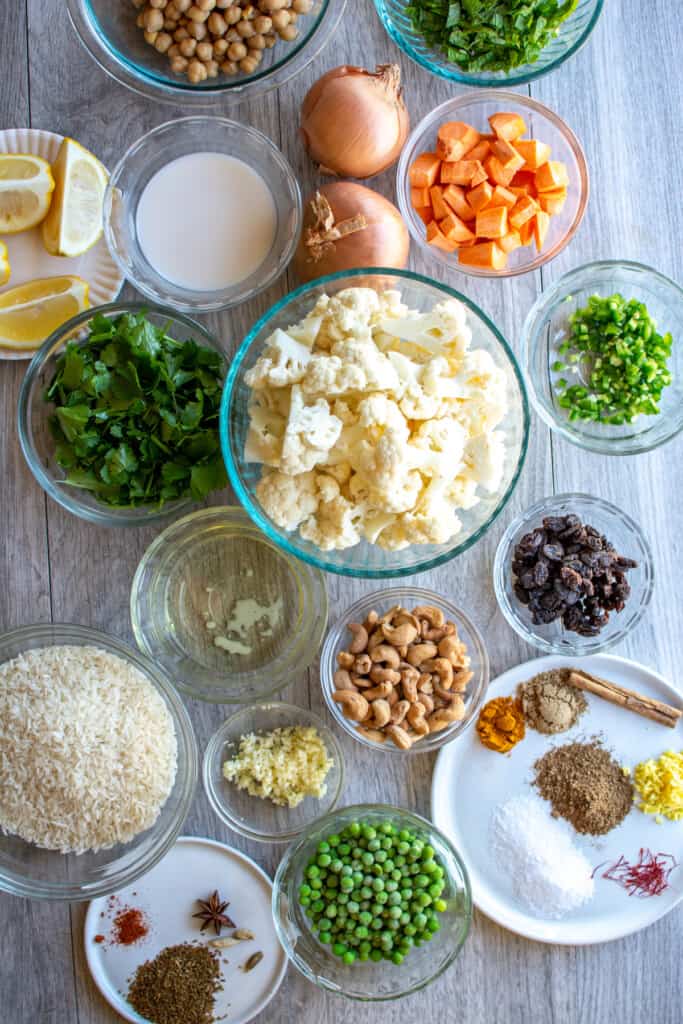 How To Make Vegetable Biryani
There are quite a few steps so read the instructions carefully all the way through before beginning and make sure you have all the ingredients and equipment needed.
step one
Make saffron milk. Warm the milk (or almond milk for a vegan version) in a small saucepan just until steaming. Crush saffron strands between your fingers into the milk. Remove from heat, cover and let steep while you prepare the rest of the dish.
step two
Caramelize the onions. Heat the ghee (or avocado oil if you're keeping things vegan) in a large Dutch oven over medium-high heat. Add the sliced onion and season generously with salt. Cook, stirring frequently until the onions are golden and caramelized, about 15 minutes.
step three
Make the garnish. Remove half of the caramelized onions to a medium bowl. Add the raisins and cashews and set aside. You will use this to garnish the vegetable biryani.
step four
Toast the spices. To the pot with the remaining caramelized onions add the ginger, garlic, jalapeño, garam masala, cinnamon stick, coriander, and turmeric. Stir until fragrant, about a minute.
step five
Cook the vegetables. Add the cauliflower, sweet potato, and water to the pot along with 1/2 teaspoon of the kosher salt. Stir to coat in the spices then lower the heat to medium-low, cover, and cook until the vegetables are just barley tender, about 10 minutes. Cooking vegetable mixture too long will result in mushy veggies, so keep an eye on them.
step six
Finish the vegetable mixture. Add the chickpeas and green peas along with the cilantro and mint to the vegetables. Stir to combine, cook a couple more minutes then transfer the mixture to a large bowl. Give a taste and add more salt if needed. Wash the pot, we'll use it to make the final rice dish.
step seven
Begin cooking rice. Combine rice, remaining 1 1/2 teaspoons kosher salt, cardamom pods, star anise, cayenne pepper, and cumin seeds in a large saucepan. Fill with water and bring to a boil. Let gently boil for only 5 minutes then drain. The rice will cook the rest of the way with the vegetables.
step eight
Start assembling the vegetable biryani. Grease the Dutch oven you cleaned then spread half of the rice mixture on the bottom. I like to leave the whole spices in so they perfume the dish but you can remove them at this point if you'd like.
step nine
Add the vegetables. Top the bottom layer of rice with the vegetables and any juices in the bowl. Spread in an even layer. It won't seem like a lot of liquid to finishing cooking the rice but you don't need that much since the rice is par-cooked.
step ten
Cover with remaining rice. Spread the rest of the rice over the vegetables.
step eleven
Finish layering. Finish the biryani by sprinkling the saffron milk over the top of the rice then spreading the caramelized onion garnish evenly over everything.
step twelve
Cook. Cover pot tightly with a piece of foil then top with the lid. Set over medium-low heat and steam until the rice is tender and fluffy, about 15 minutes. Remove from heat and let sit 5 minutes before serving.
step thirteen
Serve! Bring the pot to the table and unveil in front of everyone so they get the aromas. Spoon rice into bowls making sure to get both rice and vegetables in each bowl. Serve with lemon wedges to squeeze lemon juice over each bowl.
What Makes This The Best Vegetable Biryani?
So this may not be the most authentic biryani (I skipped the yogurt and rosewater) but I think it's the best because:
Less steps and easier than most versions which have you soak the rice, make a separate gravy, cook each vegetable separately etc.
Adjust according to your tastes. Add more jalapeños and cayenne if you want it spicy or swap vegetables. It is very easily adaptable.
No hard-to-find ingredients. Are there a lot of ingredients? Yes. But they all can be found in any grocery store.
Easily vegan adaptable! Just substitute the ghee for avocado oil and the milk for plant-based milk.
So good! It takes a bit of effort but everyone will love this aromatic and celebratory dish. Even my kids had seconds!
Vegetable Biryani FAQ's
What kind of rice is best? You want to use long grain white basmati rice for this dish. It is fragrant and grows longer as it cooks making it light and feathery.
Can I make this ahead? You can make it an hour or two in advance and let it sit covered at room temperature. About 30 minutes before you are ready to eat, warm in a 350°F oven.
I can't find all the spices. Can I leave some out? Yes, but it won't have the exact same flavor. Other options could be caraway, cloves, or bay leaves. Rosewater is often added at the end as well.
What To Serve With It
Like most vegetable biryanis, this is really a meal in and of itself. You can serve it alone with lots of lemon wedges to add the final hit of brightness right before eating. If you have the time and energy, I love to make my friend Asha's Apple Cilantro Chutney to spoon over the top. Other than that, maybe a crunchy salad would be good to. Try:
More Vegetarian Recipes You'll Love!
For All The Vegetarians…
And everyone else too! You must give this Vegetable Biryani recipe a try. When you try it, let me know how it went! Share a photo and tag me on Instagram using @katesbestrecipes so that I can see (don't forget to leave a ⭐️⭐️⭐️⭐️⭐️ rating)! Also, sign up for my weekly recipe newsletter so you never miss a thing.
VEGETABLE BIRYANI RECIPE
Saffron-scented rice layered with fresh , cauliflower, , peas, chick peas, and roasted cashews all tossed in a flavorful spiced broth.
Print
Pin
Rate
Ingredients
1/4

cup

whole milk

or unsweetened plant-based milk

20

strands

saffron

1/4

cup

ghee or avocado oil

2

medium yellow onions,

thinly sliced

2

teaspoons

kosher salt, divided

plus more for seasoning

1/3

cup

raisins

1/2

cup

roasted, salted cashews

2

teaspoons

freshly grated or minced

peeled ginger

4

cloves

garlic,

minced

1

medium jalapeno,

minced

1 1/2

teaspoons

garam masala

1

cinnamon stick

1

teaspoon

ground coriander

1/2

teaspoon

turmeric

1

small sweet potato

peeled and medium dice

1

small head cauliflower

cut into florets

1/2

cup

water

1

cup

canned or cooked chick peas

1/2

cup

fresh or frozen green peas

1

cup

roughly chopped cilantro leaves and tender stems

1

cup

roughly chopped mint leaves and tender stems

1 1/2

cups

white basmati rice

3

whole

green cardamom pods,

lightly cracked

1 1/2

teaspoons

cumin seeds

1

whole

star anise pod

1/2

teaspoon

cayenne

1

lemon, quartered

for serving
Instructions
Heat milk in a small saucepan just until warm and steaming. Remove from heat. Grind the saffron threads between your thumb and finger into the milk. Cover and let steep until you are ready to use it.

Heat ghee or oil in a large Dutch oven over medium-high heat. Add onions and season generously with salt. Let cook, stirring frequently, until the onions are dark golden brown and caramelized. Lower the heat if they start to get too dark too fast, caramelizing the onions should take about 15 minutes. Remove half of the onions to a medium bowl.

Add cashews and raisins to the bowl with the caramelized onions. You will use this to garnish the top of the rice. Set aside for now.

To the pot with the remaining caramelized onions, add the ginger, garlic, jalapeño, garam masala, cinnamon stick, coriander, and turmeric. Add another tablespoon of ghee or oil if the pot looks dry. Fry, stirring frequently, over medium heat for 1 minute.

Add the sweet potato, cauliflower, water, and 1/2 teaspoon kosher salt to the pot. Cover and cook until the vegetables are tender enough to be easily pierced with a knife, about 10 minutes. Once they are tender add the peas and chickpeas and cook another 3 minutes. Stir in cilantro and mint. Transfer mixture to a large bowl. Taste and add more salt if needed. Clean the Dutch oven.

Par-cook the rice. Combine rice, remaining 1 1/2 teaspoons salt, cumin seeds, star anise, cardamom pods, and cayenne in a medium saucepan. Fill with water and bring to a boil. Cook 5 minutes then drain rice and spices through a fine mesh sieve. Rice will be partially cooked.

Grease the cleaned Dutch oven. Spread half of the rice on the bottom of the greased dish. Top with vegetable mixture and any liquid in the bowl and spread remaining rice over the top. Sprinkle with the saffron milk and top with the onion-cashew garnish.

Cover pot tightly with foil and then the lid. The foil will keep any steam from escaping. Place over medium-low heat and cook until rice is tender and liquid is absorbed, about 15 minutes.

Remove from heat and let sit 5 minutes. Remove lid and foil and fluff rice with a fork. Serve directly from the pot.
Video
In support of this small business, Kate's Best Recipes earns revenue in a few different ways. Several sponsored posts are published each month. I also earn an affiliate commission on the sales of products I link to— there are a few of those links in this post. I only feature items I genuinely love and personally use on a regular basis. This commission is an arrangement between the retailer and Kate's Best Recipes (readers never pay more for products). This income allows me to run the site. Thank you for reading!