Cucumber Tomato Avocado Salad
The simplest way to enjoy fresh summer produce. This Cucumber Tomato Avocado Salad is drizzled with olive oil and lemon and seasoned with a generous pinch of salt, pepper, and fresh herbs. Easy, healthy, and beautiful!
---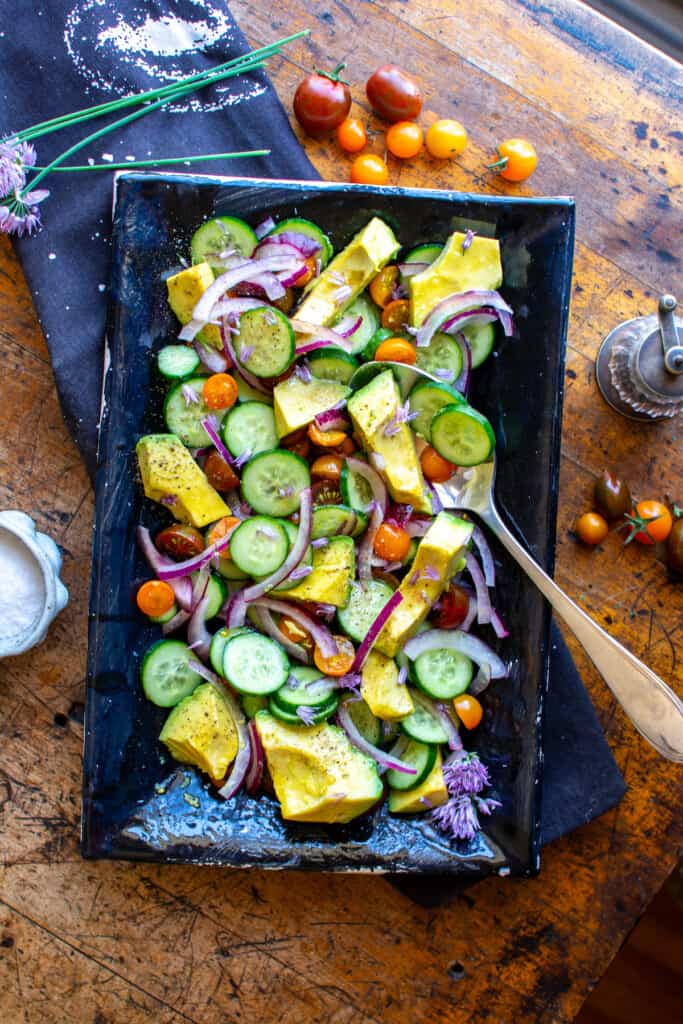 I can't stop thinking about the cucumber tomato avocado salad I made last night. It may seem ridiculously simple, but it was so pretty and delicious I just had to post the "recipe".
It all started with a trip to the farmer's market where cucumbers and tomatoes are in their prime. They are meaty and sweet with not too many seeds which is my preference for tomato salads.
The avocado came from my backyard where the avocados have been plentiful all summer but are now starting to slow down so the season might be over. Only one or two drop every couple of days and most of the time they have a big hole gnawed in one side from a hungry opossum or rat that made its way into the tree. Stinkers.
The ones that are salvageable we devour quickly in easy salads like this one. It literally takes 5 minutes (plus a little chopping time) and the flavors are irresistible.
Why This Cucumber Tomato Avocado Salad Is The Best
Easy, no-cook recipe
Super healthy, gluten-free, dairy-free, and vegan
The texture is off the charts; creamy avocado, crunchy cucumbers, and delicate tomatoes
Made from only 9 ingredients
Quick to prepare with a total time of only 10 minutes
Awesome way to use up bountiful summer produce
Ingredients
Ripe cherry tomatoes. Choose ones that are firm, but not mushy and the more colorful, the better. Grape tomatoes will work too.
Persian cucumbers. Or English cucumber, basically any thin-skinned variety with little to no seeds.
Ripe avocado. Look for a ripe avocado that gives slightly when pressed but is not too soft.
Red onion. Or sweet vadalia onions or scallions.
Lemon. For squeezing over everything. Lime juice will work too.
Olive oil. Use the best olive oil you have. Extra virgin olive oil is going to have more flavor. I buy California olive oil simply because it is fresher.
Kosher salt. I always use Morton kosher salt unless otherwise noted.
Black pepper. Freshly ground please.
Fresh herbs. I used chive blossoms but cilantro, parsley, or basil would also be good.
How To Make This Recipe
step one
Cut the veggies. Slice the cherry tomatoes in half and the cucumbers into 1/2-inch thick slices. Cut the avocado into chunks or in thick slices, depending on how you like them and how big they are. Thinly slice the red onion.
step two
Arrange on a platter. Place the tomatoes, cucumbers, and red onion on a large plate or platter and toss to combine then spread in an even layer. Stick the avocado slices here and there.
step three
Dress the salad. Squeeze lemon juice over the veggies and drizzle them with olive oil. Sprinkle generously with salt and lots of freshly ground black pepper. Taste and add more lemon juice, salt, or black pepper if needed.
step four
Serve. Enjoy immediately. The avocado will brown if it sits too long, so this is a real make-and-serve type of situation.
Cucumber Tomato Salad FAQ's
Do I need to peel the cucumbers? If you use Persian or English cucumbers for this Tomato Cucumber Salad you will not need to peel them but if you use regular cucumbers you will want to peel or partially peel the skin and scoop out the seeds.
Can I make this ahead? I don't recommend making this tomato cucumber avocado salad ahead especially because of the avocados. They will turn brown if you let them sit for more than an hour.
Is this cucumber tomato avocado salad recipe good for you? Absolutely! It is high in fiber, Vitamin C, and potassium. It is low in carbohydrates and great for a keto as well as a paleo diet.
Avocado Salad Recipe Variations
Think of this more as an idea than a strict recipe you need to follow to a T. There are so many different ways you can take this tomato avocado cucumber salad. Here are a few suggestions:
Add cheese! I'm thinking feta cheese, fresh mozzarella, or blue cheese would be delicious.
Toss with a few generous handfuls of arugula or baby spinach.
Switch up the acid and use lime juice or red wine vinegar instead of the lemon juice.
Use heirloom tomatoes or Roma tomatoes or any kind of tomatoes that are ripe and fragrant.
What Goes With This Avocado Cucumber Tomato Salad?
This is an easy and versatile side dish that goes with almost anything. Serve it with big bowls of pasta like my Zucchini Pasta with Pine Nuts and Mint or Grilled Chicken Satay and steamed rice.
More Quick and Easy Recipes To Explore
Make This Cucumber Tomato Avocado Salad Tonight!
When you try it, let me know how it went! Share a photo and tag me on Instagram using @katesbestrecipes so that I can see (don't forget to leave a ⭐️⭐️⭐️⭐️⭐️ rating)! Also, sign up for my weekly recipe newsletter so you never miss a thing.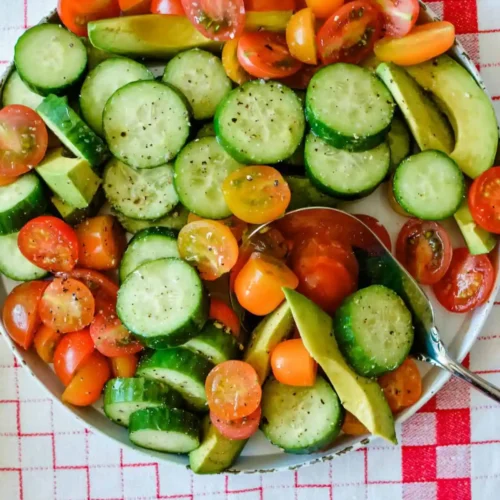 CUCUMBER TOMATO AVOCADO SALAD RECIPE
The simplest way to enjoy fresh summer produce. This Cucumber Tomato Avocado Salad is drizzled with olive oil and lemon and seasoned with a generous pinch of salt, pepper, and fresh herbs. Easy, healthy, and beautiful!
Print
Pin
Rate
Ingredients
2

medium

Persian cucumbers or 1 medium English cucumber,

sliced into 1/4-inch slices

1

cup

large cherry tomatoes,

halved

1/4

medium

red onion,

thinly sliced

1/2

large

avocado,

peeled, pitted, and sliced

2

tablespoons

extra virgin olive oil

1

medium

lemon,

halved

kosher salt,

to taste

freshly ground black pepper,

to taste

3

tablespoons

chopped fresh herbs,

like chive blossoms, basil, parsley, or cilantro
Instructions
Combine. Place cucumber, cherry tomatoes, and red onion on a large plate or salad platter. Gently toss together to combine then spread into a single layer. Arrange the avocado slices, tucking them into the salad here and there.

Season. Drizzle the salad with the olive oil, squeeze 1/2 of the lemon over everything, season generously with salt and black pepper. Sprinkle chopped herbs over the top.

Taste. Taste and add more lemon, salt, and pepper if needed. Serve immediately.
Notes
Cucumbers: Use small Persian cucumbers or the long, skinny English cucumbers. These have thin skin and few seeds. 
Lemon juice: Fresh-squeezed please. Squeeze the lemon half directly over the salad. Hold your other hand underneath the lemon while squeezing to catch any seeds. 
Fresh herbs: I used chive blossoms because I had them in my garden but basil, cilantro, parsley, or dill would also be good. 
Making for a crowd: The amounts called for are approximate for 3-4 servings. Use as many cucumbers and tomatoes as you'd like to serve more people and season to taste. 
In support of this small business, Kate's Best Recipes earns revenue in a few different ways. Several sponsored posts are published each month. I also earn an affiliate commission on the sales of products I link to— there are a few of those links in this post. I only feature items I genuinely love and personally use on a regular basis. This commission is an arrangement between the retailer and Kate's Best Recipes (readers never pay more for products). This income allows me to run the site. Thank you for reading!