16 Easy and Delicious Vegan Lunches
Save this as your go-to whenever you need some vegan lunches. From avocado toast to quick soups this post has lots of plant based inspiration whether you work from home or need to pack a lunch to go.
---
Working from home means my usual lunch consists of leftovers. Which is fine most of the time. I actually make too much food at dinner so I can have lots of leftovers throughout the week and if you are a work-at-homer too, I suggest you do the same.
But sometimes I want to make something just for me, you know? Something that is healthy, big on flavor, but low on effort. These easy vegan lunch ideas are all that and more. The requirements to be a great vegan lunch recipe are simple:
They need to be fast to prepare.
Or they need to be meal-prep friendly and quick to heat up.
Full of lots of fresh veggies.
Leave me feeling satisfied and full without feeling heavy.
Browse this list and find a few favorites to try. Some of these are my recipes and some are from dear food friends whose recipes I adore. For more vegan inspiration check out my entire collection of vegan recipes!
16 Vegan Lunches You'll Love
1. Cucumber Tomato Avocado Salad
This one is particularly good in the summer when tomatoes and cucumbers are at their peak. Thinly sliced red onion and fresh herbs add contrast and the dressing is super simple, just olive oil, salt, pepper, and lemon juice. Arrange the salad on your most beautiful plate to really make it feel special.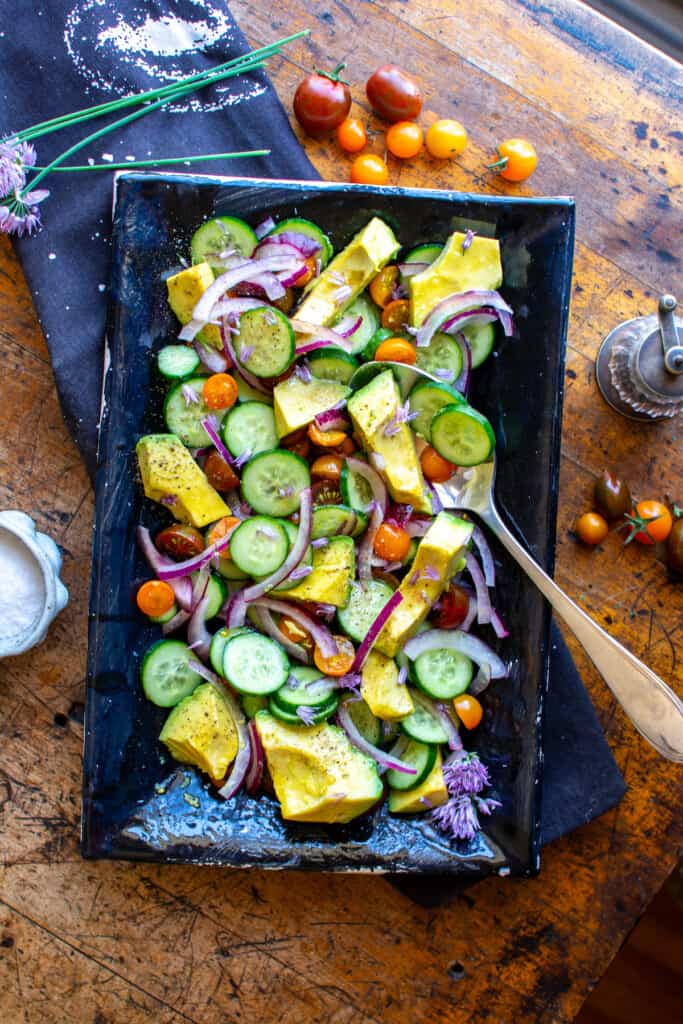 With only 5 ingredients these tacos come together in a flash and taste amazing. Serve in warm corn tortillas and add store-bought pico de gallo or mango salsa on top.
This one is obviously a make-ahead option, but how satisfying would a bowl of this hearty bean and potato stew be on a chilly afternoon? This dish, from my friends at California Grown, combines beans and potatoes for a vegan spin on the classic Chicken Marbella.
I saw my friend Katie make this on Instagram and I knew I had to give it a try. Cooked and shelled edamame is combined with creamy avocado, lime juice, scallion, and basil in a food processor then pureed until smooth, which not only adds tons of flavor but a boost of protein to one of my frequent lunches, avocado toast.
I make a pot of soup every week to have on hand for quick lunches. This one has tomatoes, onions, saffron, orange zest, rice, and dill. The taste is incredible. Like no other tomato soup you've ever made.
Everyone loves a good sandwich for lunch and this one is a showstopper! Our friend Meg, from This Mess Is Ours, has created a sandwich that is loaded with a rainbow of vegetables and a dangerously good green sauce all on a toasted sourdough bun.
These lettuce wraps are a quick veggie take on Korean BBQ with hearty mushrooms sautéed in a savory-sweet sesame-soy sauce and tucked into lettuce cups with slices of cucumber and jalapeño. This would be a great option to take to work. Keep the sautéed mushrooms, rice, lettuce, and toppings separated in these stainless steel tiffin lunch boxes.
This is a fun soup if you are feeding little ones at lunch time (or packing school lunches). The recipe calls for dried chickpeas but you could make it super quick by subbing canned. My kids always loved the alphabet pasta. I love these Mepa Lunch Pots if you are packing it for lunch.
Full of tender pieces of zucchini, toasted pine nuts, and thinly sliced mint this pasta is not only super easy but surprisingly delicious. This pasta is good hot, room temperature, or cold so it is another great option for work or school lunch.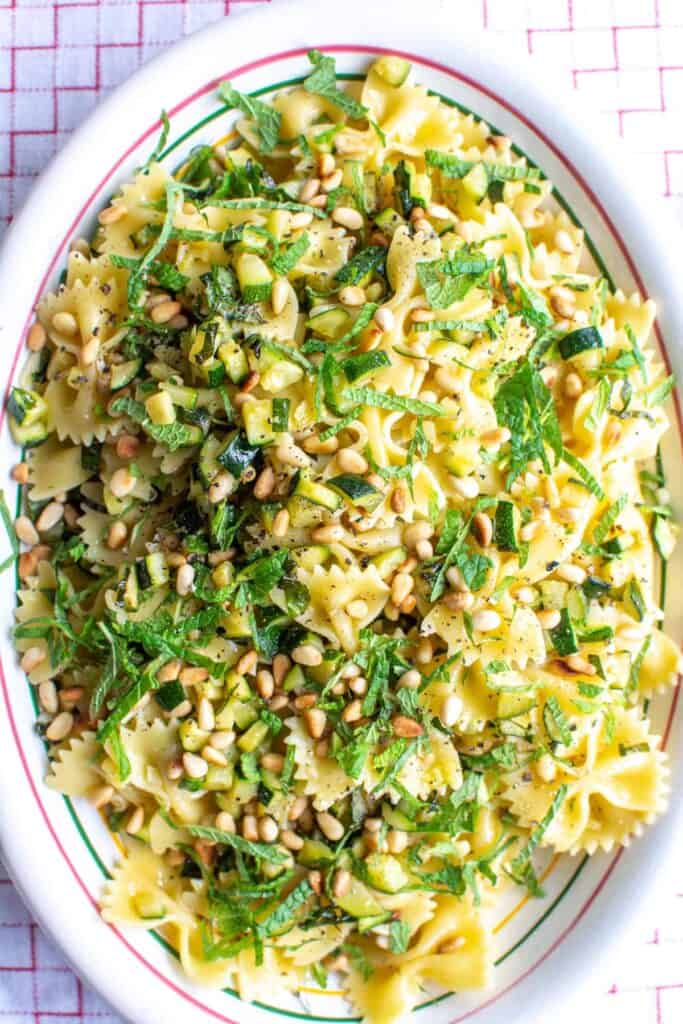 Red pepper, mushrooms, and sugar snap peas make up this quick and simple stir-fry but it's the crispy tofu and the ginger-hoisin sauce that beautifully coats everything and creates a super tasty lunch.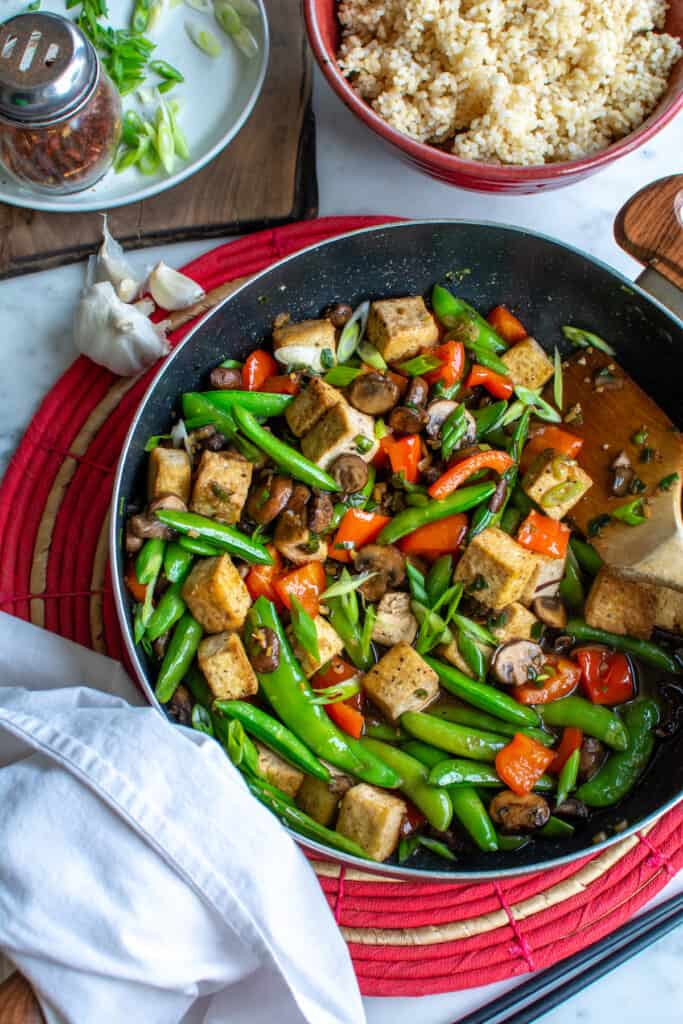 An awesome gluten-free lunch option, I love having a baked sweet potato for lunch. It takes about 45 minutes in the Air Fryer but there's basically zero hands on time and in under an hour you have lunch! I like to top mine with hummus, chopped chives, and season generously with olive oil, salt, pepper, and lemon juice.
Keep these noodles super simple (the spicy peanut butter sauce is fantastic all on its own) or elevate it with shredded carrots and cabbage. You can even make the peanut sauce ahead of time, heck, make a double batch and then all you have to do is boil the noodles at lunch time.
Having a can of black beans is a lunchtime lifesaver. These canned beans are anything but boring, flavored with cumin, coriander, and lots of garlic and onions I like to eat them with steamed rice and lots of chopped cilantro.
This is one of my favorite quinoa salads. Loads of fresh herbs, cherry tomatoes, cucumber, and a fresh lemon-garlic dressing. This is a wonderful option if you take your lunch to work. It travels well, can be eaten cold or room temperature and is even better the day after you make it.
15. Super Quick Hummus
Sure you can buy store-bought hummus but making your own tastes so much better and if you use canned chick peas it is pretty easy. I love dolloping a few spoonfuls of hummus onto a plate for lunch with some veggies like broccoli, radishes, and celery for dipping as well as crackers or tortilla chips.
My friend Alison is a genius at salads. This one is served warm with sautéed peppers, carrots, and onions served over a bed of brown rice and arugula and a lovely balsamic vinaigrette over the top.
More Recipe Collections To Browse:
If You Make Any Of These Vegan Lunches…
Let me know! I always love hearing from you and any feedback you might have. Leave me a comment below or share a photo and tag me on Instagram using @katesbestrecipes so that I can see! Also, sign up for my weekly recipe newsletter so you never miss a thing.
---
In support of this small business, Kate's Best Recipes earns revenue in a few different ways. Several sponsored posts are published each month. I also earn an affiliate commission on the sales of products I link to— there are a few of those links in this post. I only feature items I genuinely love and personally use on a regular basis. This commission is an arrangement between the retailer and Kate's Best Recipes (readers never pay more for products). This income allows me to run the site. Thank you for reading!