How To Make Vegan Bolognese (With Eggplant)
This Vegan Bolognese sauce swaps the traditional ground meat for an all-star cast of "meaty" vegetables including eggplant, peppers, and zucchini. Learn how to make it with this easy recipe.
---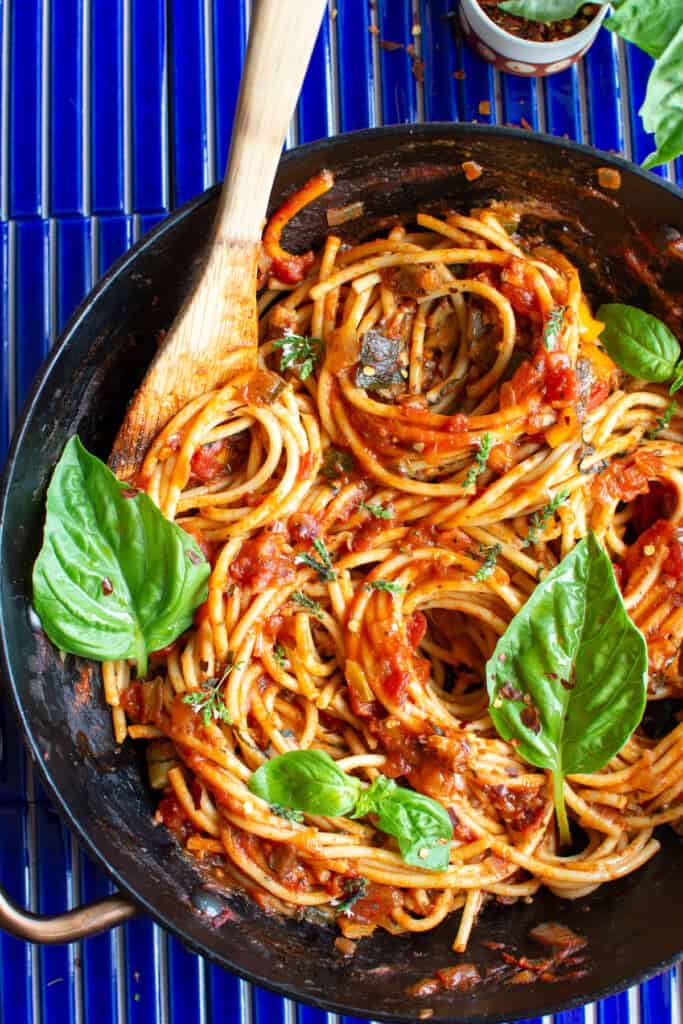 I always thought sneaking vegetables into your kid's food was dumb (sorry Jessica Seinfeld), but as my kids got older and started having opinions, I found myself doing it more and more.
Even now with a teenager and a preteen I will sneak a veggie here and there simply because I don't want to hear them complain. Louisa, for example, passionately hates eggplant but loves this tomato-based pasta loaded with zucchini, peppers, and (shhhh)… eggplant.
In this version the eggplant stands in for traditional ground meat in Italian spaghetti bolognese giving it a "meatiness" but on a much healthier scale, making it one of our favorite vegan recipes. By the way, if this looks good, you should check out my Tomato Mushroom Sauce. So, so good.
Why This Vegan Bolognese Is The Best
Satisfying without being too heavy. This sauce uses vegetables as a meat substitute instead of lentils or walnuts or other bulkier options.
Easy to make! Chopping the vegetables is the hardest part of this bolognese recipe.
Incredible flavor. This dish only has 11 ingredients but each one adds its own special touch.
Excellent "meaty" texture in every bite.
Super healthy. Loads of fiber but low in sodium with lots of fresh vegetables.
Convenient make-ahead recipe. The sauce tastes even better the next day like my Marinara Sauce.
Ingredients
Olive oil. I always use California olive oil simply because it has traveled less and is fresher than imported olive oils.
Eggplant. I like to use whichever variety is fresh and beautiful at the farmer's market. Any of the Italian varieties would be good here as well as the Chinese and Japanese eggplant which tend to have less seeds and more flesh.
Onions. Yellow onion is best for their buttery, sweeter flavor.
Peppers. Red, yellow, or orange add color and are nice and sweet.
Zucchini. Or any kind of summer squash.
Garlic. Important for flavor.
Crushed canned tomatoes. Buy the best ones you can afford, ideally San Marzano tomatoes.
Dried oregano. I'm keeping this pretty simple with just oregano and pepper flakes but you could add other spices like bay leaf or black pepper.
Kosher salt. I always use Morton kosher salt unless otherwise specified.
Red pepper flakes. Use as much or as little as you like for a touch of spice.
Fresh basil. Added at the end to bring it all together and brighten up the dish.
Pasta. I love bucatini with this recipe but you could use rigatoni, penne, fettuccine or serve it like they do in Bologna, Italy with pappardelle or tagliatelle pasta.
Vegan parmesan cheese. Optional or regular parmesan if you aren't following a vegan diet.
How To Make This Recipe
step one
Prep veggies. I peel the eggplant simply so it is less noticeable as eggplant in the finished sauce but if you don't mind, and it's not too thick, leave the skin on. I also don't salt it because I start with eggplant that is less bitter by buying sweeter and fresher varieties (see ingredient note above). If you are not sure how fresh your eggplant is, you can toss with salt after you dice it and let it drain in a colander in the sink for 30 minutes before cooking with it. Rinse the eggplant well and pat dry with paper towels before continuing with the recipe. Chop all the other vegetables as well before beginning.
step two
Brown the eggplant. Heat a good amount of olive oil in a large pot or Dutch oven. Add eggplant and season well with salt. Stir to coat in the oil and let cook until tender and browned. Transfer eggplant to a bowl.
step three
Sauté the vegetables. Add a couple more tablespoons of oil to the pan and add the remaining vegetables. Season well with salt and add a generous pinch of red chile flakes. Cook, stirring occasionally, until vegetables start to become tender.
step four
Add tomatoes. Add the crushed tomatoes, oregano, and eggplant. Fill the tomato can halfway with water and add that as well. Bring to a simmer. Reduce heat, cover and let gently simmer over medium heat until vegetables are meltingly tender and sauce has thickened slightly.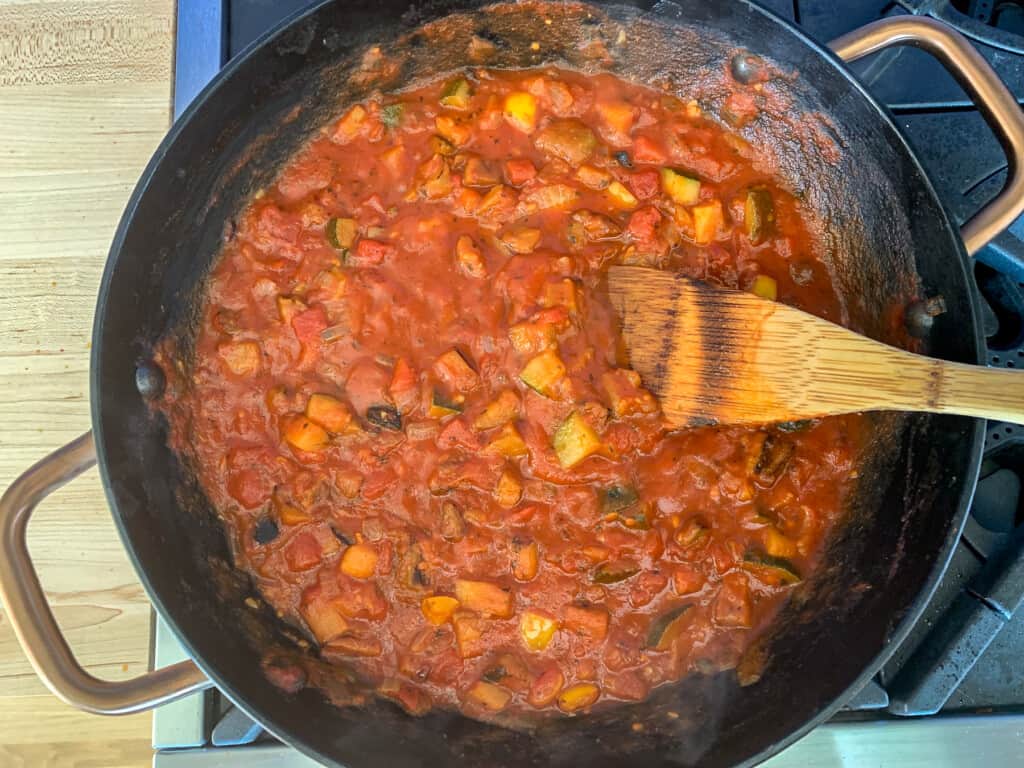 step five
Cook pasta. Bring a large pot of heavily salted water to a boil. Add bucatini (or your favorite pasta) and cook according to the package instructions or until al dente. Drain and return pasta to the pot.
step six
Combine with sauce. Before adding the sauce to the pasta, taste it and season with more salt if needed. Ladle the sauce over the pasta and toss to coat with the sauce.
step seven
Serve. Divide into bowls and top with thinly sliced basil, more chile flakes and vegan parmesan cheese if you'd like.
Vegan Bolognese FAQ's
Can I add other vegetables? Of course! Traditional bolognese sauce has carrots and celery so you could certainly add those but really I encourage you to make it your own with what you have on hand.
What type of protein would you suggest? If you need a boost of protein you can add nuts or a plant-based protein such as crumbled tofu. Vegan lentil bolognese is also popular.
My sauce tastes sour, what do I do? You can add a couple tablespoons of tomato paste, a splash of red wine, or a touch of sugar but I would also add more salt. Salt plays a major role in balancing out the flavors.
Can I freeze this? The sauce is super freezer-friendly! You can make it, let it cool then pack in an airtight container and either keep in the fridge for up to 5 days or store in the freezer for up to 3 months. Reheat on the stovetop or in the microwave until simmering and warmed through.
Is this gluten free? If you use gluten-free pasta it will be.
If You Like This Recipe, You'll Love:
A Hearty, Satisfying Pasta Recipe
Without the meat! Friends, I hope you find this vegan bolognese as delicious and irresistible as we do. When you try it, let me know how it went! Share a photo and tag me on Instagram using @katesbestrecipes so that I can see. Or leave me a comment below (don't forget to leave a ⭐️⭐️⭐️⭐️⭐️ rating)! Also, sign up for my weekly recipe newsletter so you never miss a thing.
Vegan Bolognese with Eggplant
A vegan bolognese sauce that is just as delicious and satisfying as the original meat sauce
Print
Pin
Rate
Ingredients
8

tablespoons

olive oil,

divided

1

large

eggplant,

about 1 pound, peeled and cut into 1/2-inch pieces

1/2

teaspoon

kosher salt,

plus more for seasoning

1

medium

yellow onion,

finely chopped

1

medium

bell pepper,

red, yellow, or orange, small dice

1

medium

zucchini,

medium dice

3

cloves

garlic,

minced

1/4

teaspoon

red chile flakes

1

28-ounce

can crushed tomatoes

1

tablespoon

dried oregano

1

pound

bucatini pasta,

or your favorite pasta

1/2

cup

thinly sliced fresh basil,

plus more for garnish
Instructions
Cook eggplant. Heat 6 tablespoons olive oil over medium-high heat in a dutch oven or large frying pan with high sides. Add eggplant and season with salt. Cook, stirring occasionally, until golden and tender. Transfer to a bowl and set aside.

Sauté vegetables. Add remaining 2 tablespoons oil to the pan. Add onion, pepper, zucchini and garlic. Add the 1/2 teaspoon salt and the 1/4 teaspoon chile flakes and cook, stirring occasionally, until vegetables are tender.

Cook sauce. Add tomatoes, oregano and eggplant to vegetable mixture. Fill the tomato can halfway with water and add that as well. Bring to a boil, then reduce heat to low. Gently simmer, uncovered, until sauce is thickened, about 20 to 30 minutes. Taste and season with additional salt, if necessary.

Cook pasta. Meanwhile, bring a large pot of heavily-salted water to a boil. Add pasta and cook according to package instructions. Drain well and return to the pot.

Serve. Toss pasta with the basil and sauce. Divide into bowls, sprinkle some vegan parmesan over the top if desired and more basil and chile flakes. Enjoy!
Notes
Eggplant: Look for heirloom Italian varieties at the farmer's market if possible or opt for Chinese or Japanese eggplant that tend to have less seeds and more flesh. 
Peeling eggplant: I peel the eggplant to keep it less detectable as eggplant for my eggplant-adverse child. If you don't care and the skin is not too thick, you can leave it unpeeled. 
Salting eggplant: Salting eggplant before cooking is common if the eggplant you are using is not very fresh and possibly bitter. If you are using the varieties I mentioned above, it should not be necessary. 
Freezing: The sauce freezes beautifully. Store in an airtight container and freeze for up to 3 months. 
In support of this small business, Kate's Best Recipes earns revenue in a few different ways. Several sponsored posts are published each month. I also earn an affiliate commission on the sales of products I link to— there are a few of those links in this post. I only feature items I genuinely love and personally use on a regular basis. This commission is an arrangement between the retailer and Kate's Best Recipes (readers never pay more for products). This income allows me to run the site. Thank you for reading!