Zucchini Pasta with Pine Nuts and Mint
Meet your new best pasta friend. This Zucchini Pasta is quick and full of flavor that is ready in 20 minutes with only 7 ingredients! Vegan too.
---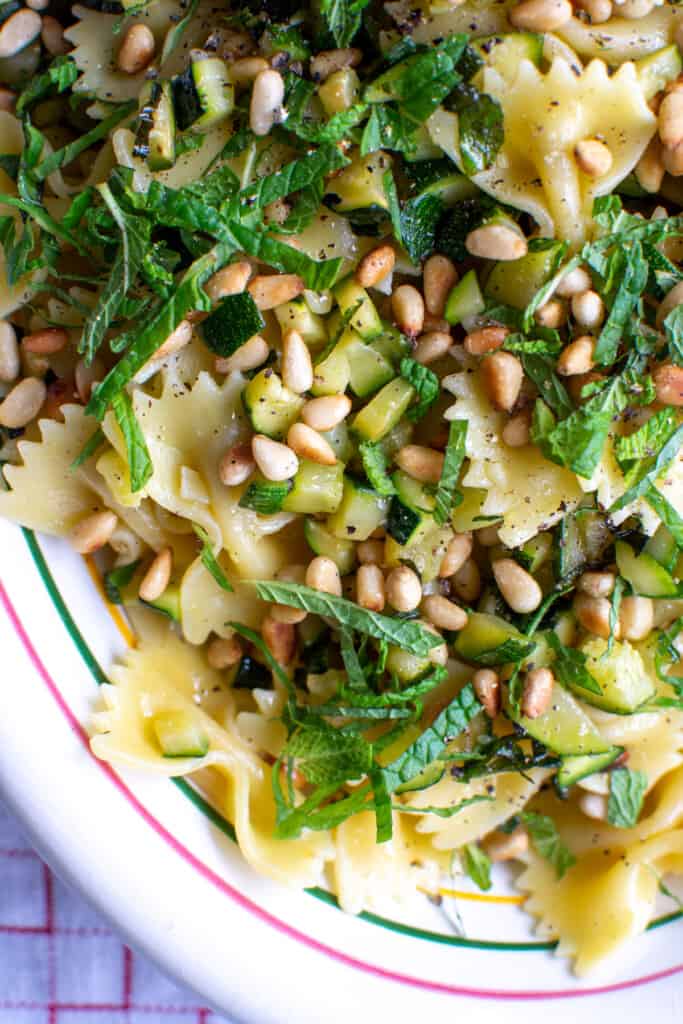 I will never turn down a bowl of pasta. It is simply what I always, always want to eat. Penne with spicy vodka sauce, spaghetti with pesto, angel hair with artichokes, I'm here for it.
I especially love a pasta dish that is a bit of a surprise. This zucchini pasta has just that kind of magic. I picked up this recipe on a trip to Italy way back in 2017 and I've been making it ever since.
It is so simple that you would be right to assume it might be kind of bland or boring.There's no cheese, no garlic, not even an onion but somehow it is rich and buttery and completely satisfying. When zucchini starts hitting the market, this pasta is on regular rotation at our house. My go-to summer pasta if you will.
What's your favorite pasta dish? Please share in the comments below.
Why This Is The Best Zucchini Pasta Recipe
This recipe is the best because it is a true lifesaver. It comes together super fast in under 20 minutes with very little chopping. When you have no idea what to make for dinner, make this.
It's vegan! But the toasted pine nuts and caramelized zucchini make it taste super rich and buttery.
Most importantly, it is so easy it becomes second nature, making dinner that much more likely to happen and the results are something you feel really good about eating.
Ingredients
Farfalle pasta or gluten-free pasta or double up on the zucchini and use zoodles (aka zucchini noodles)
Olive oil
Zucchini
Toasted pine nuts
Fresh mint leaves. The mint is essential to the flavor here. You can add fresh basil leaves but don't substitute it for the mint.
Kosher salt
Freshly ground black pepper
How To Make This Recipe
step one
Cook pasta. Bring a large pot of salted water to a boil and cook pasta according to package instructions until it is al dente.
step two
Prep zucchini. Cut zucchini into small dice and thinly slice the mint leaves.
step three
Sauté zucchini. Heat a large frying pan over medium-high heat. Add half of the olive oil and let that heat for a minute. Add zucchini, stir so it is coated in the oil then spread out to an even layer. Let cook without touching until it is golden on the bottom. Stir and cook until zucchini is soft, but still has a little bite to it, about 5 minutes total.
Season with a teaspoon salt and 1/4 teaspoon of pepper. Remove from heat.
step four
Combine. Drain the pasta and add to the frying pan with the zucchini. Place over medium heat and add the remaining olive oil, pine nuts, and mint. Toss to combine and rewarm, adding a bit more olive oil if it seems dry. Serve immediately.
Zucchini Pasta FAQ's
Can I add other vegetables? Absolutely! Swap the zucchini for any kind of summer squash or add peas, asparagus, or mushrooms to the zucchini. If your pan is small, cook the veggies in batches so they brown a bit and don't steam.
What else can I add to switch up the flavor? Lots of things! Parmesan cheese or Pecorino Romano, lemon juice and lemon zest, fresh chopped tomatoes (I'd add these at the end), red pepper flakes for spice, shredded chicken, sautéed shrimp, the options are endless.
What is the best kind of pan to use? You are going to need a large skillet. Preferably a 14-inch skillet to hold all the pasta and zucchini. You can always mix the pasta with the other ingredients in the pot you used to cook the pasta in if your skillet is not big enough.
How do I get my zucchini to brown? To get zucchini golden and not pale and soggy, don't season them with salt and pepper until they are done cooking. Salt will release their juices which steams the zucchini instead of sautéing it.
Tips For Leftovers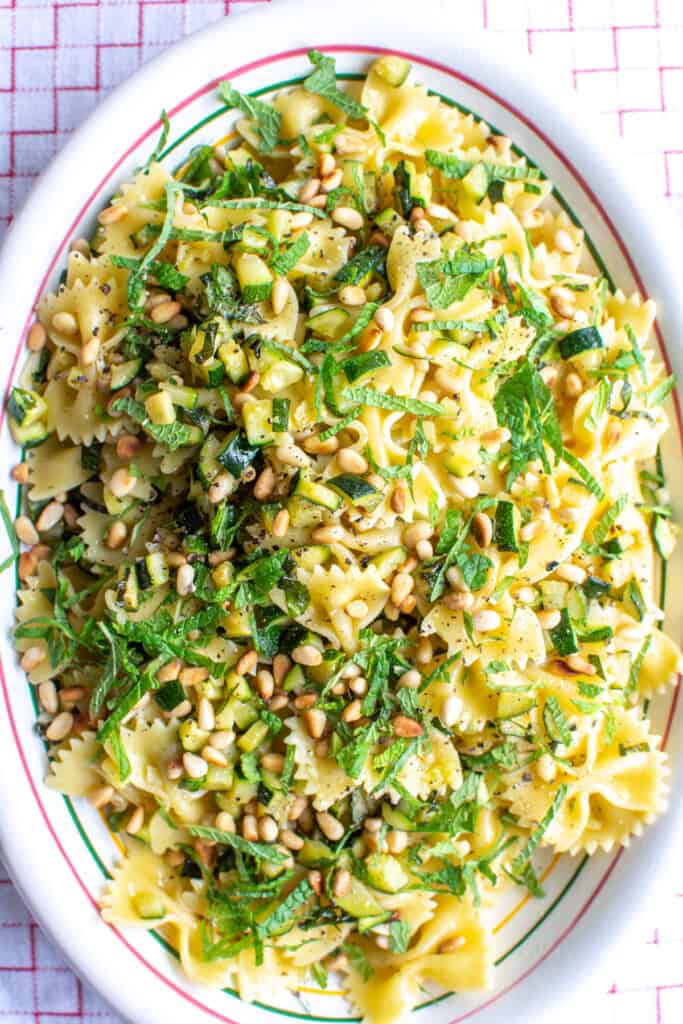 Keep any leftover pasta in an airtight container in the refrigerator for up to 3 days. Reheat in the microwave or in a frying pan with a little oil over medium heat, stirring frequently.
If You Like This Recipe, You'll Love…
A Recipe Worth Memorizing
Get this zucchini pasta tattooed on your brain. It will make your life easier and more delicious. When you make it, let me know how it went by leaving a comment below! Share a photo and tag me on Instagram using @katesbestrecipes so that I can see (don't forget to leave a ⭐️⭐️⭐️⭐️⭐️ rating)! Also, sign up for my weekly recipe newsletter so you never miss a thing.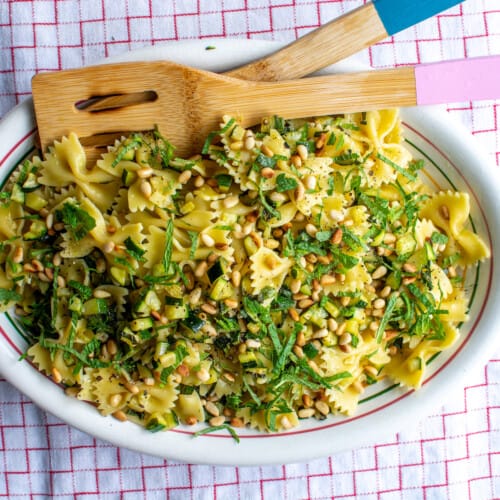 Zucchini Pasta with Pine Nuts and Mint
Meet your new best pasta friend. This Zucchini Pasta is quick and full of flavor that is ready in 20 minutes with only 7 ingredients! Vegan too. 
Print
Pin
Rate
Instructions
Cook pasta. Heat a large pot of heavily salted water over high heat. Once water is boiling, add Farfalle pasta and cook according to package instructions. Drain.

Sauté zucchini. While pasta is cooking, heat 2 tablespoons olive oil in a large frying pan (one that can hold the zucchini in a single layer is best) over medium-high heat. Once visibly shimmering, add zucchini and stir to coat in the oil then spread out to an even layer. Let cook, undisturbed until brown on one side, then stir and continue cooking and occasionally stirring until zucchini is tender, but still retains a little bite, about 5 minutes total. Season with the teaspoon salt and 1/2 teaspoon pepper Remove from heat. It will seem salty but will be good once you mix it with the pasta.

Combine. Add cooked pasta to zucchini pan and toss with remaining 2 tablespoons olive oil, pine nuts and mint. Taste and add more salt and pepper if necessary. If it seems dry add another drizzle of olive oil. Enjoy!
Notes
Salt your pasta water! Add enough salt to the water so it tastes as salty as sea water. 
Get the frying pan really hot, like heat for 2 minutes. Then add oil, let heat, then add zucchini.
Only add enough zucchini so it is in a single layer in the pan. If your pan is not large enough, do this in batches. 
Don't stir zucchini while cooking. Toss to coat in the oil, then leave it alone to brown.

Don't salt until zucchini is done cooking. Adding salt in the beginning brings out the zucchini's juices which steams the zucchini instead of browning it. 

Additions: garlic, lemon zest, red pepper flakes, parmesan or pecorino. 
In support of this small business, Kate's Best Recipes earns revenue in a few different ways. Several sponsored posts are published each month. I also earn an affiliate commission on the sales of products I link to— there are a few of those links in this post. I only feature items I genuinely love and personally use on a regular basis. This commission is an arrangement between the retailer and Kate's Best Recipes (readers never pay more for products). This income allows me to run the site. Thank you for reading!