Ginger Hoisin Tofu Stir Fry
You are going to love this tofu stir-fry. With a crispy outer layer and a soft interior, this creamy stir-fried tofu topped with crispy snow peas and tossed in an easy ginger hoisin sauce is an incredibly simple yet delicious change on your dinner plate!
---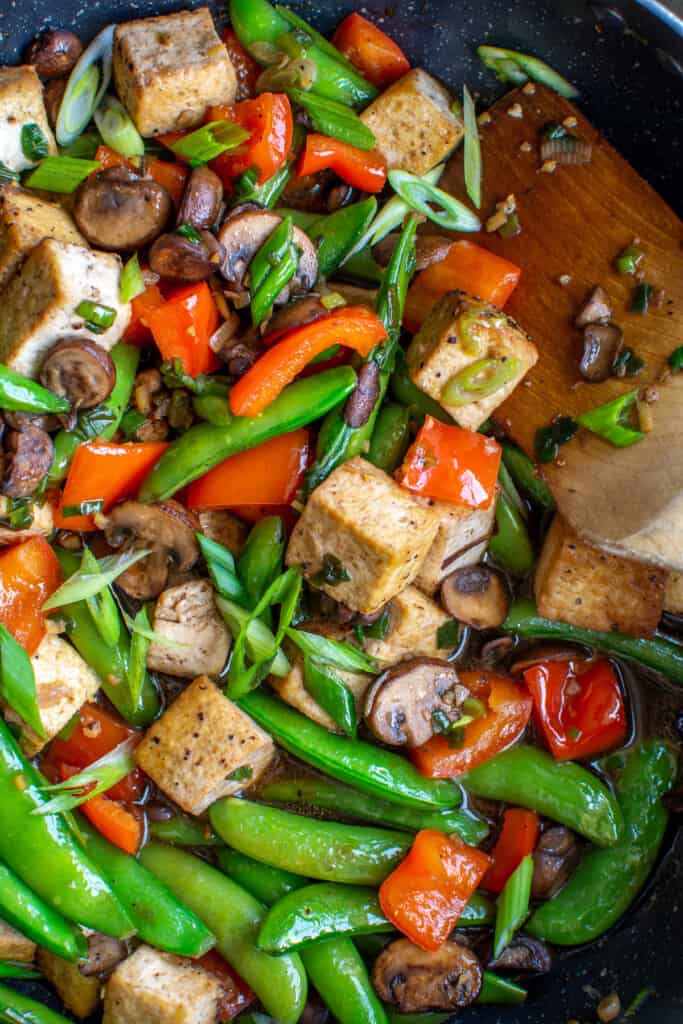 I have grown to love tofu. Its creamy interior, its slight chew, its delicate earthy flavor, I love all of it. Heck, I'm the wierdo who eats it raw (the pieces of tofu at the Whole Foods salad bar are my favorite).
But I think what I love most of all is how easy it is to prepare, just toss it in a pan with some veggies and you've got supper. In less than 30 minutes, this stir-fried recipe is more simple than you would think and is easily doable by anyone.
Unlike other tofu recipes you may come across online, this one has a special way of cooking it that gives you perfectly fried tofu every time. It is a method I learned from my friend Sylvia of Feasting at Home. This recipe shows you how to keep the inside of the tofu soft and the outside as crispy as you like with no sticking! Keep reading for the details.
Not only is this recipe simple and fast, it is vegan and easily gluten-free adaptable! I hope you love this tasty yet healthy meal as much as we do.
The Secrets To Perfectly Fried Tofu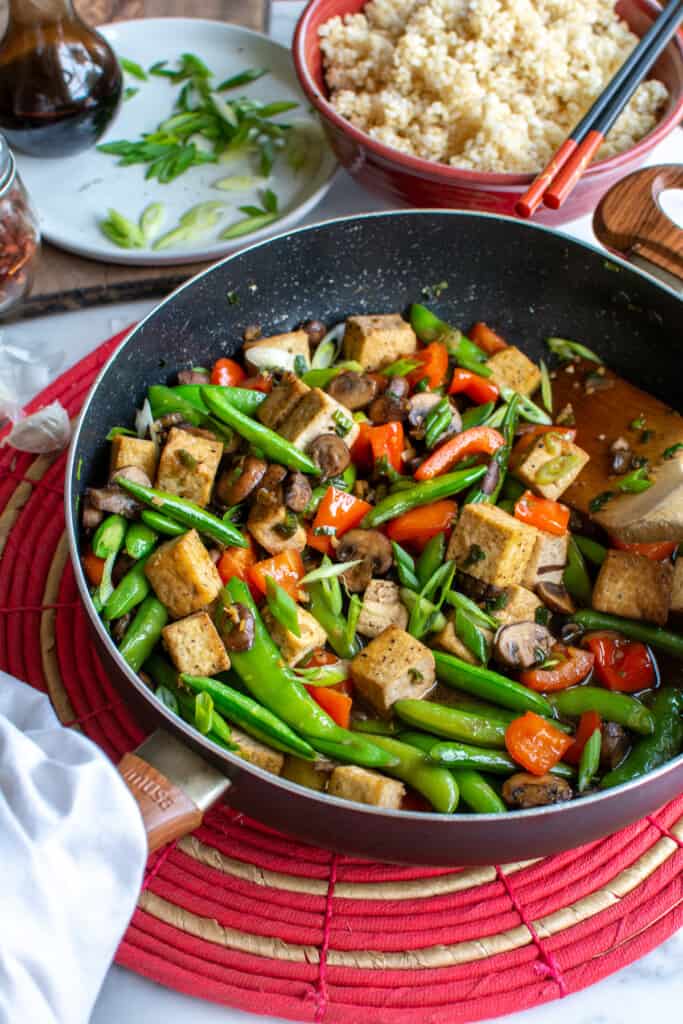 I love Sylvia's method for a couple of reasons. First, the tofu isn't pressed into oblivion like most recipes which results in it becoming tough and chewy. You just pat it dry with a paper towel, cut into into pieces and pat dry again.
Secondly, you season the oil, not the tofu. When the tofu hits the hot seasoned oil the salt and pepper stick to the outside of the tofu putting an end to all the bland tofu in your life.
And lastly, getting the oil really hot before you add the tofu means you can use a lot less oil. Making it healthier overall. Sounds perfect, right?!
Ingredients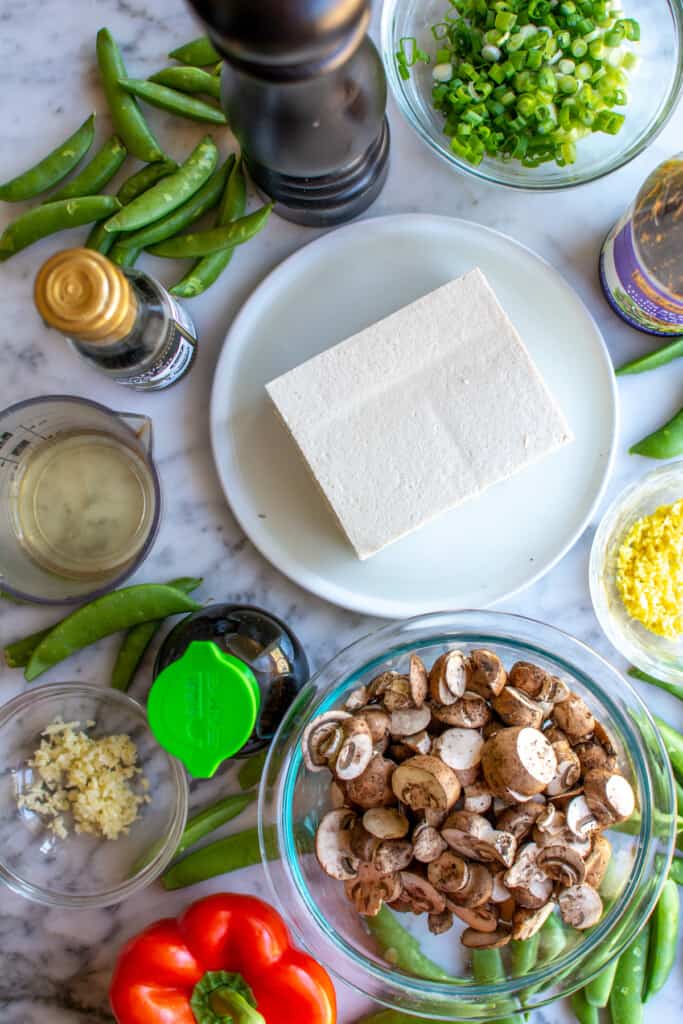 How To Make It!
step one
Pat the block of tofu dry with paper towels. Cut into cubes then pat them dry again. Gently press down, pressing too hard results in tough, chewy tofu. Let sit on a layer of paper towels while you prepare the sauce and vegetables.
step two
Combine the water, hoisin sauce, sesame oil, soy sauce, and pepper all together in a medium bowl and whisk until it becomes smooth.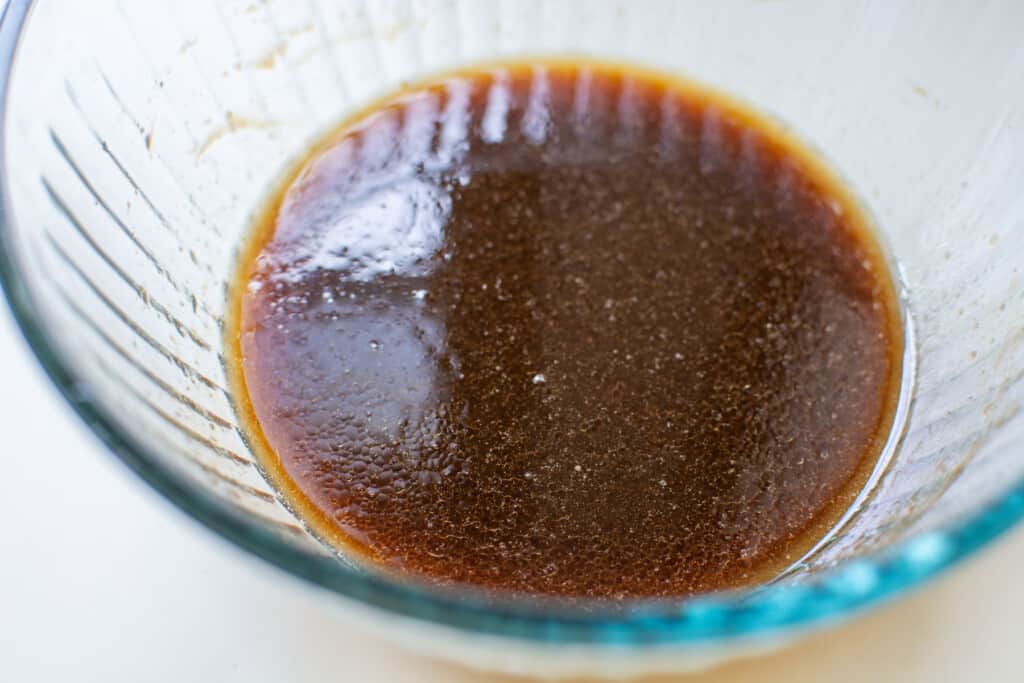 step three
Chop all the veggies so everything is ready to go before you start cooking. The process goes pretty fast so you need to have everything prepped and ready to go.
step four
Heat a couple of tablespoons of the oil in a large nonstick frying pan, wok, or cast iron skillet over high heat. Once the oil starts to shimmer, season it with a generous pinch of salt and freshly ground black pepper. Add the tofu and make sure it is in a single layer in the pan. If it doesn't all fit, do this step in batches.
Let cook undisturbed until the tofu is golden brown and easily releases from the pan. If it sticks, it is not ready to be flipped yet. Turn tofu to crisp on the other side. Once golden brown and crispy all over, remove the tofu from the pan and return the pan to the heat.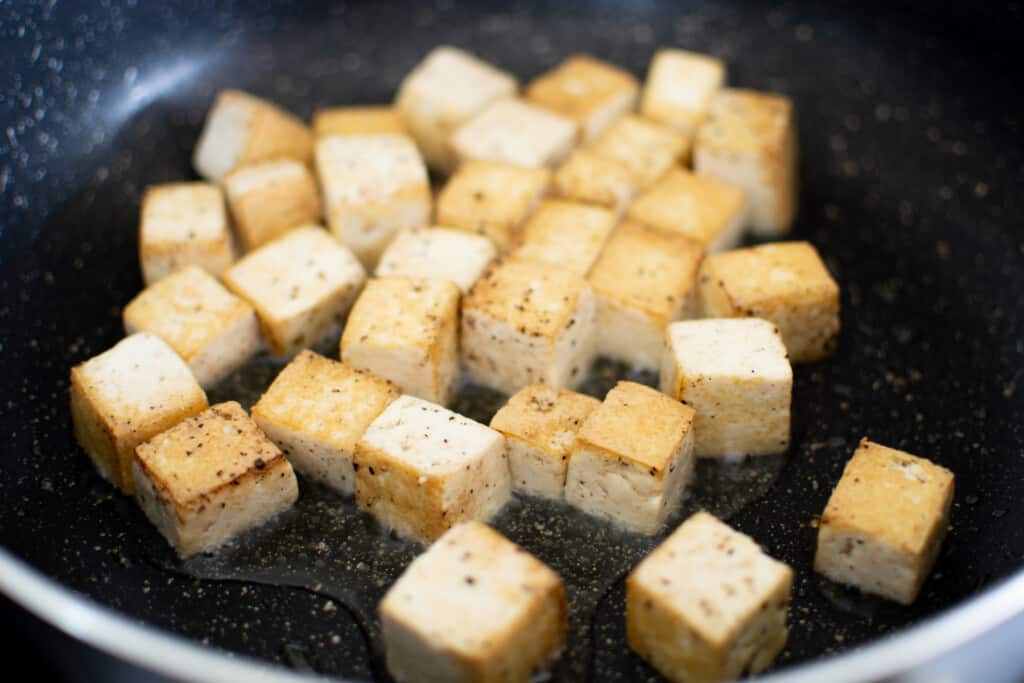 step five
Add remaining oil. Once the oil is hot add the mushrooms and let cook undisturbed until they are golden on the bottom. Give them a stir. then add the ginger and garlic and cook a minute more.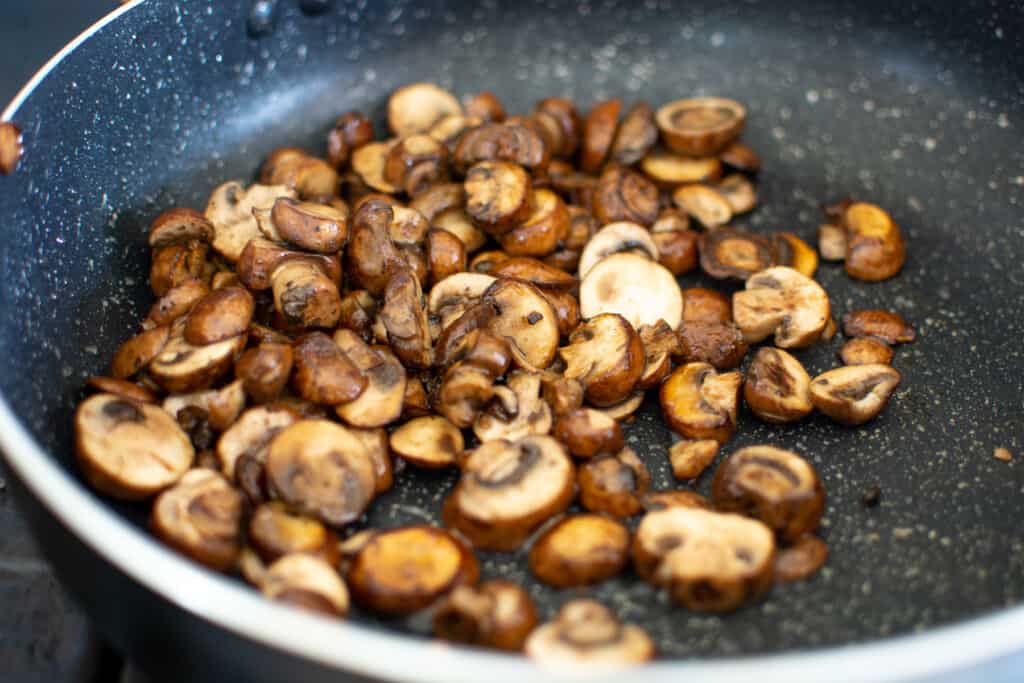 step six
Stir-fry the bell pepper and peas for a couple of minutes (you want to maintain their crispness). Finally add the sauce, tofu, and scallions. After adding in all the ingredients, cook all together for another 3-4 minutes to let the sauce reduce slightly.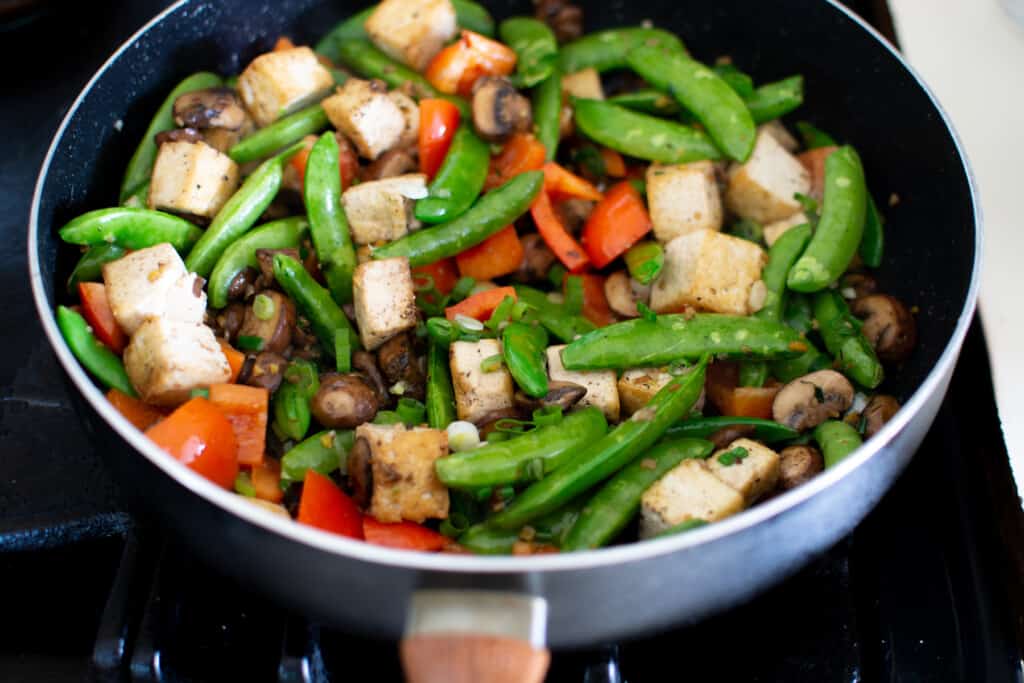 step seven
Serve! Serve stir-fry with steamed rice or noodles, top each bowl with a few more thinly sliced scallions and enjoy!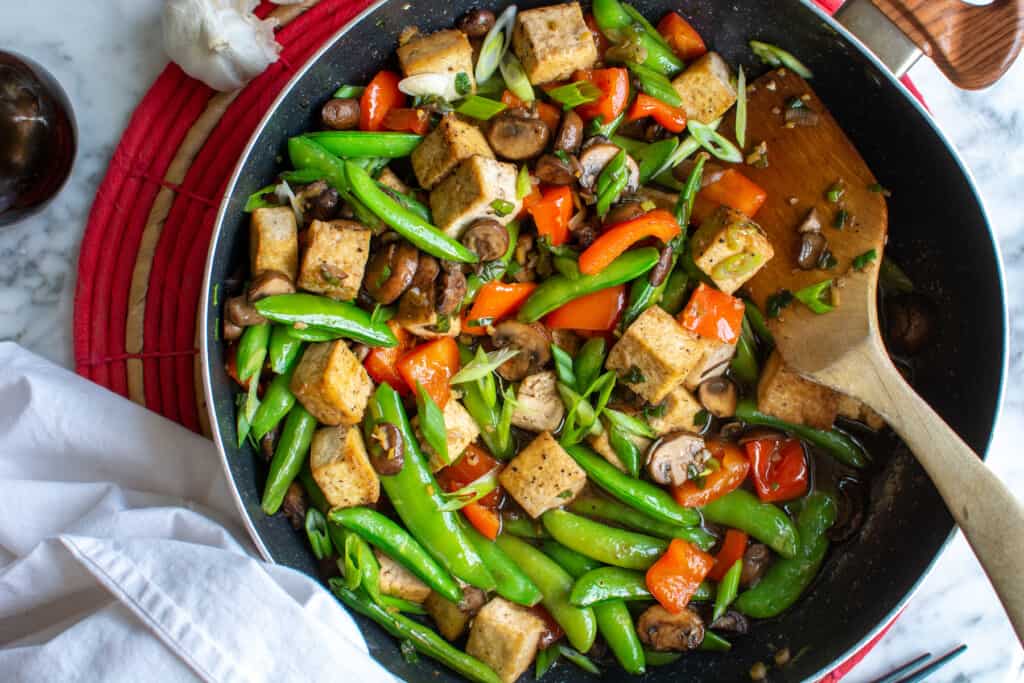 What Makes This The Best Tofu Stir-Fry?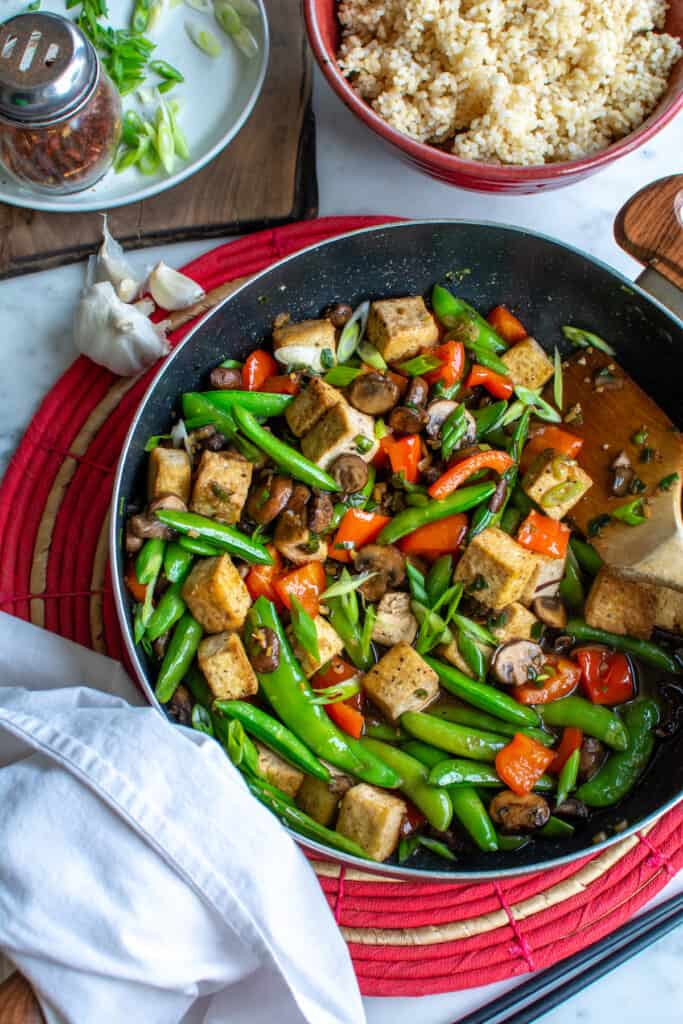 Super crispy and flavorful fried tofu.
Vegan and gluten-free (if swapping tamari and gluten-free hoisin). Which is awesome for people on restricted diets. Of course this recipe is for everyone!
As much as this recipe is tasty, it is definitely on the healthier side, so if you've on a health kick or just want a healthier choice, this recipe is open for you to try.
Super versatile. Don't like mushrooms? No problem, swap in asparagus. Have cabbage that needs used in the fridge? That works too. Almost all quick cooking vegetables work in this recipe.
More Dinner Recipes You'll Love
Turn Tuesdays Into Tofu Stir-Fry Night!
Or really any day of the week, this recipe is a vegan superstar. When you try it, let me know how it went! Share a photo and tag me on Instagram using @katesbestrecipes so that I can see (don't forget to leave a ⭐️⭐️⭐️⭐️⭐️ rating)! Also, sign up for my weekly recipe newsletter so you never miss a thing.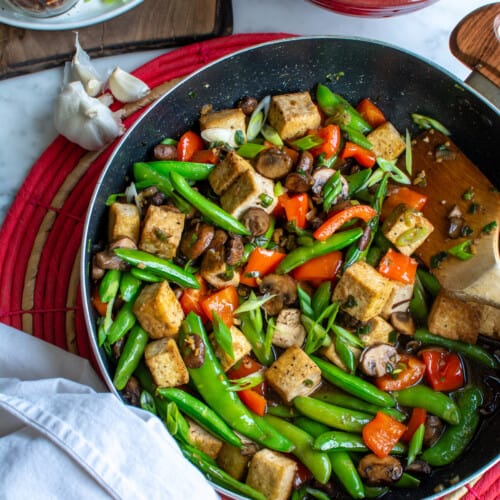 Tofu Stir-Fry with Hoisin Sauce
Creamy, earthy tofu stir-fried with fresh, crisp snow peas all in a sweet, gingery hoisin sauce. Dairy-free and gluten free adaptable!
Print
Pin
Rate
Ingredients
14

ounce

to 1 pound extra-firm or firm tofu

drained

1/4

cup

water

2

tablespoons

Hoisin sauce

or gluten-free hoisin sauce

2

tablespoons

toasted sesame oil

2

tablespoons

soy sauce

or tamari

1/2

teaspoon

freshly ground black pepper

plus more for seasoning

large

pinch

kosher salt

plus more for seasoning

1/4

cup

vegetable oil

8

ounces

crimini mushrooms

wiped clean and sliced

1

tablespoon

chopped garlic

1

tablespoon

minced ginger

1

red bell pepper

large diced

8

ounces

sugar snap peas

tough strings removed

4

scallions

thinly sliced, plus a couple more thinly sliced for garnish
Instructions
Wrap tofu block in paper towels and gently press to remove excess water. Cut into 1-inch cubes then place cubes on a large plate lined with paper towels. Place more paper towels on top of the tofu and gently press to dry. Don't press too hard, this makes the tofu tough and dry.

Combine water, Hoisin, sesame oil, soy, and the 1/2 teaspoon pepper in a medium bowl and whisk until smooth.

Heat 2 tablespoons of the oil in a large nonstick frying pan or wok or cast iron skillet over high heat. Season oil with salt and pepper. Once shimmering, add tofu and spread out into a single layer. If it doesn't all fit in a single layer, do this step in batches. Cook undisturbed until golden on the bottom. Flip and repeat until brown on all sides, about 7 minutes per batch. Remove from pan and return pan to heat.

Add remaining 2 tablespoons oil to the pan. Once shimmering add mushrooms, give a toss so they are coated in oil then let cook, undisturbed until golden on the bottom, about 2 minutes. Give a quick stir then add garlic and ginger and stir-fry 1 minute. Add bell pepper and peas and cook 2 minutes more, then add sauce, tofu, and scallions and cook 3 to 4 minutes more, stirring often, until peas are tender.

Serve, garnished with extra thinly sliced scallions over steamed rice or noodles.
Notes
You will need basically 1 package of tofu. Some are 14 ounces some are 1 pound, either one will work. 
In support of this small business, Kate's Best Recipes earns revenue in a few different ways. Several sponsored posts are published each month. I also earn an affiliate commission on the sales of products I link to— there are a few of those links in this post. I only feature items I genuinely love and personally use on a regular basis. This commission is an arrangement between the retailer and Kate's Best Recipes (readers never pay more for products). This income allows me to run the site. Thank you for reading!