Miso-Maple Roasted Beets and Carrots
Roasted beets and carrots are an easy, nutritious side dish that get a unique boost of flavor from some of our favorite pantry staples: maple syrup, miso paste, and fresh herbs.
---
A good vegetable side dish has the power to steal the show. In fact, if you are anything like me, you get excited about making the side dish and then have to figure out what else you can quickly make to accompany it so your family isn't upset you are serving them a roasting pan of beets for dinner.
If I lived alone however, I would totally make these roasted beets and carrots and nothing else for dinner. They are that satisfying and delicious. In fact, I am a root vegetable fanatic, they are loaded with nutrition, have a gorgeous natural sweetness, and feel hearty enough to be great on their own.
Why This Is My Best Recipe For Roasted Beets and Carrots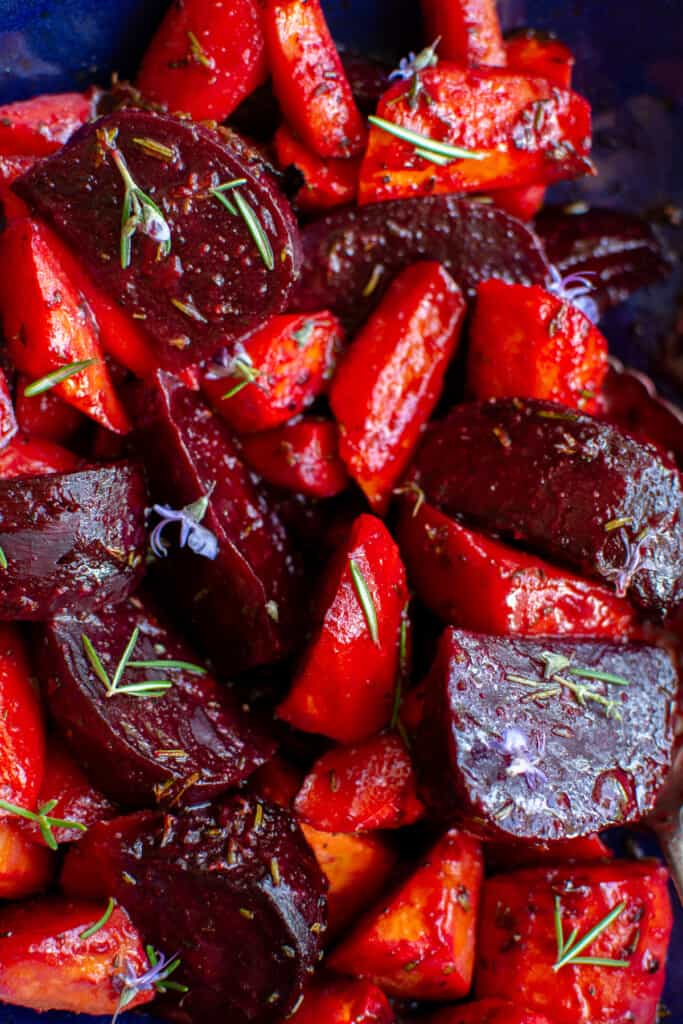 The texture is so satisfying. The beets and carrots are tender but still have bite.
The flavor is cozy but unexpected. Salty miso, sweet maple syrup, and brightened at the end with fresh lemon juice.
It is easy to prep and then you just have to wait for it to get all caramelized and lovely in the oven.
Excellent side dish for everything from weeknight dinners to special holiday occasions.
Lots of flavor for very little work is a great combination!
Ingredients
After you get the hang of this recipe, have fun with it and make it your own. Swap the beets and carrots for other root vegetables, switch up the herbs, the options are endless.
Carrots. Use standard orange carrots or the vibrant rainbow ones. You will need about 2 pounds of carrots which is usually 5-6 medium-sized ones.
Beets. Beets also vary in size, you will need a little more than 1 pound of those as well. That is usually 2 large beets. If you buy them with the greens on, save those for sautéing like spinach in another meal.
Maple syrup. Use grade A maple syrup not the mostly corn syrup stuff.
Olive oil. I always use California olive oil simply because it is fresher than the imported stuff.
Yellow miso. Look for miso in the refrigerated section of the produce aisle in the grocery store next to the tofu or at Asian markets.
Fresh thyme. I like using heartier herbs like thyme and rosemary when roasting as they can stand up better to the high heat. If you have access to lemon thyme that is really great here.
Fresh rosemary. Rosemary and carrots are a match made in heaven.
Kosher salt. I always use Morton kosher salt unless otherwise specified.
Black pepper. Freshly ground black pepper is always better than pre-ground.
Lemon juice. To brighten up the dish at the end. Add after roasting.
*Chef's Tip
Miso comes in three different types: Red, yellow, and white. The red is the boldest in flavor with they yellow being less, and the white being the most mild. I like using yellow miso in this recipe but you could substitute the other two types. Use 1 tablespoon of red miso instead of 2 unless you want a really robust miso flavor.
How To Make This Recipe (with step-by-step instructions)
step one
Prep veggies. Heat oven to 425°F. Peel and chop 2 pounds carrots and 1 pound beets. Line a rimmed baking sheet with parchment paper. Place carrots and beets on the baking sheet.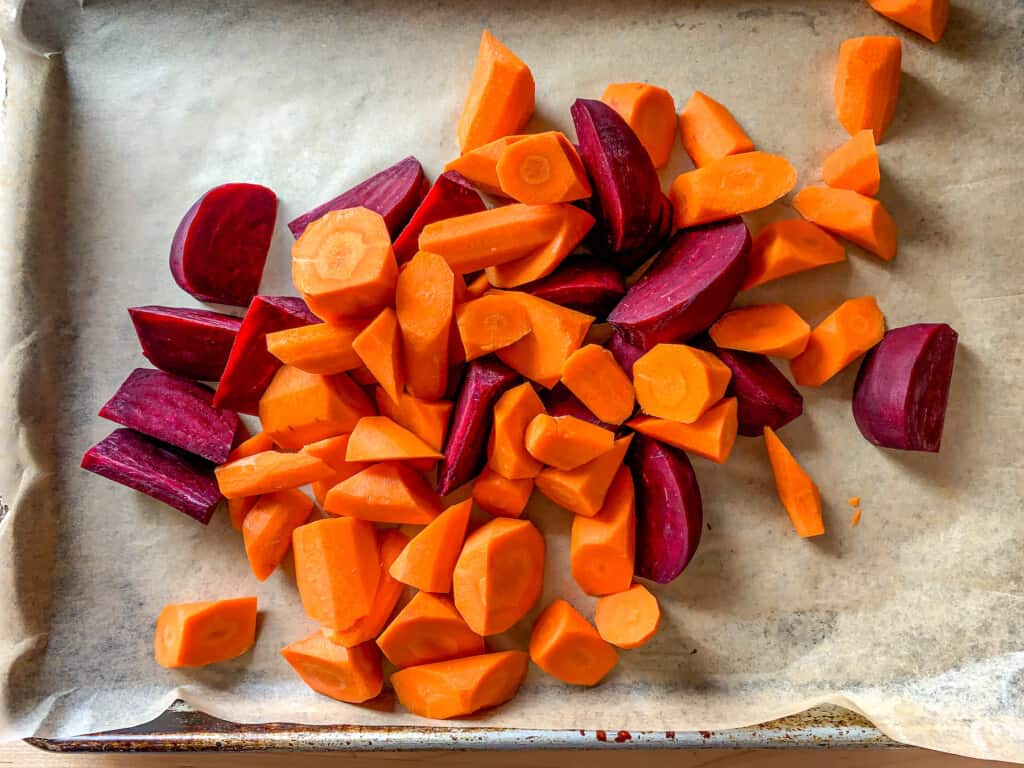 step two
Mix the roasting sauce. Combine maple syrup, olive oil, miso, a tablespoon each of thyme, rosemary, and some salt, and pepper in a bowl. Whisk until smooth.
step three
Toss. Pour sauce over vegetables and toss carrots and beets until everything is nicely coated. Spread the veggies out into a single layer on the sheet pan.
step four
Roast. Place beets and carrots in the oven and cook until fork tender. About 30 miut
step five
Dig in! Toss roasted root vegetables with lemon juice, transfer to a serving platter and sprinkle with a bit more chopped rosemary and thyme (or substitute fresh parsley). Serve warm or room temperature.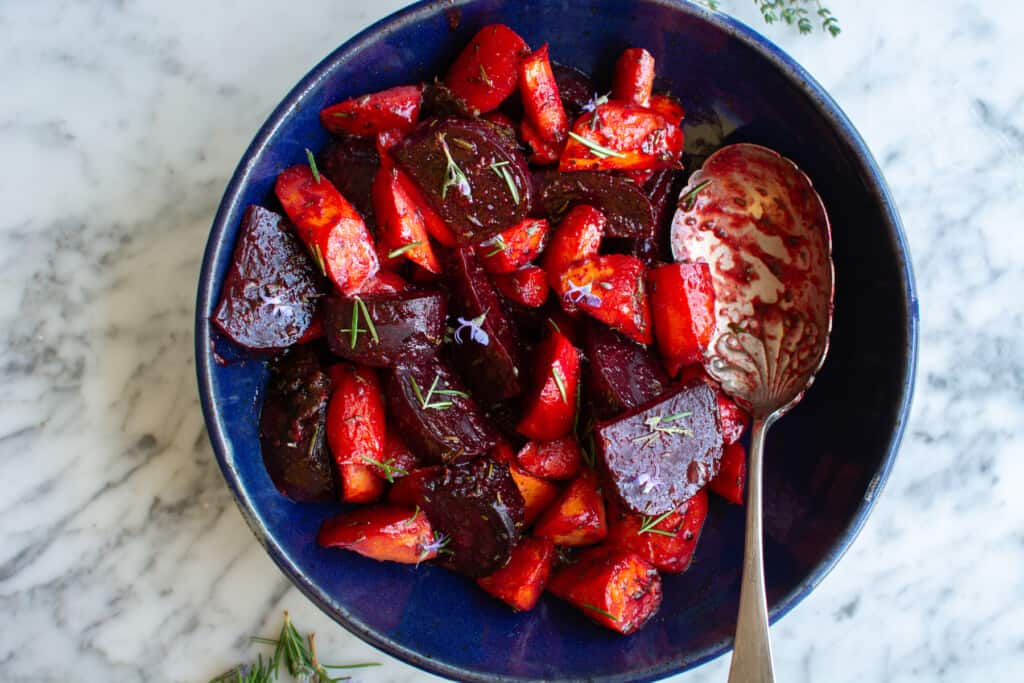 Serve With These Family Favorites
Add one of these main dishes to make a complete meal:
Roasted Beets and Carrots FAQ's
How do I get the beet stains out of my cutting board? Squeeze lemon juice over the stains and then sprinkle with coarse salt. Rub the salt into the stain with the lemon half using the side for extra scrubbing power. Rinse clean with water.
What kind of beets should I use? I prefer red beets for this recipe because the garnet-colored beets and orange carrots are so beautiful together but you can also use golden beets if you prefer.
Can I make this ahead? Sure! Let the veggies cool then transfer to a container, wrap tightly and refrigerate for up to 5 days. I actually enjoy them cold but you can re-warm them in the microwave or on the stove with a little water until warmed through. I don't recommend freezing them.
Enjoyed this recipe? Try:
These Roasted Beets and Carrots Are So Good
They'll convert any and all beet-haters out there. When you make them, let me know what everyone said! Share a photo and tag me on Instagram using @katesbestrecipes so that I can see (don't forget to leave a ⭐️⭐️⭐️⭐️⭐️ rating)! Also, sign up for my weekly recipe newsletter so you never miss a thing.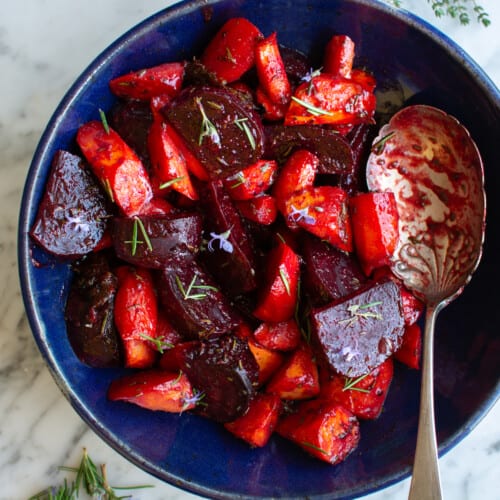 Miso-Maple Roasted Beets and Carrots
Roasted beets and carrots are an easy, nutritious side dish that get a unique boost of flavor from some of our favorite pantry staples: maple syrup, miso paste, and fresh herbs.
Print
Pin
Rate
Instructions
Heat oven to 425°F. Place beets and carrots on a parchment-lined baking sheet.

Combine maple syrup, olive oil, miso, thyme, rosemary, salt, and pepper in a bowl. Whisk until smooth. Pour over vegetables and toss to combine and until vegetables are well coated. Spread vegetables into an even layer.

Roast beets and carrots in the oven until fork tender, about 30 minutes. Remove, toss with lemon juice and transfer to a serving dish. Sprinkle with fresh herbs and serve.
Notes
Make-ahead instructions: You can make this dish up to 3 days in advance. Cool, cover and refrigerate. I like the beets and carrots cold, room temperature, or hot. Rewarm in a skillet with a little bit of water until warmed through or in the microwave. 
Miso: Use red or white miso instead of the yellow but just know that red miso has a much stronger flavor, so I suggest using 1 tablespoon instead of 2. 
Maple syrup: Use Grade A maple syrup, not the mostly corn syrup varieties with maple flavoring like Aunt Jemima. 
Herbs: Substitute different herbs like oregano or bay leaf.
Video
In support of this small business, Kate's Best Recipes earns revenue in a few different ways. Several sponsored posts are published each month. I also earn an affiliate commission on the sales of products I link to— there are a few of those links in this post. I only feature items I genuinely love and personally use on a regular basis. This commission is an arrangement between the retailer and Kate's Best Recipes (readers never pay more for products). This income allows me to run the site. Thank you for reading!