Satay Chicken Skewers with Curry Peanut Sauce
Nicely charred satay chicken skewers can easily be made anytime of year by cooking them under the broiler. The super flavorful curry peanut sauce also does double duty as a marinade. Serve as an appetizer or with lettuce cups.
---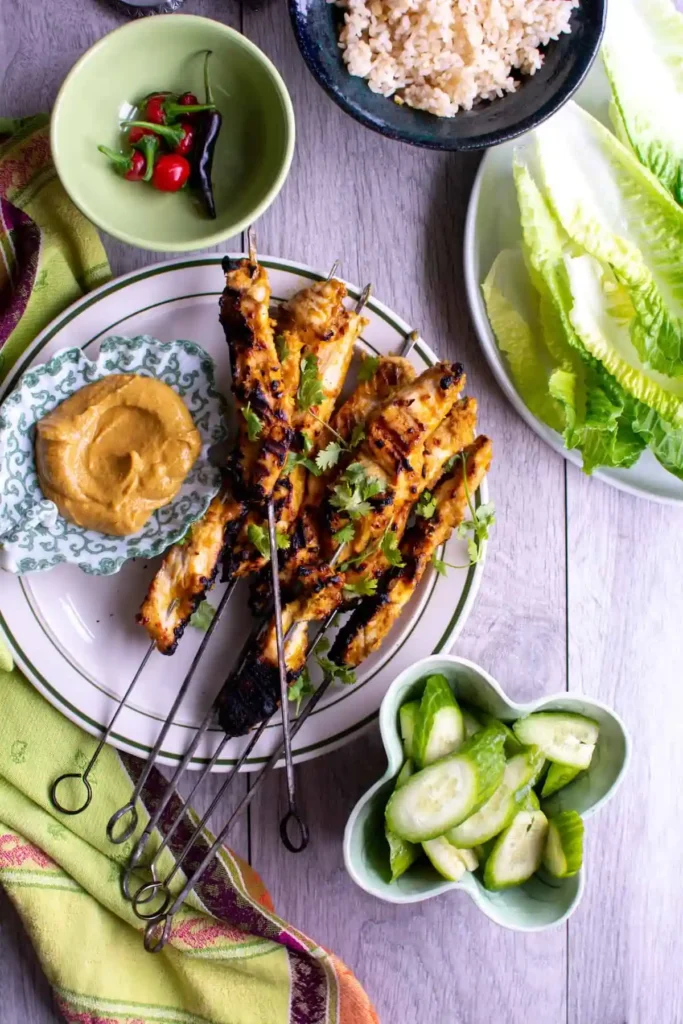 Hello friends! Today I'm here to hype you up about these satay chicken skewers. It is important for me to tell you how truly delicious they are and that you must indeed make them asap.
They are a gorgeous dinner and/or appetizer option that has a very minimal prep time (although a bit of marinating time, so beware) and come with a tasty green curry peanut sauce that actually is just the marinade that you reserve a bit for dipping—I love a recipe that does the heavy lifting for you!
It is actually the marinade ingredients that are key here. The peanut butter, green curry paste, brown sugar, fish sauce, and lime juice hit every single taste bud and work overtime in the flavor department.
These chickens skewers are also great potluck food. They are good room temperature or hot and easy to eat at a party. But if you are going the dinner route, you can serve with lettuce cups and sliced cucumber along with some steamed rice—yum!
What Are Satay Chicken Skewers?
Satay are Asian-style chicken kabobs. They are strips of skewered meat (usually chicken) that are marinated, skewered, and grilled. The grilled chicken is then served with a peanut sauce. It originates from Indonesian cuisine (spelled sate there) but has become popular all over Southeast Asia.
This is more of a Thai-style skewer with the green curry paste, fish sauce, and lime. Many recipes call for chopped lemongrass, ginger, etc. but we're going to make our lives a little easier and use the curry paste that has all those ingredients in it, instead.
Why These Are My Best Chicken Skewers
No need to fire up the grill. You can make these year-round under the broiler in the oven. That being said, you can totally grill them too if you'd prefer (see the FAQ's below).
The flavors are insane: savory, sweet, and even a bit spicy from the pepper in the curry paste.
Crispy and lightly charred on the outside, but juicy and tender on the inside.
Short cooking time—only 8 minutes!
Healthy! Excellent source of protein, low in saturated fat, calories, and cholesterol.
Ingredients
Creamy peanut butter. I like to use JIF natural creamy peanut butter.
Fish sauce. Three Crabs brand is the best.
Lime juice or lemon juice or a combination of both.
Light brown sugar or honey.
Green curry paste. Look for Thai green curry paste in the Asian section of your grocery store.
Garam masala. This adds a nice warm spice element that is popular in Malaysian satay recipes.
Garlic cloves. For that aromatic punch. Never too much garlic in my opinion.
Chili garlic sauce. Sambal is a common brand or make your own with this recipe I created for California Grown (it's really easy).
Boneless skinless chicken breasts for nice long strips.
Cilantro for sprinkling over the top (optional).
Metal or wood skewers. See FAQ's below for details.
How To Cut Chicken Breasts For Skewers
Long, thin strips are best for skewers. Lay the chicken breast on a cutting board and first remove any bone, gristle, or fat. Slice the chicken breast lengthwise into 1/2-inch thick strips trying to make them as long as possible. The ones on the edge will be smaller but you can double those onto one skewer.
How To Make This Recipe (with step-by-step instructions)
step one
Blend the sauce/marinade. Combine the peanut butter, fish sauce, lime juice, brown sugar, 2 tablespoons curry paste, garam masala, garlic, and chili-garlic sauce in a large bowl. Whisk until smooth. You shouldn't need any extra salt, but give the sauce a taste and then add some kosher salt or soy sauce if necessary.
step two
Coat the chicken. Save 1 1/2 cups of the sauce for dipping. Add the chicken strips to the remainder of the sauce in the large bowl and toss to coat. Thread chicken onto skewers, place in a baking dish, and cover with any remaining sauce. Cover and refrigerate for at least 2 hours or up to overnight.
step three
Broil the chicken. Place a wire rack on a baking sheet and place skewers on the rack. Broil until chicken is lightly charred, golden brown, firm, and cooked through, about 8-10 minutes.
step four
Serve. Place skewers on a platter, sprinkle with chopped cilantro, and serve with reserved dipping sauce.
Satay Chicken Skewer FAQ's
What are the best skewers to use? I prefer to use metal skewers because they don't need soaking, are reusable, and don't catch fire. If you opt for wooden skewers, be sure to soak them for at least 30 minutes before skewering.
What goes with satay chicken skewers? Sautéed veggies like broccolini. Or you could make veggie skewers to cook along side the chicken ones. Thread red onions, bell peppers, and cherry tomatoes on to skewers, drizzle with oil and season with salt and pepper and broil.
Do I have to skewer? Not at all, you can cut the chicken into chunks or bite-sized pieces and broil on a foil-lined baking sheet.
Can I use chicken thighs? Yes, but they will make smaller skewers or you can double up the strips on one skewer.
How do I grill them? To grill the skewers instead, heat a gas or charcoal grill to medium-high heat. Clean the grill grates and brush them with olive oil. Place the skewers on the grill and cook until lightly charred, about 3 minutes. Flip and cook on the other side until the grilled chicken skewers are firm and cooked through. Alternatively, you can also cook them on a grill pan.
Fans of these chicken skewers may also like:
Comforting and Fresh!
I love it when dinner is exciting and comforting and fresh all at the same time. I think you will really love these chicken skewers. When you try them, let me know how it went! Share a photo and tag me on Instagram using @katesbestrecipes so that I can see. Or leave me a comment below (don't forget to leave a ⭐️⭐️⭐️⭐️⭐️ rating)! Also, sign up for my weekly recipe newsletter so you never miss a thing.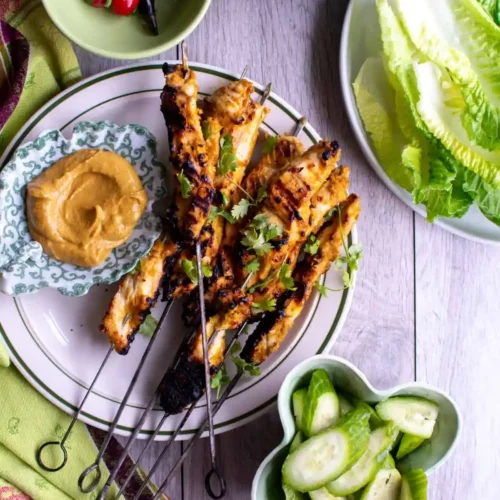 CHICKEN SATAY WITH CURRY PEANUT SAUCE RECIPE
Grilled chicken skewers marinated in a green curry peanut sauce.
Print
Pin
Rate
Instructions
Combine all ingredients except the chicken in a large mixing bowl and whisk until smooth. Reserve 1 1/2 cups sauce for dipping and drizzling in a separate container, cover and refrigerate until ready to serve.

Add chicken strips to remaining sauce and toss to coat. Thread one or two strips (if small) onto a skewer (you want each skewer to have approximately the same amount of meat) and place in a large plate or baking dish. Drizzle any remaining sauce over skewers, cover and refrigerate for at least 2 hours or up to 8 hours in advance.

Turn on broiler and adjust rack to middle. Place a rack on top of a baking sheet and place skewers in a single layer on rack (you may need to do this in batches). I like to face some going in one direction and others going in the opposite direction to get them all to fit (see video).

Broil skewers until chicken is firm, cooked through and crispy brown in some parts, about 8-10 minutes. Repeat with remaining skewers if doing in batches. Transfer to a serving platter. Sprinkle with cilantro and serve hot or room temperature with reserved dipping sauce.
Notes
Dipping sauce: This recipe makes a lot of sauce because I like to have a lot to set aside for dipping and drizzling. Serve extra sauce alongside the skewers. It also makes amazing peanut noodles. 
Make ahead: You can marinate these skewers up to a day in advance and broil when you are ready to eat. Leftover skewers are good cold or room temperature—great for work lunch!
Fish sauce: My favorite brands of fish sauce are Three Crabs and Red Boat. You can find them at Asian markets or at some Whole Foods stores. 
Broiling: Make sure your oven rack is in the middle of the oven and not too close to the broiler or you will burn the outside of the skewers before they are cooked through. 
Video
In support of this small business, Kate's Best Recipes earns revenue in a few different ways. Several sponsored posts are published each month. I also earn an affiliate commission on the sales of products I link to— there are a few of those links in this post. I only feature items I genuinely love and personally use on a regular basis. This commission is an arrangement between the retailer and Kate's Best Recipes (readers never pay more for products). This income allows me to run the site. Thank you for reading!