Blueberry Buttermilk Banana Popsicles
Blueberry Buttermilk Banana Popsicles! Say that three times fast. What could be more delightful on a hot summer day. The buttermilk adds a distinct tanginess that is simply irresistible.
---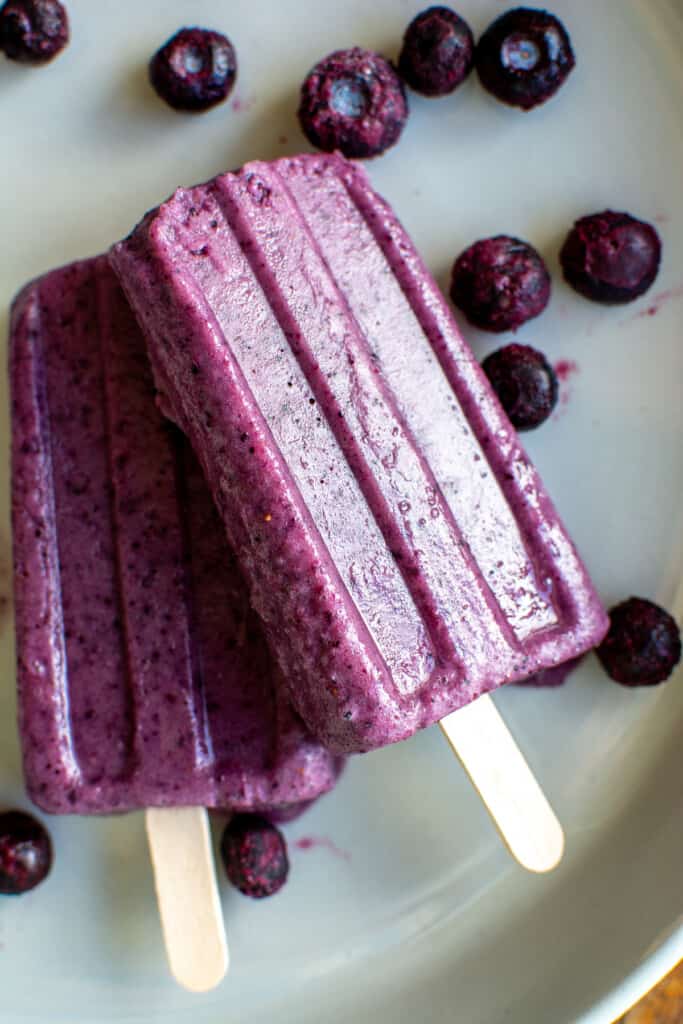 I've been on a real popsicle kick lately. Here's a new one for all you popsicle fans. Have you ever made these frozen treats with buttermilk? The idea may raise a few eyebrows but I promise once you try it, you'll be hooked.
Buttermilk is mostly used in pancakes and cornbread so if you have some leftover in the fridge from those recipes this is a great place to use it up. They have a delicious creamy texture, almost like ice cream but because of buttermilk's tang and lightness, it lets whatever fruit is in the dessert shine through.
To go with the buttermilk I added frozen blueberries and very ripe bananas. I think the bananas are a must because they add body and a rich sweetness, but you could switch up the blueberries for another frozen fruit if you want. Frozen peaches, blackberries, or mango would be good.
The Benefits of Buttermilk
Still unconvinced about using buttermilk? Well, aside from its bright, tangy flavor there are health benefits that might convince you. Buttermilk is just that; milk made from butter. When churning butter the liquid that is released is buttermilk.
Buttermilk has digestive benefits, helps with bone growth and osteoporosis, and is naturally low in calories, but high in protein. So adding it to these pops is a win-win for flavor and nutrition!
Banana Popsicle Ingredients
How To Make Them (Step-by-Step Instructions)
step one
Blend. Combine all the ingredients in a blender and blend until really smooth.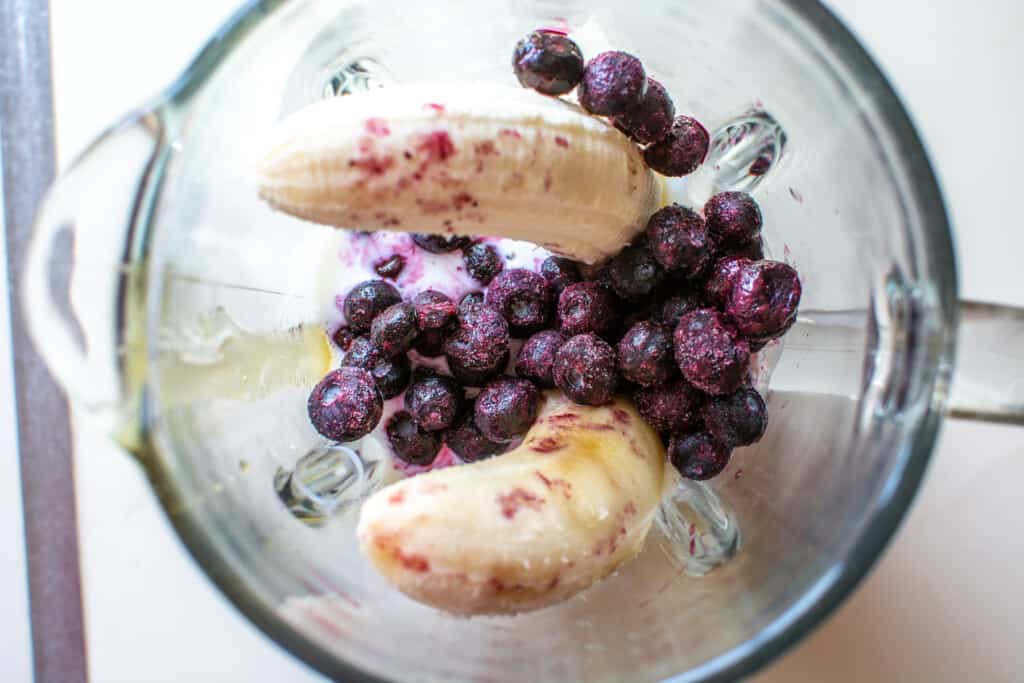 step two
Freeze. Pour the mixture into popsicle molds. This amount of liquid made 10 popsicles in the molds that I used but adjust accordingly if your molds are larger or smaller. Insert the popsicle sticks, and place in the pops in the freezer until solid, at least 4 hours.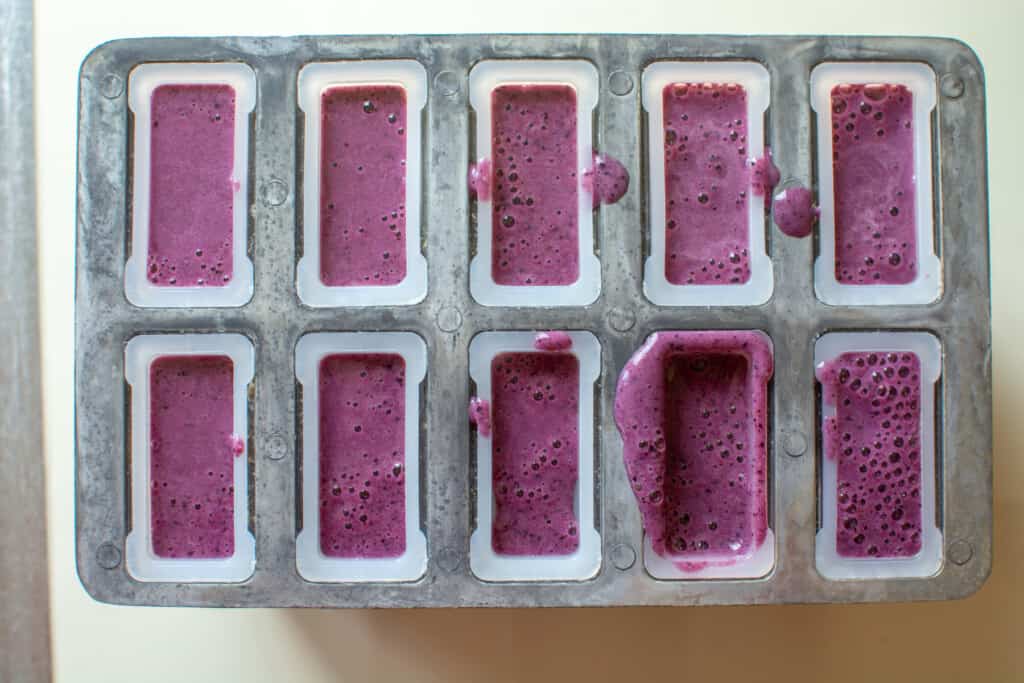 step three
Enjoy! Run the mold under warm water to free the popsicles. Pull out of the mold and enjoy!
How To Remove and Store Them
To remove the popsicles from the mold, run the mold under hot water until they release then pull them out.
I find it is easiest to remove the popsicles all at once, then place them on a baking sheet lined with parchment paper. Return them to the freezer to firm up (they always get a little melted when removing).
Once they are frozen solid again, pack them in an airtight container between layers of parchment paper.
What Makes These The Best Banana Popsicles?
Easy! The prep time is minimal (about three minutes), there's no fussy techniques or hard-to-find ingredients.
Adaptable! Switch up the flavorings like instead of the frozen fruit, add almond butter or your favorite nut butter to the honey, bananas, and buttermilk.
Healthy snack for the kids. In the summer it's hard to keep kids out of the chips and junk food. These banana popsicles are a great healthy alternative, loaded with protein, fiber, and potassium.
Banana Popsicle FAQ's
What kind of popsicle mold is best? This is my favorite popsicle mold, I've used it for years. These new silicone molds also look like they might be easier to remove the popsicles from.
Can I use frozen bananas? Sure! If you have a couple stashed in the freezer, use those instead.
I'm allergic to honey, can I use a different sweetener? Absolutely. Swap the honey for maple syrup or agave syrup.
Can I make these dairy-free? Well yes, but that would remove the buttermilk which is kind of the star here. If you want to try and mimic the flavors for a dairy-free version, substitute coconut milk or almond milk for the buttermilk and add a teaspoon of lemon juice
More Yummy Desserts To Try!
Become a Buttermilk Convert
One bite of these banana popsicles with buttermilk and you'll be adding it to everything! When you try it, let me know how it went! Share a photo and tag me on Instagram using @katesbestrecipes so that I can see (don't forget to leave a ⭐️⭐️⭐️⭐️⭐️ rating)! Also, sign up for my weekly recipe newsletter so you never miss a thing.
BLUEBERRY BUTTERMILK BANANA POPSICLES RECIPE
Creamy four-ingredient blueberry popsicles with the tart tang of buttermilk.
Print
Pin
Rate
Ingredients
1

cup

low-fat buttermilk

2

bananas

1

cup

fresh or frozen blueberries

1/3

cup

honey
Instructions
Combine all ingredients in a blender and blend on high until smooth. Pour into popsicle molds and freeze for at least 4 hours.

Run popsicle molds under warm water to remove. Enjoy!
In support of this small business, Kate's Best Recipes earns revenue in a few different ways. Several sponsored posts are published each month. I also earn an affiliate commission on the sales of products I link to— there are a few of those links in this post. I only feature items I genuinely love and personally use on a regular basis. This commission is an arrangement between the retailer and Kate's Best Recipes (readers never pay more for products). This income allows me to run the site. Thank you for reading!