The Best Cocoa Cookie Recipe
Crispy on the outside and soft and gooey in the middle, this is absolutely the BEST cocoa cookie recipe! Warning: With chocolate cookie dough and chocolate chips they are for true chocolate lovers only.
---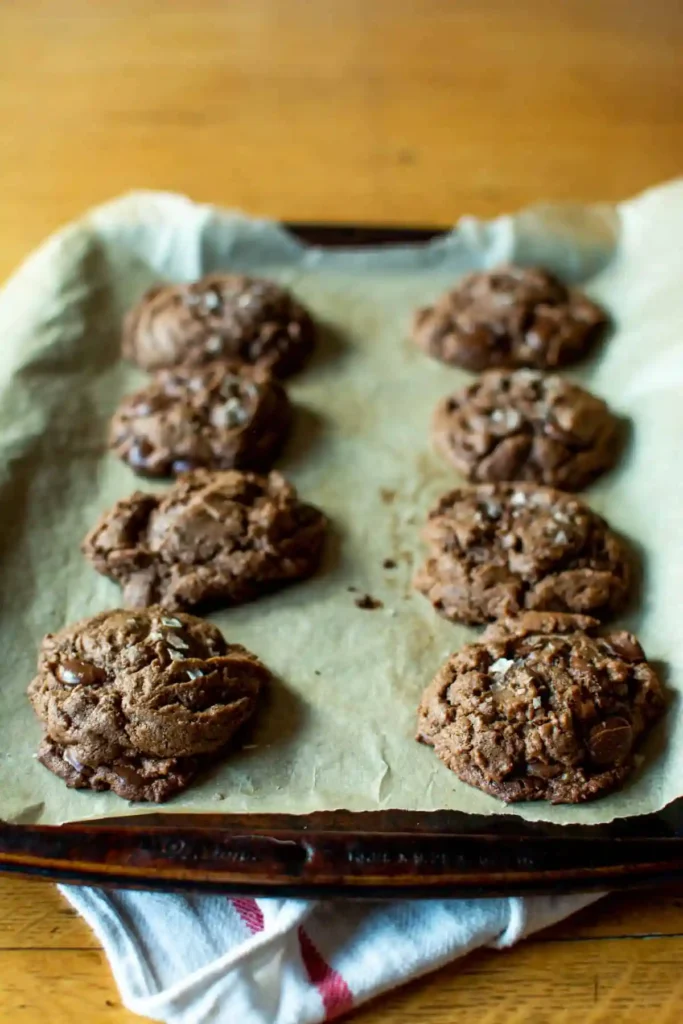 I have been making these cocoa cookies for a good 10 years now.
It all started when a friend's son was as admiring the pretty bow my then three-year-old daughter was wearing during story hour at our public library. I absentmindedly bet him that she would pull it out in no less than five minutes. He (having more faith in my daughter) said she would keep it in all story hour long, and if he were to win our bet, would like cookies, preferably chocolate. If I were to win our little wager he would give me a turtle.
Thankfully, that was the one day Louisa kept her bow in place. He ended up with delicious, extra-chocolatey cookies and I did not end up with a turtle.
Doing my best to grant his chocolate cookie wish I created this recipe loosely based on these hot chocolate cookies a friend had brought to a Christmas cookie exchange. I liked the intense chocolate flavor with the added bonus of gooey chocolate chips but wasn't a huge fan of the marshmallow on top (overly sweet) and wanted to make them dairy-free so my whole family could enjoy them.
These simple cocoa cookies were so tasty I've made them again and again over the years. They're a favorite at Christmas and also amazing in the summer turned into ice cream sandwiches.
Dutch Process Cocoa Powder vs. Natural Cocoa Powder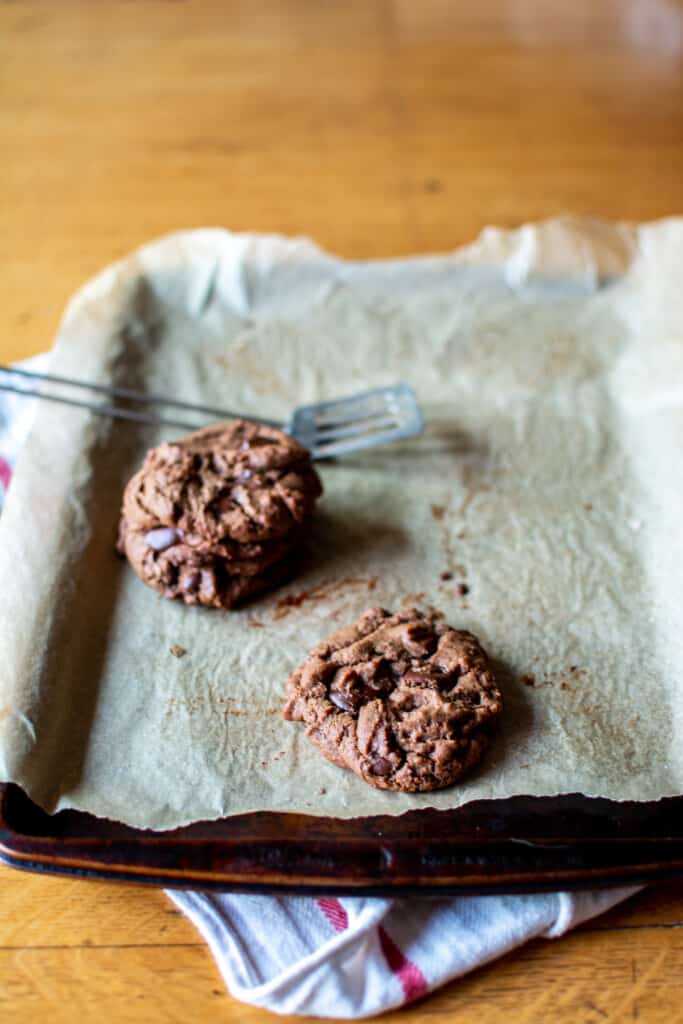 If you've ever read a recipe and saw these terms used, you may be wondering what the difference is and more importantly, why does it matter?
To make a somewhat complicated process very simple, it boils down to how they turn the cocoa beans into powder. With Dutch-process they wash the cocoa beans in a solution that neutralizes their acidity making the resulting powder mellow in flavor and darker in color. It also means it won't react with baking soda. So you need to use baking powder whenever you use Dutch-process cocoa to get the baked good to rise.
Natural cocoa powder is made from cocoa beans that are roasted but not washed. Meaning they maintain their acidity and work well with baking soda. It also has a more acidic, stronger flavor.
This chocolate cookie recipe has both baking soda and baking powder, so either type of cocoa powder will work. I used natural cocoa powder when testing the recipe. If you want to learn more, Sally's Baking Addiction has a super informative article all about the chemistry of cocoa powders.
What Makes These Cocoa Cookies The Best
Super chocolatey with chocolate cookie dough and chocolate chips.
Crispy on the edges but soft and chewy in the middle.
Dairy-free!
Hold up fantastically for ice cream sandwiches.
Quick and easy! No chilling necessary.
100% irresistible.
Ingredients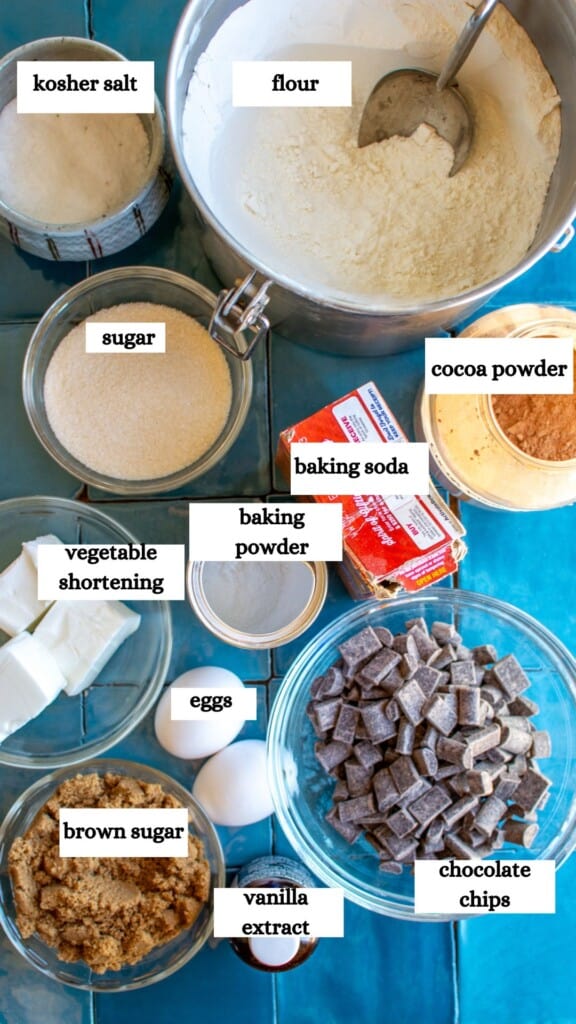 All purpose flour. Scoop the flour then level off the with back of a butter knife for the most accurate measurement.
Unsweetened cocoa powder. I used natural cocoa powder but Dutch process will also work. See above for more details.
Baking powder. For added tanginess and lift and because there's not enough acid to use baking soda alone. Food & Wine goes into the science of how these two work if you are interested.
Baking soda. Again, those powerful lifting muscles.
Kosher salt. To balance out all that sweetness.
Vegetable shortening or unsalted butter if you are okay with dairy.
Dark brown sugar for extra richness but light brown sugar will work in a pinch.
Granulated sugar to add sweetness and structure.
Eggs. Room temperature please.
Vanilla extract. For subtle complexity.
Semisweet chocolate chips. I used dairy-free chocolate chips but you can use regular chocolate chips, bittersweet chocolate chips or even milk chocolate chips.
How To Make This Recipe
step one
Combine dry ingredients. In a large bowl whisk together the flour, cocoa powder, baking powder, baking soda, and salt. Break up any lumps.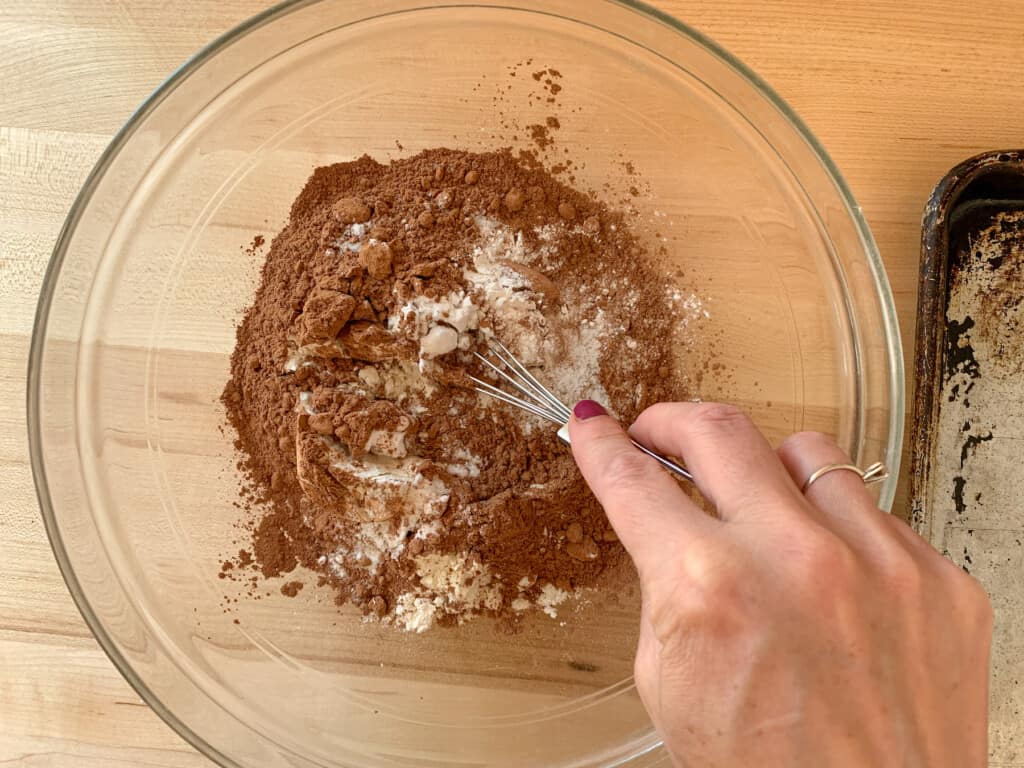 step two
Beat shortening and sugars. In the bowl of a stand mixer fitted with the paddle attachment or a hand mixer, beat the vegetable shortening and both sugars until light and fluffy on medium speed.
step three
Add eggs. Scrape down the sides of the bowl with a rubber spatula then add the eggs and vanilla. Beat until combined.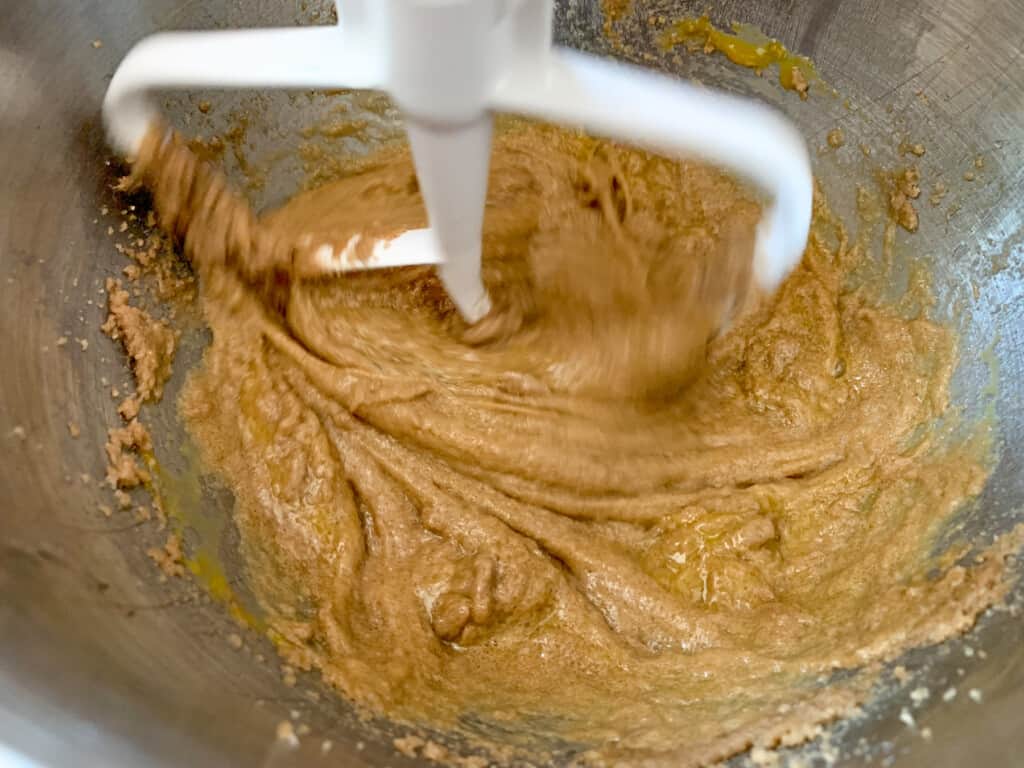 step four
Pour in dry ingredients. Add the flour mixture and stir on low until well incorporated.
step five
Add chocolate chips. Mix in the chocolate chips until evenly combined.
step six
Scoop and bake. Using a cookie scoop, form dough into tablespoon-sized balls and place an inch apart on a parchment paper lined cookie sheet. Bake in the oven at 350°F for 13 minutes. The centers will still be doughy but they will harden as they cool.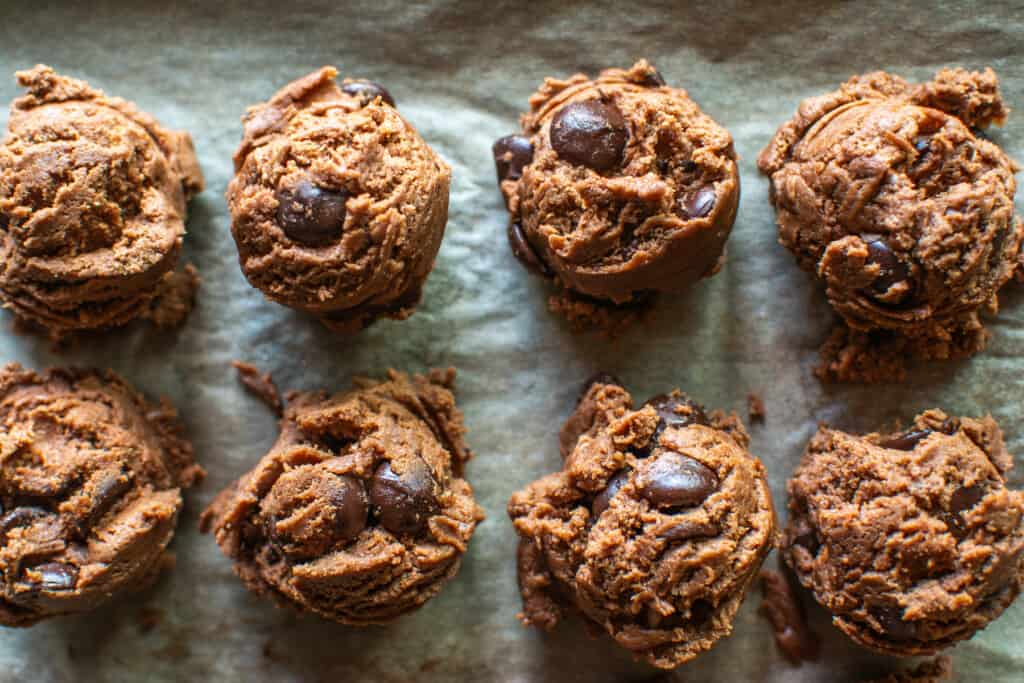 step seven
Enjoy! Allow to cool on the baking sheet until they are firm enough to move then you must eat one warm (oh my goodness sooooo good!). The rest you can let cool all the way on wire racks and serve later.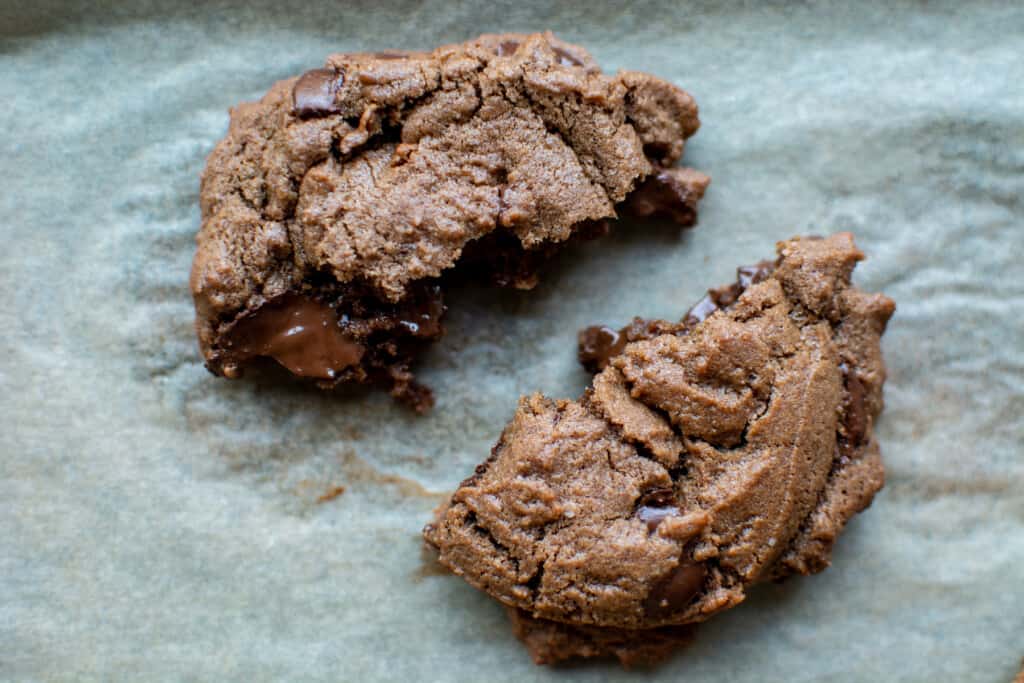 Cocoa Cookie FAQ's
Can I freeze these hot cocoa cookies? Sure! I prefer to freeze the cookie dough instead of the baked cookies simply because I like them best warm from the oven. To freeze the dough, scoop onto a parchment-lined baking sheet then stick the whole thing in the freezer. Once the dough balls are hard transfer to a freezer-safe container and freeze for up to 6 months. Bake straight from the freezer (no need to thaw), but add 1 minute to the bake time.
Can I use unsalted butter instead of the vegetable shortening? Yes! If you are not concerned about making them dairy-free, use 12 tablespoons room temperature unsalted butter and regular chocolate chips.
What's the best way to store these cookies? Once they are cool, transfer to an airtight container and keep at room temperature for 1-2 days. Any longer than that and I would store in the freezer, otherwise they will get too crispy.
If You Like This Cocoa Cookie Recipe, Try…
Craving Chocolate?
You must give this easy cocoa cookie recipe a try. When you try them, let me know how it went! Share a photo and tag me on Instagram using @katesbestrecipes so that I can see (don't forget to leave a ⭐️⭐️⭐️⭐️⭐️ rating)! Also, sign up for my weekly recipe newsletter so you never miss a thing.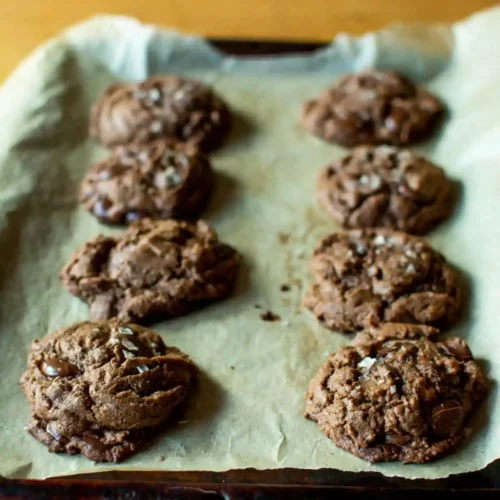 The BEST Cocoa Cookie Recipe
Rich and chewy cocoa cookies packed with melty chocolate chips for an extra indulgent treat. Dairy Free!
Print
Pin
Rate
Instructions
Heat oven to 350°F and arrange rack in the middle. Line 2 baking sheets with parchment paper and set aside. Combine flour, cocoa, baking powder, baking soda and salt in a medium bowl and whisk to break up any lumps.

Combine vegetable shortening and sugars in a bowl of a stand mixer fitted with the paddle attachment. Cream them on medium speed until light and fluffy, about 4 minutes. Add eggs and vanilla and beat until incorporated, scraping down the sides of the bowl as necessary. Stop machine, add flour mixture, then beat on low speed until incorporated, dough will be stiff. Mix in the chocolate chips.

Form into 2-inch round balls and place on prepared baking sheets. Bake until just set, about 13 minutes. They will firm up as they cool. Allow them to cool on baking sheets before removing.
Notes
Make Ahead & Freezing Instructions: You can make the cookie dough and chill it in the refrigerator for up to 3 days. Baked cookies freeze well for up to 3 months. Unbaked cookie dough balls freeze well for up to 6 months. Bake frozen cookie dough balls for an extra minute, no need to thaw. 
Cocoa powder: I use natural cocoa powder for this recipe (most grocery store cocoa powders are natural like Hershey's, Tollhouse, etc.) Dutch-process will also work. 
Vegetable shortening: I use Crisco in this recipe to make these cookies dairy-free. Substitute room temperature unsalted butter if desired. 
Chocolate chips: I use dairy-free semisweet chocolate chips again, so that these cookies are dairy-free. Substitute regular chocolate chips, bittersweet chocolate chips, or even milk chocolate chips. 
In support of this small business, Kate's Best Recipes earns revenue in a few different ways. Several sponsored posts are published each month. I also earn an affiliate commission on the sales of products I link to— there are a few of those links in this post. I only feature items I genuinely love and personally use on a regular basis. This commission is an arrangement between the retailer and Kate's Best Recipes (readers never pay more for products). This income allows me to run the site. Thank you for reading!