Blueberry Lemon Verbena Real Fruit Popsicles
Grab your popsicle sticks and prepare to fall in love with this craveable flavor combination of fresh blueberries and lemon verbena in these all-natural real fruit popsicles.
---
A couple of months ago I hopped in my car and traveled a few hours southeast to the gorgeous Temecula Valley. There I joined my dearest friends from California Grown on a two-day agri-tour of the area's most spectacular farms.
Temecula is known for being a picturesque wine country, and they do have rolling hills lined with grapevines, but it is also home to avocado orchards, Protea farms, and blueberry fields. It's a place of extraordinary natural beauty as well as a unique microclimate that produces everything from rare South African flowers to olive oil.
One of our tour stops was to Fairfield Farms. A family-run organic farm nestled in the inviting Pauma Valley just outside of Temecula. They grow two crops: Avocados on the hillsides and blueberries down in the valleys.
The farm was founded by Carol and Bill Steed in 2003 and now their kids are running the business. They are committed to sustainable farming practices, using solar power, drip irrigation, and crop rotation to battle pest control.
Over on our sister site, ¡Hola! Jalapeño I'm sharing a delicious recipe using their avocados and here we'll make some real fruit popsicles featuring their big, plump blueberries. I love making popsicles in the summer when blueberries are at their peak. Check out these creamy ones made with layers of blueberries, peaches, Greek yogurt and honey.
Why You'll Love These Real Fruit Popsicles
Fresh fruit flavor!
The fragrant herbal note of the lemon verbena makes these pops extra special
Homemade fruit popsicles are quick and easy to prep
Not too sweet, letting the fruit's natural sweetness shine through
Awesome healthy snack on hot summer days
Delicious dairy free dessert
Homemade popsicles have no food dyes or high fructose corn syrup
Ingredients
Lemon verbena. This fragrant herb is my favorite to use in desserts and cocktails. It has the brightness of lemon but without the acidity and more of a floral, deeper flavor. Lemon verbena can be hard to find. If you can grown a plant in your garden that's the best way to get a reliable source. It also makes excellent tea.
Fresh blueberries you can also use frozen blueberries
Sugar for making the lemon verbena simple syrup
Water again, for making the simple syrup
Lemon to add a touch of acidity and brightness
How To Make This Recipe
step one
Make the simple syrup. Whisk together the water and sugar in a small saucepan over medium heat. Bring to a simmer and cook just until the sugar dissolves. Remove from heat.
step two
Flavor the syrup. Add the lemon verbena, cover, and let steep until cool.
step three
Strain. Pour the liquid through a fine mesh strainer into a bowl. Discard the lemon verbena.
step four
Combine. Pour the syrup into a blender and add the blueberries and lemon juice.
step five
Blend. Blend on high until smooth.
step six
Freeze. Pour the fruit puree into popsicle molds, insert the sticks and freeze in the freezer for at least 4 hours but best if overnight.
step seven
Dip in hot water. To easily remove the popsicles from the molds dip the bottom of the mold in warm water until they release.
step eight
Remove. Pull the popsicles out of the molds and enjoy!
Real Fruit Popsicle FAQ's
What other fruit can I use? The options here are endless. Try mango, pineapple, raspberries, even watermelon is delicious.
I can't find lemon verbena. Can you recommend other herbs? The taste won't be the same, but you can go with a different flavor profile by using fresh basil, lemon balm, mint, or even bay leaf.
Which popsicle mold do you use? If you're going to make a lot of popsicle recipes these cactus and tropical fruit molds are super cute. These simple molds work great too.
More Recipes Made With California Grown Ingredients
Real Fruit Popsicles Are A Real Treat
Popsicles made with whole fruit and fresh herbs are an unexpected combination that you are going to be buying blueberries for. When you make them, let me know how it went by leaving a comment below! Share a photo and tag me on Instagram using @katesbestrecipes so that I can see (don't forget to leave a ⭐️⭐️⭐️⭐️⭐️ rating)! Also, sign up for my weekly recipe newsletter so you never miss a thing.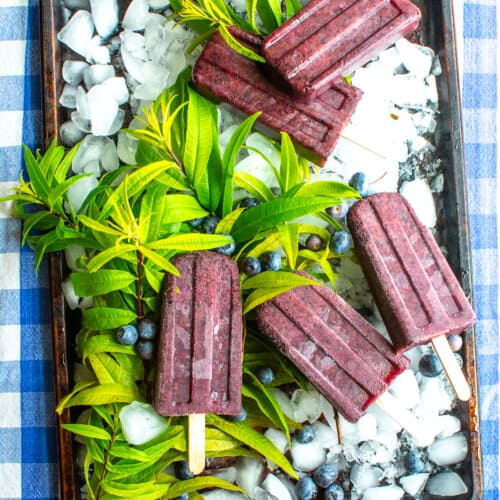 Blueberry Lemon Verbena Popsicles
Grab your popsicle sticks and prepare to fall in love with this craveable flavor combination of fresh blueberries and lemon verbena in these all-natural real fruit popsicles.
Print
Pin
Rate
Ingredients
1/2

cup

water

1/2

cup

granulated sugar

1/2

ounce

fresh lemon verbena leaves,

about 1 packed cup

1

pound

blueberries

about 3 1/2 cups

Juice of 1 lemon
Instructions
Make simple syrup. Combine water and sugar in a small saucepan. Bring to a boil over medium heat, stirring until sugar dissolves. Add lemon verbena, remove from heat, cover and let steep until cool. Strain.

Blend and freeze. Combine blueberries, syrup, and lemon juice in a blender. Blend until smooth. Pour into popsicle molds and freeze until solid, at least 4 hours.

Unmold and enjoy. Dip the bottom of the mold in hot water until the popsicles release from the mold. Gently pull out and enjoy!
Notes
Popsicle molds. These tropical fruit-shaped molds are really cute but you could also use small paper cups and popsicle sticks.
Lemon verbena. This herb can be hard to find. You can substitute equal amounts of basil, thyme, lemon balm, or mint. 
Simple syrup. Simple syrup can be made up to a week in advance. 
Freezing. Let popsicles freeze at least 4 hours or best overnight. 
In support of this small business, Kate's Best Recipes earns revenue in a few different ways. Several sponsored posts are published each month, like this one which is sponsored by California Grown. I also earn an affiliate commission on the sales of products I link to— there are a few of those links in this post. I only feature items I genuinely love and personally use on a regular basis. This commission is an arrangement between the retailer and Kate's Best Recipes (readers never pay more for products). This income allows me to run the site. Thank you for reading!