Whole Wheat Banana Protein Pancakes with Spiced Prune Syrup
These banana protein pancakes are made with whole wheat flour, bananas, and low carb protein powder. It is the spiced prune syrup however that is the real showstopper. Great for breakfast or brunch!
---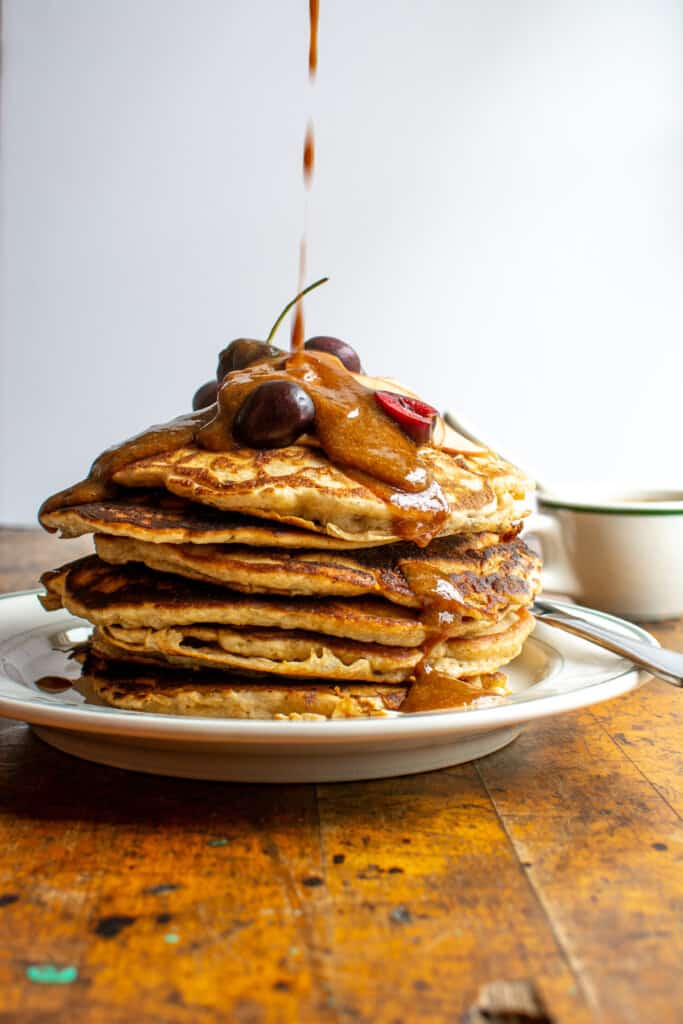 Meals take on a whole new meaning once children enter the scene. Dinner becomes a testing ground, exploring the boundaries of what your child will consume without protest. Lunch, more often than not, becomes part scavenger hunt, part Iron Chef competition to see what is edible and can be made in under 10 minutes and breakfast is a study in repetition.
We've basically been eating the exact same things every morning for a year now. My daughter would happily eat Cheerios and yogurt for every meal of every day but on occasion I need a break from the monotony and turn to pancakes.
Still wanting to maintain a modicum of healthiness, I opted for one of my favorite pancake recipes that has whole wheat flour, a scoop of vanilla protein powder and some bananas. The beauty of this banana protein pancakes recipe is they are a whiteboard for flavors, you can add blueberries, frozen raspberries or even grated carrot instead of the banana, so feel free to use your imagination.
The real treat is the silky spiced prune syrup. I got the idea from my friend Becky Sue who writes one of my favorite baking blogs, Baking The Goods. One of my favorite recipes is her Spiced Prune Coffee Cake. It has an addictive crumble, soft cake, and a layer of gooey prune puree flavored with warm spices.
When California Prunes asked if I could come up with a new recipe using their delicious prunes, I immediately thought of that prune filling and how incredible it would be on these pancakes. It is a little thick on its own so I made it more runny and syrup-like by adding actual maple syrup and more apple juice.
The syrup would be excellent on any pancakes, waffles, French toast, oatmeal, or yogurt. You can make it on the weekend and have it for drizzling all week!
Let's Talk About Prunes For A Sec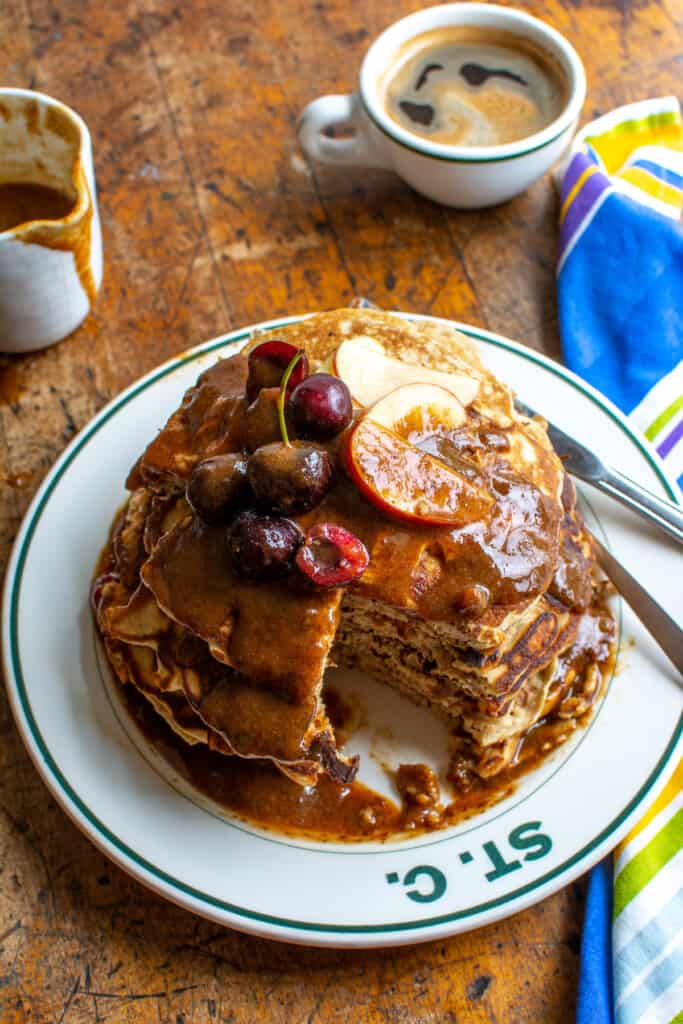 I'm obsessed with prunes, truly. I eat them practically every day. They are my go-to snack. They are sweet, chewy, and a bit tangy, low in calories and high in fiber, potassium, and vitamins.
The other thing to love about prunes is how magical they are in sweet things. Their natural sweetness means you don't have to use as much sugar and they give body and richness where there wasn't any before.
If you've been meh about prunes perhaps it's because you haven't had California prunes. They are softer, plumper, and fresher than imported prunes. I live for the D'Noir variety, they are like no other prunes you've had before. I'm almost positive.
Ingredients
California prunes
Apple juice
Maple syrup
Ground cinnamon
Ground cloves
Ground ginger
Kosher salt
Unsalted butter or coconut oil for a dairy-free version.
All purpose flour
Whole wheat flour
Granulated sugar
Whey protein powder. I use the vanilla flavor from Trader Joe's.
Baking powder
Baking soda
Whole milk or almond milk for a dairy-free version.
Cider vinegar
Ripe bananas
Whole eggs
Cooking spray
How To Make This Recipe
step one
Melt the butter. The first step is to melt the butter (or coconut oil) for the pancakes so it has time to cool.
step two
Soften the prunes. Next you need to simmer the prunes a little bit to get them soft enough to puree. Combine prunes with the apple juice, spices, and syrup and simmer until the prunes give easily when pushed with the back of a spoon, about 5 minutes.
step three
Puree. Let the prune mixture cool a little. Then pour into a blender and blend until smooth. Pour into a pitcher or glass jar and set aside while you make the pancakes.
step four
Combine the dry ingredients. Mix both flours, the sugar, protein powder, baking powder, baking soda, and salt in a large bowl. Whisk to combine.
step five
Sour the milk. Pour the milk into a separate large bowl. Add the vinegar, whisk to combine and let sit a couple minutes.
step six
Mix the wet ingredients. Add the mashed bananas, melted butter, and eggs to the milk and whisk until smooth.
step seven
Make the batter. Dump the dry ingredients into the wet ingredients and whisk just until evenly mixed. Let sit for 10 minutes.
step eight
Cook the pancakes. Heat a cast iron skillet or large nonstick skillet over medium heat. Once hot, spray generously with cooking spray and ladle the batter into the pan. Cook on one side until it is covered with bubbles all over the top. Flip and cook on the other side until cooked through, about 2 more minutes.
step nine
Serve. Serve pancakes with prune syrup and soft butter or peanut butter and fruit.
Protein Pancake Recipe FAQ's
Are these pancakes gluten-free? No. Unlike a lot of other banana protein pancakes that are made with rolled-oats, these have both whole wheat flour and all purpose flour which makes these high protein pancakes not gluten free.
Can I make these ahead? Sure! If you want to meal prep or just have leftovers, they're great to have for quick breakfasts. Make the recipe all the way through, let the pancakes cool then place in an airtight container and keep in the fridge for up to 5 days or freeze in the freezer for up to 3 months. Reheat in the toaster or microwave until warm.
What are some variations? You can add all kinds of goodies to these pancakes. Try stirring in 1/2 cup of chocolate chips or nuts or berries. You could put all kinds of things on top too along with the prune syrup. Try Greek yogurt, banana slices, chia seeds, or nut butter.
How do I get thicker, fluffier pancakes? These are pancakes of the light, crispy-edged variety. If you prefer a cakeier pancake, use 1/2 cup less milk.
Love this recipe? Check out:
A Tall Stack of Protein Banana Pancakes
Is what your breakfast table has been missing! Drenched in spiced prune syrup, these are a real treat. When you make them, let me know how it went by leaving a comment below! Share a photo and tag me on Instagram using @katesbestrecipes so that I can see (don't forget to leave a ⭐️⭐️⭐️⭐️⭐️ rating)! Also, sign up for my weekly recipe newsletter so you never miss a thing.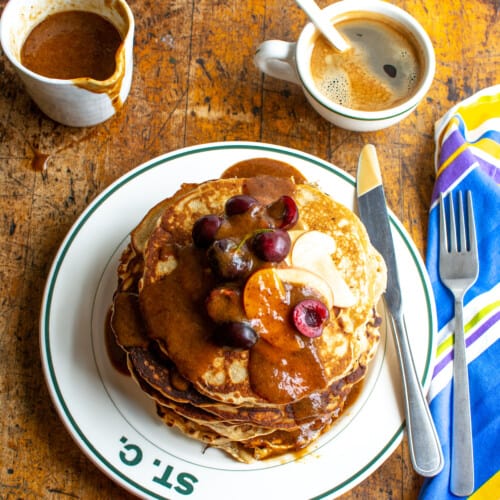 Whole Wheat Banana Protein Pancakes with Spiced Prune Syrup
These banana protein pancakes are made with whole wheat flour, bananas, and low carb protein powder. It is the spiced prune syrup however that is the real showstopper. Great for breakfast or brunch!
Print
Pin
Rate
Ingredients
For the Spiced Prune Syrup
Instructions
Spiced Prune Syrup
Combine all the syrup ingredients in a medium saucepan and heat over medium heat until simmering.

Let simmer until prunes are soft and plump and give easily when pressed with the back of a spoon, about 5 minutes. Let cool slightly.

Pour prune mixture into a blender and blend until smooth. Transfer to a pitcher or resealable jar.
Whole Wheat Banana Protein Pancakes
Melt butter in a small skillet over medium heat on the stove or in the microwave and set aside to cool slightly

Whisk together both flours, sugar, protein powder, baking powder, baking soda and salt in a large bowl.

Whisk together milk and vinegar in a separate large bowl and let sit for a couple minutes to sour.

Whisk in mashed bananas, eggs and cooled melted butter, then dump the dry ingredients into the wet and whisk just until evenly moist. Let sit 10 minutes to thicken.

Heat a large cast iron or non-stick frying pan over medium heat. Spray with a generous amount of cooking spray. Working in batches, spoon 1/2 cup batter for large 6-inch pancakes into the pan. Cook pancakes until the edges have begun to brown and air bubbles cover the top, about 3 minutes. Flip pancakes and cook 1 to 2 minutes more. Repeat with remaining batter, spraying the pan before each batch.

Serve while still warm with the spiced prune syrup, fresh fruit, peanut butter, and/or butter.
Notes
Bananas: This recipe is a great way to use up leftover frozen or overripe bananas. Thaw frozen bananas before mashing.
Pancake thickness: I like big, lacy pancakes. If you want them thicker and fluffier, only use 1 3/4 cup milk.
Pancake size: This recipe makes 10 (6-inch) pancakes or 14-16 (4-inch) pancakes. To make the bigger pancakes use 1/2 cup of batter. To make the smaller pancakes only use 1/4 cup of the batter.
Prune syrup: If the syrup gets too thick, warm in the microwave for 30 seconds or on the stove just until warm. 
Keeping the pancakes warm: Heat the oven to 200°F and place each pancake as it is done cooking on a baking sheet in the oven until all are ready. 
In support of this small business, Kate's Best Recipes earns revenue in a few different ways. Several sponsored posts are published each month, like this one which is sponsored by California Prunes. I also earn an affiliate commission on the sales of products I link to— there are a few of those links in this post. I only feature items I genuinely love and personally use on a regular basis. This commission is an arrangement between the retailer and Kate's Best Recipes (readers never pay more for products). This income allows me to run the site. Thank you for reading!