Double Pork Pork Burger Recipe
When you're in the mood for something meaty and satisfying, nothing but this pork burger recipe will do. Made with ground pork, bacon, fennel seed, and smoked paprika, these burgers are simply the best!
---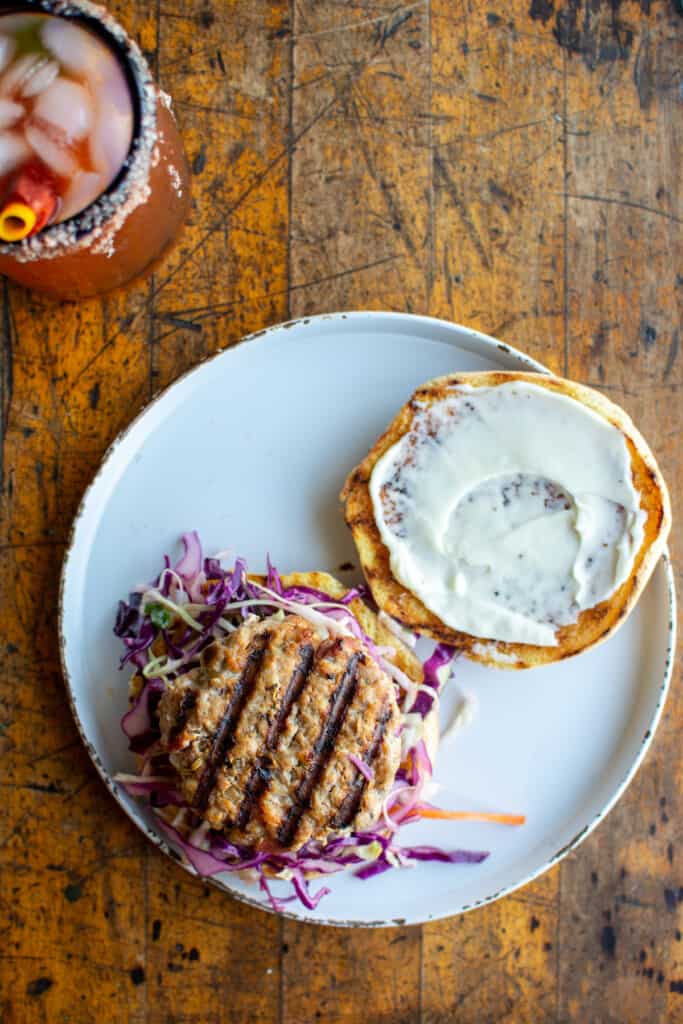 A Sunday night a couple of weeks ago I was hungry for burgers, but wanted something out of the ordinary and came across a recipe for pork burgers stuffed with bacon, Hello!
What an ingenious idea because here's the thing with pork burgers, if not cooked properly, they can be dry, but bacon, as we all know, is more or less smoky fat, so ironically, bacon is always pork's best friend and these burgers are no exception.
At first glance this seems like a ton of fennel seeds and I will admit, I am a huge fan of fennel. If you're not, you can always cut it in half or omit it from the recipe.
Why This Pork Burger Recipe Is The Best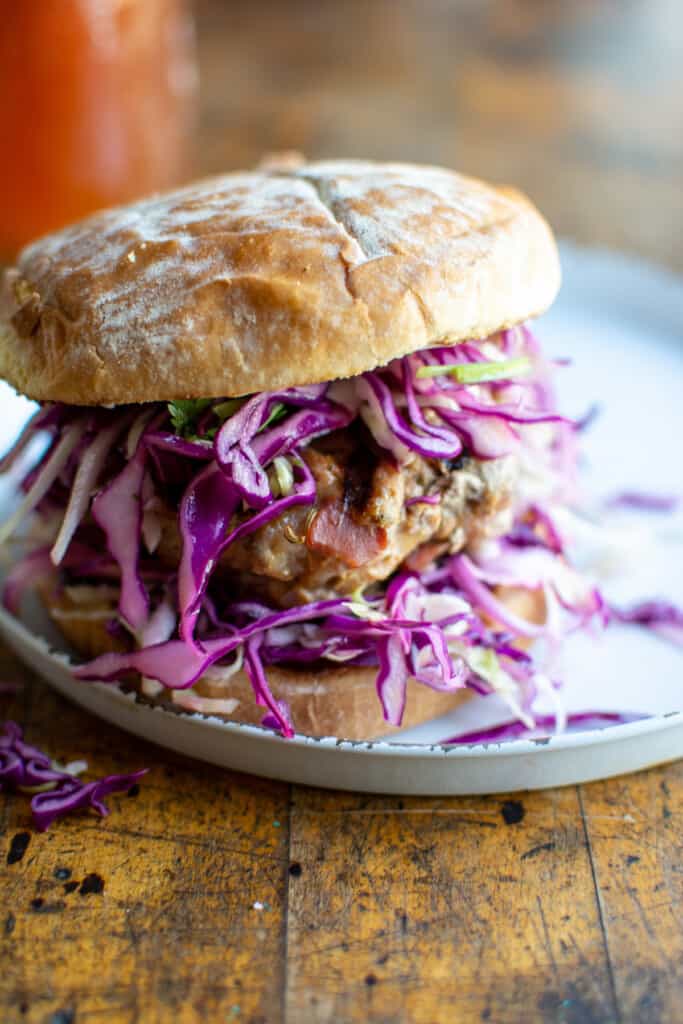 These pork burger patties are truly out of this world incredible thanks to the fatty, smokey, one-two punch of minced bacon mixed in.
The ground pork mixture also has an extra boost of flavor from generous amounts of toasted fennel seed and smoked paprika.
Most importantly, it is a very easy recipe. Just a bit of chopping, mixing, and grilling. Not too many ingredients and simple clean up. What's not to love?
Ingredients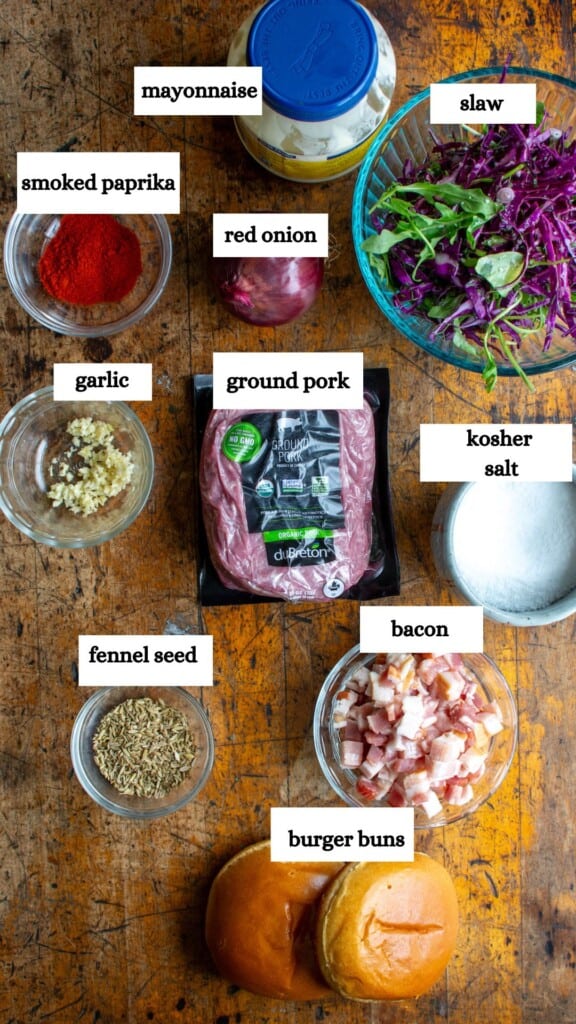 Fennel seeds
Ground pork
Bacon
Red onion
Garlic
Kosher salt
Smoked paprika
Burger buns
Slaw
Mayonnaise
How To Make This Recipe
step one
Toast fennel seeds. The first step is to give the fennel seeds a toast in a hot, dry skillet. This will accentuate their flavor and aroma.
step two
Mince onions. Place the toasted fennel seeds in a large bowl, add minced onion and garlic.
step three
Add meat. Mix in the ground pork and bacon.
step four
Season. Finally add the smoked paprika and salt.
step five
Mix. Using your hands gently mix everything together until the ingredients are evenly distributed. Don't mix too much or the burgers will be tough.
step six
Form into patties. Divide the mixture into 4 large or 6 smaller patties and chill in the refrigerator for 15 minutes. Meanwhile, make a quick slaw either homemade or pre-packaged slaw mix.
step seven
Grill. Cook burgers on an indoor grill pan or an outdoor grill over medium heat for about 6 minutes a side or until cooked through and firm. Meanwhile, toast the hamburger buns.
step eight
Serve. Spread mayo on both sides of the toasted bun. Top the bottom bun with slaw then the burger and place the other half of the bun on top.
What To Serve With Them
I tend to make extra slaw and serve that on the side as well as on top of the burgers, just to make things simple. As far as burger toppings, you could melt a slice of cheese over the top right before serving. Provolone, aged white cheddar, or blue cheese would be my choice. As far as a "sauce" I think mayo does the job nicely but you can obviously top them however you choose. The classic lettuce, pickles, and ketchup would also do the trick. If you need more to round out the meal I suggest:
Pork Burger Recipe FAQ's
How do you know when pork burgers are done? You want the burgers to be firm to the touch, but not hard. If they are hard, you have overcooked them. If you have a meat thermometer, insert it into the thickest part of the patty. The burgers are done when they have an internal temperature of 160 degrees f.
Can I switch up the seasoning? Sure, you can add a few generous grinds of black pepper or swap out the fennel seeds for minced fresh ginger.
Are pork burgers better for you than beef? The short answer is, no. If you want a healthier burger turn to chicken or turkey. Pork burgers are very similar in calories to ones made with ground beef. They both, however, are very high in protein coming in around 27 grams each.
If you love this recipe, try:
Your Hamburger Game Just Got A Major Upgrade
These pork patties are the best thing you've ever put on a burger bun. When you make them, let me know how it went by leaving a comment below! Share a photo and tag me on Instagram using @katesbestrecipes so that I can see (don't forget to leave a ⭐️⭐️⭐️⭐️⭐️ rating)! Also, sign up for my weekly recipe newsletter so you never miss a thing.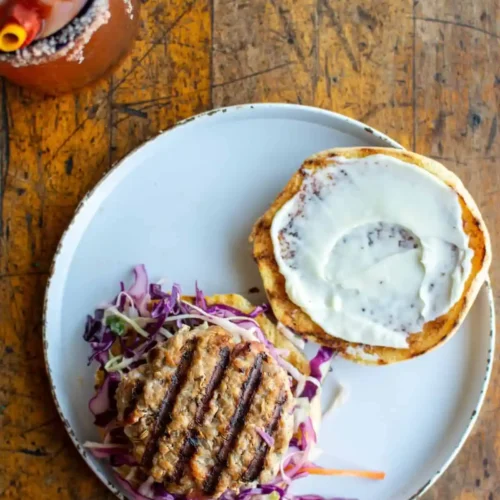 DOUBLE PORK PORK BURGERS RECIPE
A super flavorful burger recipe made with ground pork, bacon, fennel seeds, and smoked paprika. Dairy free!
Print
Pin
Rate
Instructions
Heat a small skillet over medium heat. Toast fennel seeds in the dry skillet until fragrant and beginning to brown. Remove to a large bowl.

Add all remaining ingredients, except the buns, to the bowl and combine with your hands until well incorporated. Divide into 4 large or 6 smaller patties and let chill at least 15 minutes.

Heat an outdoor grill or grill pan over medium heat and grill 6 minutes a side or until firm. Serve on toasted buns with mayonnaise and cole slaw.
Notes
Making ahead and Freezing Instructions: You can shape the burger patties up to 24 hours in advance, see step 2. You can also freeze the shaped patties for up to 3 months, see step 2. You can freeze the cooked burgers as well. Cool completely, then wrap individually in plastic wrap and place in a freezer-friendly container for up to 3 months. Thaw in the refrigerator or on the counter or defrost in the microwave. Heat up to your liking. I usually microwave for 30 seconds until warm throughout.
Ground pork: When sold in pre-sealed packages, ground pork is rarely labeled with the fat content. Regular ground pork works well in this recipe. 
Cutting bacon: It is easier to cut the bacon if it is half-frozen. Place in the freezer for 15 minutes before cutting into small pieces. 
Stove top instructions: Fry these burgers in a large skillet instead of grilling. Heat a tablespoon of oil over medium heat. Add the burgers and cook 6 minutes per side. Resist the urge to mess with them. Let a nice crust form before flipping. 
In support of this small business, Kate's Best Recipes earns revenue in a few different ways. Several sponsored posts are published each month. I also earn an affiliate commission on the sales of products I link to— there are a few of those links in this post. I only feature items I genuinely love and personally use on a regular basis. This commission is an arrangement between the retailer and Kate's Best Recipes (readers never pay more for products). This income allows me to run the site. Thank you for reading!