How To Make The Neely's Thanksgiving Turkey Recipe
Avid fans of The Neelys Thanksgiving turkey recipe know how fuss-free and simple they do Thanksgiving. Learn how to make this succulent, juicy, ultra-flavorful turkey recipe that could not be easier. Get ready for rave reviews.
---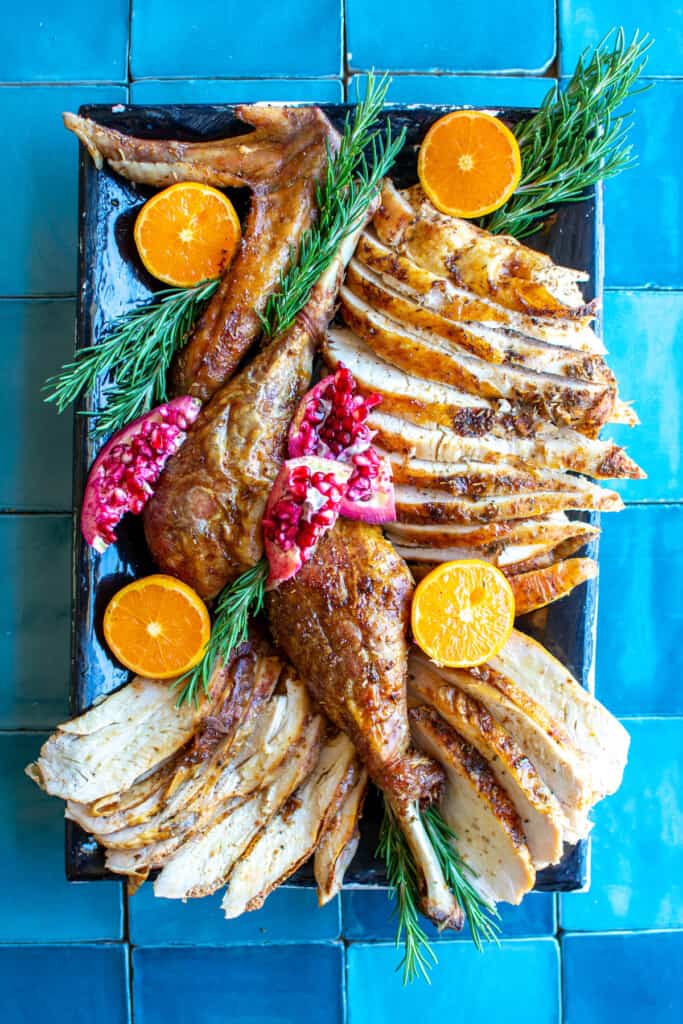 Food Network fans unite!
Okay, in all honesty, I don't watch much of the Food Network but I always loved Patrick and Gina Neely. They were a joy to watch and had such good down home food. Plus, they know how to create a recipe (which can't be said for everyone on Food Network) and I do know a good recipe when I see one.
With Thanksgiving dinner coming up I wanted to share my spin on the Neelys Thanksgiving turkey recipe because it is essentially the perfect Thanksgiving turkey.
There is no brining, no marinating, no basting, no chopping, takes very little time to prep, literally zero fuss. I repeat, zero. fuss. And it still comes out juicy and tasty as all heck. Honestly, even the turkey breast tastes amazing. It's seriously one of the best recipes for turkey, period.
The magic is in the spice rub and this is what the Neelys do best. They actually have given us several turkey recipes over the years and each one has an excellent spice rub at its foundation. I've taken the best of each spice mix and combined it into one turkey spice rub to end all turkey spice rubs. It is herby, a tiny bit smokey, a teensy bit spicy and makes the turkey taste like heaven.
Let's get into it.
Why You Want To Make The Neelys Thanksgiving Turkey Recipe This Year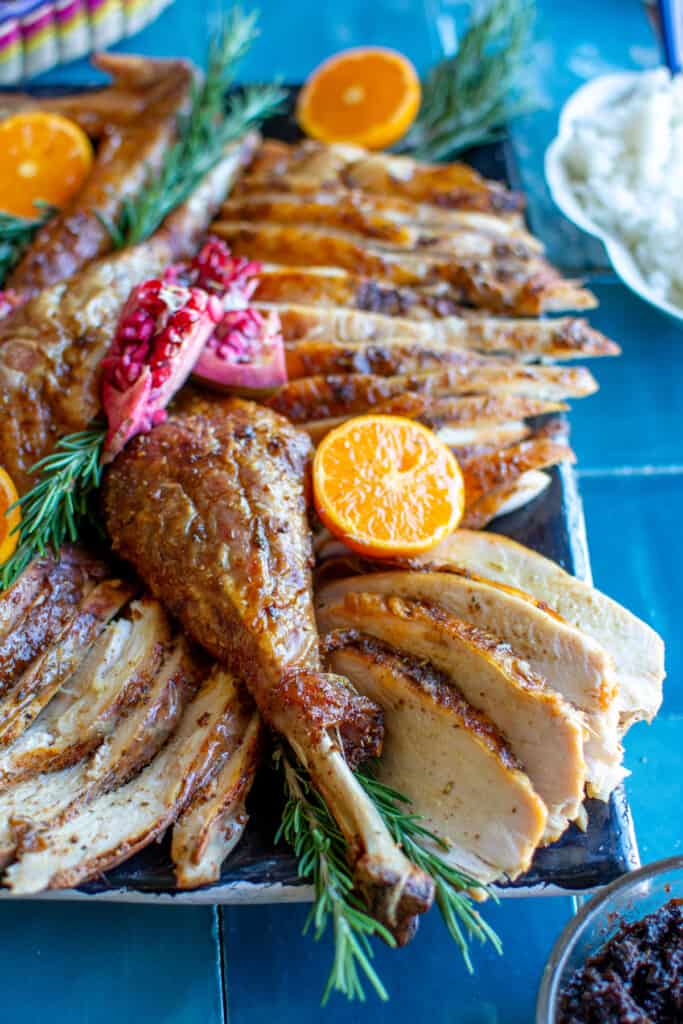 Dead simple. If you've never made a Thanksgiving turkey before this is an excellent place to start.
Supremely flavorful. The spice mix does all the work.
Roasts low and slow guaranteeing a tender and juicy bird—even the breast meat!
No turkey brine or marinating. Just season and roast.
You do not have to even be a good cook to master this delicious turkey.
Ingredients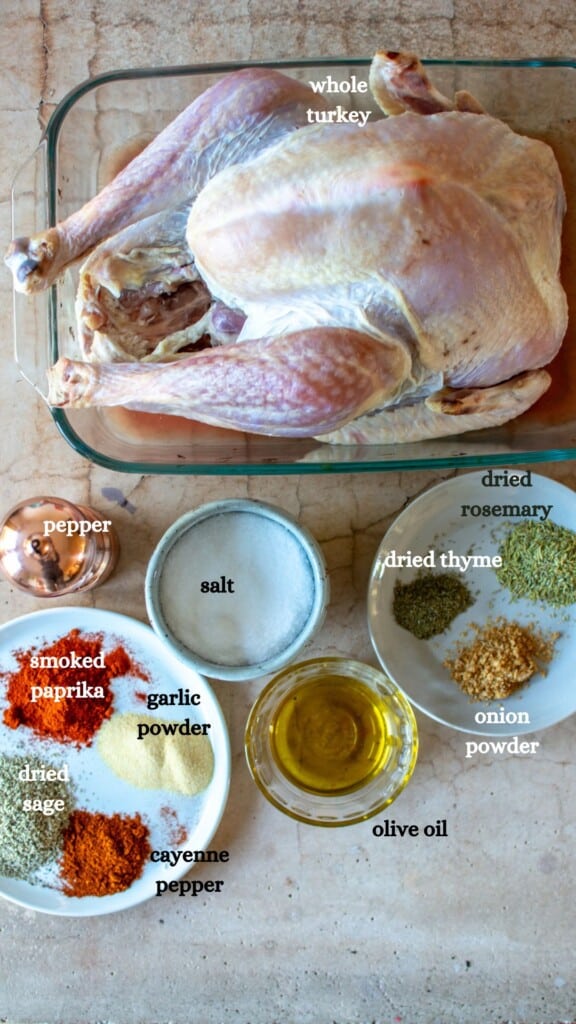 Smoked paprika for a smoky touch.
2 tablespoons kosher salt I always use Morton kosher salt unless otherwise specified.
Rubbed sage aka dried sage that is in small bits.
Black pepper freshly ground as always, please.
1 teaspoon cayenne chili powder to add just a hint of heat but not at all spicy.
Garlic powder combines with the onion powder to create a nice base of flavor.
Onion powder again, creating a strong foundation for the other spices to play off of.
Dried thyme lots of herbs here which is what Thanksgiving is all about.
Dried rosemary or chopped fresh rosemary if you have it (about a teaspoon).
Whole turkey use a smaller 10-12 pounder. Get two turkeys if you are feeding a lot of people.
Olive oil for crisp, golden brown skin.
How To Make This Recipe (Step-by-Step Instructions)
step one
Get prepped. Set the oven temperature to 325°F and arrange a rack in the lowest position of the oven. Make sure your turkey is completely thawed and if you have time let it sit out on the counter for about an hour and come to room temperature.
step two
Mix the spices. Combine all the spices together in a small bowl with a whisk breaking up any lumps.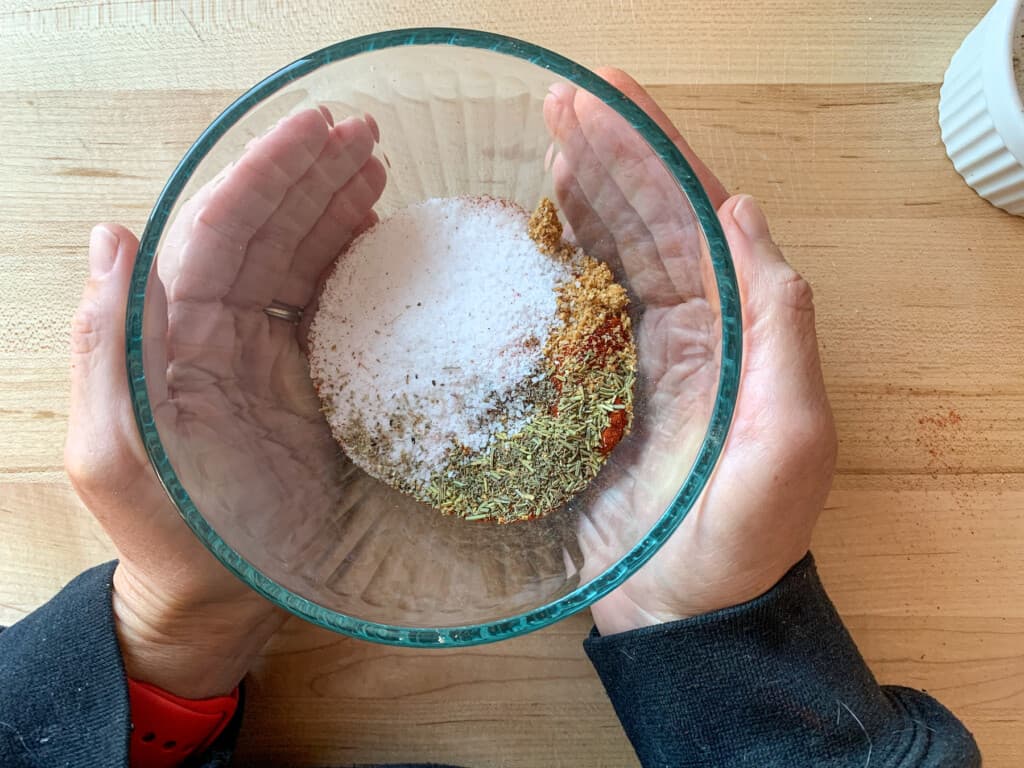 step three
Season the turkey. Remove the neck and giblets and reserve them for gravy. Rinse the turkey and pat dry, even the turkey cavity with paper towels. Rub all over with olive oil and sprinkle the spice mix evenly all over the outside of the turkey and inside the cavity of the turkey too. Place the turkey on a wire rack (this can be like a cooling rack) or roasting rack on a baking sheet, in a large roasting pan or large glass baking dish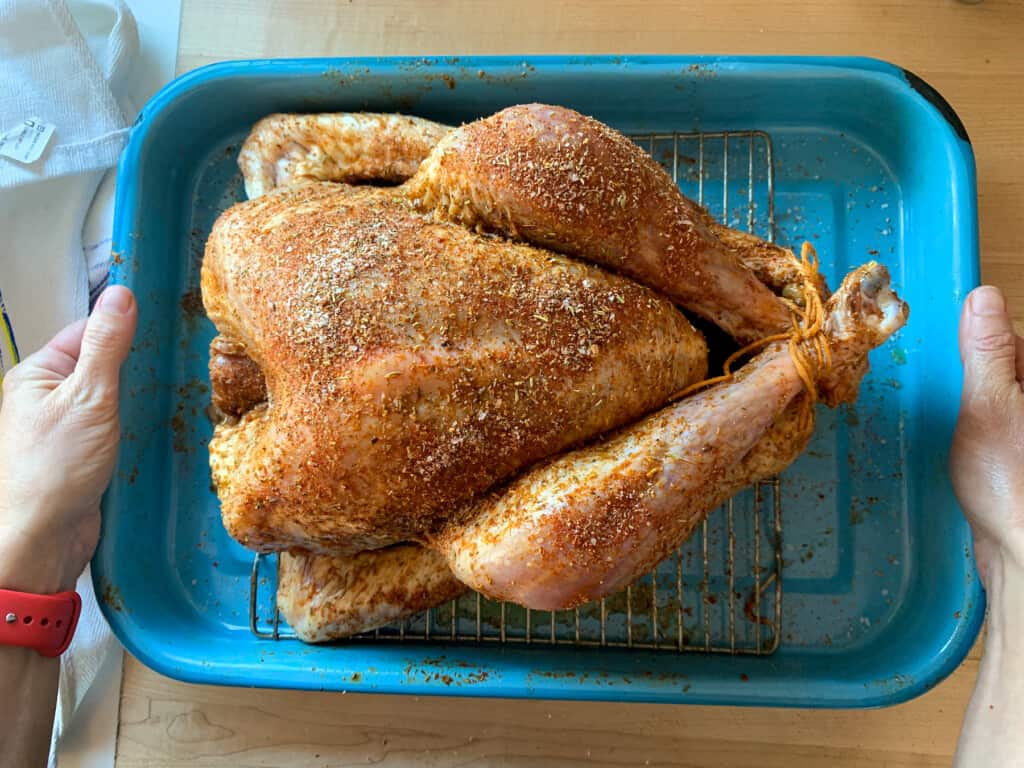 step four
Roast the turkey. Place turkey in the oven and roast until an instant-read thermometer (or a meat thermometer) inserted into the thickest part of thigh gives an internal temperature of 165 degrees F. The cooking time is going to depend on how large your turkey is. For a 10-12 pound turkey this will take anywhere from 2 1/2-3 hours. Remove from the oven and tent with aluminum foil to rest, 30 minutes.
step five
Carve and serve. Slice the turkey and serve immediately.
What To Serve With It
Turkey 101: All Your Burning Questions Answered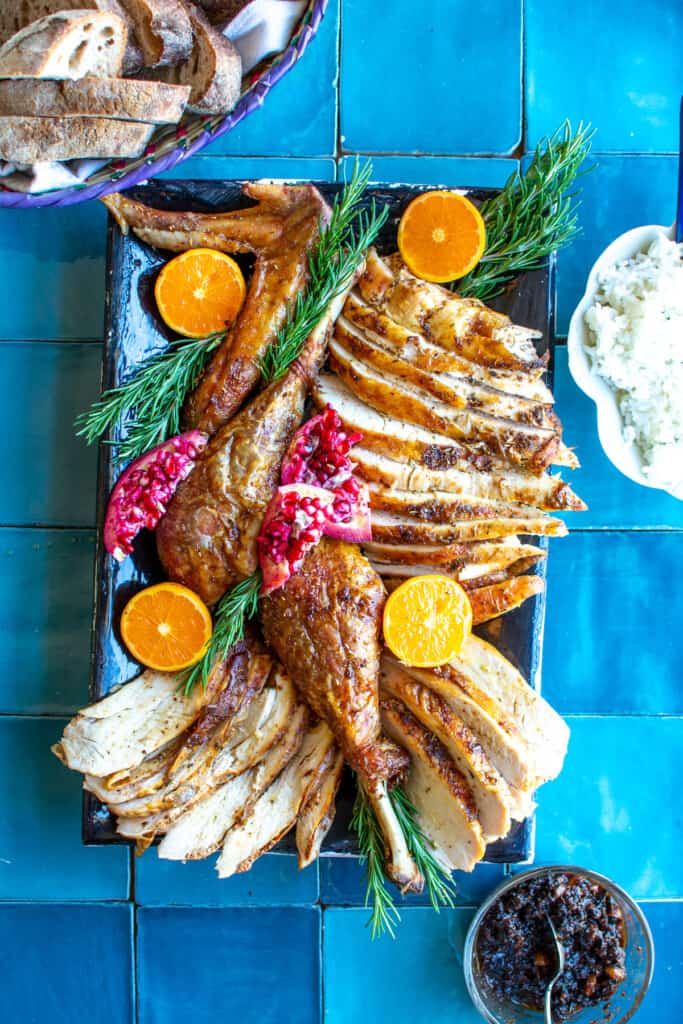 Can I use a frozen turkey for this recipe? Yes, but you need to thaw it first. Thawing a whole turkey takes 3-4 days so buy your turkey the weekend before Thanksgiving and let it thaw slowly in the refrigerator.
How long should I let the turkey sit out at room temperature before cooking? About an hour. You want it to be as close to room temperature as possible so the meat cooks evenly.
What size turkey should I buy for this recipe? I like to use smaller turkeys, about 10-12 pounds each. They are more tender than the big birds. Keep in mind you want about 1 1/2 pounds of turkey per person so if you are feeding more than 6-8 people, buy 2 smaller turkeys instead of one giant one.
Should I cover the turkey with foil while it's roasting? No, the oven temperature is low enough that you won't need to cover it.
How long does it usually take to roast a turkey? At 325°F for an unstuffed turkey, it takes about 15 minutes per pound. This turkey takes about 2 1/2-3 hours depending on the size of the turkey.
Do I need to baste the turkey while it's roasting? Nope, just stick it in the oven and let it do its thing. I would rotate it every hour or so just to make sure it cooks evenly.
How do I know when the turkey is cooked through? Invest in a good thermometer and stick it in the thickest part of the thigh. When it reads 160°F-165°F, the turkey is cooked through.
Top 5 Most Popular Thanksgiving Posts
Get Your Holiday Table Ready For This Great Recipe
It is the only recipe you will ever need! It's the world's simplest, no-fail, no-fuss turkey! Perfectly golden brown, juicy and tender! When you make it, let me know what you think. Leave a comment below and share a photo tagging me on Instagram using @katesbestrecipes so that I can see (don't forget to leave a ⭐️⭐️⭐️⭐️⭐️ rating)! Also, sign up for my weekly recipe newsletter so you never miss a thing.
Neely's Thanksgiving Turkey Recipe
Avid fans of The Neelys Thanksgiving turkey recipe know how fuss-free and simple they do Thanksgiving. Learn how to make this succulent, juicy, ultra-flavorful turkey recipe that could not be easier. Get ready for rave reviews.
Print
Pin
Rate
Instructions
Heat oven to 325°F. Arrange a rack on the bottom of the oven.

Mix spices together in a small bowl.

Remove the neck and giblets and either throw them away or reserve them for making gravy. If the turkey has the plastic piece around the legs, remove that too along with the plastic piece in the breast that is supposed to indicate when it is done (it doesn't work). Rinse turkey inside and out and pat dry with paper towels inside the turkey cavity as well as the skin.

Rub the turkey all over with the olive oil, getting some inside the cavity as well. Sprinkle the spice mix evenly over the whole turkey, getting some inside the turkey too.

Place turkey on a wire rack (like a cooling rack) inside a large pan or baking sheet. If you have a roasting pan with a rack, use that. Tuck the wing tips behind the turkey so it exposes the bottom side of the wings. Tie the legs together with twine.

Roast the turkey until the skin is golden brown and crisp and an instant-read thermometer reads 160°F when inserted in the inside, thick section of the thigh. This will take anywhere from 2-3 hours depending on the size of the turkey. Start checking to see if the turkey is done around hour 2. Rotate the turkey every hour to ensure even cooking.

Remove from the oven, tent with a piece of foil and let rest for 30 minutes. Slice the turkey and serve.
Notes
Seasoning the turkey. Don't forget to season the turkey cavity and rubbing some of the spice mix underneath the skin on the turkey breasts as well. This ensures that every bite is packed with delicious flavor.
Adjusting the heat level. This turkey recipe isn't really spicy but if you are sensitive to heat, you can reduce or omit the cayenne chili powder. Adjust the spice mix according to your taste preferences.
Plan ahead. Letting the turkey sit at room temperature before roasting helps it cook more evenly and promotes juiciness. Plan ahead and give yourself enough time for this step.
Let it rest. Tenting the roasted turkey with foil after it's done cooking allows the juices to redistribute, resulting in a moister and more tender bird.
Video
In support of this small business, Kate's Best Recipes earns revenue in a few different ways. Several sponsored posts are published each month. I also earn an affiliate commission on the sales of products I link to— there are a few of those links in this post. I only feature items I genuinely love and personally use on a regular basis. This commission is an arrangement between the retailer and Kate's Best Recipes (readers never pay more for products). This income allows me to run the site. Thank you for reading!