25 Best Chili Recipes You'll Want To Make Again and Again
Try these mouthwatering chili recipes, including vegetarian and slow cooker types. We've scoured the web for the 25 Best Chili Recipes you will be making all season long.
---
The secret to a good chili is all in the long, slow simmer and the right seasoning. Lucky for us, autumn has arrived and there will be plenty of opportunity to cozy up to the stove and make a pot or two of chili.
Ready your Dutch oven, Instant Pot and your crockpot and dive into these recipes because I've got something for every chili-lover out there. Whether you are a fan of vegan chili, extra-spicy chili, Cincinnati chili, or even Malaysian-style chili I've got them all and they are fabulous!
If the weather turns even the slightest bit chilly and you've suddenly got the urge to buy up all the chili powder, meat, and beans, I'm right there with you. I've scoured the web and pulled together the 25 best chili recipes I could find to keep you in chili heaven all season long.
25 Best Chili Recipes
I have been making this plant-based chili recipe for years. It uses fresh, wholesome ingredients like dried black beans, jalapeños, and chipotles in adobo sauce. It takes a bit of time because we are working with dried beans, but the flavor is totally worth it.
Meg created this super healthy chili recipe with loads of vegetables, spices and tons of flavor. It is vegan (as long as you don't garnish it with sour cream and cheese) and gluten-free making it an awesome option if you are feeding a crowd of different dietary needs.
Sarah from The Delicious Life created this super yummy chili recipe to be made on the stove top or slow cooker. The recipe is fast and easy and you probably already have the ingredients in your pantry. She suggests to top each bowl with Fritos and sour cream—sounds good to me!
Made with ground beef and two kinds of beans this a super hearty and belly-warming chili. Like all chili recipes it freezes beautifully so you can make a big batch and freeze half in an airtight container for up to 3 months. Make sure to thaw overnight in the fridge before reheating.
To get the best flavor in chili is the right balance between spicy, salty, sour, and even a touch of sweet. This beef chili hits all those notes with jalapeños, a good mix of spices like paprika and cumin, and tangy green tomatoes. If you are a gardener and find yourself with lots of green tomatoes when the season ends, this is an excellent way to use them.
Looking for a luscious dish of chili? Look no further than this Pumpkin Chili which has silky pumpkin puree added to the soup making for an almost creamy texture (with zero cream whatsoever). This is a thick and super hearty chili made for cold nights.
Prepare a batch of cornbread and get ready to dig in to this easy homemade chili recipe from my friend Irvin. All you have to do is chop the onion, bell pepper, and garlic and toss it all into a pot. The taste evolves as it simmers away, and gets even better the next day!
While some would argue that beef is the most flavorful meat for chili, I think this chicken chili recipe from my good friend Aida proves that beef is not the only option. Using lean boneless, skinless chicken makes it healthier too! I love the addition of potatoes here, makes it feel even more indulgent.
If you want to make a truly unique bowl of chili, try the Malaysian-inspired turkey chili recipe from Alison of A Girl Defloured. It has coconut milk, lemongrass, and ginger. This recipe still has some kick from jalapeños but not too spicy and totally different. Garnish with lots of fresh herbs like cilantro and green onion. Yum!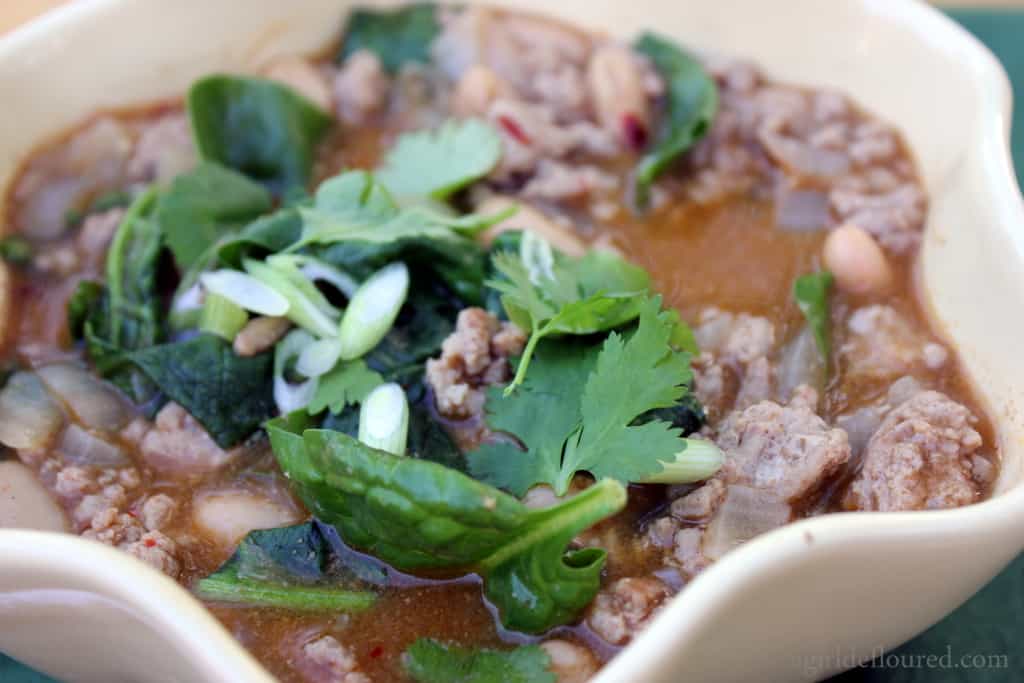 I do think a chili gets better with a nice low and slow simmer, but sometimes when I'm in a hurry, I'll make a quick batch of this spicy Instant Pot chili. It has robust flavor from chili powder, kidney beans, and oregano. The canned chipotle chiles in adobo give it a smoky, warming heat.
Another fast Instant Pot recipe from Erin of The Almond Eater. This one is a bit lighter made with chicken broth, corn, and Hatch green chilies. The protein of choice here is boneless, skinless chicken which offers great texture once it is shredded and mixed back into the chili.
Now time for a crockpot favorite. I love this recipe so much I also included it in my Delicious and Cheap Crock Pot Meal recipe collection. It is full of all the classic chili vibes we crave. Top with shredded cheddar cheese and tortilla chips for the ultimate comforting bowl.
Made with ground turkey, sweet potatoes, and lots of spices the real star in this chili is chocolate. This secret ingredient doesn't make the chili taste chocolatey or sweet but gives it tons of body and richness. Give it a try and see what you think!
This lamb chili is truly a stunner when you want to impress. It is warm and comforting with fluffy dumplings made from masa harina floating on top.
The photo alone makes me want to devour a bowl of this amazing chili. What intrigues me the most is how easy it is! Well that, and the super interesting flavor profile. The recipe includes all the usual suspects but then gets an extra flavor boost from yellow mustard, Worcestershire, and hot sauce.
The best way to make your chili more flavorful is to use well-marbled meat. Meaning meat that has a good amount of fat. This recipe from Jessica Gavin calls for country-style pork ribs which get tender and succulent as it simmers in the chili.
This lighter, more brothy version of chili is great if you want a warming soup that doesn't leave you feeling like you need to take a nap afterward. This chili is gluten-free and has lots of extra veggies like zucchini and hominy.
We can't talk about chili without talking about Cincinnati Chili. Becky's recipe is a family favorite and it is a classic—chili served over spaghetti with shredded cheddar cheese and oyster crackers. Sounds crazy, tastes amazing.
Make this vegan chili super indulgent by piling each bowl high with avocado, thinly sliced chiles, scallions, and cilantro. Heather suggests serving with tortilla chips or even potato chips for dipping.
This vegetarian chili from Erin of The Almond Eater is super cozy and makes amazing leftovers. Make a batch and keep in the freezer or fridge until you're ready to enjoy for another meal.
Protein-packed is the best way to describe this yummy chili. It is made with ground beef but feel free to swap ground turkey or chicken for a chili that is lower in fat and calories. Ashley also suggests substituting some of the kidney beans for black beans. Super adaptable and incredibly delicious!
We've talked about Cincinnati Chili so now we have to discuss Chili Mac. Chili plus macaroni and cheese in the same bowl? I've died and gone to heaven. This recipe is quick and easy, made in the Instant Pot and ready in 30 minutes.
Shredded cheese doesn't just have to go on top of your chili. Strings of melty, mouthwatering cheese are what you get when you put a handful of Monterey Jack or mozzarella into the bottom of a bowl of chili. Yes please! Give it a try for an instant chili upgrade.
A good way to perk up bland chili is by adding a bottle of beer! It adds richness and depth of flavor like no other ingredients. A little smoke from fire-roasted tomatoes and smoked paprika don't hurt either. Try Molly's recipe and see what you think.
While it's not super common to serve chili over rice, that doesn't mean it's not incredibly tempting. I love the spiced chicken pieces and the creamy drizzle of whipping cream at the end. Serve over a bed of steamed rice with fresh spoonfuls of Pico de Gallo over each bowl.
More Recipe Collections To Explore:
Fellow Chili Aficionados
You've come to the right place. There's plenty of chili inspiration to keep you satisfied until spring and beyond. Drop me a comment below and let me know which ones you've tried. Share a photo and tag me on Instagram using @katesbestrecipes so that I can see! Also, sign up for my weekly recipe newsletter so you never miss a thing.