11 Recipes To Make With Frozen Butternut Squash
When fall rolls around everyone turns to butternut squash for their favorite cozy dishes, but when you are in a hurry, frozen butternut squash is so much easier to cook with and tastes just as good. If you have a bag in your freezer, here are 11 things you can make with them.
---
If you thought frozen butternut squash was only good for a pot of boiling water, think again. Frozen butternut squash is a little chef secret that has flown under the radar but, just like frozen peas, it tastes just as good as fresh, can be used in almost the exact same way, and eliminates all prep work.
Think about it, we all love butternut squash but after peeling the awkwardly-shaped vegetable, cutting it, scooping out the seeds, and trying to dice it into somewhat even pieces, we are 30 minutes into dinner and haven't even made anything yet!
Frozen butternut squash is ready to cook and can be roasted, simmered, broiled, pureed, and turned into dinner in as little as 25 minutes. You don't even need to thaw it first!
Keep reading for my favorite ways to use frozen butternut squash. Many of these recipes call for fresh but you can substitute frozen and follow the instructions as written.
What To Do With Frozen Butternut Squash
When the weather gets chilly, a big bowl of this seasonal stew is a must. The cooking time is pretty low making this an easy recipe to whip up on a weeknight. Serve with my favorite cornbread for dipping.
I love sitting down to this cozy dinner from my friends at California Grown. Roast the butternut squash with Brussels sprouts and mushrooms then serve over creamy polenta for an easy plant-based dinner. The veggies are so good you need little more than a touch of balsamic, good olive oil, and some salt and pepper.
*Chef's Tip: Place the sheet pan in the oven as it heats up. Roasting the vegetables on a hot sheet pan will immediately evaporate any ice on the frozen butternut squash and create a crispy crust.
Here's something new: Roast butternut squash and turn it into hummus! Just by adding the squash the nutrition value went from good to amazing, plus it will stay good in the fridge for up to a week. Make ahead for your next party or have for snacks all week. Meg made this for a Christmas party one year and I've been making it for every holiday since.
Roast the squash with onion, salt, and pepper then combine in the soup pot and boil with coconut milk, guajillo chile powder, cumin, coriander, and a pinch of cayenne. This vegan and gluten free soup is super creamy and makes excellent leftovers.
These incredible tacos from my dear friend, Aida might be my favorite butternut squash recipe. You roast cubed butternut squash then tuck them into warm tortillas and top with super flavorful salsa.
*Chef's Tip: Make the squash and salsa up to 4 days in advance and keep each in an airtight container in the fridge. Then just heat in the microwave or on the stove to make quick tacos.
Alison is a genius when it comes to main course salads. You may remember her Warm Autumnal Rice and Veg Salad from our Vegan Lunch Recipe Round-up and now she's giving us this beauty.
To make this simple salad, heat your oven to 425 degrees F and roast the cubes of butternut squash in a single layer on the baking sheet then toss with quickly sautéed kale and a delicious dressing made with maple syrup, dijon, and shallot.
When you get tired of pumpkin, try pureed butternut squash in your fall baking. This dairy free cake is filled with warm spice flavors of cinnamon and topped with a vanilla-cognac glaze—oh my!
My favorite indulgent way to kick off the fall season is by making a batch of Vy's Butternut Squash Gnocchi. It's easy to make gnocchi from a package but nothing compares to the flavor and texture of homemade.
Jessica takes the idea of stuffed shells to a whole new gorgeous fall level. Cheesy stuffed shells drenched in a creamy butternut squash sauce. Believe me, this is the dish you are going to want to take to your next potluck or fall dinner party.
Roasted squash cubes tossed in a spicy Peri-Peri spice mix then piled on a crispy tostada shell with black beans and cilantro-lime slaw. Garnish with chopped roasted almonds for extra crunch.
*Chef's Tip: Break up any frozen clumps of squash before putting in the oven.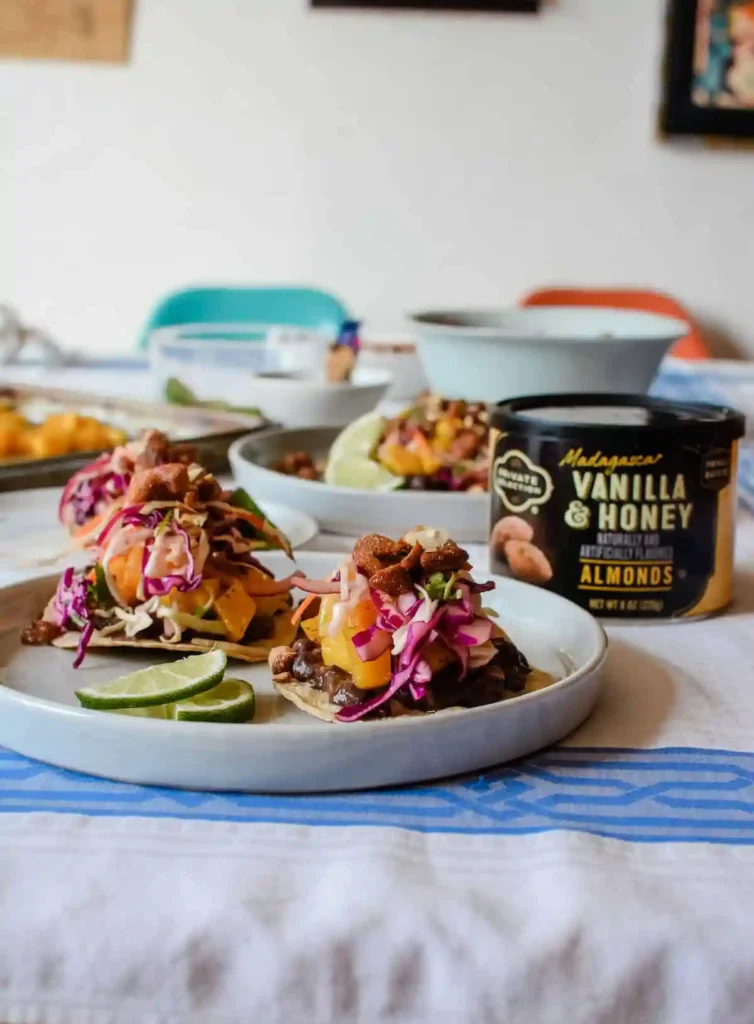 If you own an air fryer, this is a great way to cook frozen butternut squash. The high heat brings out the best texture and flavor in the squash with need for very little ingredients. Amanda makes her version super tasty with lots of dried herbs, olive oil, and salt.
Searching For More Yummy Recipe Collections?
If You Make Any Of These Frozen Butternut Squash Recipes…
Let me know! I always love hearing from you and any feedback you might have. Leave me a comment below or share a photo and tag me on Instagram using @katesbestrecipes so that I can see! Also, sign up for my weekly recipe newsletter so you never miss a thing.
---
In support of this small business, Kate's Best Recipes earns revenue in a few different ways. Several sponsored posts are published each month. I also earn an affiliate commission on the sales of products I link to— there are a few of those links in this post. I only feature items I genuinely love and personally use on a regular basis. This commission is an arrangement between the retailer and Kate's Best Recipes (readers never pay more for products). This income allows me to run the site. Thank you for reading!