The Best Mashed Potatoes Recipes
What's Thanksgiving without mashed potatoes? These 11 Mashed Potatoes Recipes offer up all the comfort food vibes with plenty of variety from smooth and silky to fully loaded. Whatever your style, we've got you covered.
---
Every Thanksgiving we look forward to the same foods, the perfect roast turkey, creamy pumpkin pie, and of course, mashed potatoes.
If your family leaves a little room for experimentation than maybe you're willing to try something new or perhaps you've just never made them before and you're looking for the perfect mashed potatoes. Either way we've got you.
These 11 versions run the gambit from classic to cheesy and everything in between. There's so many good options, you might even be tempted to make two mashed potatoes recipes this year!
11 Of The Best Mashed Potatoes Recipes
This recipe starts off familiar (russet potatoes, salted water) but quickly becomes something extraordinary (and a bit spicy) when it is finished off with crisped Spanish chorizo, sautéed jalapeños, and charred poblano peppers. You could even mix in cream cheese to make them extra rich.
This recipe is for those who like our mashed potatoes decadent. It is based on the famous French Chef, Joel Robuchon's potato puree where the ratio of potato to butter is 2:1. You don't have to be a math whiz to know that 2 pounds of potato to 1 pound of butter is a lot of butter. Yukon golds are naturally creamy on their own but adding an outrageous amount of butter and milk makes them extra rich and luscious. Make these mashed potatoes ahead and keep them warm in the slow cooker!
You can use either Russet or Yukon gold potatoes for this recipe. They start off the same as regular mashed potatoes but you combine the potatoes, cold water, garlic, olive oil, and salt and bring to a boil in the Instant Pot. They cook up super quick—like ready in 15 minutes and only use 5 ingredients, which you probably already have in your pantry!
In addition to the traditional butter and milk, there's a secret ingredient that gets whipped into the hot potatoes in this recipe that makes them super smooth and creamy. You'll have to check it out to see what I mean but I'm very intrigued. Have you tried this method?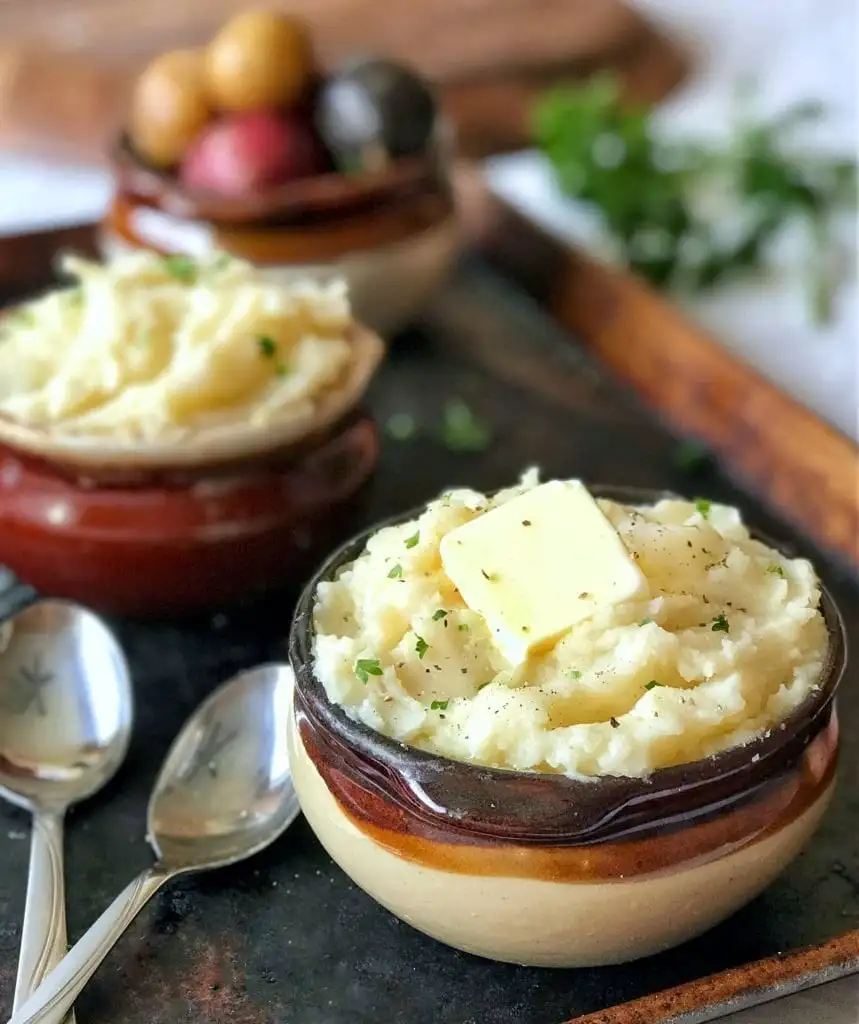 Garlic mashed potatoes are pretty standard, but garlic mashed potatoes with rosemary, sharp white cheddar, and sour cream?! Yes, yes, and yes! This crowd-pleasing version has an abundance of flavor and would go great with Thanksgiving turkey, cranberries, and all the other sides.
If you want a mashed potato recipe that won't fill you up in two bites, look to this lighter version where you mash the potatoes with lots of fresh cauliflower. This vegan recipe is great because it means it can be enjoyed by everyone at the table and is easy, healthy, and undetectably dairy-free!
Here the Yukon golds get swapped for buttery red potatoes. This recipe leaves the skin on for color and nutrients in a more "smashed potato" style. Red potatoes are so naturally flavorful on their own and this recipe really lets them shine. It has a no-stress ingredients list, the butter and half-and-half enhances the natural flavor and texture of the red potatoes, creating the nice fluffy texture we all crave.
Lots of flavor come together in one large pot with these potatoes. Everything gets mashed in the same pot you cook the potatoes in with a potato masher—easy! Starring russet potatoes they have the velvety texture we dream about. Then you get a touch of tang from Cheddar cheese, sweetness from the garlic, and a kick of smoky heat from the chipotle chiles.
Perhaps not the most traditional mashed potato recipe but a creamy delicious one—and still vegan! This could be one of your new favorite side dishes. Even though they are vegan they don't skimp on the creaminess. They are not only the perfect compliment to your Thanksgiving table but also healthy enough to earn a spot at your weeknight one as well!
Oh the luxury! Along with the traditional milk and butter mixture is spinach, parmesan cheese, and topped with crispy fried onions. They are almost too good and will absolutely be a hit at this year's Thanksgiving table. With the craziness of Thanksgiving prep they can be made up to a day in advance and then baked right before you eat. The crispy edges are my favorite part!
It's a two-for-one potato situation (aka a perfect world)! As a self-proclaimed Thanksgiving side dish connoisseur, I like to keep my sides separate but sometimes, rules are meant to be broken. This casserole layers sweet potatoes and Yukon golds which both get mashed separately and then combined in the casserole dish. Perhaps the best part about this casserole is that you can make them even a day before the feast!
More Thanksgiving Recipe Inspiration
So Which Of These Mashed Potatoes Recipes Will You Try First?
When you decided I want to see it! Let me know by snapping a pic and tagging me on Instagram @katesbestrecipes  so I can see or leave me a comment below (don't forget to leave a ⭐️⭐️⭐️⭐️⭐️ rating) !