4th of July Appetizers Worth Making
Planning your menu for the 4th of July? We've rounded up the best 4th of July appetizers perfect for your summer celebration here.
---
Okay so you've got your ribs or your burger all planned out for this 4th of July weekend but what about a good appetizer recipe?
Truth be told, if it were up to me, the whole celebration would skip the main dish and just be a big happy hour at home. A generous selection of quick appetizers and fun cocktails featuring summer's freshest produce sounds like way more fun, right?
These tasty snacks vary in effort from easy to a bit more time consuming. I suggest picking one or two and then supplement with some good store-bought classics like crackers, nice olives, good tortilla chips, and yummy nuts.
I think you'll find lots of inspiration here. So many flavors to choose from. Have a great long weekend friends!
4th of July Appetizers
If you have the grill fired up for other food you can cook these Thai-inspired chicken skewers on there. Otherwise, broil in the oven. Your guests are going to love the curry peanut sauce. Serve with extra cucumber slices for dipping.
This pimento cheese dip is party food at its best. Loaded with yummy ingredients like sharp cheddar cheese, jack cheese, pimentos, and green onions. This is an appetizer that is fast easy and delicious.
Tons of fresh herbs, a little coconut water, and lots of heat from serrano chiles makes this shrimp and watermelon ceviche completely irresistible.
Make a huge platter of these peppers and watch them disappear. Most shishitos have little more than a gentle kick of spice but be careful—every once in a while you'll get a fiery shishito that will knock your socks off!
Meg has outdone herself this time. These are the most epic nachos ever! Fire roasted corn, Cotija cheese, black beans, roasted poblano cashew cream, and more on top of crispy tortilla chips.
How much do you love Sarah's charcuterie boards? She really hit it out of the park with this one with all the colors of the American flag including fresh veggies like radishes and colorful fruit like strawberries, figs, and even the gorgeous blueberry makes an appearance. Plus cheese, salami, crackers…this is by far the most beautiful (and patriotic) platter ever.
This seems like it might be complicated but Aida has made this appetizer super easy with store-bough pizza dough topped with potatoes, crispy bacon, blue cheese, and fresh, peppery arugula. Cut into slices and top with a drizzle of sour cream.
Again, if the grill is on you might as well make a smokey delicious salsa while you're at it. This sweet and spicy salsa makes a great dip or as a topping for everything from tacos to burgers.
9. Shortbread Pizza Bites from Baking The Goods
These crumbly savory shortbread snacks are the perfect combination of savory and sweet with sun-dried tomatoes, fresh basil, butter, parmesan, and just a touch of sugar.
Super saucy, but still crunchy cajun-spiced chicken wings bring a round of applause to your party. Let's just call it pre-fireworks, fireworks.
I know, I know hummus may seem boring but the truth is, everyone LOVES it and homemade is so much better than store-bought. Give it a glow up by topping with roasted red peppers, good olive oil, and fresh herbs.
There are fries and then there are avocado fries. Crispy on the outside and creamy on the inside and served with a zingy harissa ranch dip.
Stretch out that picnic blanket because the deviled eggs are coming in hot! Jessica's got all the spicy, creamy goods with this recipe.
So summery and fresh this salad features fresh mozzarella, ripe tomatoes, and the welcome creamy addition of ripe avocado.
One of the easiest Fourth of July appetizers that comes together in 5 minutes. This creamy dip is made with feta, Greek yogurt, honey, and fresh herbs. Serve with fresh vegetables like cherry tomatoes, radishes, and crunchy celery.
Your Fourth of July party is not complete without a bowl of seriously, the best guacamole you will ever make. It is easy, only a few ingredients, and truly mind-blowing. The secret is lots of cilantro, fresh lime juice, and kosher salt.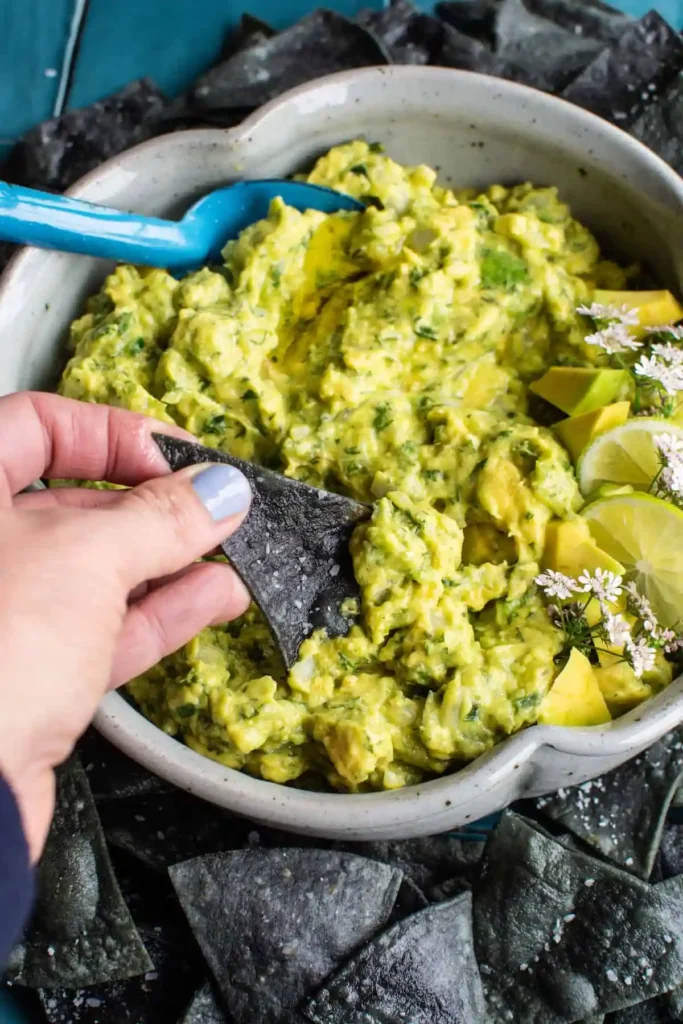 Cream cheese, garlic, and onions flavor this elegant and rustic crowd pleaser! I mean let's face it, you can never have enough dip.
Your 4th of July Appetizer Game Plan Is Complete
Just tell me what time I should come over 🙂 When you make them, let me know how it went by leaving a comment below! Share a photo and tag me on Instagram using @katesbestrecipes so that I can see! Also, sign up for my weekly recipe newsletter so you never miss a thing.