12 Summer Gin Cocktails To Sip In The Sun
Calling all gin lovers! Get out those cocktail shakers because here are 12 summer gin cocktails that are so good I can hardly stand it. These will have you drinking pretty all summer long!
---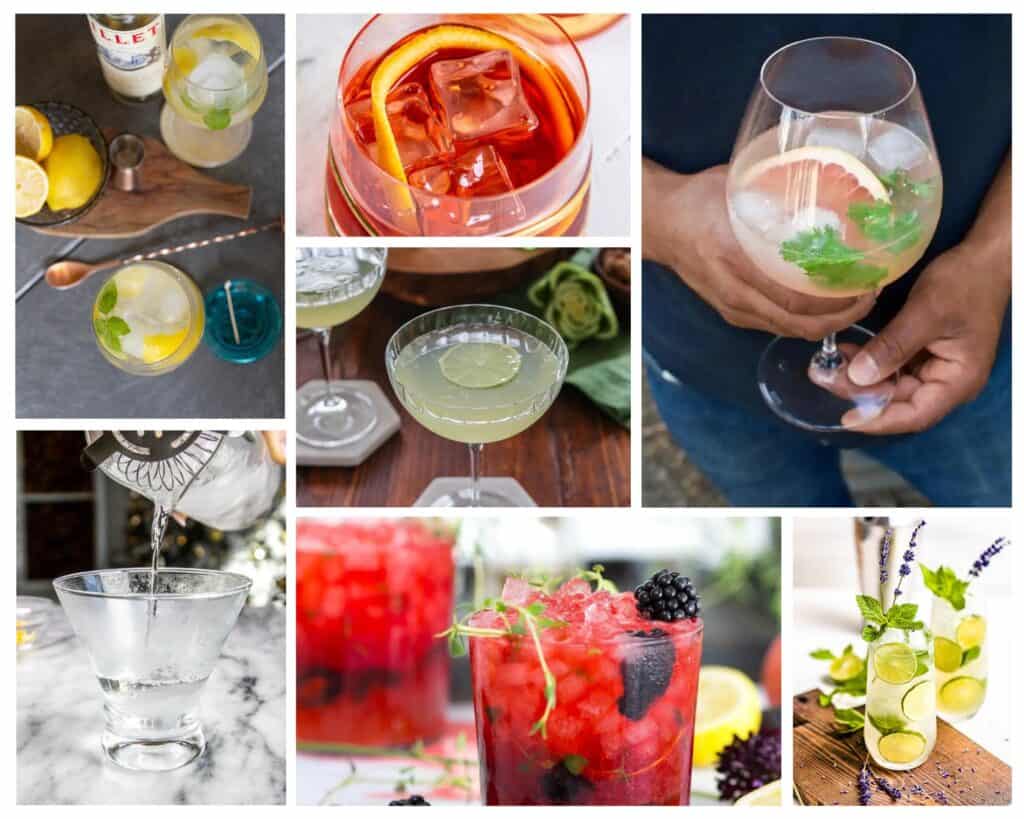 Are you a gin drinker? For me, summer and gin always go hand in hand. Growing up my parents would religiously drink red wine in the colder months and gin in the summer so for me, gin has always been synonymous with warm evenings on the patio.
Mind you, they always had gin and tonics but there are many other summer gin cocktails to explore. Gin's main flavor comes from juniper berries which has a pine-like essence but different brands of gin have their own unique flavor profiles. Some are more herbal, some floral, some more vegetal with flavors of cucumber and celery coming through.
If you have a favorite brand, great! But it might be fun to explore different gins this summer and see if there's a new one you can add to the list. Read more below on the different types and what they are good for.
Check out these fun summer cocktails and let me know in the comments below which one you'll try first!
Different Types of Gin and What They Are Good For
According to Bon Appétit there are four different types of gin. "When it comes to gin, beautiful, perfect gin, there are even more specific types, including Genever and Old Tom, that have distinct characteristics and usages and are totally worth seeking out."
12 Summer Gin Cocktails
Gin and citrus go hand-in-hand and that is on full display here. This Spanish Gin Tonic has the gin and the tonic like the British version but also fresh-squeezed grapefruit juice, and a grapefruit-cilantro simple syrup. Talk about refreshing!
Fresh strawberry puree, lemonade, and gin make an extraordinary combination. When summer hits and strawberries are juicy and sweet this is an excellent way to use them. Garnish with fresh slices of strawberries and lemon.
Fresh garden sage is delightful in this super simple cocktail. Just gin, lemon, and honey is all you need to make a Bee's Knees. The fresh lemon juice and honey soften the strong flavor of the gin and the sage adds a mellow herbal note. One of my favorite summertime meals are these cocktails with grilled pork burgers and slaw.
If you like to stick to the classic cocktail recipes, this gin martini is for you. Choose a high quality gin for this cocktail because it is basically the only ingredient, well that and a splash of dry vermouth and orange bitters.
5. Gin Mojito from Britney Breaks Bread
Looking for a refreshing beverage to enjoy poolside? Try Britney's gin version of the classic Mojito cocktail. This drink is a simple mix of gin, lime, mint leaves, and ginger beer. It is refreshing, sweet, and floral—oh, and pretty too!
A gimlet is a quick and easy cocktail made from gin, simple syrup, and lime juice but Alison's version has a secret ingredient that give it depth and dimension: Celery! Don't let summer pass without trying this cocktail.
Ride that summertime glow with this sweet and fruity cocktail made from smashed fresh blackberries, gin, lemon, thyme leaves, St Germain elderflower liqueur, and elderflower tonic water. These go great with my Vinegar and Spice Baked Baby Back Ribs!
This drink plays off all of the herbal, vegetal notes in gin. Mix herbs like parsley, fresh basil, and tarragon with ripe tomatoes, cucumber, gin, and tonic water. An excellent recipe for all the home gardeners out there.
Lille blanc, gin, lemon, honey, and soda water make an excellent afternoon sipper. This easy, breezy cocktail is like a classy version of hard lemonade. I like to serve these with some homemade hummus and veggies for a quick and easy happy hour.
10. Negroni from This Mess Is Ours
Bitter cocktails like this Negroni aren't for everyone but if you like them…you really like them. Equal parts Campari, sweet vermouth, and gin; a Negroni is simple to make and easy to drink. Garnish with an orange twist.
Learn a new cocktail this summer: The Gin Rickey! What's a Gin Rickey you ask? It's another fabulous three-ingredient cocktail made with gin, lime juice, and club soda. Try this cocktail if tart is your go-to cocktail profile. There's no sweetener in this one.
We have a passion fruit vine that produces all summer, so I love this gin cocktail recipe that mixes the fragrant tropical fruit with gin, lime, agave, and tonic. Just shake everything together in a cocktail shaker and pour over ice.
More Recipe Collections You'll Love
So Many Summer Gin Cocktails
Which one will you try first? Drop me a comment below and let me know. Share a photo and tag me on Instagram using @katesbestrecipes so that I can see! Also, sign up for my weekly recipe newsletter so you never miss a thing.