Jamaican Curried Cabbage Recipe with Coconut Milk
Buttery, spicy curry cabbage recipe—Jamaican style! This side dish is creamy, savory, and rich. An easy-to-make, budget-friendly recipe that is healthy and delicious.
---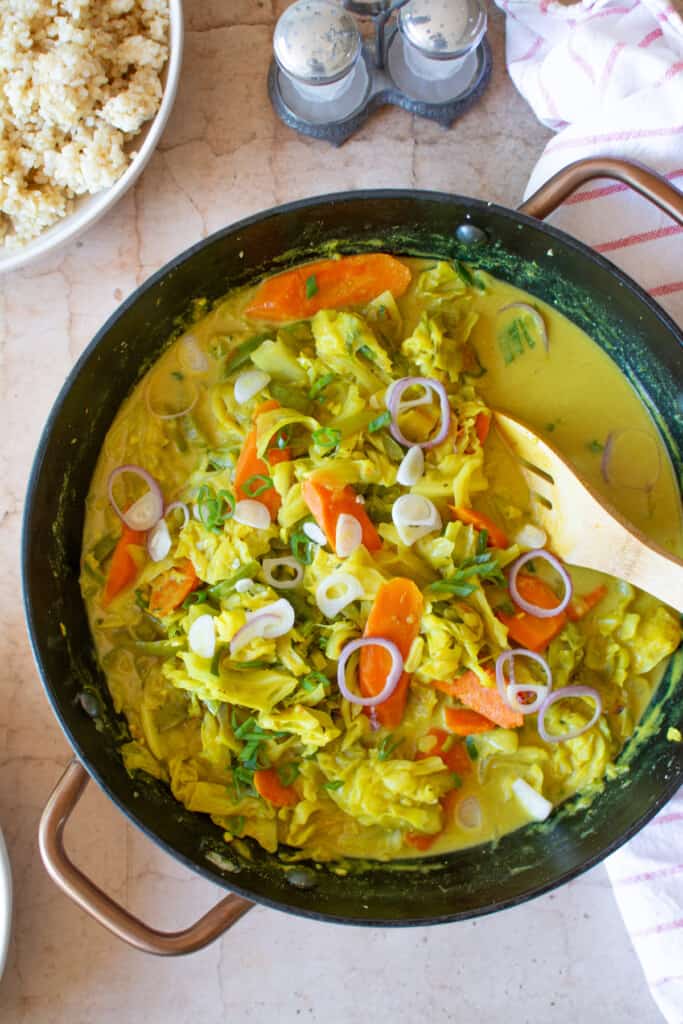 Jamaican curried cabbage is warm and inviting. Hunks of green cabbage are sautéed in coconut oil with carrots, onion, bell pepper, and lots of garlic. Then simmered in coconut milk until the soft cabbage melts in your mouth. Jamaican curry powder is what really makes this dish. It is a spicy mix of ground Scotch Bonnet pepper, allspice, and turmeric and is totally unique in the world of curry powders (more on that later).
If you've ever had a Jamaican steamed cabbage recipe this is similar except this one has coconut milk so it's more of a simmered cabbage than a steamed one.
I fell in love with Jamaican spice mixes when our dear friend Nadja brought me a jar of jerk seasoning from Jamaica one winter when she went home to visit her family. She said this was the one her mom uses, so I knew it must be the real deal. One bite of the jerk chicken made from that paste and I was hooked. I've been exploring Jamaican cuisine ever since. The levels of flavor in Jamaican cooking are so layered and complex and this curried cabbage dish is no exception.
I love this cabbage dish in the fall when white cabbage is plentiful and there are lots of cozy roasts and things to serve alongside. It also makes an excellent vegan main dish with steamed brown rice or Jamaican rice.
Why You Should Try This Jamaican Cabbage Recipe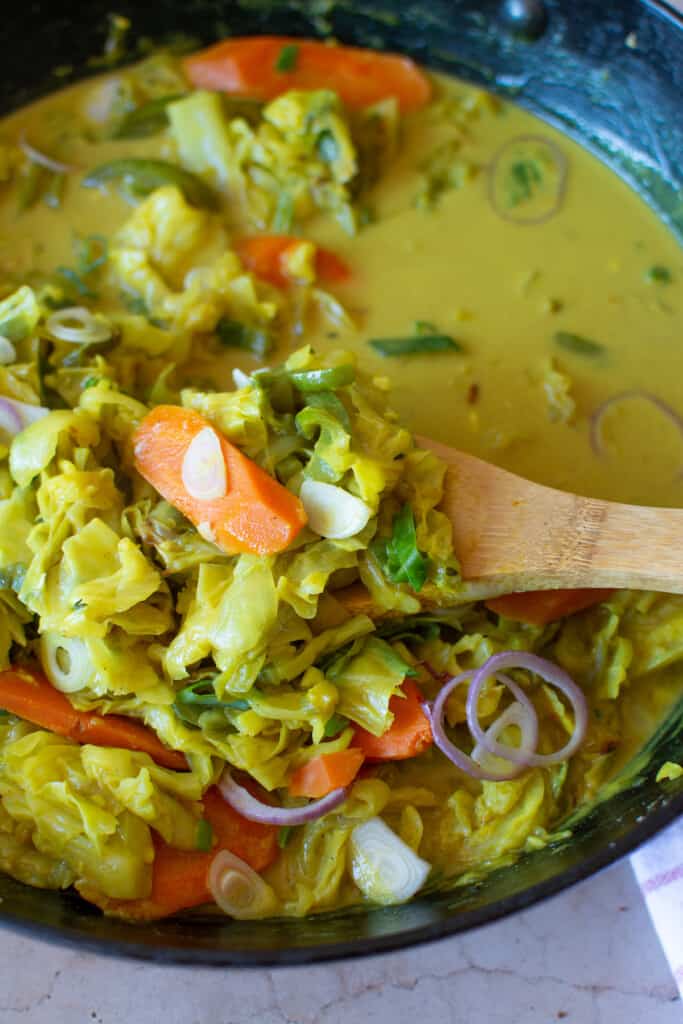 It is super easy recipe! The cooking time is minimal and is ready in three simple steps.
A great recipe for Sunday dinners. Goes with everything and feeds a crowd.
A simple dish for meal prep. Tastes even better the next day!
This cabbage curry is super budget-friendly. One large bowl feeds about 8 people for under $5.
Ingredients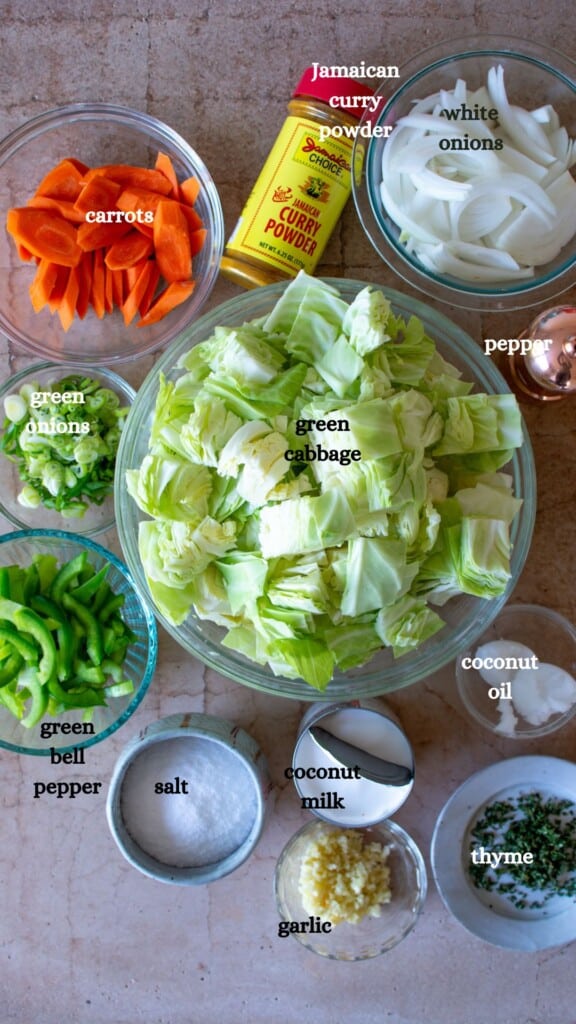 See recipe card for exact amounts.
Coconut oil or olive oil.
Green cabbage or red cabbage, but the color will be a funky purplish-pink if you use red cabbage.
Carrots for sweetness and color.
White onion adds a nice base of flavor and sharpness.
Green bell pepper for a peppery note, substitute red bell pepper if you'd like more sweetness.
Garlic clove lots and lots of garlic cloves. Use less if you're not garlic-obsessed like I am.
Kosher salt. I always use Morton kosher salt unless otherwise specified.
Black pepper. Please use freshly-ground pepper.
Coconut milk. Full fat, unsweetened, canned coconut milk.
Jamaican curry powder. See below for more details.
Fresh thyme. Thyme is a commonly used herb in Jamaican cooking.
Green onion. For garnish and color.
How To Make This Recipe
step one
Sauté the veggies. Heat coconut oil over medium heat in a large skillet or pot big enough to hold the cabbage. Add the vegetables, salt, and pepper and sauté until they are starting to become tender.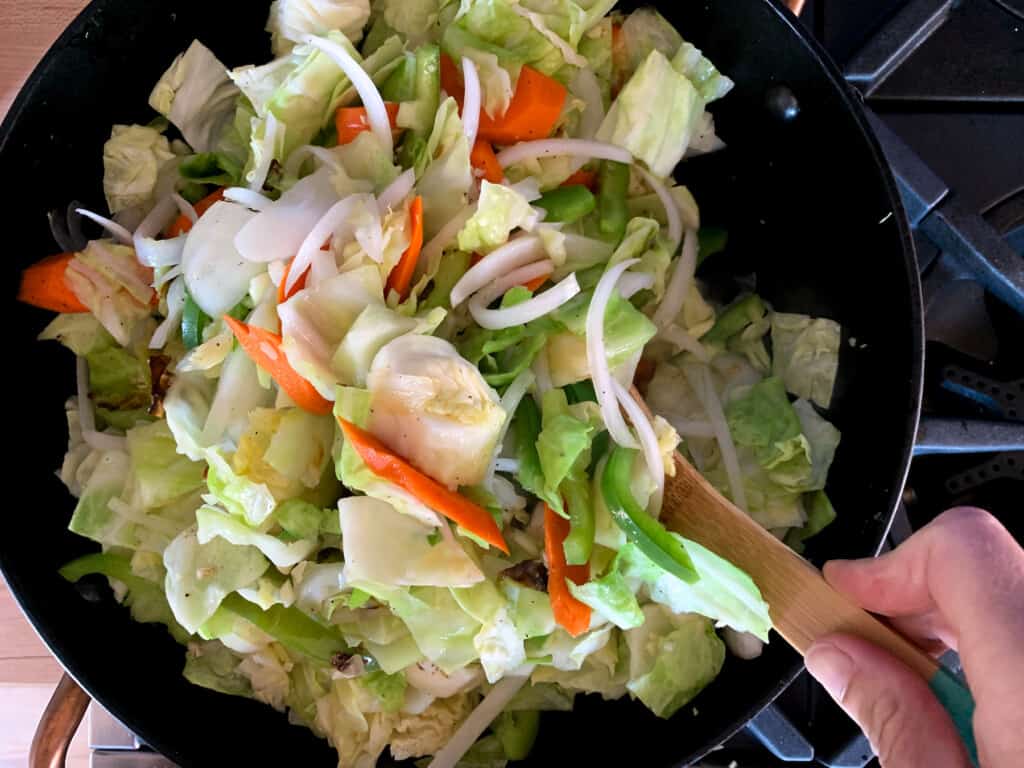 step two
Simmer. Add coconut milk, thyme, and curry powder. Stir to coat the vegetables in the sauce. Add a cup of water or vegetable broth and bring to a boil over medium-high heat. Reduce the heat to a simmer and cook until vegetables are melting and tender.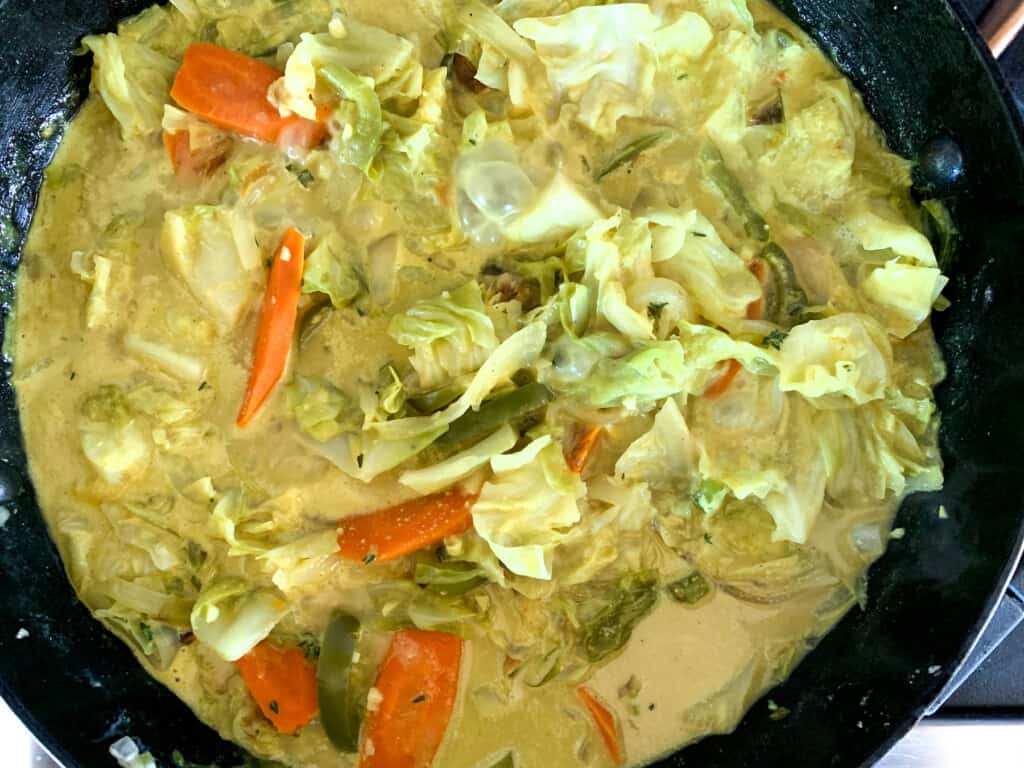 step three
Serve. Stir in scallions and serve with white rice.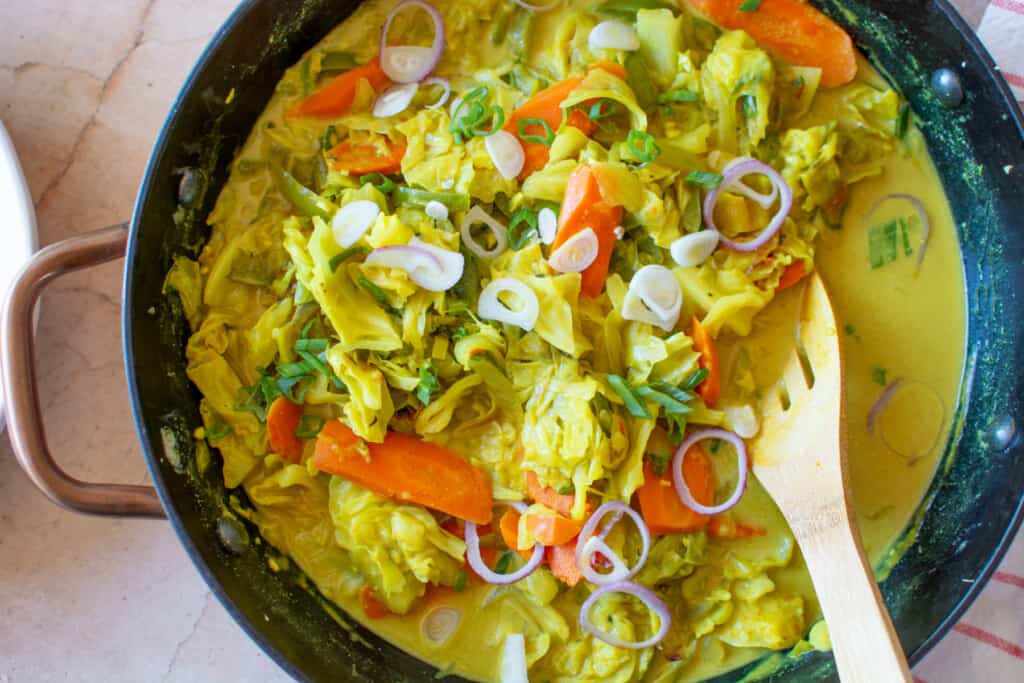 What Is Jamaican Curry Powder?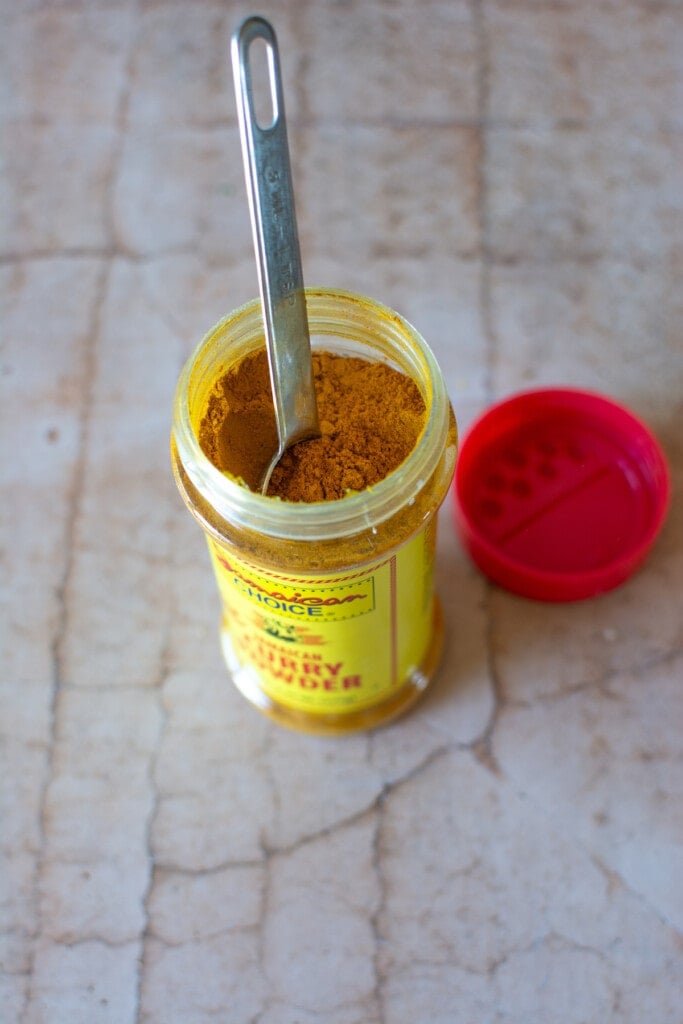 Indian-style curry powder or "regular" curry powder that you would find in your local grocery store is not the same as Jamaican curry powder. Jamaican curry powder is made from turmeric, ground scotch bonnet pepper, allspice, and garlic among other spices. You can purchase it as "hot" or "mild".
I always buy the "hot" curry powder, but it really isn't that spicy. If you are sensitive to heat, go for the mild or just use less of the hot powder. You can use it wherever you would use curry powder. It's great in soups, as a dry rub for meats, or when making any type of curry.
Jamaican curry powder is hard to find in most places. I order it from Amazon. Jamaican Choice is my favorite brand.
Jamaican Style Cabbage FAQ's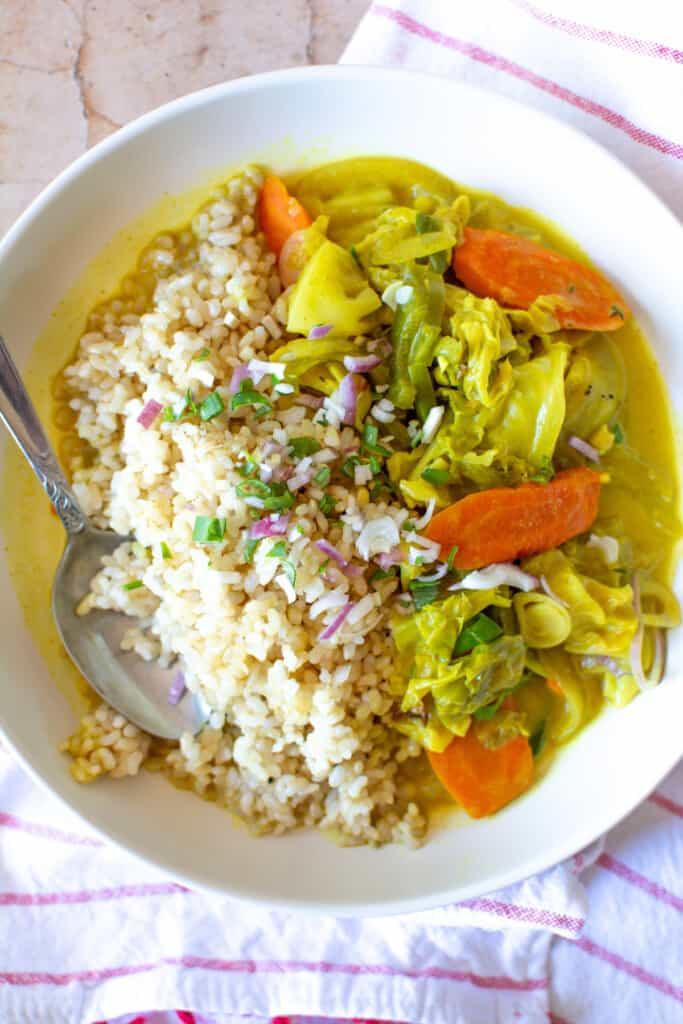 Can I freeze leftovers? This dish doesn't freeze very well but you could store any leftovers in an airtight container in the fridge for up to a week.
Is Jamaican curried cabbage spicy? Yes and no. This is a great side dish for cabbage lovers because you can make it as spicy as you'd like. All the heat comes from the Jamaican curry powder which comes in mild or spicy.
Can I use other vegetables instead of cabbage in this recipe? Sure! You can use a different type of cabbage like Napa cabbage or try making this dish with bok choy.
How can I make this recipe vegan? Good news. It is already vegan! And gluten-free, making it a perfect side dish for feeding guests.
Top 5 Most Popular Side Dish Posts
What Do You Think Of This Jamaican Dish?
Are you obsessed with Jamaican flavors or what?! Let me know what you think. Leave a comment below and share a photo tagging me on Instagram using @katesbestrecipes so that I can see (don't forget to leave a ⭐️⭐️⭐️⭐️⭐️ rating)! Also, sign up for my weekly recipe newsletter so you never miss a thing.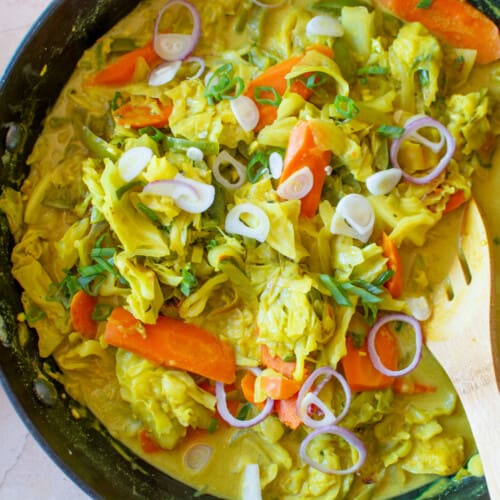 Jamaican Curried Cabbage Recipe
Buttery, spicy curry cabbage recipe—Jamaican style! This side dish is creamy, savory, and rich. An easy-to-make, budget-friendly recipe that is healthy and delicious.
Print
Pin
Rate
Instructions
Heat coconut oil over medium-high heat in a large frying pan or pot big enough to hold all the cabbage. Once it melts add the cabbage, carrots, onion, bell pepper, garlic, salt, and pepper. Toss to coat in the oil and stir-fry for until everything starts to wilt, get browned in spots and release their liquid, about 15 minutes.

Stir in the coconut milk, curry, and thyme leaves. Fill the empty coconut milk can with water and add that as well. Bring to a boil then reduce the heat to a simmer and continue cooking until the cabbage is tender and the sauce has thickened, about 5 more minutes.

Stir in scallions and serve with steamed brown or white rice.
Notes
Coconut oil. Look for extra virgin coconut oil next to the other cooking oils in the baking section or oil section of the grocery store. Substitute olive oil if you don't have coconut oil. 
Fresh thyme. Use the leaves from fresh sprigs of thyme or substitute 1 teaspoon dried thyme. 
Cooking the cabbage. Give the cabbage plenty of time to cook down and become tender. You want it melt-in-your-mouth soft. This can take anywhere from 
Adding protein. To make this a complete meal while still keeping it vegan, add cubes of tofu or a drained can of chick peas to the curry. 
Video
In support of this small business, Kate's Best Recipes earns revenue in a few different ways. Several sponsored posts are published each month. I also earn an affiliate commission on the sales of products I link to— there are a few of those links in this post. I only feature items I genuinely love and personally use on a regular basis. This commission is an arrangement between the retailer and Kate's Best Recipes (readers never pay more for products). This income allows me to run the site. Thank you for reading!