How To Make Fig Leaf Tea From Fresh Fig Leaves—Easy!
Fig leaf tea is a aromatic herbal tea made from fresh fig leaves, orange zest, and fresh ginger. Fig leaves boast many health benefits and tastes amazing. If you are lucky enough to have access to fresh fig leaves, give it a try!
---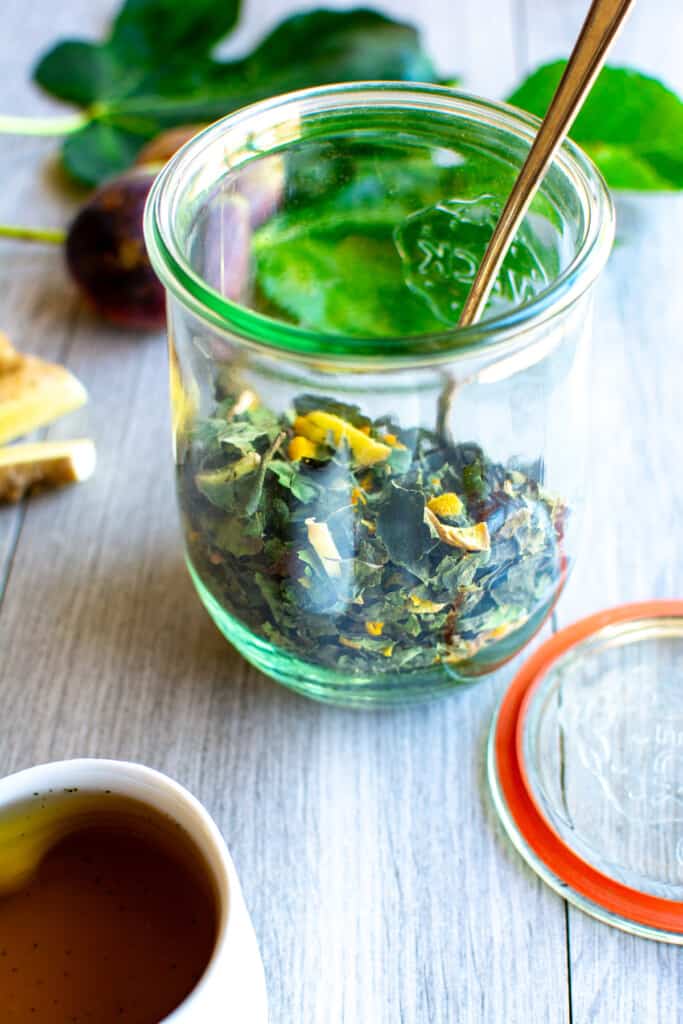 We are blessed with two fig trees in our yard. The older one is a Brown Turkey Fig tree and was here when we bought the house. The second is a Black Mission Fig tree that we planted in the front yard shortly after moving in.
Needless to say we enjoy lots of fresh figs every year but the fig fruit is not the only thing we harvest from the trees. The large leaves of the fig tree have amazing earthy sweet flavor and can be used to make everything from fig leaf ice cream to fig leaf syrup and also fig tea.
During the winter months I love having fig leaf tea to warm me on a chilly afternoon and provide a foundation of calm after a stressful day. I look out at my tree, empty of leaves, and know that I'm putting them to good use.
Plus, fig leaf tea is really good for you. Dry fig leaves have been used for a long time to treat heart disease, high blood pressure, and blood sugar levels among other various health benefits.
Keep reading for how to make fig leaf tea—it's really easy. Let's dive in!
Health Benefits of Fig Leaf Tea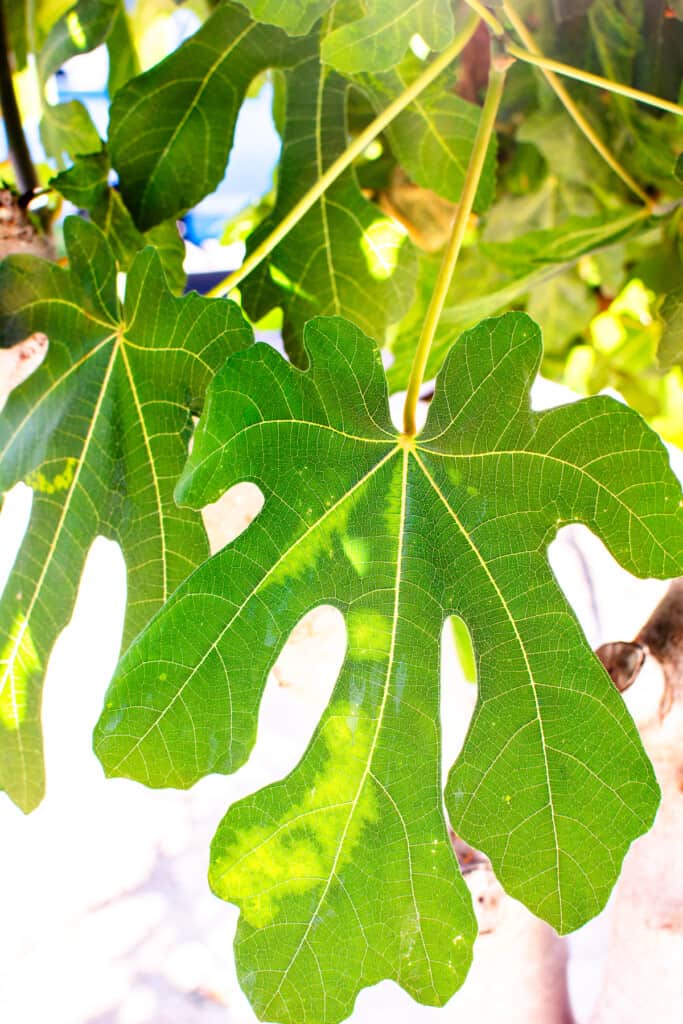 Fresh leaves from fig plants provide a number of health benefits and have been used since ancient times as home remedies for everything from oxidative stress to fighting free radicals.
The National Institute of Health has published many studies on this age-old folk medicine. According one clinical trial, "Due to the the high bioactive compounds, fig leaves performed a vital role against various diseases including cancer, diabetes, constipation, cardiovascular disease and the gastrointestinal tract."
In addition to its delightful flavor and numerous health benefits, fig leaf tea is also a fantastic natural source of potassium, calcium, sodium, magnesium, phosphorous, and trace elements such as iron, manganese, and zinc. [nutrition information from the National Institute of Health].
What Are The Possible Side Effects?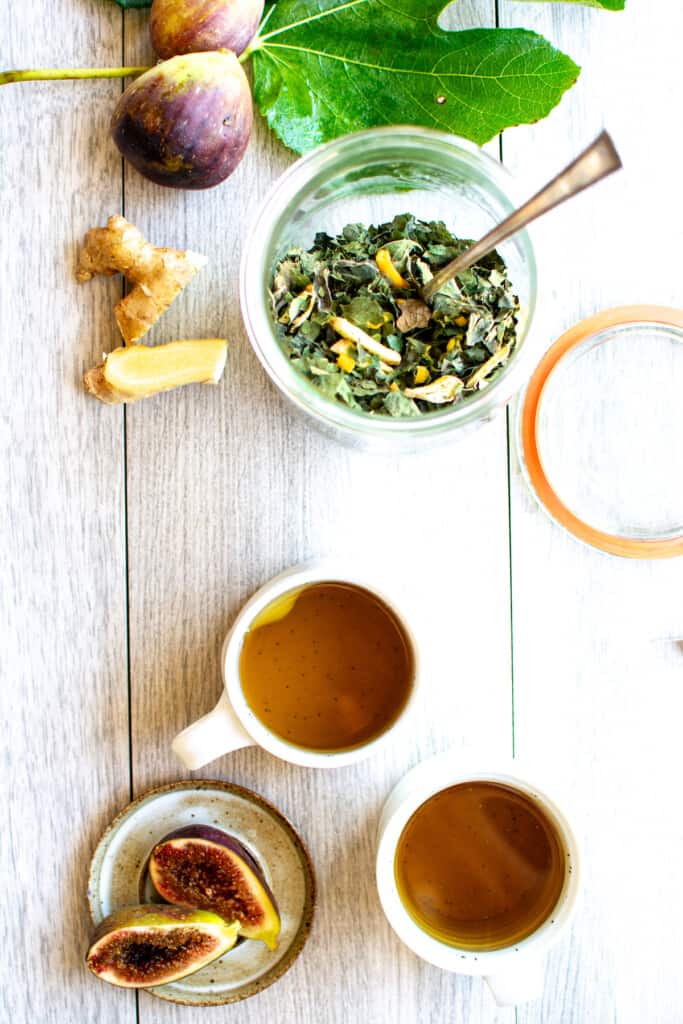 The only downside of drinking fig leaf tea is its laxative effect. While it is a known cure for constipation, some say it works a little too well. As with anything, know your body and if you have concerns, consult a medical professional before consuming.
It should be noted as well that in very rare cases, the sap of the fig tree can cause allergic reactions when it comes in contact with the skin. So if you have never picked fig leaves before, please know this can be an issue for some people.
Where Do I Find Fig Leaves?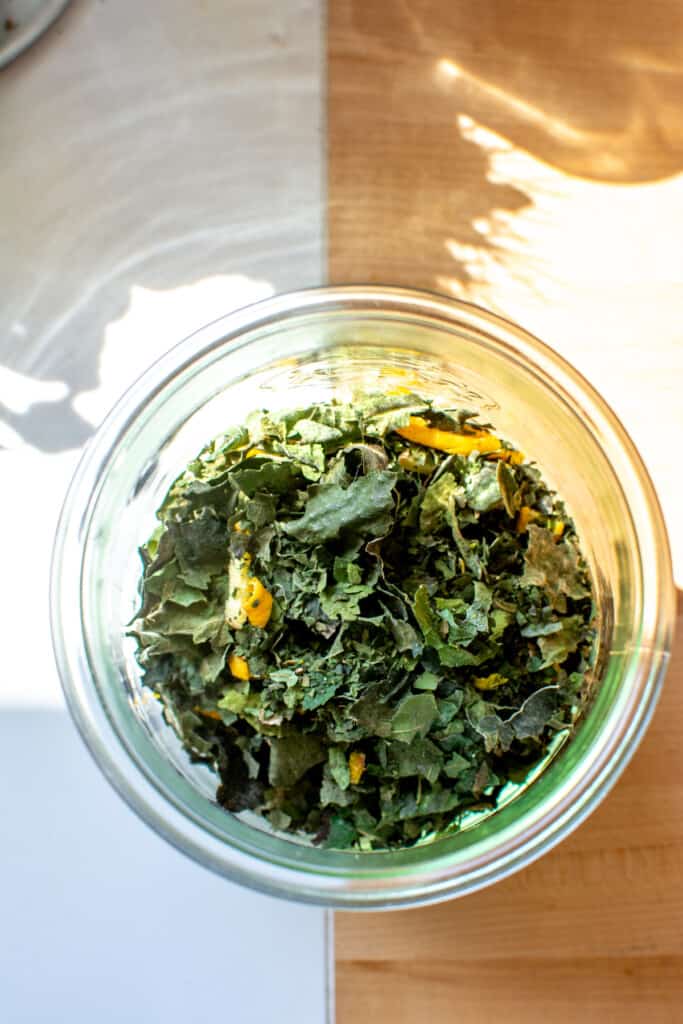 If you are blessed with your own tree (or know someone who is), that is the most cost-efficient and easiest option. As with anything however, you can buy fresh fig leaves online as well.
If possible, try to use organic fig leaves for your tea. This ensures that your tea is free from pesticides and other harmful chemicals, allowing you to fully enjoy the natural and wholesome benefits of the fig leaves.
If you have an abundance of fresh fig leaves, consider sharing them with friends or family. Encourage them to try making fig leaf tea and share in the joy of discovering this delightful herbal concoction. Also, fig leaf tea makes a wonderful hostess gift or DIY gift for the holidays!
Ingredients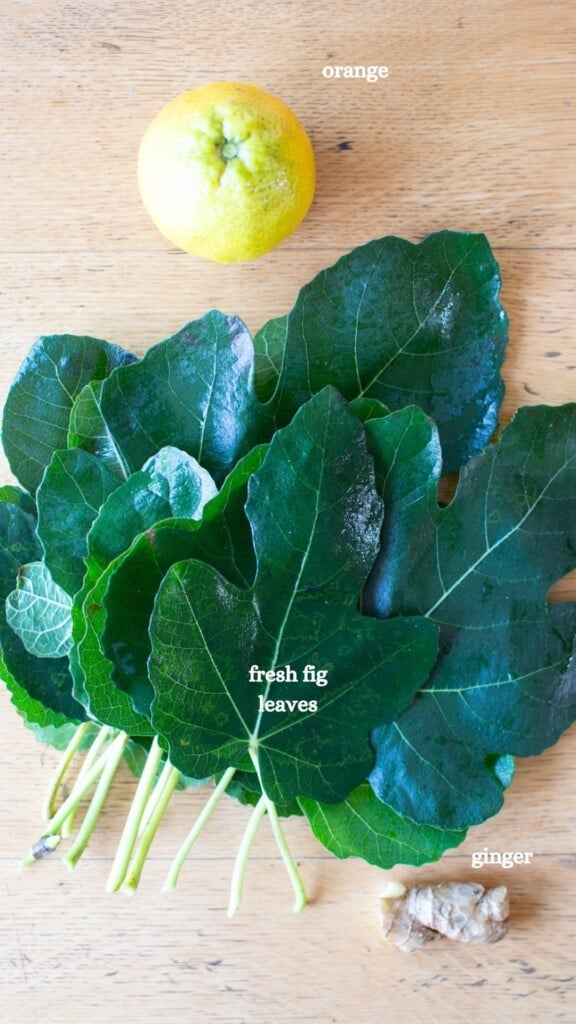 If you'd prefer to make straight fig leaf tea without the added ingredients that is wonderful too. I like the citrus and ginger notes but they are totally optional. Feel free to get creative with your fig leaf tea by adding different herbs or spices such as mint, cinnamon, or cardamom to enhance the flavor profile.
Fresh fig leaves
Orange
Fresh Ginger
How To Make This Recipe
While you can make the tea from fresh fig leaves the best way is to dry them first and crumble them into a tea. Here's how:
step one
Wash the ingredients. Rinse the leaves, orange, and ginger under cool water removing any dirt or debris. Use a clean kitchen towel to dry.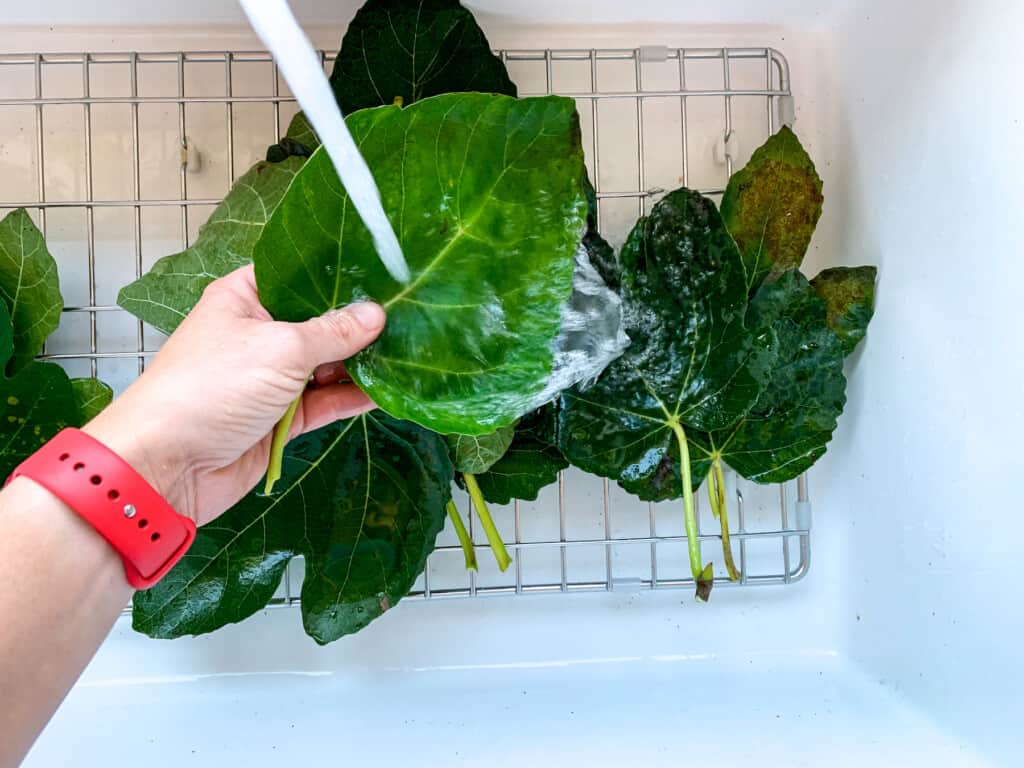 step two
Prep. Heat the oven to 200°F. Arrange leaves on a baking tray in a single layer with as little overlapping as possible. Peel the orange with a vegetable peeler. Try to only get the orange part and not the white pith, it will have a bitter taste. Cut the ginger into 1/2-inch thick slices. Place the orange peel and ginger here and there among the leaves.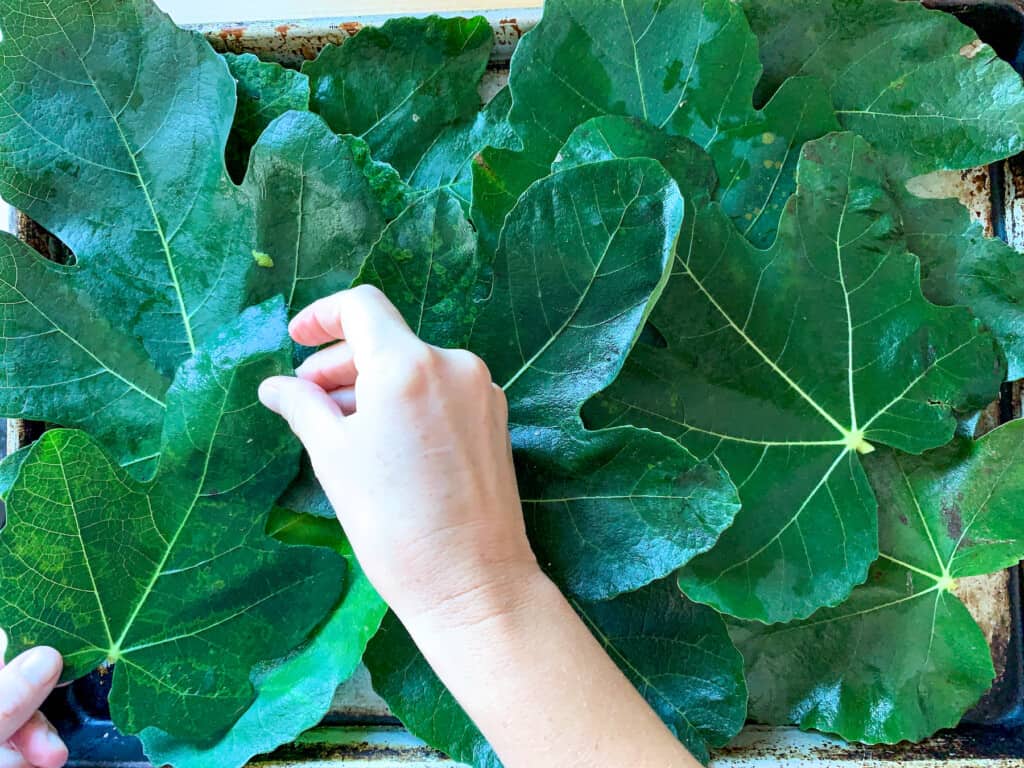 step three
Dry. Bake the tea ingredients in the oven for an hour or until the leaves are dry and crispy. Remove from the oven and let cool.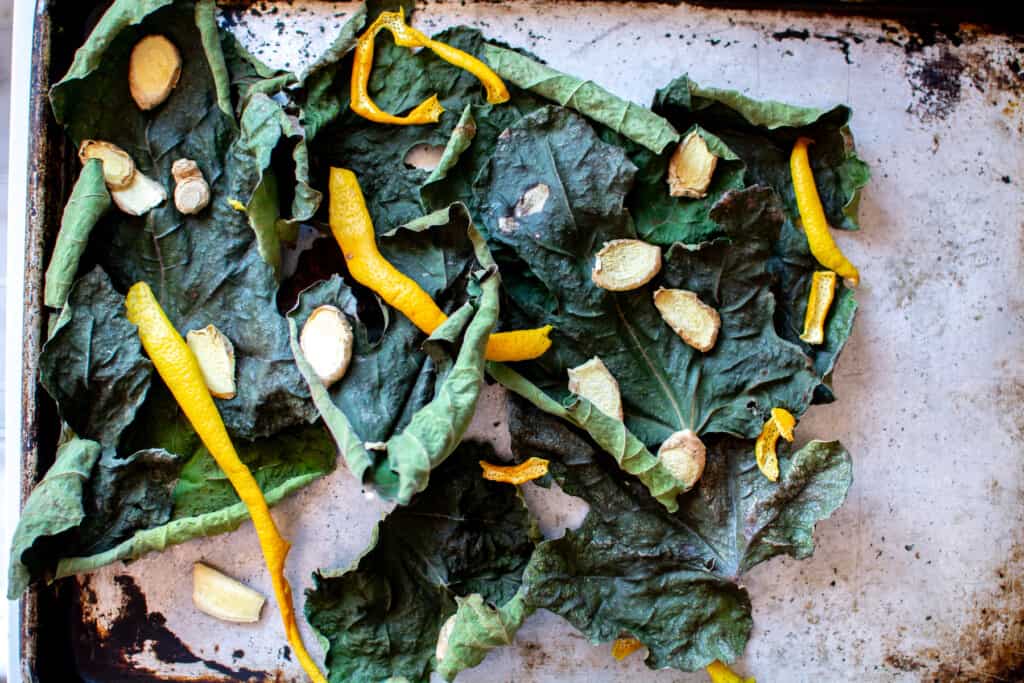 step four
Crumble. Using your hands crumble the leaves into small pieces. Chop the orange peel and ginger into small pieces as well then combine with the tea leaves. Place the tea in a resealable container. Store in a cool dry place for up to a month.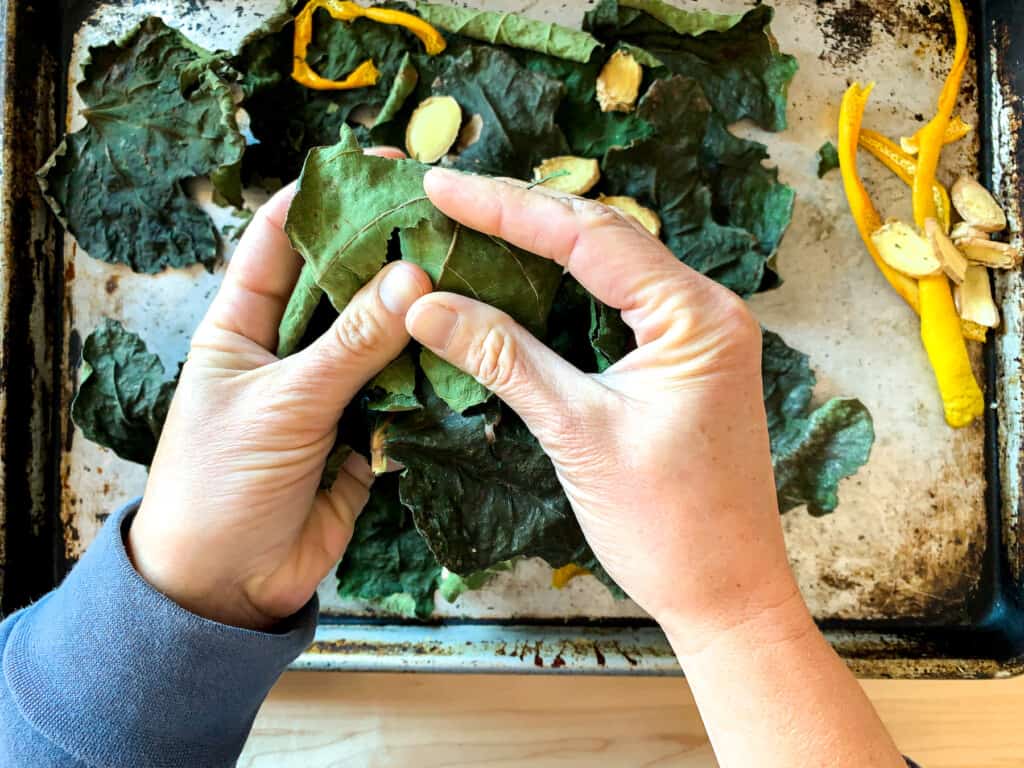 step five
Make tea. If you have a tea infuser fill it with the tea and place in a tea pot or large jar. Bring a tea kettle of water to a boil. Pour hot water over the top of the tea, let steep for 10 minutes then enjoy. Add sweetener like honey or simple syrup if you'd like.
To make without a tea infuser, place 2 tablespoons of tea in the bottom of a tea pot or large jar. Pour hot water over the top. Let steep 10 minutes. Place a small strainer over a mug and strain the tea into the mug. Enjoy!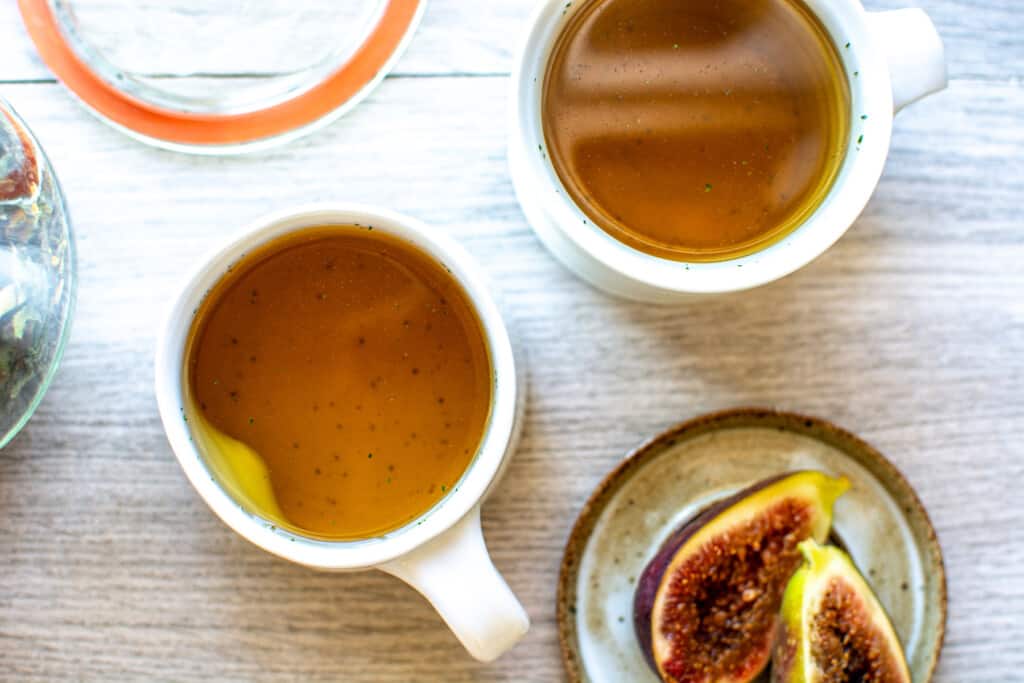 What Does Fig Leaf Tea Taste Like?
Fig leaf tea has a unique and earthy flavor profile. It is often described as having a slightly sweet and herbaceous taste, with hints of coconut and vanilla. I think it is plenty sweet on its own but you can add honey or sugar to make it even sweeter.
The overall taste is soothing and comforting, making it a perfect beverage for chilly afternoons or to unwind after a stressful day.
Fig Leaf Tea FAQ's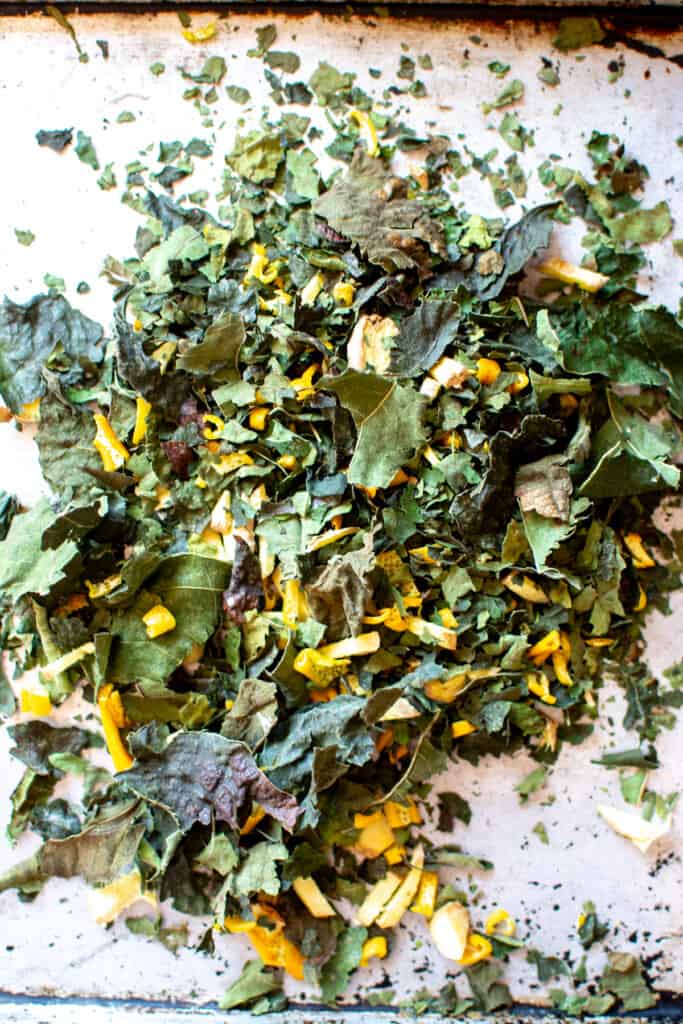 Is fig leaf tea a good source of antioxidants? Yes! According to the NIH, fig leaves play important role the prevention of inflammatory and carcinogenic effects.
How do I make ice tea with fig leaves? On a hot day you can enjoy fig leaf tea by brewing the tea the same way as the recipe describes, just use twice the amount of tea to water. Place in the fridge until cold, then serve with ice cubes for a refreshing twist on this herbal beverage.
Can I reuse the fig leaves? Absolutely! Don't discard the used fig leaves. Once you've brewed your tea, don't throw away the used fig leaves just yet. They can be reused to infuse flavor into other dishes, such as stews or rice pilaf. Get creative and explore different culinary possibilities with these versatile leaves.
Top 5 Most Popular Fall Posts
Try This Natural Remedy
And let me know what you think! Leave a comment below and share a photo tagging me on Instagram using @katesbestrecipes so that I can see (don't forget to leave a ⭐️⭐️⭐️⭐️⭐️ rating)! Also, sign up for my weekly recipe newsletter so you never miss a thing.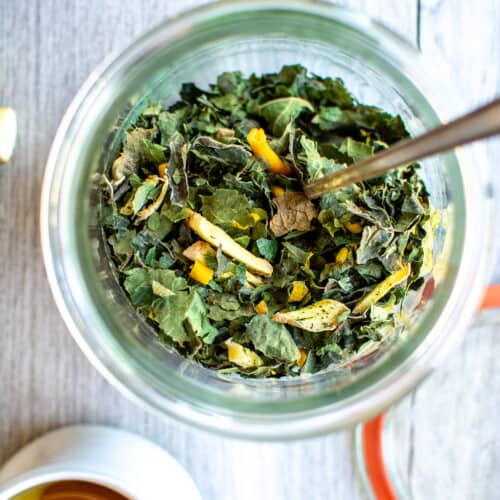 Fig Leaf Tea
Fig leaf tea is a delicious herbal tea made from fresh fig leaves, orange zest, and fresh ginger. Fig leaves boast many health benefits and taste amazing. If you are lucky enough to have access to fresh fig leaves, give it a try!
Print
Pin
Rate
Instructions
Heat oven to 200°F. Wash and dry the fig leaves, orange, and ginger. Remove the stems from the fig leaves.

Arrange the fig leaves in as much of a single layer as possible on a baking sheet. Using a vegetable peeler, remove only the orange part of the orange peel, leaving the bitter white pith behind. Cut the ginger into 1/2-inch thick slices. Place the orange peel and ginger on the baking sheet with the fig leaves.

Bake in the oven until the leaves are completely dry, about 1 hour. Remove and let cool.

Crumble the fig leaves with your hands, removing any tough veins. Chop orange peel and ginger into small pieces as well then combine with the tea leaves. Place tea in a resealable container.

To make the tea, place 2 tablespoons of the tea in the bottom of a tea pot or large glass jar. Bring 1 cup water to a boil then pour over the tea. Let steep 10 minutes then strain into a mug. Add sweetener if you'd like and enjoy!
Notes
Experiment with the steeping time: Depending on your preference, you can adjust the steeping time of the tea to achieve different levels of flavor intensity. If you prefer a stronger taste, let the tea steep for a few extra minutes.
Customize the sweetness: While the recipe suggests adding sweetener like honey or simple syrup, feel free to experiment with different sweeteners to suit your taste. Maple syrup or stevia can be great alternatives for those looking for a healthier option.
Explore flavor variations: Get creative and add additional ingredients to enhance the flavor of your fig leaf tea. Consider adding a dash of cinnamon or a squeeze of lemon juice for an extra kick of freshness.
Store fig tea properly: To ensure that your fig leaf tea stays fresh and maintains its flavor, store it in an airtight container in a cool, dry place. Avoid exposure to moisture or direct sunlight, as these can affect the taste and quality of the tea.
Video
In support of this small business, Kate's Best Recipes earns revenue in a few different ways. Several sponsored posts are published each month. I also earn an affiliate commission on the sales of products I link to— there are a few of those links in this post. I only feature items I genuinely love and personally use on a regular basis. This commission is an arrangement between the retailer and Kate's Best Recipes (readers never pay more for products). This income allows me to run the site. Thank you for reading!