Lemon-Oregano Roasted Baby Potatoes
These are the absolute best roasted baby potatoes! They are golden and crispy on the outside, creamy on the inside and infused with lemon and oregano.
---
Regular salt and pepper roasted baby potatoes are fine but there's something special when they're infused with lemon and oregano. It adds tang that penetrates the inside of the potato, making them incredibly flavorful.
In my book, these potatoes need to be peeled in order to really soak up the lemon juice, oregano, and olive oil. I also like to roast them whole—they are baby potatoes after all. Cutting them would cut down (get it!) on the roasting time but I think the longer roasting time results in creamier potatoes that have more time to soak up the lemon and extra-virgin olive oil marinade.
Their beauty lies in their versatility, they go with practically anything—with eggs for breakfast, broiled cod at dinner—not to mention they literally take five minutes of prep time and 8 ingredients (one of which is water), so they can be tossed together in a flash and then just wait for them to cook.
Let's make them!
What Are Baby Potatoes?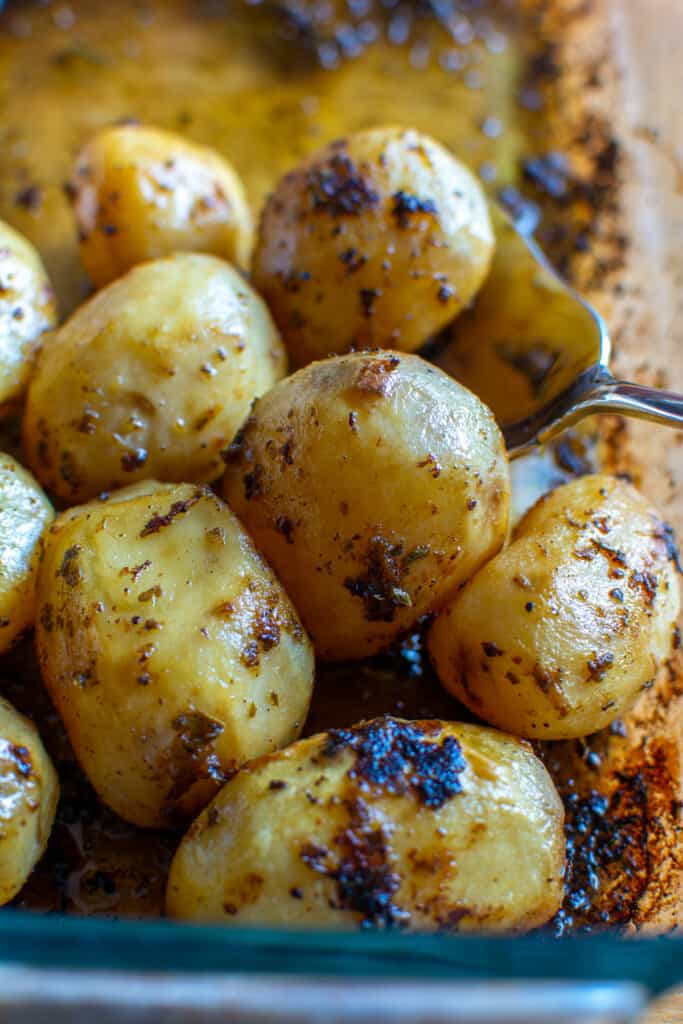 What I mean when I say baby potatoes are simply, small potatoes. Sometimes they're labeled as new potatoes or creamer potatoes. For this baby potatoes recipe I've used either baby red potatoes or baby Yukon gold potatoes; either one works great.
Ingredients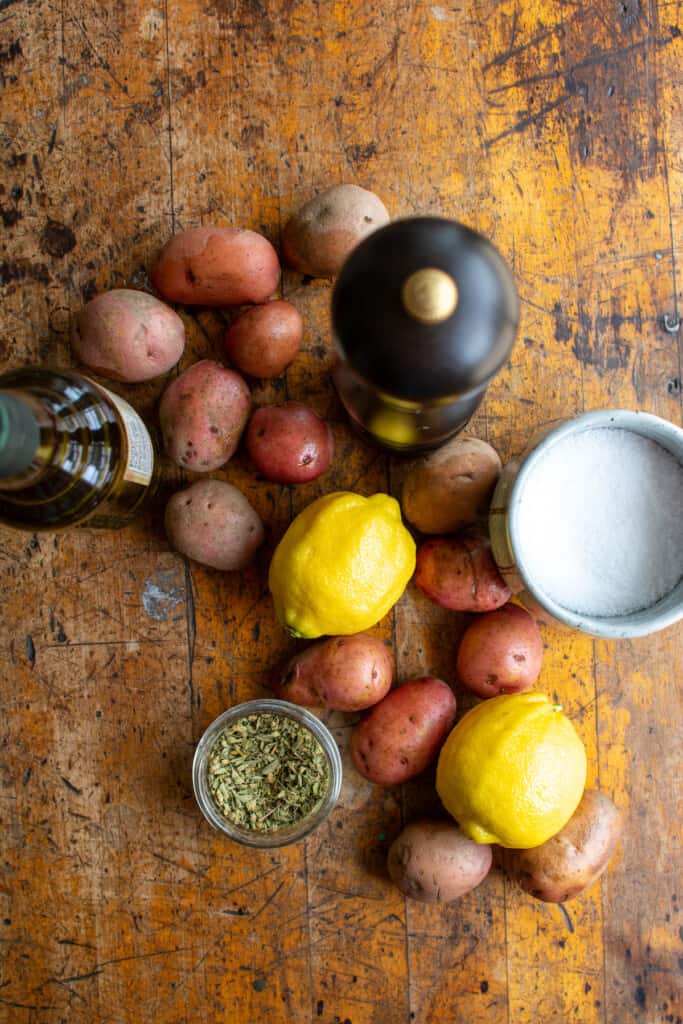 How To Make Them (Step-by-Step Instructions with Pictures)
step one
Peel the potatoes. This is my favorite inexpensive potato peeler. Also, heat oven to 425°F.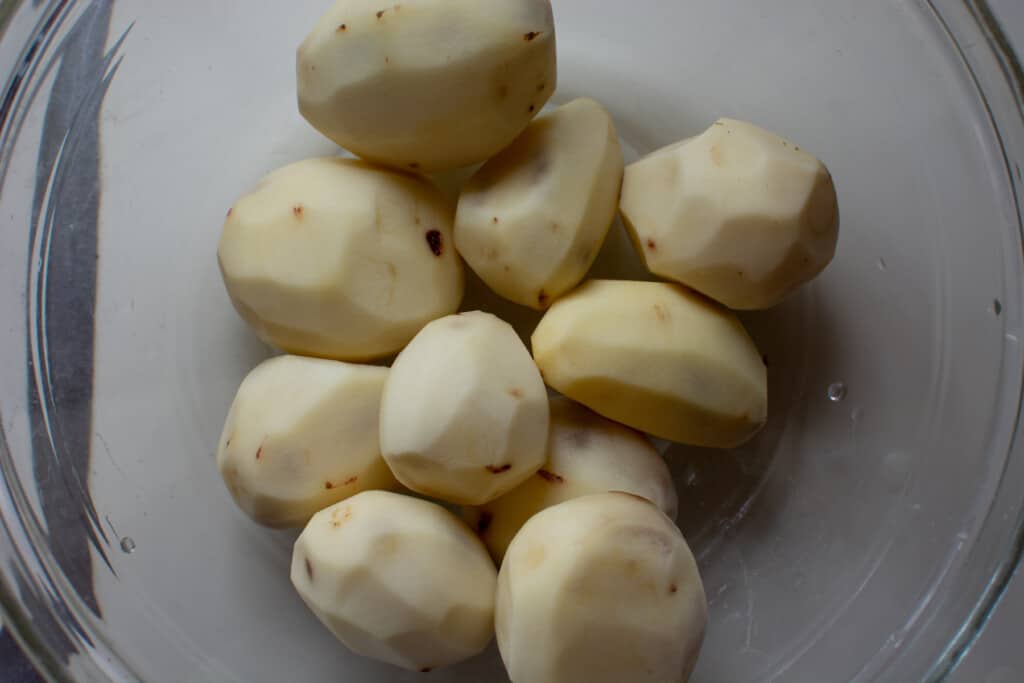 step two
Toss all the ingredients together. Combine the potatoes with all the other ingredients in a medium baking pan (not a rimmed baking sheet). Toss until potatoes are coated and lay in a single layer.
step three
Roast. Roast in the oven until they are golden and tender enough that a knife easily slides through a potato, about 1 hour to an 1 hour 20 minutes depending on how big the potatoes are. Turn the potatoes every 20 minutes or so.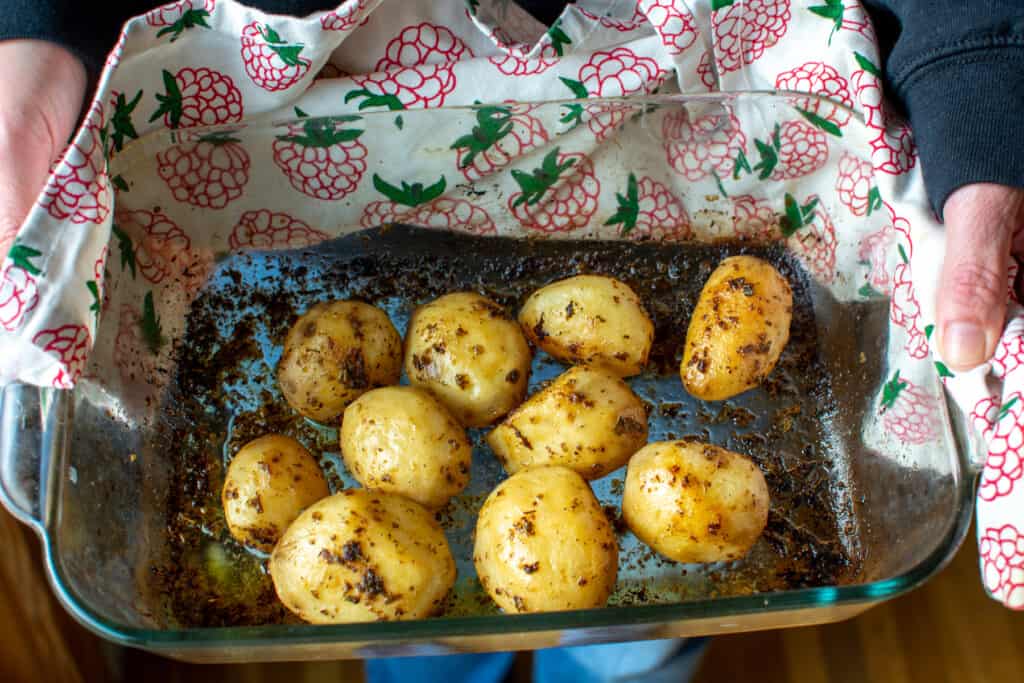 step four
Enjoy! I think these potatoes are beautiful as they are but if you want to garnish them with a sprinkling of parmesan cheese that would be good. Serve these unbelievably amazing potatoes with just about anything like, baby back ribs or Thanksgiving turkey!
What Makes These The Best Roasted Baby Potatoes?
So much flavor with so few ingredients! No need to chop garlic, pick parsley or thyme leaves off little stems. Just peel some potatoes, zest a lemon, and bam! Best potatoes ever.
Easy clean-up. I like to toss all the ingredients together in the baking dish instead of dirtying a separate bowl.
Great for meal prep. Make a batch and save them in an airtight container in the refrigerator. Reheating them in the oven or microwave is easy!
Roasted Baby Potatoes FAQ's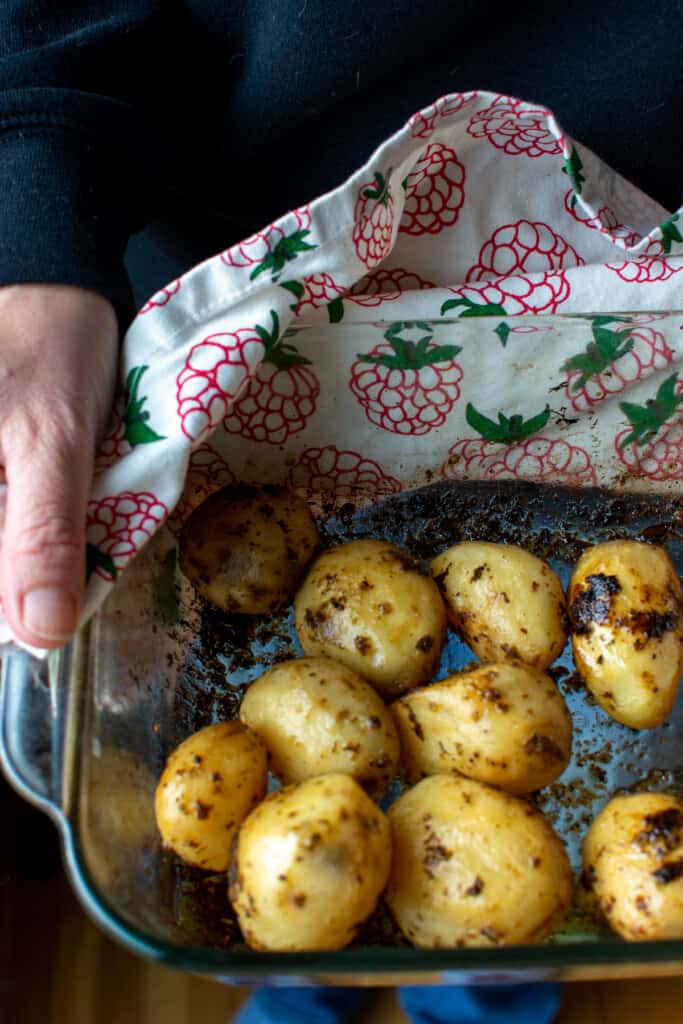 Why are my potatoes still hard? Don't rush this recipe. Roast potatoes until they are fork tender. This could take up to an hour and a half depending on how big your potatoes are.
Can I use other herbs? I really love the Greek-inspired lemon and oregano combo but if you wanted to use fresh herbs or other spices feel free to substitute your favorite.
What's the best baking dish to use? Use a glass, metal, or ceramic baking dish that is big enough to hold the potatoes in a single layer but not a lot of extra room. You want the lemon mixture to soak into the potatoes not just evaporate in the pan. Smaller is better, I use a 7 x 11-inch baking dish.
More Side Dishes You'll Love
Roasted Mini Potatoes Everyone Will Be Talking About
That's the vibe we're going for here. When you make them, let me know what everyone said! Share a photo and tag me on Instagram using @katesbestrecipes so that I can see (don't forget to leave a ⭐️⭐️⭐️⭐️⭐️ rating)! Also, sign up for my weekly recipe newsletter so you never miss a thing.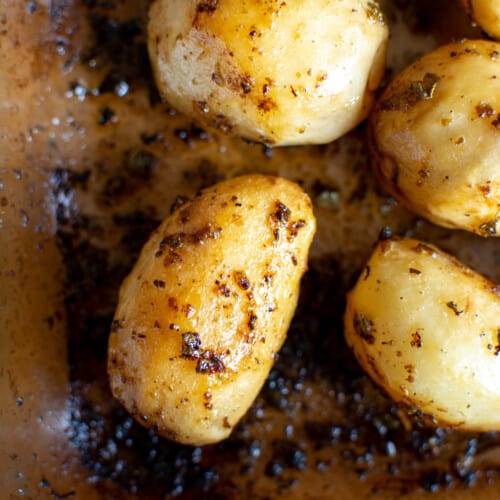 LEMON-OREGANO ROASTED BABY POTATOES
Baby potatoes tossed in a lemon and oregano mixture and roasted until crispy on the outside and fluffy in the middle. Dairy and gluten free!
Print
Pin
Rate
Instructions
Heat oven to 425°F. Place all ingredients in a shallow 2-quart baking dish just large enough to hold potatoes in a single layer. Toss all ingredients together to coat potatoes, then arrange them in a single layer.

Bake until potatoes are well browned and crispy on all sides, about an hour to an hour and a half. Turn potatoes every 20 minutes or so. Test the potatoes with a knife to make sure they're cooked all the way through.
In support of this small business, Kate's Best Recipes earns revenue in a few different ways. Several sponsored posts are published each month. I also earn an affiliate commission on the sales of products I link to— there are a few of those links in this post. I only feature items I genuinely love and personally use on a regular basis. This commission is an arrangement between the retailer and Kate's Best Recipes (readers never pay more for products). This income allows me to run the site. Thank you for reading!